Where To Buy 2020 Milwaukee Brewers Tickets?
Single-game tickets to the Milwaukee Brewers went on sale on the on Saturday, February 15 at 9 a.m. CT, via Ticketmaster. Season tickets and partial plans are currently on sale directly from the team. The Brewers open the season on Thursday, March 26 against the Chicago Cubs at home at Miller Park.
On the secondary market, TicketIQ will offer fans a Low Price Guarantee on all Milwaukee Brewers tickets in addition to Low Price Guarantees on all Major League Baseball tickets. That means that if you find a secondary market ticket for less on a site like StubHub or Vivid, we'll give you 200% of the difference in ticket credit. TicketIQ customers save up to 25%.
How Much Are 2020 Milwaukee Brewers Tickets?
On the secondary market, TicketIQ has seats available to all Brewers home games, many for less than $10. As an example, tickets to the June 9-11 San Diego Padres series. Tickets to the opening game of the series on Tuesday, June 9 start at $8.
The average asking price for a Milwaukee Brewers home game on the secondary market is $68, down nearly 9% from last year. That price is the second highest average since 2011, and the 17th highest across Major League Baseball. The priciest ticket cost fans $74 in 2019, the year after the Brewers won the National League Central and advanced to the championship series before losing to the Los Angeles Dodgers.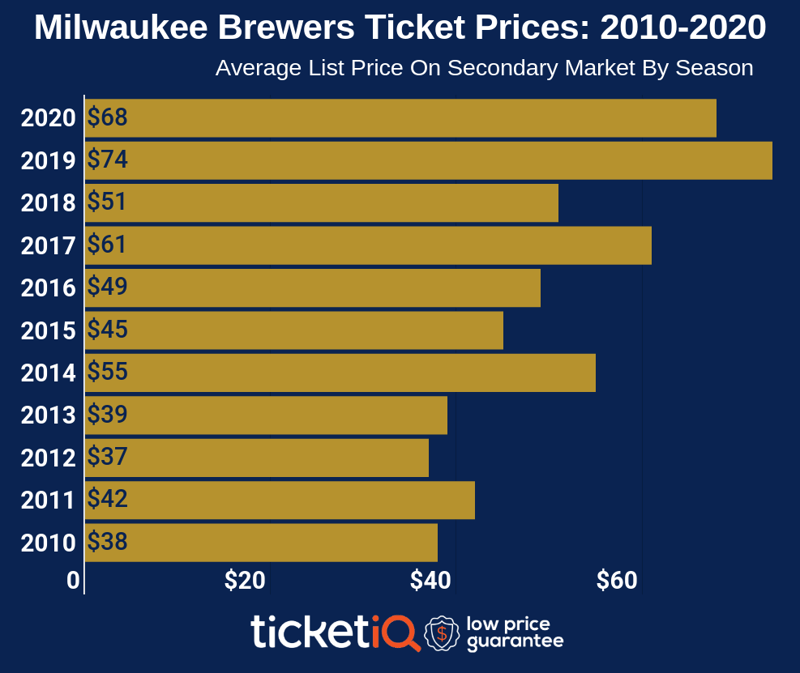 What Are Brewers Season Ticket & Mini Plan Options
On the primary market, season tickets are available at all levels, starting at $1,377 for Terrace Reserved seats, and going up to $10,125 for Field Diamond Platinum tickets, which are in the first row of Sections 115-120. Season ticket holders get a discount over the cost of single-game tickets, discounts on parking, access to the Northwest Mutual Legends Club and other benefits.
The smallest partial plans available are a variety of 10-game packs, which start at $170 for seats in the Terrace Reserved Sections and go up to $450 for spots in the Field Outfield Box Sections. Fans get a free 11th game when selecting a 10-game pack.
The Brewers also offer Flex Plans where fans start with a "bank" of ticket vouchers that can be redeemed for any games and up to eight seats per game. Prices vary depending on how many games are selected and seat location.
Brewers Mobile Ticketing Policy
The Brewers and Miller Field encourage digital ticketing through the MLB Ballpark app, which allows fans to buy, sell and transfer tickets, as well as use digital tickets to enter the park.
---
TicketIQ is committed to Transparent Ticketing and offers Low Price Guarantees on sold out tickets + unsold face value ticket through Ticketmaster, Eventbrite and other partners.