Kentucky and Mississippi have played football games since 1914, and in 46 meetings, neither team has shown itself to be dominant – the all-time series is tied at 23. As Southeastern Conference rivals, the teams have played every year since 1990, and other than a seven-game stretch from 2009-15, neither team has won more than three consecutive. In fact, over the last four seasons, the home team has won – handily. This year's matchup is set for September 21 at Starkville.
WHERE TO BUY MISSISSIPPI STATE VS KENTUCKY FOOTBALL TICKETS - 9/20/19
Tickets to see Mississippi State host one of its long-time rivals are never easy to get, and this year is no exception. Primary market seats are more than 70% sold out, but those that are available are via ticket partner Paciolan. Most of the remaining single-game seats are available in the upper deck, with a handful of sections still available in the lower bowl. Prices are similar across the secondary and primary market, the team only has a $4 flat fee across all tickets. The lowest fee on Stubhub is $16.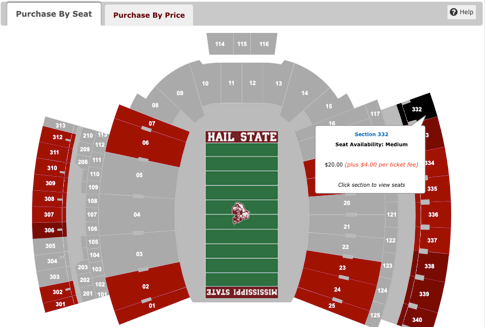 🎟 TICKETIQ FOR LOW PRICE GUARANTEES ON SOLD OUT MSSTATE VS KENTUCKY TICKETS -9/20/19 🎟
HOW MUCH ARE MISSISSIPPI STATE VS KENTUCKY TICKETS
The Kentucky game is the third cheapest Mississippi State home game on the secondary market this season. The average asking price of $53 beats out only the $35 for the Kansas State game and $22 for the Abilene Christian game. The priciest game of the season will cost fans $170 when Alabama visits Starkville on November 16.
On the primary market, seats start as low as $20 in the 300 sections at the ends of the sidelines. There are a handful of sections where there is availability only on the primary market, including Sections 24 and 25 in the lower bowl. Seats range in price between $55-$62 in both sections.
On the secondary market, tickets to the game start at $10 in the 300 sections, and fans can get seats in the Scoreboard Club high above the end zone starting at $276. Seats in the Scoreboard Club are no longer available on the primary market.
Both examples show that fans should shop around for availability and price. When there is both primary and secondary market availability, prices can be better on either. As an example, tickets in Section 310 above the pressbox start as low as $30 via Paciolan, but start at $56 on TicketIQ. Conversely, 300-section seats on the visitors side start at $20 on the primary market and $10 on the secondary market.
🎟 TICKETIQ FOR LOW PRICE GUARANTEES ON SOLD OUT MS STATE VS KENTUCKY TICKETS -9/20/19 🎟
🎟 PACIOLAN FOR UNSOLD FACE VALUE MISSISSIPPI STATE VS KENTUCKY TICKETS -9/20/19 🎟
---
TicketIQ is committed to the cheapest tickets possible, and we make much less on sold out tickets compared to other major marketplaces like StubHub and Vivid. That means ticket buyers save from up to 25% on TicketIQ on sports, music and theater. We're able to do this because we also work with teams, venues, and other ticket owners, to help them sell tickets at face price, directly to consumers like you, through Ticketmaster and Paciolan. For an overview of the 2019 College Football Ticket Buying landscape, and details on the cheapest way to get tickets for every pre-season top 25 team, visit the TicketIQ Blog.