Monster Jam fans have plenty to look forward next year, as the series travels around the country with the ultimate destination Camping World Stadium in Orlando for Monster Jam World Finals XXI, May 2-3, 2020. The regular 2020 season events are two- or three-day shows in cities across the U.S., and will feature new trucks, new drivers and more. Monster Jam released new Red, Yellow and Green courses on Twitter last week, as well as the latest driver lineup. Fans can find more information at @MonsterJam on Twitter.
Where to Buy Monster Jam Tickets
Primary market Monster Jam tickets for the series' events through December 8 are currently available on Ticketmaster and Paciolan. Tickets for the next leg, beginning December 14 in Minneapolis and ending May 30, 2020 in Des Moines, Iowa, went on sale on Ticketmaster on Tuesday, September 24 at 10 a.m. EDT. For some of the shows that are on sale, fans can also purchase early entry and access to the Preshow Pit Party, which costs $15. Here is an example of primary market availability for one of the larger arenas for an upcoming Monster Jam date. As you can see, many of the upper level seats remain unsold, while availability in the lower levels is a bit more limited.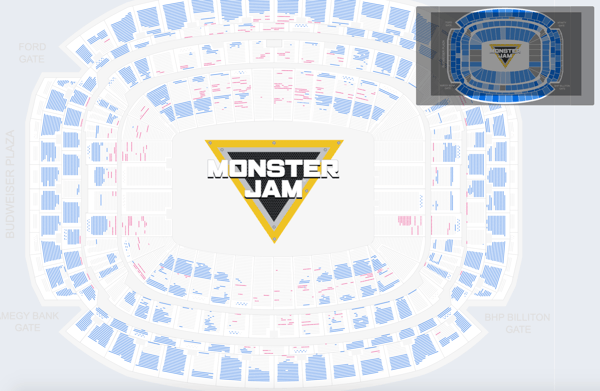 On the secondary market, TicketIQ offers a Low Price Guarantee on all sold out Monster Jam tickets, and currently has availability for all events through December 8. That means that if you find a secondary market ticket for less on a site like StubHub or SeatGeek, we'll give you 200% of the difference in ticket credit. TicketIQ customers save an an average of 5%-20% compared to StubHub and SeatGeek. Below is an example of secondary market availability and price by zone for the September 29th show at Allstate Arena: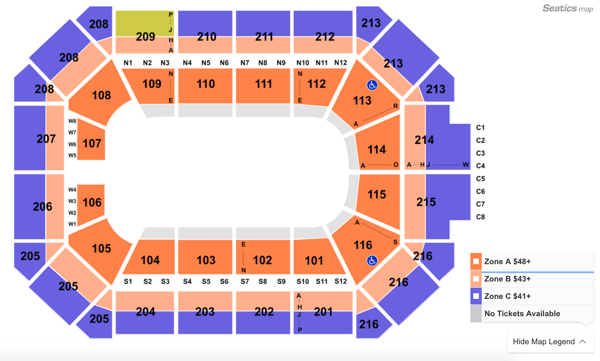 ---
🎟️ Visit TicketIQ for Low Price Guarantees on Sold Out Monster Jam Tickets
🎟️ Visit Ticketmaster for all Unsold Face Value Monster Jam Tickets
📲 Download the TicketIQ app for $20 off your first ticket purchase
---
How Much Are Monster Jam Tickets
Tickets to most of the upcoming Monster Jam events can be had for $35 or less on the secondary market. Only the October 11 and 12 shows in Las Vegas will cost fans more. The cheapest seats for those shows are $47 and $53, respectively. For this event, tickets remain available through Paciolan, but the events are 75% or more sold out.
For the October 11 date, seats start at $30 in the 200 sections on the far side of the arena, and there are only single seats available in some sections. Closer to the action, there are seats in Sections 112-123 available for $50. On the secondary market, tickets start at $47 in the higher 200 sections, making the primary market a better deal. But on the secondary market, fans can get seats along the sidelines of the arena in Sections 105-107, starting at $182. These seats are sold out on the primary market.
On October 12, seats also start at $30 for the highest locations and $50 closer to the action. For this show, the primary market also represents the best deal in terms of the cheapest price, but on the secondary market, there are seats available in Sections 103, 104, 110, 124, 125, 128, 131 and 132, on the sidelines starting at $79 for the sections near the open end of the arena (103, 104, 131, 132) and $76 in Section 110 near the "U" in the arena.
---
🎟️ Visit TicketIQ for Low Price Guarantees on Sold Out Monster Jam Tickets
🎟️ Visit Ticketmaster for all Unsold Face Value Monster Jam Tickets
📲 Download the TicketIQ app for $20 off your first ticket purchase
---
Monster Jam Schedule
July 6 – San Antonio, TX – Alamodome
July 12-14 – Los Angeles, CA – Staples Center (Triple Threat Series)
July 20-21 – Stafford Springs, CT – Stafford Motor Speedway
July 21-24 – West Lebanon, NY – Lebanon Valley Speedway
Aug. 30 – Sep. 1 – San Jose, CA – SAP Center (Triple Threat Series)
Sep. 7-8 – Calgary, AB – Stampede Grandstand
Sep. 13-15 – Duluth, GA – Infinite Energy Arena (Triple Threat Series)
Sep. 21-22 – Louisville, KY – Freedom Hall
Sep. 27-29 – Rosemont, IL – Allstate Arena (Triple Threat Series)
Oct. 11-12 – Las Vegas, NV – Sam Boyd Stadium (All Star Challenge)
Nov. 8-9 – Sioux Falls, SD – Denny Sanford Premier Center
Nov. 15-17 – Bridgeport, CT – Webster Bank Arena
Nov. 23-24 – Dayton, OH – Wright State University's Nutter Center
Dec. 7-8 – Jackson, MS – Mississippi Coliseum


TicketIQ sell Tickets for for Sold Out Sports, Music and Theater events. TicketIQ is committed to the Transparent Ticketing, and we make much less on sold out tickets compared to other major marketplaces like StubHub and Vivid. That means ticket buyers save from up to 25% on TicketIQ on sports, music and theater. We're able to do this because we also work with teams, venues, and other ticket owners, to help them sell tickets at face price, directly to consumers like you, through Ticketmaster, Frontgate, Eventbrite and other primary ticketing platforms.