New England Patriots 2020 Attendance Policy
UPDATE: On August 20th it was announced that there would be no fans allowed at Gillette Stadium through September. In the announcement they also stated that they "will continue its preparations to safely host fans later this fall and will rely on guidance from the Massachusetts Reopening Advisory Board and our team of independent experts."
---
On July 14th, the Patriots announced that if fans are allowed at Gillette Stadium this season, it will be with limited capacity and fans will have to wear face coverings. Here's more from the team's announcement:
Pending state and local approval, should Gillette Stadium be allowed to have fans in the stands this season, it is expected to host about 20 percent of its total capacity. Ticketed parties will be asked to maintain physical distancing of at least six feet from other parties, tickets will be arranged in blocks of 10 seats or less, and the first eight rows of stadium seats will not be used. Additionally, face coverings will be required at all times inside the stadium to keep all attendees safe.

...

Patriots Putnam Club and Season Ticket Members will have the first opportunity to purchase individual game tickets if fans are allowed, and any remaining ticket inventory will go on-sale to the general public once the member process is complete.
It was also announced that parking for all Patriots home games this season will be free, walk up purchases will be suspended, and all tickets this season would be mobile entry.
Where To Buy 2020 New England Patriots Tickets
New England Patriots tickets are available for sale on the secondary market as of the 2020 schedule release.
TicketIQ has
Fee-Free tickets
with a
Low Price Guarantee
and
Refund Guarantee
, which states that in the event an event is cancelled or deem unfit for fans to attend, TicketIQ will refund ticket buyers in as soon as 15 days. That means that you can buy from TicketIQ worry-free.
Potential Covid-19 Impact On 2020 NFL Schedule
While the schedule release is a much-needed dose of exciting news for all football fans, there are some major questions marks heading into the 2020 season due to the Coronavirus pandemic. While teams know what teams they'll play, that's about all they know. Whether or not the games happen and if fans are able to attend will depend on how the virus is managed over the next 2-3 months. The league has already canceled all of its International Series games, and the league is rightly considering all possible scenarios.
Based on the varying levels of infection in each NFL city and state, it's possible that some teams may be able to host fans at a reduced capacity while others may not. The Dolphins announced a preliminary plan last week, with a 25% of capacity goal. Based on the below NFL Covid-19 Safety Index, the Dolphins fall within the low-risk category, just barely.
To create the Safety Index, we compared the active cases in each city or state to the national average and then discounted that product by Rt. Rt is a measure of how fast the virus is spreading in each city and state, most easily tracked through Rt.live.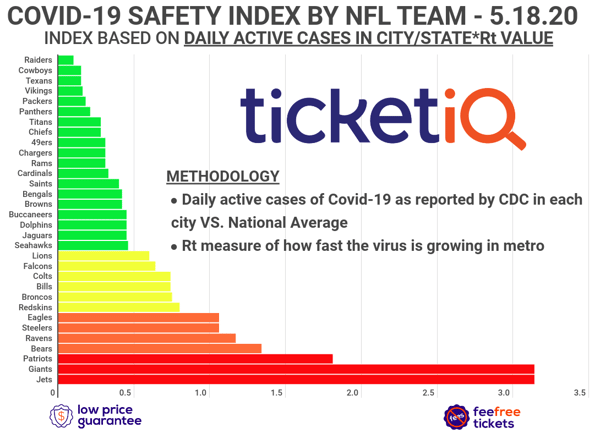 How Much Are 2020 New England Patriots Tickets
Patriots single-game tickets are not available on the primary market, but fans can find them on the secondary market.
TicketIQ has seats available for all New England Patriots home games. The average ticket price on TicketIQ is $433. With the departure of Tom Brady, Patriots' ticket prices have dropped. The secondary market price for Patriots tickets has decreased by 39 percent since last year, which is the largest drop in price in the NFL from 2019 to 2020.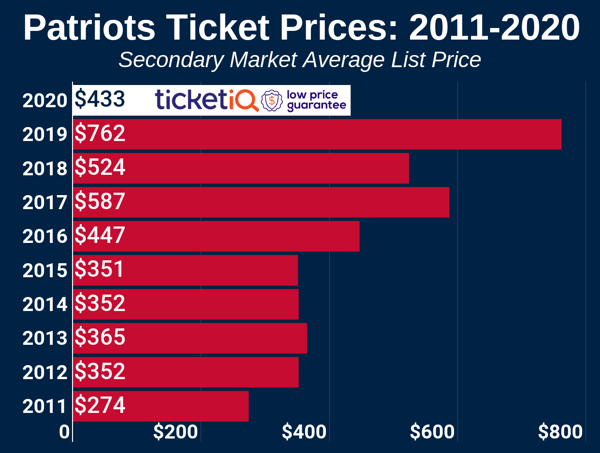 What Are Patriots Season Tickets & Mini Plan Options
On the primary market, neither season tickets nor mini plans are currently offered.
Fans can join the season ticket waitlist for $100 per seat deposit.
Those who join the waitlist receive the following amenities: 10 percent ProShop discount online, discounted tickets to future draft parties, and access to special Patriots ticket presales as well as playoff ticket priority.
What Are Gillette Stadium Club Options
Gillette Stadium has the following VIP seating options: the Putnam Club, Optum Field Lounge, Cross Insurance Pavilion, and the New England Patriots Tailgate Party.
The Putnam Club is found on both sides of the field. The seats are outdoors, and there is an indoor hospitality experience that includes concession items and dozens of televisions, including ones that feel like the size of jumbotrons.
The Optum Field Lounge provides indoor and outdoor experiences as well. The indoor lounge is an impressive one that includes several televisions and exclusive food and drinks. The outdoor experience is a standing room experience, but it is on the field. During the game, field goals and extra points are kicked right in front of you in the Optum Field Lounge.
Both the Cross Insurance Pavilion and the New England Patriots Tailgate Party are open from 2.5 hours before kickoff to 30 minutes before kickoff. Both experiences include televisions, private entrances, and appearances by Patriots alumni and cheerleaders.
The Cross Insurance Pavilion experience includes lower-level game tickets. The Tailgate Party includes tickets in the first seven rows of the 300-Level Sections of the Gillette Stadium.
Patriots Mobile Ticketing Policy
To manage your Patriots tickets, Gillette Stadium has a mobile app available on the App Store and Google Play. The app is also used for mobile entry into the venue. The Patriots require ticket holders to use mobile tickets to enter Gillette Stadium, and it is suggested to add the ticket to your phone's mobile wallet to avoid slow WIFI or cellular signal while entering the stadium. Screenshots of the dynamic barcode on the ticket will not be accepted.
---
TicketIQ is committed to the cheapest tickets possible, and we make much less on sold out tickets compared to other major marketplaces like StubHub and Vivid. That means ticket buyers save from up to 25% on TicketIQ on sports, music and theater. We're able to do this because we also work with teams, venues, and other ticket owners, to help them sell tickets at face price, directly to consumers like you, through Ticketmaster and Seatgeek. For an overview of the 2020 NFL Ticket Buying landscape, and details on the cheapest way to get tickets for every team, visit the TicketIQ Blog.
---
Where To Buy 2019 New England Patriots Tickets
Single-game tickets for 2019 New England Patriots games are sold out via primary market ticket partner Ticketmaster, for all game including the home opener against Pittsburgh and the November 24 Dallas Cowboys game are sold out. Season tickets have been sold out since 1994, though fans can get on a waiting list.
On the secondary market TicketIQ has Low Price Guarantees on New England Patriots tickets for all sold out games on the 2019 schedule, and on all NFL sold out games.That means that if you find a secondary market ticket for less on a site like StubHub or SeatGeek, we'll give you 200% of the difference in ticket credit. TicketIQ customers save an average of 5%-20% compared to StubHub and SeatGeek.
How Much Are 2019 New England Patriots Tickets
The $762 average asking price for a Patriots home game on the secondary market is the highest across the NFL, and is up from $524 in 2018. That price is the highest of the decade, and comes on the heels of the Patriots winning their sixth Super Bowl since 2001. The second highest average of the decade was $587 in 2017, a year after winning Super Bowl LI. The Patriots got the Super Bowl again in 2017, but lost to Philadelphia.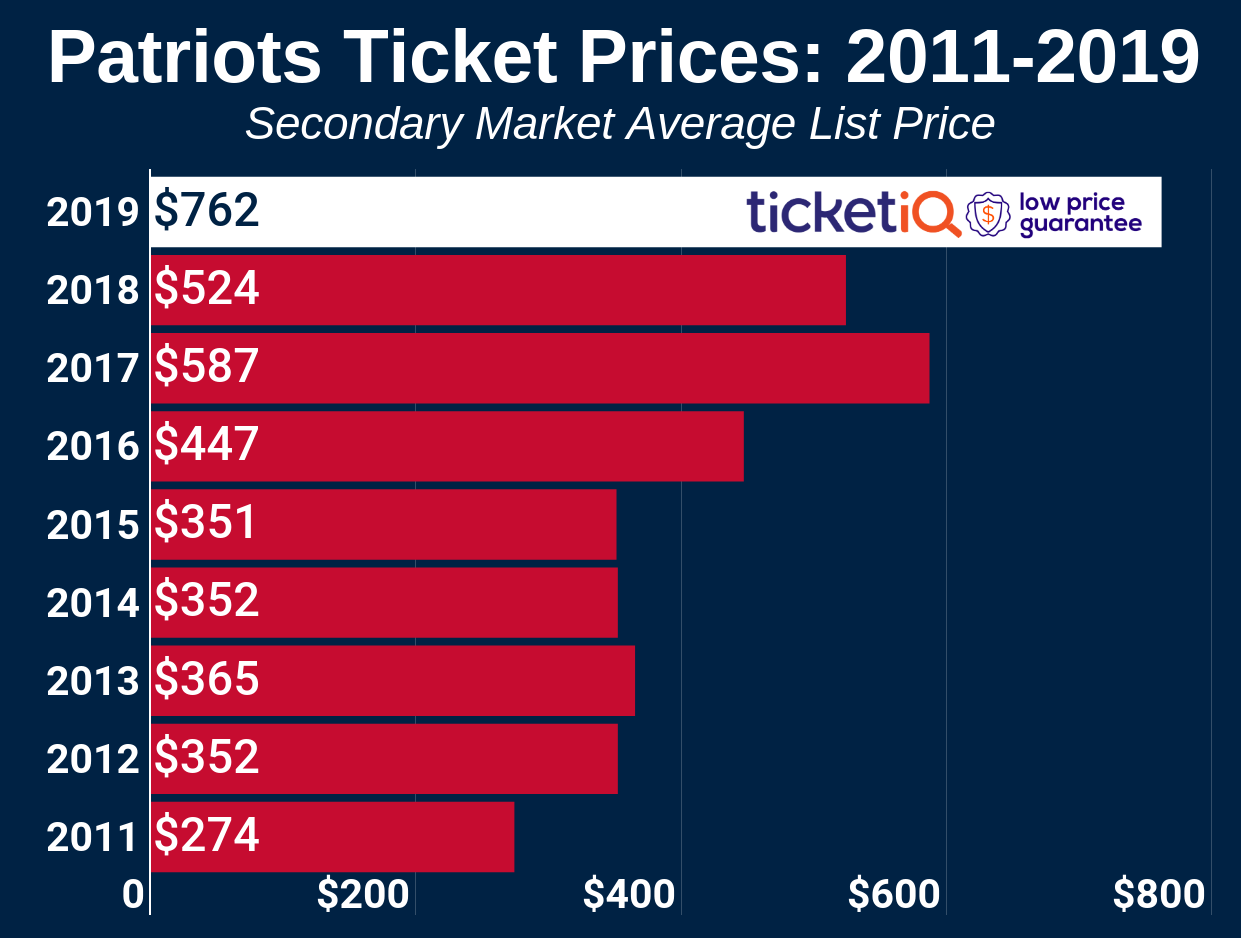 Seven of the Patriots eight games have average asking prices that are trending at $640 or more. The best deal of the season is for the December 21 Buffalo Bills game, which has a current average asking price of $338, while the highest average is $999 for the November 24 Dallas Cowboys game.
TicketIQ has seats available for all Patriots home games. Against Buffalo, fans can get a group of seats at the 50-yard line, starting at either $876 in Section 110 behind the Patriots bench, or $526 in Section 131 behind the Buffalo bench.
For the Cowboys game, fans have their pick of sections on the secondary market, with cheapest ticket starting at $424 in the 100 sections above the end zone, and rising up to more than $1,000 for seats behind the Patriots bench.
Below is a look at prices for New England Patriots home games:
September 8 vs. Pittsburgh Steelers
Secondary market average asking price: $937
Secondary market cheapest ticket: $34
September 22 vs. New York Jets
Secondary market average asking price: $750
Secondary market cheapest ticket: $27
October 10 vs. New York Giants
Secondary market average asking price: $664
Secondary market cheapest ticket: $230
October 27 vs. Cleveland Browns
Secondary market average asking price: $882
Secondary market cheapest ticket: $371
November 24 vs. Dallas Cowboys
Secondary market average asking price: $999
Secondary market cheapest ticket: $420
December 8 vs. Kansas City Chiefs
Secondary market average asking price: $804
Secondary market cheapest ticket: $315
December 21 vs. Buffalo Bills
Secondary market average asking price: $338
Secondary market cheapest ticket: $150
December 29 vs. Miami Dolphins
Secondary market average asking price: $640
Secondary market cheapest ticket: $158