How To Find Cheap 2022 New England Patriots Tickets + On Sale Info
Where To Buy 2022 New England Patriots Tickets
Primary market face-value tickets are available via Ticketmaster.
On the secondary market, TicketIQ has Fee-Free New England Patriots tickets which also include a Refund Guarantee. Our Refund Guarantee states that if an event is canceled or deemed unfit for fans to attend, TicketIQ will refund ticket buyers in as soon as 15 days. That means that you can buy from TicketIQ worry-free. Customers on TicketIQ save between 15%-25% compared to other secondary market ticketing sites.
2022 New England Patriots Schedule & Opponents
Home: Buffalo Bills, Miami Dolphins, New York Jets, Baltimore Ravens, Chicago Bears, Cincinnati Bengals, Detroit Lions, Indianapolis Colts.
Away: Buffalo Bills, Miami Dolphins, New York Jets, Arizona Cardinals, Cleveland Browns, Green Bay Packers, Minnesota Vikings, Las Vegas Raiders, Pittsburgh Steelers.
New England Patriots Club & Premium Seating Options
Gillette Stadium has the following VIP seating options: the Putnam Club, Optum Field Lounge, Cross Insurance Pavilion, and the New England Patriots Tailgate Party.
The Putnam Club is found on both sides of the field. The seats are outdoors, and there is an indoor hospitality experience that includes concession items and dozens of televisions, including ones that feel like the size of jumbotrons.
The Optum Field Lounge provides indoor and outdoor experiences as well. The indoor lounge is an impressive one that includes several televisions and exclusive food and drinks. The outdoor experience is a standing room experience, but it is on the field. During the game, field goals and extra points are kicked right in front of you in the Optum Field Lounge.
Both the Cross Insurance Pavilion and the New England Patriots Tailgate Party are open from 2.5 hours before kickoff to 30 minutes before kickoff. Both experiences include televisions, private entrances, and appearances by Patriots alumni and cheerleaders.
The Cross Insurance Pavilion experience includes lower-level game tickets. The Tailgate Party includes tickets in the first seven rows of the 300-Level Sections of the Gillette Stadium.
New England Patriots Mobile Ticketing
To manage your Patriots tickets, Gillette Stadium has a mobile app available on the App Store and Google Play. The app is also used for mobile entry into the venue. The Patriots require ticket holders to use mobile tickets to enter Gillette Stadium, and it is suggested to add the ticket to your phone's mobile wallet to avoid slow WIFI or cellular signal while entering the stadium. Screenshots of the dynamic barcode on the ticket will not be accepted.

How Much Are 2021 New England Patriots Tickets
The average price for Patriots tickets is $432, which is decrease of 38.7% from 2019. They are one of just four teams to see their prices go down this season. Although, at the week 12 point the Patriots are 7-4 and are 1st place in the AFC East. The cheapest remaining game at Gillette Stadium is the January 02nd game against the Jaguars, where the cheapest tickets start at $160. The most expensive remaining game of the season is the December 26th game against the Bills. For that game, the cheapest ticket starts at $226, with the cheapest lower level ticket going for $341 for a ticket in section 142. At the Week 12 point, the Patriots have had 100% attendance for the season so far, unsurprisingly given their success and their committed fan base.
New England Patriots 2021 Attendance Policy
The New England Patriots plan to operate at full capacity for the 2021 season. There will be no vaccination requirement, but unvaccinated fans will have to wear masks.
New England Patriots 2021 Opponents and Schedule
Home: Buffalo Bills, Miami Dolphins, New York Jets, Cleveland Browns, Dallas Cowboys, Jacksonville Jaguars, New Orleans Saints, Tampa Bay Buccaneers, Tennessee Titans.
Away: Buffalo Bills, Miami Dolphins, New York Jets, Atlanta Falcons, Carolina Panthers, Houston Texans, Indianapolis Colts, Los Angeles Chargers.
The Patriots' 2021 opponents posted a combined 133-139 record last regular season, tying for 19th in strength of schedule, which should give the team an opportunity to improve on their 7-9 season last year. By far, the highest-demand game is the return of Tom Brady to New England, when we returns in Week 4. 24 hours after onsale, the cheapest ticket available for that game was $1,500.
Week 2:

at New York Jets — 1 p.m. ET Sunday, Sept. 19
Week 5:

at Houston Texans — 1 p.m. ET Sunday, Oct. 10
Week 7:

vs. New York Jets — 1 p.m. ET Sunday, Oct. 24
Week 8:

at Los Angeles Chargers — 4:05 p.m. ET Sunday, Oct. 31
Week 9:

at Carolina Panthers — 1 p.m. ET Sunday, Nov. 7
Week 11:

at Atlanta Falcons — 8:20 p.m. ET Thursday, Nov. 18
Week 12:

vs. Tennessee Titans — 1 p.m. ET Sunday, Nov. 28
Week 14:

bye
Week 15:

at Indianapolis Colts — TBD
Week 16:

vs. Buffalo Bills — 1 p.m. ET Sunday, Dec. 26
Week 18:

at Miami Dolphins — 1 p.m. ET Sunday, Jan. 9
New England Patriots 2021 Season Tickets
Season tickets are sold out. Fans interested can join the team's waiting list on Ticketmaster for $100 per deposit. Those who join the waitlist receive the following amenities: 10 percent ProShop discount online, discounted tickets to future draft parties, and access to special Patriots ticket presales as well as playoff ticket priority.
Gillette Stadium COVID-19 Health and Safety Protocols
FACE COVERINGS
Face coverings will be mandatory for all guests at Gillette Stadium. Gaiters, bandanas, masks with valves or vents and single layer cloth masks are not permitted. Please arrive with your face covering on and be sure to wear it at all times (except while actively eating or drinking in your assigned seat). Your face covering must completely cover both your nose and mouth at all times and fit snugly. All guests must adhere to this policy regardless of their vaccination or past infection history.
PHYSICAL DISTANCING
You are required to follow all physical distancing markers that are displayed throughout the stadium. These markers will help you line up at gates, restrooms, concession stands and team stores.
HYGIENE
Staying healthy and reducing the spread of germs means washing your hands regularly. For your convenience, we have added hand sanitizing stations throughout the stadium. In addition, we have installed touchless toilets and sinks in all restrooms.
FIRST AID
If you're in the stadium and begin to feel ill, please go to First Aid and speak with medical personnel. First Aid stations are located at midfield on both the east and west sides of the concourses.
ENHANCED CLEANING
We have increased cleaning and disinfecting throughout the stadium. And all high touch surfaces in stadium common areas will be cleaned before, during and after each game or stadium event.
STAFF PPE
Like all fans, all Gillette Stadium employees must wear a face covering at all times.
TAILGATING
At NFL, MLS, and other stadium events, cars in all parking lots will be separated by every other parking space to ensure a safe tailgating experience. Groups who are tailgating will not be permitted to comingle with other groups. Please follow the directions of our parking attendants.
CONCESSIONS
At concession stands or anywhere food is available, items are now served in to-go containers along with pre-packaged utensils and condiments. All concession stands will be cashless, accommodating contactless payment options only.
PROXIMITY TO PLAYERS
To support physical distancing between fans and players, certain seating areas in proximity to the field will be closed.
POD SEATING
Game tickets will be distributed in "pods" to support physical distancing between each group of ticketholders. Ticket pods will be arranged six feet apart from the next pod. For this reason, please make sure to sit in your assigned seat.
DIRECTIONAL SIGNAGE
Follow all posted signage to help maintain physical distancing while you move about the stadium. Congregating on the concourse is prohibited.
EGRESS
In order to reduce congestion at the conclusion of the event, please be patient and remember to adhere to all physical distancing guidelines while exiting the seating bowl. Do your part and stay at least 6 feet apart from other ticketing pods throughout the egress process.
TICKETS
Mobile ticketing only.
For additional information, visit the Gillette Stadium website.

New England Patriots 2020 Attendance Policy
UPDATE: On August 20th it was announced that there would be no fans allowed at Gillette Stadium through September. In the announcement they also stated that they "will continue its preparations to safely host fans later this fall and will rely on guidance from the Massachusetts Reopening Advisory Board and our team of independent experts."
---
On July 14th, the Patriots announced that if fans are allowed at Gillette Stadium this season, it will be with limited capacity and fans will have to wear face coverings. Here's more from the team's announcement:
Pending state and local approval, should Gillette Stadium be allowed to have fans in the stands this season, it is expected to host about 20 percent of its total capacity. Ticketed parties will be asked to maintain physical distancing of at least six feet from other parties, tickets will be arranged in blocks of 10 seats or less, and the first eight rows of stadium seats will not be used. Additionally, face coverings will be required at all times inside the stadium to keep all attendees safe.

...

Patriots Putnam Club and Season Ticket Members will have the first opportunity to purchase individual game tickets if fans are allowed, and any remaining ticket inventory will go on-sale to the general public once the member process is complete.
It was also announced that parking for all Patriots home games this season will be free, walk up purchases will be suspended, and all tickets this season would be mobile entry.
---
TicketIQ is committed to the cheapest tickets possible, and we make much less on sold out tickets compared to other major marketplaces like StubHub and Vivid. That means ticket buyers save from up to 25% on TicketIQ on sports, music and theater. We're able to do this because we also work with teams, venues, and other ticket owners, to help them sell tickets at face price, directly to consumers like you, through Ticketmaster and Seatgeek. For an overview of the 2020 NFL Ticket Buying landscape, and details on the cheapest way to get tickets for every team, visit the TicketIQ Blog.
---
Where To Buy 2019 New England Patriots Tickets
Single-game tickets for 2019 New England Patriots games are sold out via primary market ticket partner Ticketmaster, for all game including the home opener against Pittsburgh and the November 24 Dallas Cowboys game are sold out. Season tickets have been sold out since 1994, though fans can get on a waiting list.
On the secondary market TicketIQ has Low Price Guarantees on New England Patriots tickets for all sold out games on the 2019 schedule, and on all NFL sold out games.That means that if you find a secondary market ticket for less on a site like StubHub or SeatGeek, we'll give you 200% of the difference in ticket credit. TicketIQ customers save an average of 5%-20% compared to StubHub and SeatGeek.
How Much Are 2019 New England Patriots Tickets
The $762 average asking price for a Patriots home game on the secondary market is the highest across the NFL, and is up from $524 in 2018. That price is the highest of the decade, and comes on the heels of the Patriots winning their sixth Super Bowl since 2001. The second highest average of the decade was $587 in 2017, a year after winning Super Bowl LI. The Patriots got the Super Bowl again in 2017, but lost to Philadelphia.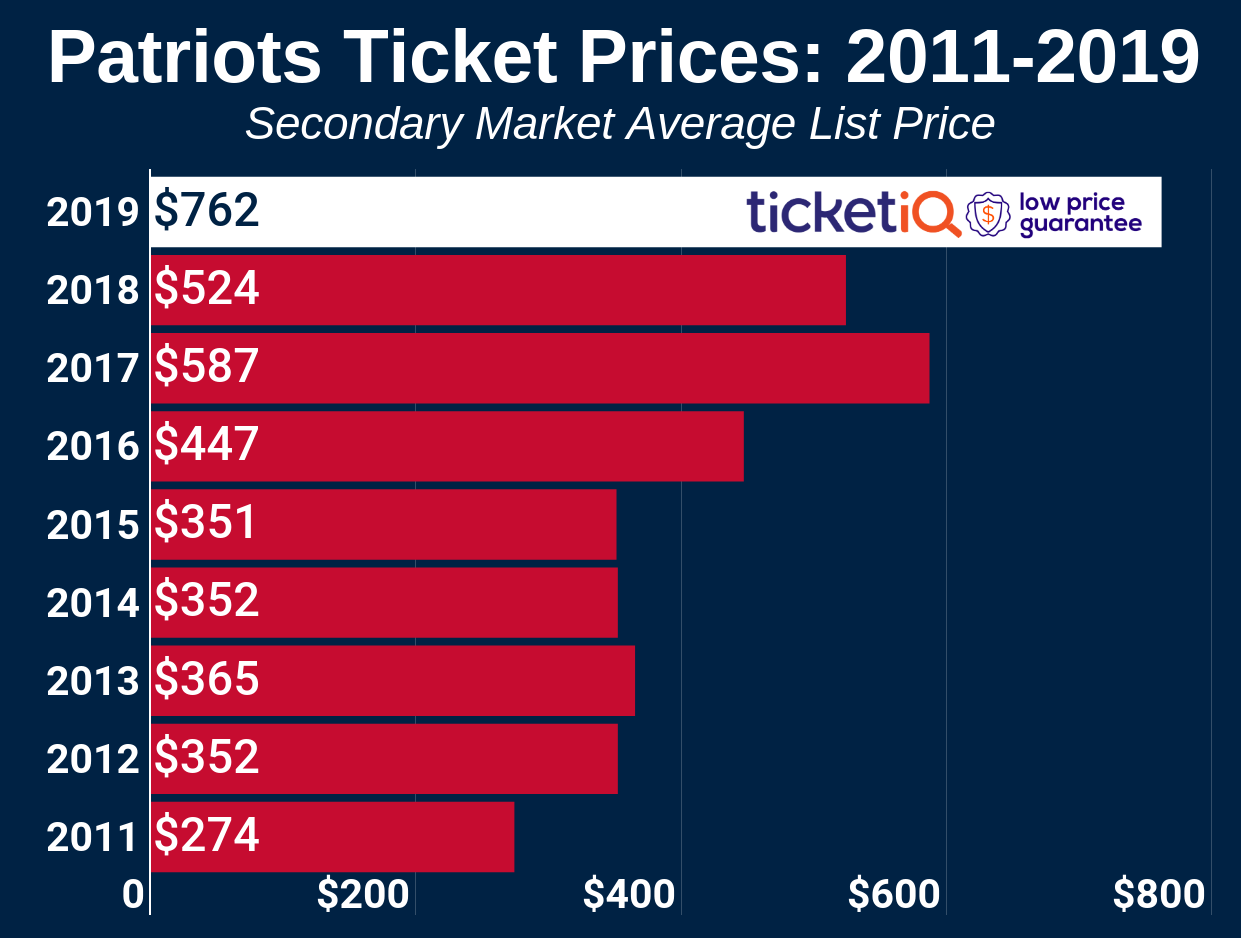 Seven of the Patriots eight games have average asking prices that are trending at $640 or more. The best deal of the season is for the December 21 Buffalo Bills game, which has a current average asking price of $338, while the highest average is $999 for the November 24 Dallas Cowboys game.
TicketIQ has seats available for all Patriots home games. Against Buffalo, fans can get a group of seats at the 50-yard line, starting at either $876 in Section 110 behind the Patriots bench, or $526 in Section 131 behind the Buffalo bench.
For the Cowboys game, fans have their pick of sections on the secondary market, with cheapest ticket starting at $424 in the 100 sections above the end zone, and rising up to more than $1,000 for seats behind the Patriots bench.
Below is a look at prices for New England Patriots home games:
September 8 vs. Pittsburgh Steelers
Secondary market average asking price: $937
Secondary market cheapest ticket: $34
September 22 vs. New York Jets
Secondary market average asking price: $750
Secondary market cheapest ticket: $27
October 10 vs. New York Giants
Secondary market average asking price: $664
Secondary market cheapest ticket: $230
October 27 vs. Cleveland Browns
Secondary market average asking price: $882
Secondary market cheapest ticket: $371
November 24 vs. Dallas Cowboys
Secondary market average asking price: $999
Secondary market cheapest ticket: $420
December 8 vs. Kansas City Chiefs
Secondary market average asking price: $804
Secondary market cheapest ticket: $315
December 21 vs. Buffalo Bills
Secondary market average asking price: $338
Secondary market cheapest ticket: $150
December 29 vs. Miami Dolphins
Secondary market average asking price: $640
Secondary market cheapest ticket: $158