Where To Buy 2020 New York Yankees Tickets?
Single-game New York Yankees tickets for the many 2020 season are currently on sale via Ticketmaster for MasterCard Preferred customers and Audi Yankees Club members for certain games, and public on-sale for all games started on December 24, with an additional on sale on February 24th.
On the secondary market, TicketIQ will offer fans a Low Price Guarantee on all sold-out New York Yankees tickets in addition to Low Price Guarantees on all sold-out Major League Baseball tickets. That means that if you find a secondary market ticket for less on a site like StubHub or Vivid Seats, we'll give you 200% of the difference in ticket credit. In our efforts to continue to provide our customers with the best deals, we've removed all fees.TicketIQ now shows you the full ticket price from the start of your search. TicketIQ customers save an average of 5%-20% compared to StubHub and Vivid Seats.
How Much Are 2020 New York Yankees Tickets?
Overall, Yankees tickets on the secondary are averaging $145, which is the highest they've been since we've been tracking data.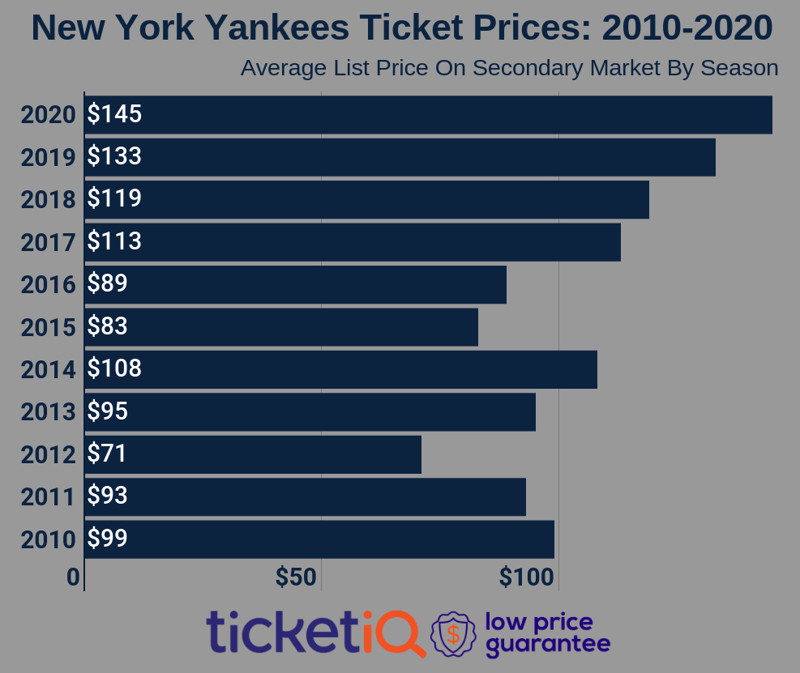 What Are Yankees Season Tickets & Mini Plan Options?
On the primary market, season tickets and multiple-game packages are available through Ticketmaster, and there are six multi-game packages available, starting with a nine-game package.
The nine-game value package includes tickets to see Baltimore (April 6), Detroit (April 28), Minnesota (May 26), Kansas City (June 10), Baltimore (June 23), Los Angeles Angels (July 21). Chicago White Sox (August 5), Tampa Bay (August 18) and Houston (September 21), and starts at $90 for bleacher seats.
Full-season tickets are available for as little as $17 per game up to $410 per game in the first row of the Delta Sky360 Suite. Fans can select their seats on the My Yankees Account page on Ticketmaster.
What Are Yankee Stadium Club & Suite Options?
The Yankees also have individual game suites available, including Party City Suites, which can accommodate 38-80 people, includes food-and-beverage service and a complimentary scoreboard message. Among the other suite options at Yankee Stadium are the Delta Sky360 Suites and the Jim Beam Premium Seats.
The Delta Sky360 Suites combine private seating area with benefits offered by an indoor, full-service bar and upscale dining options. Located behind home plate and on the 200 level of the stadium. The Jim Beam Premium Seats are located in sections 317 – 323, these seats offer an alternate entrance, exclusive food and restrooms, padded seats, and a great birds eye view of the stadium. Unless you are opting for a cheaper, lower seat, the Jim Beam Suite Seats are one of your best bets.
Yankees Mobile Ticketing Policy
Mobile ticketing is not required at Yankee Stadium, but the team offers the option via Yankees.com. Fans can purchase tickets and get into the stadium via their mobile device using the Ticketmaster app, the Ballpark app or the Yankee Stadium app. Fans can also sign up for text alerts and have tickets delivered to their mobile phones.
---
TicketIQ is committed to Transparent Ticketing and offers Low Price Guarantees on sold out tickets + unsold face value ticket through Ticketmaster, Eventbrite and other partners.