Where To Buy 2021 Philadelphia 76ers Tickets
Primary single-game market tickets are available via the team website.
On the secondary market, TicketIQ has Philadelphia 76ers tickets that are Fee-Free and come with a Refund Guarantee. Our Refund Guarantee states that if an event is canceled or deem unfit for fans to attend, TicketIQ will refund ticket buyers within 15 days. That means that you can buy from TicketIQ worry-free.
Philadelphia 76ers 2021 Attendance Policy
It was recently announced that the 76ers can welcome fans back to Wells Fargo Center start on March 7th. Attendance will be limited to around 3,100 (15% of total capacity). The following health and safety protocols have been put in plac
Wells Fargo Center COVID-19 Health and Safety Protocols
Face coverings are required for all guests (ages two and up) at all times within the arena and surrounding areas

Each guest must complete a mandatory self-assessment health questionnaire onsite prior to ticket scanning and entering the building.

Fans must practice social distancing at all times inside the arena by maintaining at least six feet of distance between other patrons outside of their immediate party.

Bags of any size are not permitted inside the arena.

Food and drinks orders will be placed directly from mobile devices and all transactions are cashless.

Contactless parking experience through SP+ Parking Solutions.

Fans will enter and exit the arena at dedicated entrance based on the location of their parking spot and seats.

All tickets will be mobile.

Seating will be set up in pods.
For more information visit the Back To Broad website.
76ers Mobile Ticketing
The 76ers offer the 76ers Official Mobile App in partnership with DraftKings. The app allows fans to stay current with box scores, stats and player bios. The team also offers the MySixersTickets website, on which fans can purchase, transfer, and sell tickets, as well as print out tickets.

---
How Much Are 2019-20 Philadelphia 76ers Tickets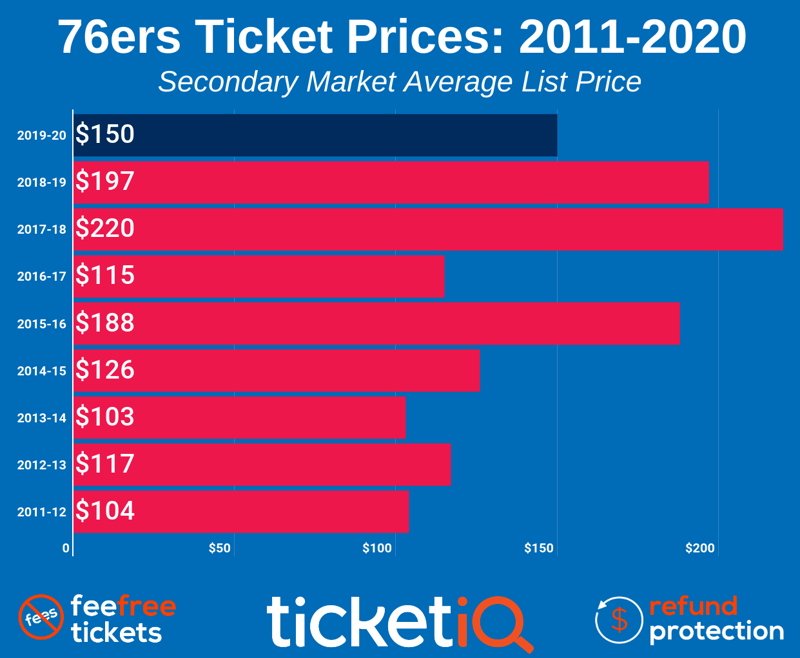 Where Are Season Tickets and Partial Plans at Wells Fargo Center
When season tickets become available, fans will be offered whatever seats are open, and they could be anywhere in the arena.
For partial plans, fans can select their seats, and seats in the Lower Bowl, in Sections LL Ends, Rows 11-17 and 18-26, start below $1,000 for the 11-game packages. There are still Center Court Seats, in Sections 101 and 113, Rows 11-17, available for between $2,785-$2,920, depending on which plan you select. The priciest partial plans are for seats in Centennial North, Rows I-J. Four partial plans are available, and each include 11 games. Partial plans start as low as $453 for seats in Mezzanine End sections, in Rows 8-15.
Where Are Club Seats at Wells Fargo Center
The Wells Fargo Center will unveil major renovations this season, including the City Center Club, which has two 50-foot bars and high-end dining selections. The club is accessible by courtside ticket holders, and some in nearby Club sections. The club is located on the Event Level and offers direct sightlines to the court.
The 76ers and Wells Fargo Center also offer Club Boxes and Luxury Suites, which are available for single games or the season. Club Boxes are available for full or half seasons, and include guaranteed access to playoff tickets, VIP parking and other benefits. The Boxes are located above the action, but with clear sightlines. There is traditional event seating just outside of the Club area. Luxury Suites are available for single-game rentals, and include plush seating in the arena just outside the suite. Suites accommodate between 12-25 guests, and come with upscale catering packages, a bar area and a concierge.
Top 10 Most Expensive 76ers Games On The Secondary Market
As is the case across the league, three California teams – the Lakers, Golden State and the Los Angeles Clippers – are among the Top 10 priciest. But the rival Boston Celtics and Milwaukee Bucks account for four of the Top 10 priciest games.
Secondary market average asking price: $473
Secondary market cheapest ticket: $168
Secondary market average asking price: $342
Secondary market cheapest ticket: $128
Secondary market average asking price: $281
Secondary market cheapest ticket: $88
Secondary market average asking price: $257
Secondary market cheapest ticket: $88
Secondary market average asking price: $231
Secondary market cheapest ticket: $73
Secondary market average asking price: $217
Secondary market cheapest ticket: $66
Secondary market average asking price: $213
Secondary market cheapest ticket: $66
Secondary market average asking price: $209
Secondary market cheapest ticket: $67
Secondary market average asking price: $199
Secondary market cheapest ticket: $58
Secondary market average asking price: $196
Secondary market cheapest ticket: $67
TicketIQ is committed to the cheapest tickets possible, and we make much less on sold out tickets compared to other major marketplaces like StubHub and Vivid. That means ticket buyers save from up to 25% on TicketIQ on sports, music and theater. We're able to do this because we also work with teams, venues, and other ticket owners, to help them sell tickets at face price, directly to consumers like you, through Ticketmaster and AXS. For an overview of the 2019-20 NBA Ticket Buying landscape, and details on the cheapest way to get tickets for every team, visit the TicketIQ Blog.
---
Philadelphia 76ers 2018-19 Ticket Market Overview:
Last season, the Philadelphia 76ers got to the playoffs for the first time since 2011-12, but a second-round loss and the team's youth are keeping fans from pushing up demand for tickets. The average asking price on the secondary market for a 2018-19 Philadelphia 76ers ticket is down 10% compared to last season. Below is how 76ers ticket prices stack up on the secondary market. But even with the decrease in average asking price, tickets are the second highest since TicketIQ.com began tracking data in 2011. The most expensive ticket of the decade was $220 last season.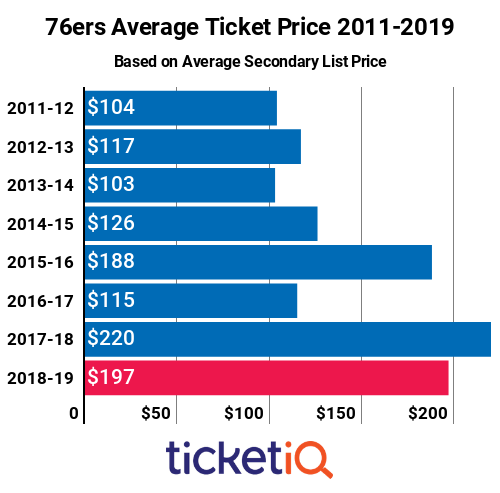 Where to Buy Tickets:
With a $197 average asking price, 76ers tickets are ranked No. 10 in terms of price across the NBA. The Golden State Warriors are ranked No. 1, with a $463 average asking price. Last season, Philadelphia tickets were ranked No. 5. Season tickets are sold out, but fans can join one of two waiting lists – Club 76 Elite for a $176 fee or Club 76 Free for no deposit. Elite customers are placed higher on the waiting list. Single-game tickets are available through ticket partner StubHub, as well as through TicketIQ.com. Both have seats available for all games, though selection is limited for some of the biggest games, including the February 10 Los Angeles Lakers game, for which tickets start at $138 on StubHub. On TicketIQ.com, prices start at $133 for Mezzanine-level seats that come with the company's Low Price Guarantee.
Top 5 Games on 2018-19 Philadelphia 76ers Schedule:
As is the case with many other teams, the game with the highest average asking price at the Wells Fargo Center is LeBron James' first appearance as a Laker. The average asking price for the Lakers February 10 visit is $517, with a get-in price of $135. The next most expensive game is the March 2 game featuring the defending NBA champion Golden State Warriors, which checks in at $472. The only other game to crack $400 is the October 18 Chicago Bulls game.
Tickets to see the 76ers play their biggest rivals, the Boston Celtics, round out the top five with average asking prices of $322 on February 12 and $282 on March 20. The 76ers-Celtics rivalry is the most prolific in the NBA with 522 meetings dating back to 1949. The Celtics hold a 312-232 edge. TicketIQ.com has seats for both Celtics games available, starting at $50 in Mezzanine 221 for the first game, and at $49 in Mezzanine 205A for the second game. For either game, if the Celts or 76ers are in the mix for a playoff spot, prices are likely to rise.