Where to Buy 2019-20 Philadelphia Flyers Tickets
Single-game tickets on the primary market for the 2019-20 Philadelphia Flyers are currently available. Since 1996, the Flyers have played at the Wells Fargo Center, and single-game tickets are available through Paciolan and at the Wells Fargo Center box office. Below is an example of a the get-in price on the primary market with a good amount of inventory available.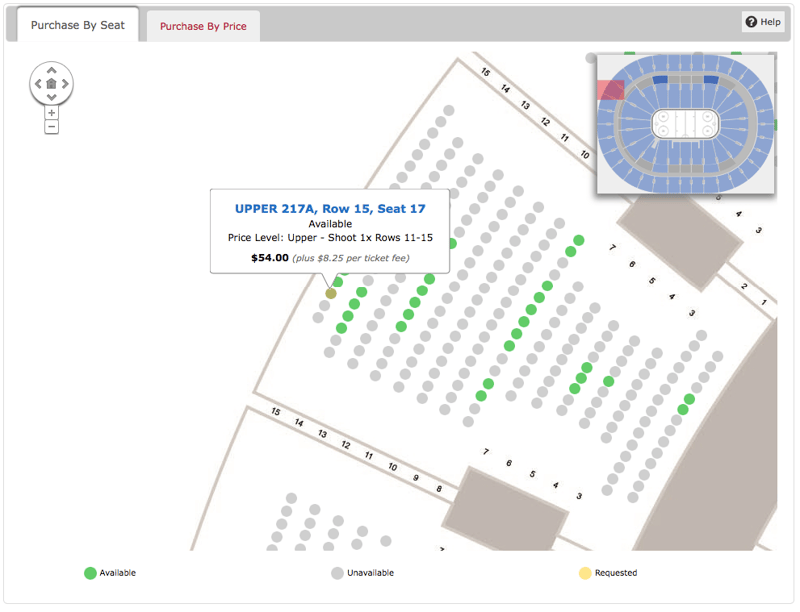 On the secondary market, TicketIQ has Low Price Guarantees on sold out Philadelphia Flyers tickets for all games on the 2019 schedule, and all sold out NHL games. That means that if you find a secondary market ticket for less on a site like StubHub or SeatGeek, we'll give you 200% of the difference in ticket credit. TicketIQ customers save an average of 5% to 20%, compared to StubHub and SeatGeek. Below is a seat map showing the cheapest tickets on the secondary ticket market by zone for the February 28th game against the Rangers, their most expensive of the season.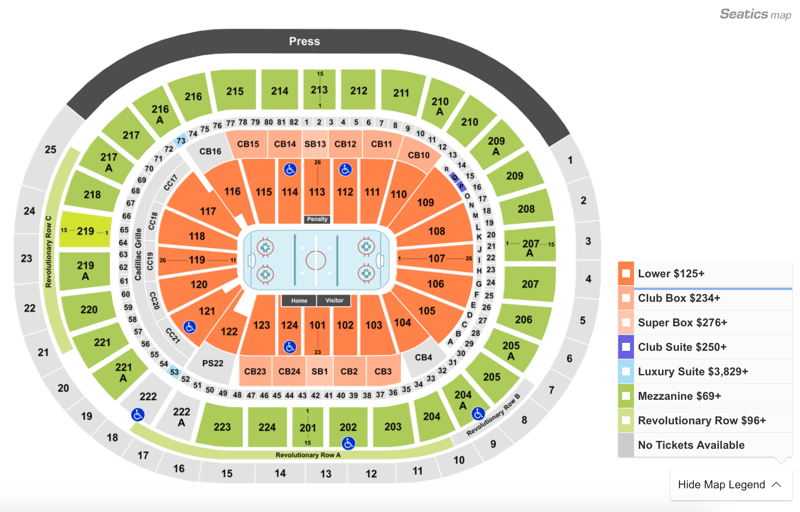 ---
🎟 Visit TicketIQ For Sold Out Flyers Tickets with a Low Price Guarantee
🏟️ Visit Wells Fargo Seating Chart For Info On Sections Seats and Rows
📲 Download the TicketIQ app for $20 off your first ticket purchase
---
How Much Are 2019-20 Philadelphia Flyers Tickets
Like most other teams, the Flyers use dynamic pricing, charging variable amounts depending on the quality of each game. For marquee match-ups, such as divisional clashes against the New York Rangers and Pittsburgh Penguins, primary market seats range from $89 to $258; for a lesser game, prices range from $42 to $121. Currently, even the most desirable games have retail tickets available at all price points and seating locations, but the arena is filling up fast. If you want to purchase tickets from the team, especially in popular areas like the center of the upper bowl, time will be of the essence.
On the secondary market, however, there's more flexibility. The Flyers enter the 2019-20 season on the cheaper side of the spectrum with the 20th highest average resale price in the league; seats are currently averaging $103, a 37% decrease from last year.
That average price is the lowest Flyers tickets have been since the 2015-16 season. Philadelphia fans are clearly skeptical of their team's coaching changes; Alain Vigneault had some excellent seasons in the Metropolitan Division with the New York Ranger, but struggled to keep his defense organized towards the end of his tenure. If he's able to turn the Flyers around, however, you'll be scoring a bargain on the secondary ticket market.
Staring this season, the Flyers are also offering a $25 standing room area at the arena. Called the Assembly Room, it's a general admission area with the capacity to hold 750 fans in the arena's New City Terrace.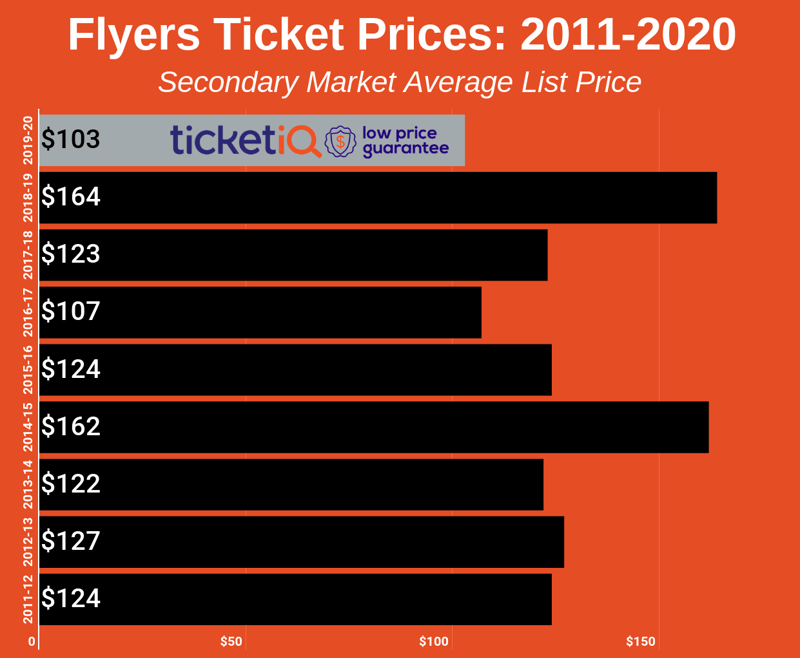 What are the Flyers Season Ticket and Mini Plan Options
If you're looking to attend multiple games this season, the Flyers have several ticket plans to choose between.
First, there's a full season ticket. In addition to a seat at every home game, this option includes the most perks; not only do you gain access to exclusive concession lines, but season ticket holders get 20% off on parking, food, and merchandise and invitations to several special events.
There are also two half-season plans, which include some of the same perks. That ticket includes half the discounts (10% off rather than 20%) and access to fewer events.
Lastly, there are four separate 10 game plans. While they don't include any additional perks, they do come with added flexibility; with various options, including one weekend plan, everyone can find an option that works for them.
Where are Club Seats at the Wells Fargo Center
The Wells Fargo Center is in the midst of a massive renovation process, affecting the arena's suites. The new mezzanine level will feature 82 suites, two lounge areas, and an open concourse with enhanced concessions and views of the city skyline. You can rent a suite for one game or, if you're looking to truly splurge, purchase your own suite.
Flyers Mobile Ticketing Info
If you're a season ticket holder, you can handle all of your ticketing needs through your Inside Edge account and the Wells Fargo Center app. Everyone attending the game, however, is able to use mobile tickets to enter the arena.
Can I Place Sports Bets On Flyers Games At Wells Fargo Center?
In 2019, the Wells Fargo Center will add two sports betting lounges, one on the main concourse and one on the top level, featuring TVs showing action across the country. They will be sponsored by SugarHouse Sportsbook and feature a space where fans can bet with online sportsbooks in Pennsylvania, though obviously you'll be encouraged to play with SugarHouse. The upstairs location will be 6,500 square feet and look over the playing surface. There will also be massive LED video walls and SugarHouse reps walking fans through the signup process."
The Top 10 Most Expensive Flyers Games on the Secondary Market
On average, the ten most expensive Flyers games cost over $100 on the secondary market. If you look at get-in prices, however, there are some bargains to be had, particularly against the Rangers right before Christmas.
Secondary Market Average Price: $142
Cheapest Available Get-In Price: $65
Secondary Market Average Price: $140
Cheapest Available Get-In Price: $62
Secondary Market Average Price: $137
Cheapest Available Get-In Price: $57
Secondary Market Average Price: $133
Cheapest Available Get-In Price: $51
Secondary Market Average Price: $131
Cheapest Available Get-In Price: $26
Secondary Market Average Price: $124
Cheapest Available Get-In Price: $59
Secondary Market Average Price: $122
Cheapest Available Get-In Price: $56
Secondary Market Average Price: $119
Cheapest Available Get-In Price: $48
Secondary Market Average Price: $118
Cheapest Available Get-In Price: $50
Secondary Market Average Price: $116
Cheapest Available Get-In Price: $56
---
TicketIQ is committed to the cheapest tickets possible, and we make much less on sold out tickets compared to other major marketplaces like StubHub and Vivid. That means ticket buyers save from up to 25% on TicketIQ on sports, music and theater. We're able to do this because we also work with teams, venues, and other ticket owners, to help them sell tickets at face price, directly to consumers like you, through Ticketmaster and AXS. For an overview of the 2019-20 NHL Ticket Buying landscape, and details on the cheapest way to get tickets for every team, visit the TicketIQ Blog.
---
Philadelphia Flyers 2018-19 Ticket Market Overview:
After watching a relatively young team finish third in the Metropolitan Division last season, fans are driving up demand for Philadelphia Flyers tickets in the hopes that the youngsters will be contenders this time around. Below is how Flyers tickets stack up on the secondary market across the league. As you can see below, 2018-19 Philadelphia Flyers tickets are up 33% compared to last season, and are the most expensive since 2011, when secondary ticket marketplace TicketIQ.com began tracking data. The next most expensive season was 2014-15, when secondary market tickets settled at $162. Philadelphia was third in the Metropolitan that season, too.
Where to Buy Tickets:
With a $170 average asking price, Flyers tickets are ranked No. 9 across the NHL -- as compared to No. 19 last season. The priciest ticket in the league this year is $332 for a Toronto Maple Leafs home game. Season tickets are available through the team website, where fans can put down a deposit and select seats. In addition to seats, season ticket holders get first priority to buy NHL Stadium Series tickets, merchandise discounts, and special in-game experiences. Single-game tickets are available through the team's primary market vendor, Ticketmaster, though many sections are already sold out for every game. On the secondary market, TicketIQ.com has seats all over the stadium for all home games, including the Stadium Series game at Lincoln Financial Field on February 23.
Top 5 Games On The 2018-19 Flyers Schedule:
Not surprisingly, the Stadium Series game against in-state rival Pittsburgh is the most expensive game of the season. It is the first time Philadelphia has hosted a stadium game, though the Flyers did play outdoors in 2017 at Pittsburgh, and did host the New York Rangers at Citizens Bank Park in 2012 in the Winter Classic. Tickets for the Stadium Series are trending at $321 on the secondary market.
The next most expensive game also includes the Penguins. The February 11 game has a current average asking price of $230. The series, dubbed the "Battle of Pennsylvania," dates to 1967 and the Flyers hold a 174–122–30 series advantage. TicketIQ.com has seats available in the upper deck starting at $139 and in the lower bowl starting at $222, all with the company's Low Price Guarantee. Should either the Pens or the Flyers be in the hunt for a post-season spot, either of these games could see a spike in ticket prices.