Where To Buy 2019 Timbers Tickets:
Coming off a 2-0 loss in the MLS Cup in 2018, the Timbers are looking to make a late-season push to make their third consecutive postseason appearance. Those who want tickets can do so on the Timbers website via primary market partner SeatGeak.
On the secondary market, TicketIQ has a Low Price Guarantee on Timbers tickets for all games on their 2019 schedule, in addition to Low Price Guarantees on all MLS tickets, which means that if you find a secondary market ticket for less on a site like StubHub or SeatGeek, we'll give you 200% of the difference in ticket credit. TicketIQ customers save an average of 5%-20% compared to StubHub and SeatGeek. Download the TicketIQ app for $20 off your first ticket purchase 📲 🎟️
How Much Are 2019 Timbers Tickets:
Timbers will face their rival Seattle Sounders twice the rest of the season, and one of the contests is on the road on July 21 and the other is at home on August 23. Portland defeated Seattle en route to the Timbers' Western Conference title in 2018. Below is a look at how Timbers tickets prices stack up on the secondary market across the league. At an average price of $83 per ticket on the secondary market, Timbers tickets are down 47% over the last season, and are the lowest since 2015. Timbers tickets are currently the third most expensive in the MLS this season.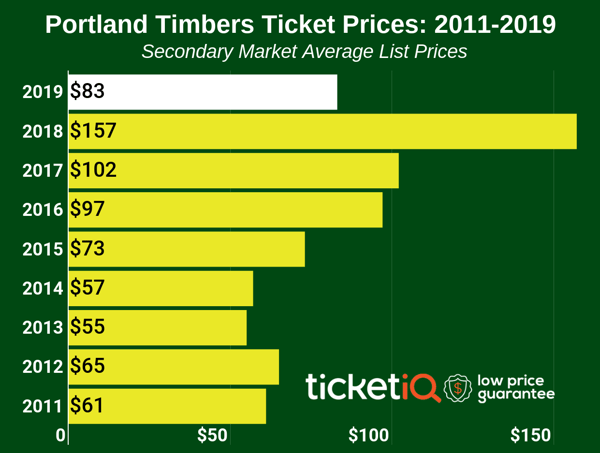 Prices For Each Game on 2019 Timbers Schedule:
Currently, the priciest home games of the season are the Timbers' contests against the Galaxy on July 27 and the Sounders on August 23; both games have a get-in price of $65. The cheapest get-in at home is $34 when the Timbers host Orlando City SC on July 18. Get-in prices for the plenty of remaining home games can be found below:
7/13 vs Colorado - Ticket prices start at $49 🎟️
7/18 vs Orlando - Ticket prices start at $35 🎟️
7/27 vs Galaxy - Ticket prices start at $75 🎟️
8/14 vs Fire - Ticket prices start at $14 🎟️
8/18 vs Atlanta United - Ticket prices start at $88 🎟️
8/23 vs Sounders - Ticket prices start at $70 🎟️
8/31 vs Salt Lake - Ticket prices start at $35 🎟️
9/7 vs Kansas City - Ticket prices start at $40 🎟️
9/15 vs D.C. United - Ticket prices start at $40 🎟️
9/18 vs Red Bulls - Ticket prices start at $34 🎟️
9/22 vs Minnesota United - Ticket prices start at $52 🎟️
9/25 vs Revolution - Ticket prices start at $35 🎟️
10/6 vs Earthquakes - Ticket prices start at $37 🎟️
What can you bring into Providence Park:
Providence Park, which recently underwent a $50 million overhaul, held its first home game of the 2019 season on June 1. The Park Pricing menu features discounts that are great deals for your visit to see the Timbers.
Items Allowed in the Stadium:
A clear bag that does not exceed 14 x 14 x 6 inches along with cameras, video recorders and service animals are allowed. Visa, MasterCard, Discover and American Express cards are accepted throughout Providence Park; no checks will be accepted.
Prohibited Items:
Food, beverages, weapons of any kind, coolers, thermoses, helium balloons, sticks, bicycles, laser pointers, tobacco products, marijuana, E-cigarettes, vuvuzela horns, animals other than service animals and compressed air horns are all prohibited at Providence Park.
---
TicketIQ is committed to the cheapest tickets possible, and we make much less on sold out tickets compared to other major marketplaces like StubHub and Vivid. That means ticket buyers save from up to 25% on TicketIQ on sports, music and theater. We're able to do this because we also work with teams, venues, and other ticket owners, to help them sell tickets at face price, directly to consumers like you, through Ticketmaster and Paciolan. For an overview of the 2019 College Football Ticket Buying landscape, and details on the cheapest way to get tickets for every MLS team, visit the TicketIQ Blog.