Where To Buy 2020 Real Salt Lake Tickets:
Single-game tickets on the primary market for Major League Soccer's Real Salt Lake are on sale now via the team and primary partner AXS.
On the secondary market, TicketIQ has a Low Price Guarantee on sold out Real Salt Lake tickets for all games on their 2020 schedule, in addition to Low Price Guarantees on all MLS tickets. That means that if you find a secondary market ticket for less on a site like StubHub or Vivid Seats, we'll give you 200% of the difference in ticket credit. In our efforts to continue to provide our customers with the best deals, we've removed all fees.TicketIQ now shows you the full ticket price from the start of your search. TicketIQ customers save an average of 5%-20% compared to StubHub and Vivid Seats.
How Much Are 2020 Real Salt Lake Tickets:

On the secondary market, TicketIQ has seats available for some home games for as little as $17. TicketIQ currently has seats for the Saturday, April 25 match against Seattle Sounders FC starting at $30 per ticket. When the Los Angeles Galaxy play at Rio Tinto Stadium on Saturday, May 23, tickets start at $42 each.
Overall, the average asking price for a Real Salt Lake ticket is $43, an increase of $7 (19%) over the 2019 season. Real Salt Lake finished the 2019 season third in the Western Conference, where they lost in the quarterfinals to the Seattle Sounders.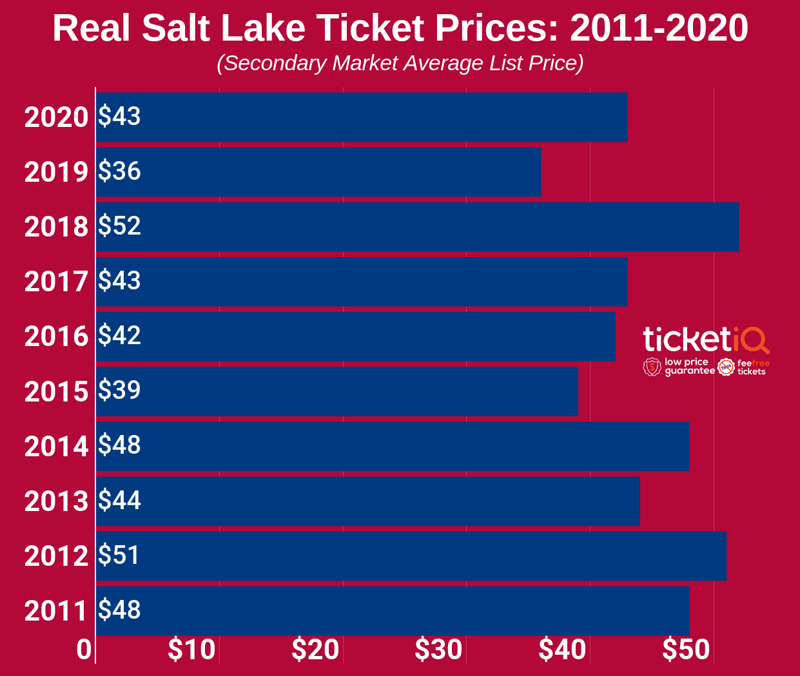 What are Real Salt Lake Season Tickets & Mini Plan Options
Season ticket packages are available through AXS starting at $216 per ticket. Season-ticket holder benefits include a commemorative scarf, tickets to Utah Royals FC and Real Monarch games, 20% discount on parking, 20% discount on merchandise and priority first-right of refusal for playoff matches and international friendlies. Real Salt Lake also offers half-season and 4-pack ticket plans with fans able to select which games they can see. The 4-pack starts at $58.
Real Salt Lake Mobile Ticketing
Real Salt Lake and Rio Tinto Stadium utilize the RSL AsOne app, available from the Apple App store or Google Play Store.
Real Salt Lake 2020 Schedule
FEBRUARY
Sat. Feb. 29 @ Orlando (4PM)
MARCH
SAT. MARCH 7 NYRB (12PM)
Sat. March 14 @ Columbus (3PM)
SAT. March 21 NEW ENGLAND (7PM)
Sat. March 28 @ Kansas City (6:30PM)
APRIL
Sat. April 4 @ Vancouver (8PM)
SAT. APRIL 11 COLORADO (7PM)
Sat. April 18 @ LAFC (8:30PM)
SAT. APRIL 25 SEATTLE (7PM)
WED. APRIL 29 MIAMI (7:30PM)
MAY
Sun. May 3 @ Atlanta (1PM)
SAT. MAY 9 PORTLAND (7PM)
Wed. May 13 @ Minnesota (6PM)
SAT. MAY 16 SAN JOSE (7PM)
SAT. MAY 23 LA GALAXY (1:30PM)
Sat. May 30 @ Seattle (4PM)
JUNE
SAT. JUNE 6 FC DALLAS (6PM)
Sat. June 13 @Philadelphia (TBD)
SAT. JUNE 20 HOUSTON (8PM)
Sat. June 27 @ Toronto (6PM)
JULY
WED. JULY 1 KANSAS CITY (8PM)
Sat. July 4 @ LA Galaxy (8:30PM)
SAT. JULY 11 VANCOUVER (8PM)
Sat. July 18 @ Nashville (6PM)
SAT. JULY 25 MINNESOTA (8PM)
AUGUST
Sat. August 1 @ Houston (6:30PM)
Sat. August 8 @ FC Dallas (6:30PM)
SAT. AUGUST 15 MONTREAL (8PM)
Sat. August 22 @ Colorado (7PM)
SAT. AUGUST 29 NASHVILLE (7:30PM)
SEPTEMBER
SAT. SEPT. 12 CINCINNATI (7PM)
Sat. Sept. 19 @ San Jose (8PM)
Sat. Sept. 26 @ Portland (8:30PM)
OCTOBER
SUN. OCT. 4 LAFC (2:30PM)
---
TicketIQ is committed to Transparent Ticketing and offers Low Price Guarantees on sold out tickets + unsold face value ticket through Ticketmaster, Eventbrite and other partners. For an overview of the 2020 MLS Ticket buying landscape, and details on the cheapest way to get tickets for every MLS team, visit the TicketIQ Blog.