Where To Buy 2020 San Diego Padres Tickets?
Single-game tickets on the primary market for the San Diego Padres went on sale via Ticketmaster on Thursday, February 6. Pre-sales for Padres Registered Users start Wednesday, February 5 at 10 a.m. PST.
On the secondary market, TicketIQ will offer fans a Low Price Guarantee on all San Diego Padres tickets in addition to Low Price Guarantees on all Major League Baseball tickets. That means that if you find a secondary market ticket for less on a site like StubHub or Vivid, we'll give you 200% of the difference in ticket credit. TicketIQ customers save up to 25%.
How Much Are 2020 San Diego Padres Tickets?
On the secondary market, TicketIQ has seats available for all San Diego Padres home games.
Fans can get into most Padres games for less than $25, and the two cheapest series, with tickets starting at $15, are against NL West foes Arizona, May 26-28 and September 8-10. The priciest series of the season is against the Los Angeles Dodgers, May 1-3, and the
priciest game
is the Saturday, May 2 Dodgers game. The cheapest seats are trending at $53 in Upper Pavilion 322, Row 10 in the outfield on the third base side.
According to TicketIQ, the average asking price for a San Diego Padres game is $58, up 10% from an average of $52 last season.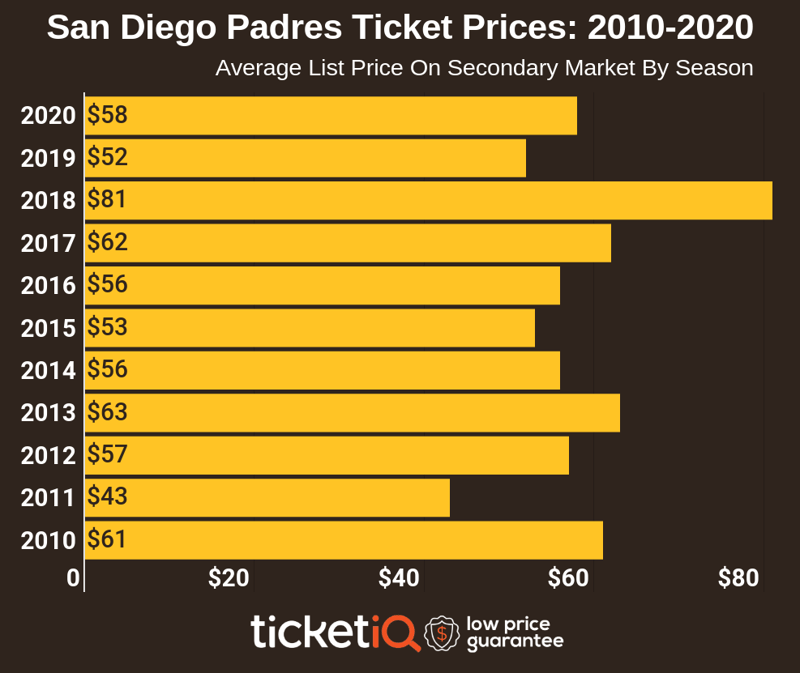 What Are Padres Season Ticket & Mini Plan Options?
On the primary market,
season tickets
are already on sale through the team website and are available for as few as 10 games. Season ticket holders get discounts on games vs. single-game prices, merchandise and concession discounts, guaranteed tickets for Opening Day and access to lounges at Petco Park.
The least expensive package is the 10-game
Flex package
, which includes tickets to any 10 games, and includes access to the Opening Day pre-sale. Among the games included in the Flex package are weekend games against the San Francisco Giants and Los Angeles Dodgers. Flex packages vary in price, depending on what games are selected.
Fans can put down a $250 deposit for
full season tickets via Ticketmaster,
and fans can select seats anywhere at Petco Park. Season ticket prices vary, depending on the location of seats.
---
TicketIQ is committed to Transparent Ticketing and offers Low Price Guarantees on sold out tickets + unsold face value ticket through Ticketmaster, Eventbrite and other partners.