Where And How To Buy 2021 San Diego Padres Tickets
Current capacity limits at Petco Park are limited to 33% and 67% in designated seating sections where fans are either fully vaccinated or show proof of a negative COVID-19 test. It was also recently announced that Petco Park will return to 100% capacity starting on June 17th.
Tickets for the rest of the season are available via Ticketmaster.
On the secondary market, TicketIQ has Fee-Free San Diego Padres tickets which also include a Refund Guarantee. Our Refund Guarantee states that if an event is canceled or deemed unfit for fans to attend, TicketIQ will refund ticket buyers in as soon as 15 days. That means that you can buy from TicketIQ worry-free. Customers on TicketIQ save between 15%-25% compared to other secondary market ticketing sites.

How Much Are 2021 San Diego Padres Tickets
When the Padres have unsold face value tickets available, they are usually cheaper than those same sections on the secondary. As an example, section 105 below have socially-distant tickets available for the Mets series for $130, after fees. On TicketIQ, the only ticket available in section 105 is listed for $277.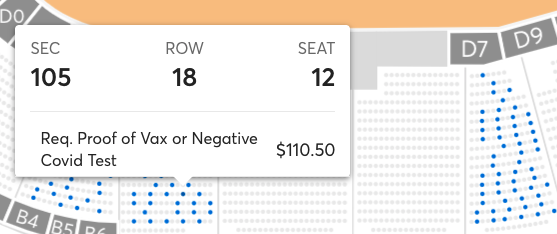 The Padres also offer Lawn seats for $29, and the
lawn seating area accommodates approximately 2,000 fans.
The Padres also have a section known as the "beach" in center field. The beach is a sand-covered section in front of the bleachers where fans can watch the game directly behind the glass paneled outfield fence. When no games are being played, the Park at the Park serves as a free local park for area resident.
On the secondary Ticket market, most games start around $75.
2021 San Diego Padres Season Ticket, Premium and Mini Plan Options
The Padres are also offering a half-season plan, but their 20-game plans are no longer available. Benefits to signing up for these memberships include access to postseason tickets, up to a 30% discount on single-game ticket prices, a 10% discount on concessions and merchandise, and a member happy hour.

The Padres have eight different VIP areas, all of which are listed below. You can place a $200 deposit on any of the below on MLB.com/padres/tickets/premium
Cutwater Coronado Club, located on the Terrace Level (200 level) between 3rd base and home plate
The Gallagher Chairman's Club, located on the Garden Level above homeplate.
Blue Shield Home Plate Club, directly behind Home Plate next to the 1st and 3rd base dugouts
Jerome's Home Plate Box Seats, located behind sections 101 and 103 on field level.
First Base VIP, just beyond Padres dugout
Compass Premier Club Loge Box is on the third base side in Section 108
3rd Base Coach's Box, right behind visitors dugout and with great view into Padres dugout
Terrace Luxury Boxes are on tge Terrace Level (200s) between 3rd base and home plate
Petco Park COVID-19 Health and Safety Protocols
Official health and safety protocols have not yet been announced, but the Padres have been running tours of Petco Park with the following guidelines put in place:

Health Screening
Upon arrival, each guest will be asked a series of questions regarding their recent health.
All guests must pass the health screening to enter the ballpark.
Face Covering
Cloth facial coverings are required for all guests two year of age and older.

All guests and Petco Park employees will be required to wear a face covering while at the ballpark. Guests will be given a Padres branded face mask upon arrival.
Practice Social Distancing
Maintain a six-foot distance between you, other guests (that are not from your household) and team members. There will be socially distanced stickers along the tour route to ensure proper safety precautions.
Socially-Distanced Lines and Seating
During your visit to Petco Park, remember to stay physically distant. Please keep at least six feet between your party and other guests. Throughout the venue, you'll see signage and spacing markers to help maintain proper distancing, especially in seating areas and while standing in line.
Contactless Ticketing, Payments & Ordering
We've made some digital enhancements to minimize touchpoints. All tickets are now digital and can be accessed within the MLB Ballpark app. And, we're now a cashless venue to limit physical transactions. Use your mobile device for cashless payments and download MLB Ballpark for mobile food ordering.
For more information, visit the Padres website.