How To Find Cheap Seattle Sounders FC Tickets + Face Value Options
Where To Buy 2021 Seattle Sounders Tickets
Single-game tickets on the primary market for Seattle Sounders FC are available via Ticketmaster.
On the secondary market, TicketIQ offers fans Fee-Free Seattle Sounders FC tickets which also include a Refund Guarantee. Our Refund Guarantee states that if an event is canceled or deemed unfit for fans to attend, TicketIQ will refund ticket buyers in as soon as 15 days. That means that you can buy from TicketIQ worry-free. Customers on TicketIQ save between 15%-25% compared to other secondary market ticketing sites.
How Much Are 2022 Seattle Sounders Tickets
On the secondary market, Seattle Sounders tickets have an average list price of $111 for the 2022 season. That number is the 7th highest in MLS, and the 4th highest in the Western Conference. Ticket prices for most games start at around $40 per seat.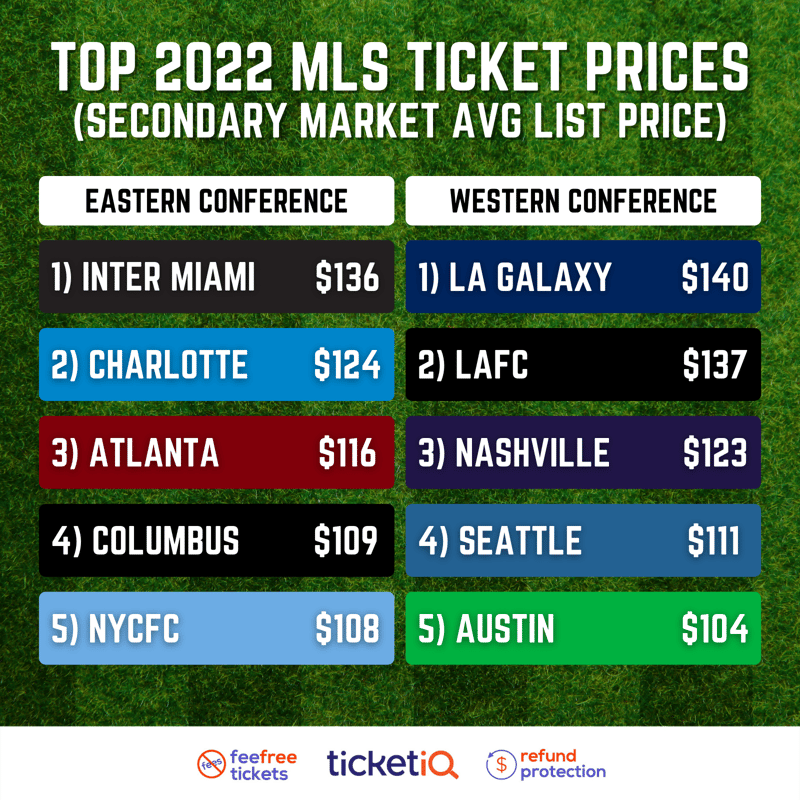 Seattle Sounders 2022 Season Ticket & Mini Plan Options
Full season ticket memberships are available for the 2022 season via Ticketmaster. Tickets are limited, and prices range from $401.25 to $1,171.65 per ticket.
Partial season and mini plan options are not available.
Seattle Sounders Mobile Ticketing
Matchday will now be a touchless experience. Through your Ticketmaster Account Manager, you'll be able to scan your tickets right from your phone using new self-service pedestal ticket scanners upon entry to Lumen Field. All tickets are 100% digital.
Seattle Sounders 2022 Schedule
| Date | Opponent | H/A | Day | Time | TV |
| --- | --- | --- | --- | --- | --- |
| February 17 | Motagua | A | Thursday | 7 PM | TBD |
| February 24 | Mogagua | H | Thursday | 7:30 PM | TBD |
| February 27 | Nashville | H | Sunday | 6:30 PM | Fox13+/Prime |
| March 5 | Real Salt Lake | A | Saturday | 3 PM | Fox13+/Prime |
| March 12 | LA Galaxy | H | Saturday | 12:30 | Fox |
| March 20 | Austin FC | A | Sunday | 1:30 PM | FS1 |
| April 2 | Minnesota United | A | Saturday | 5 PM | Fox13+/Prime |
| April 9 | FC Cincinnati | H | Saturday | 7 PM | Fox13+/Prime |
| April 16 | Inter Miami | H | Saturday | 7 PM | FS1 |
| April 23 | San Jose Earthquakes | A | Saturday | 7:30 PM | Fox13+/Prime |
| April 30 | Vancouver Whitecaps | H | Saturday | 7 PM | Fox13+/Prime |
| May 7 | FC Dallas | A | Saturday | 5:30 PM | Fox13+/Prime |
| May 15 | Minnesota United | H | Sunday | 1 PM | ESPN |
| May 18 | Houston Dynamo | A | Wednesday | 5:30 PM | Fox13+/Prime |
| May 22 | Colorado Rapids | A | Sunday | 5 PM | Fox13+/Prime |
| May 29 | Charlotte FC | H | Sunday | 6:30 PM | FS1 |
| June 18 | LAFC | H | Saturday | 12 PM | ABC |
| June 25 | Sporting KC | H | Saturday | 12 PM | ABC |
| June 29 | CF Montreal | H | Wednesday | 7 PM | Fox13+/Prime |
| July 2 | Toronto FC | A | Saturday | 4:30 PM | Fox13+/Prime |
| July 9 | Portland Timbers | H | Saturday | 1:30 PM | Fox |
| July 13 | Nashville SC | A | Wednesday | 5:30 PM | Fox13+/Prime |
| July 16 | Chicago Fire | A | Saturday | 5 PM | Fox13+/Prime |
| July 23 | Colorado Rapids | H | Saturday | 7 PM | Fox13+/Prime |
| July 29 | LAFC | A | Friday | 8 PM | FS1 |
| Aug. 3 | FC Dallas | H | Wednesday | 7 PM | Fox13+/Prime |
| Aug. 6 | Atlanta United | A | Saturday | 12 PM | ABC |
| Aug. 14 | Real Salt Lake | H | Sunday | 7 PM | Fox13+/Prime |
| Aug. 19 | LA Galaxy | A | Friday | 7 PM | ESPN |
| Aug. 26 | Portland Timbers | A | Friday | 7 PM | ESPN |
| Aug. 31 | Orlando City | A | Wednesday | 4:30 PM | Fox13+/Prime |
| Sept. 4 | Houston Dynamo | H | Sunday | 6 PM | Fox13+/Prime |
| Sept. 10 | Austin FC | H | Saturday | 5 PM | Fox13+/Prime |
| Sept. 17 | Vancouver Whitecaps | A | Saturday | 7 PM | Fox13+/Prime |
| Oct. 2 | Sporting KC | A | Sunday | 2 PM | FS1 |
| Oct. 9 | San Jose Earthquakes | H | Sunday | 2 PM | Fox13+/Prime |