Where to Find Slave Play Tickets
Primary market tickets for Slave Play at the Golden Theater are available via Telecharge, and range in price from $39-$159. The show made its Broadway debut October 6.
TicketIQ offers a Low Price Guarantee on secondary market for all sold out Slave Play tickets. According to TicketIQ, seats start as low as $92 for many weekdays and most Wednesdays, and tickets are cheapest in December and January.
TicketIQ also offers its Low Price Guarantee on all sold out Broadway shows, which means if you find a secondary market ticket for less on a site like StubHub or Vivid Seats, we'll give you 200% of the difference in ticket credit. TicketIQ customers can save an average of 55-20% compared to StubHub or Vivid Seats.
Slave Play shines a new light on life on a plantation in the Old South, particularly by looking at the roles of race and gender.
Schedule & Run Dates
Slave Play opened in previews on September 10 and opened on October 6. Tickets are on sale through January 19. The show is currently playing Sundays at 3 p.m., Tuesdays at 7 p.m., Wednesdays at 2 p.m. and 8 p.m., Thursdays at 7 p.m., Fridays at 8 p.m., and Saturdays at 2 p.m. and 8 p.m. According to Telecharge, the schedule will change at the end of October with shows added some Mondays, and the theater dark on some Tuesdays and Thursdays.
Show Details & Reviews
Slave Play was written by young playwright Jeremy O. Harris, and has gotten good reviews. The show opened off-Broadway in December 2018 at New York's Theater Workshop and created plenty of buzz.
Slave Play "isn't outrageously funny. But it does have its funny moments — and it certainly is outrageous." wrote Marilyn Stasio in Variety Magazine.
New York Times critic Jeremy Green calls the play a "happy surprise" and "one of the best and most provocative new works to show up on Broadway in years."
John Golden Theatre Seating Chart + Details
The John Golden Theatre is a Broadway theater located at 252 West 45th Street in New York, and it opened as the Masque Theater in February 1927. The theater opened as part of a three-theater complex designed by Herbert J. Krapp for Irwin Chanin.
The theater seats 802 in Orchestra and Mezzanine sections.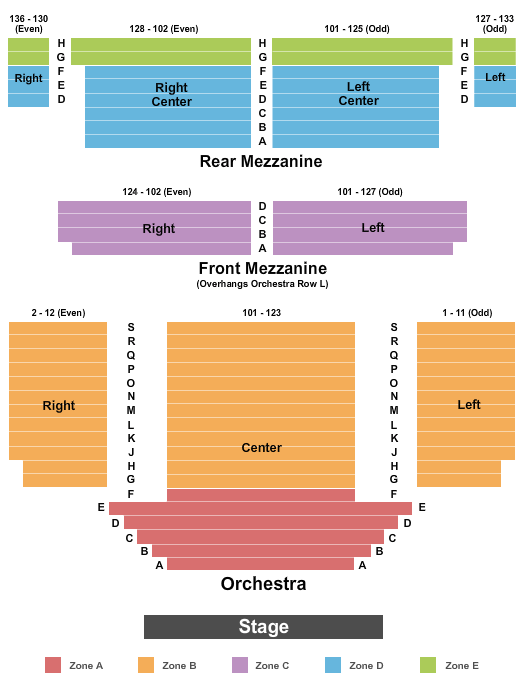 Wheelchair/Accessible Options
The only accessible seating is in the Orchestra section, which includes five wheelchair spots and nine aisle transfer arm seats. There are no steps into the theater or in the Orchestra section, and there are 28 steps up to the Mezzanine. There are no elevators or escalators in the theater.
There are no wheelchair accessible restrooms in the theater, but there are accessible restrooms in the neighboring Schoenfield Theater.
Infrared assistive listening devices, hand-held audio description devices and hand-held captioning devices are available at the theater.
Standing Room Option
There is no standing-room only section at the Golden Theater.
Other Venue and Show Details
Slave Play is recommended for patrons 17 years of age and older, as it includes nudity, racially violent language and simulated sexual violence.
There is a water fountain in the lower lobby and a pay phone in the lower lounge.
Rush & Lottery Options
Rush
In-Person Rush: Slave Play offers in-person General Rush daily with tickets available for $39. Tickets will go on sale daily when the Box Office opens, and are available on a first-come, first-served basis. Credit cards and cash are accepted.
The Box Office is open from 10 a.m.-8 p.m. Monday-Saturday and from noon-6 p.m. on Sundays. If there is an evening performance on Sunday, the Box Office will remain open until curtain.
Lottery
A daily Digital Lottery with tickets for $29 is available via SlavePlayBroadway.com/Lottery. Available seats will be posted on the website as early as 12 a.m. ET the day before a performance. The first lottery drawing will be at 9 a.m. the day before the performance and winners will have six hours to purchase up to two tickets. The lottery will remain open for entries until 3 p.m. ET, when a second drawing will be held. Credit cards are accepted.
Discounted Tickets
TKTS
For theatergoers with flexibility, TKTS Discount Booths are a great way to see theater in New York City at affordable prices. Known for their iconic booth located around Manhattan, they offer discounts of 20% to 50% off face value tickets, and have limited availability of unsold tickets for purchase on the day of the event. TKTS Discount Booths in New York City, including the flagship location in the heart of Times Square, with booths at South Street Seaport and Lincoln Center. One extra benefit to using TKTS is that your ticket purchase does toward supporting the Theatre Development organization, which is dedicated to sustaining and sharing the arts and building audiences of the future.