Where To Buy 2021 St. Louis Blues Tickets
Primary market single-game tickets go on sale for the Blues remaining home games on Wednesday, March 24th via Ticketmaster.
If tickets become available, TicketIQ will have St. Louis Blues tickets that are Fee-Free and come with a Refund Guarantee. Our Refund Guarantee states that if an event is canceled or deem unfit for fans to attend, TicketIQ will refund ticket buyers within 15 days. That means that you can buy from TicketIQ worry-free.
St. Louis Blues 2021 Attendance Policy
Now up to 4,100 fans (roughly 23% capacity) can attend Blues home games at Enterprise Center. That number is up from the previous limit of 3,380.
Enterprise Center COVID-19 Health and Safety Protocols
Face coverings must be worn by all fans over the age of two at all times except when actively eating or drinking
Eating and drinking is allowed in your seating pod or in designated areas on the concourse. When eating and drinking in designated concourse areas, space will be limited to ensure proper social distancing and will be available to guests on a first come/first served basis. Eating and drinking is prohibited while walking from the concession stand to your seat.
Bandanas, gaiters, face coverings with valves or vents, and face coverings with only a single layer of fabric are not permitted.
To reduce contamination, bags, including clear bags, will not be permitted at games or events. Medical and parent bags are exceptions, but will be subject to Xray screening at designated locations for entry into Enterprise Center

Guests should practice physical distancing by maintaining at least six (6) feet of distance between other patrons outside of their immediate party. Please be respectful of other fans and their space.

Tickets will be sold in groupings called pods, so that you may sit with members of the party that came with you
Seating pods will be spaced out a minimum of six feet apart
Remain six feet apart from other parties while in lines at entry, concessions, retail stores and restrooms
Fans should adhere to recommended entrance and exit points and follow recommended entry times to ensure all guests remain properly distanced

Fans must be able to respond "no" to all of the following questions in order to attend an event or game at Enterprise Center:

Have you experienced any symptoms of COVID19 in the last 24 hours (e.g., a fever of 100.4⁰F or higher, cough, shortness of breath or difficulty breathing, chills, repeated shaking, muscle pain/achiness, headache, sore throat, loss of taste or smell, nasal congestion, runny nose, vomiting, diarrhea, fatigue or any other symptoms associated with COVID19 identified by the CDC)?

Has anyone you live with or have close contact with been diagnosed with COVID19 in the last 48 hours?

Have you been contacted by a local public health authority within the last 14 days due to having had a close contact with an individual infected with COVID19?

Have you been directed to quarantine by a physician or local public health authority?

Have you tested positive for, or been diagnosed with, COVID19 within the last 10 days and/or have no received clearance from a physician to discontinue isolation?
For more information, visit the Enterprise Center website.
---
How Much Are St. Louis Blue Tickets
On the primary market there are two half-season packages, but only Center Ice Premier seats, starting at $3,776, and AECU Terrace tickets, starting at $4,259, are still available.
Standard admission single-game tickets are also available on the primary market for many games on the Blues schedule. Lower demand games start at between $35 and $50, while the tickets for higher demand (that aren't already sold out) start in the $65-$75 range.
After winning the Stanley Cup, the average secondary market asking price for a St. Louis Blues ticket is up from $119 to $125. That makes a Blues ticket the 14th most expensive across the NHL. The $345 average asking price for a Toronto Maple Leafs home game is the highest in the league.
The $125 average is the second highest of the decade, behind only the 2014-15 season, when fans pushed the average asking price up to $133. That was the last time the Blues won the Central Division.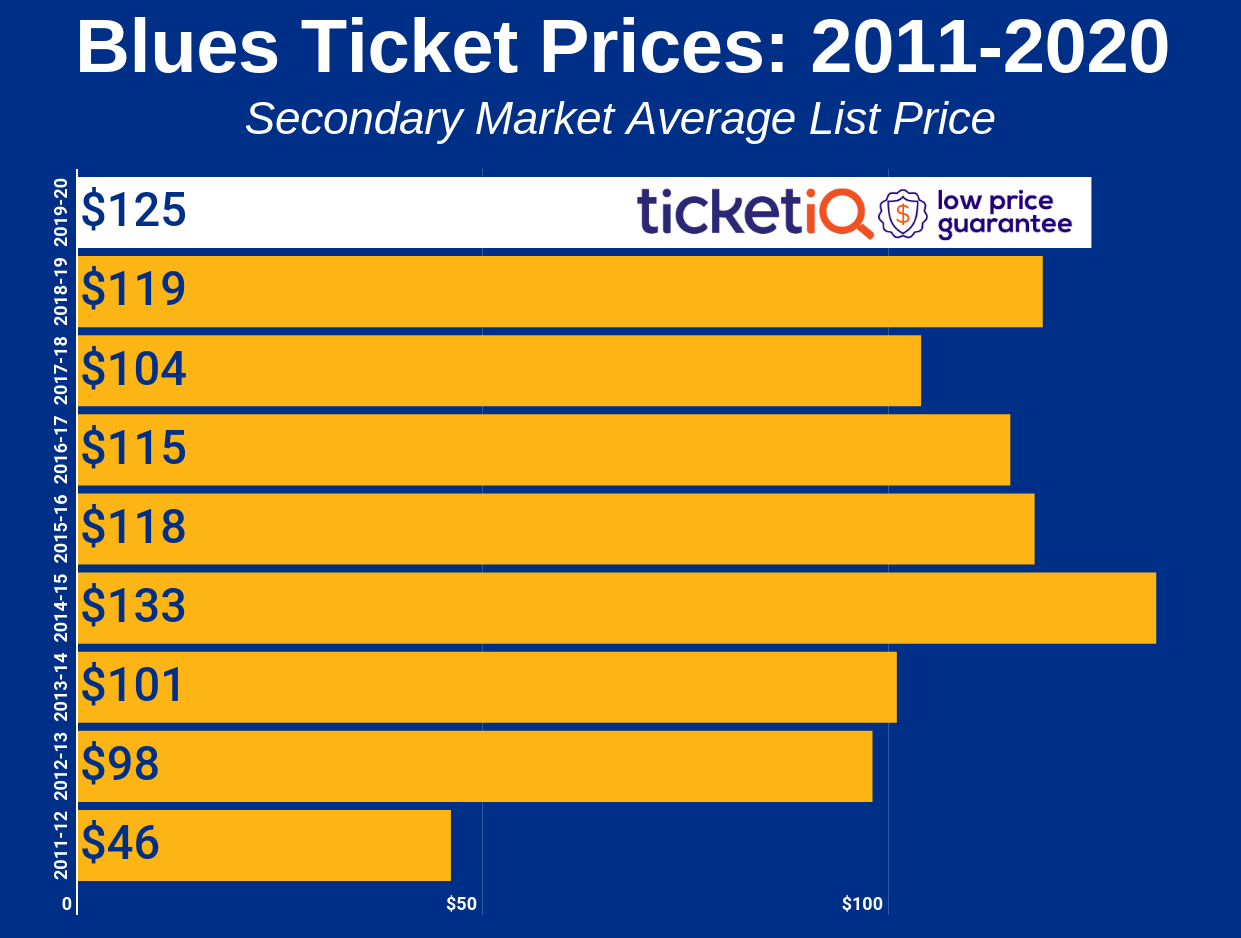 Only two Blues home games will cost fans $200 or more on the secondary market this season. The priciest by far is the October 2 season opener against the Washington Capitals. The Blues will raise their Stanley Cup Finals banner at the game, for which the average asking price is $566.
What Are The Blues Season Ticket & Mini Plan Options
Mini plans include 12 regular-season games plus one preseason game, and there are three options: The Weekend Plan, Rivalry Plan and Value Plan. Mini plan holders get discounts on suite rentals and merchandise as well as having access to pre-sale single-game seats.
What Are The Club Seating Options At Enterprise Center
The Enterprise Center offers a wide range of premium seating, including all-inclusive seats. These seats come with access to food and beverage, lounges, and other benefits. Another option is the "Loaded Value Ticket," which comes with a seat and a predetermined amount of money loaded onto the ticket for use at food and beverage locations throughout the stadium. Loaded Value Tickets are available in some Glass Row sections or with access to the Bud Light Sports Pub.
Blues Mobile Ticketing
Starting last season, the St. Louis Blues moved exclusively to mobile entry for home games. Fans can access their tickets via mobile devices, and the NHL app can be downloaded from the App Store or Google Play. The Blues provide instructions and a video on how to download and use the app.
Top Ten Most Expensive Blues Games On The Secondary Market
Three of the Top 10 priciest games are against the rival Dallas Stars, and the cheapest ticket for any of those game is trending at $72 for the October 5 matchup.
Below is a look at the 10 games with the highest average asking prices on the secondary market.
Secondary market average asking price: $566
Secondary market cheapest ticket: $261
Secondary market average asking price: $200
Secondary market cheapest ticket: $65
Secondary market average asking price: $183
Secondary market cheapest ticket: $72
Secondary market average asking price: $180
Secondary market cheapest ticket: $77
Secondary market average asking price: $180
Secondary market cheapest ticket: $80
Secondary market average asking price: $175
Secondary market cheapest ticket: $80
Secondary market average asking price: $173
Secondary market cheapest ticket: $81
Secondary market average asking price: $173
Secondary market cheapest ticket: $72
Secondary market average asking price: $171
Secondary market cheapest ticket: $81
Secondary market average asking price: $171
Secondary market cheapest ticket: $79
---
TicketIQ is committed to the cheapest tickets possible, and we make much less on sold out tickets compared to other major marketplaces like StubHub and Vivid. That means ticket buyers save from up to 25% on TicketIQ on sports, music and theater. We're able to do this because we also work with teams, venues, and other ticket owners, to help them sell tickets at face price, directly to consumers like you, through Ticketmaster and AXS. For an overview of the 2019 NHL Ticket Buying landscape, and details on the cheapest way to get tickets for every team, visit the TicketIQ Blog.