In this season's Sugar Bowl No. 5 Georgia will face No. 7 Baylor. It will be the first time the two teams have faced each other in a bowl game. The teams have played four times during the regular season, between 1972-89, and Georgia won all four meetings.
Where To Buy Sugar Bowl Tickets
Primary market, face-value tickets via Ticketmaster are still available for this year's Sugar Bowl.
On the secondary market TicketIQ will offer fans a Low Price Guarantee on all sold out Sugar Bowl tickets in addition to Low Price Guarantees on all sold out college bowl games and college football playoff tickets. That means that if you find a secondary market ticket for less on a site like StubHub or Vivid, we'll give you 200% of the difference in ticket credit. TicketIQ customers save up to 25%.
Below is a screenshot of secondary market inventory and get-in price by zone.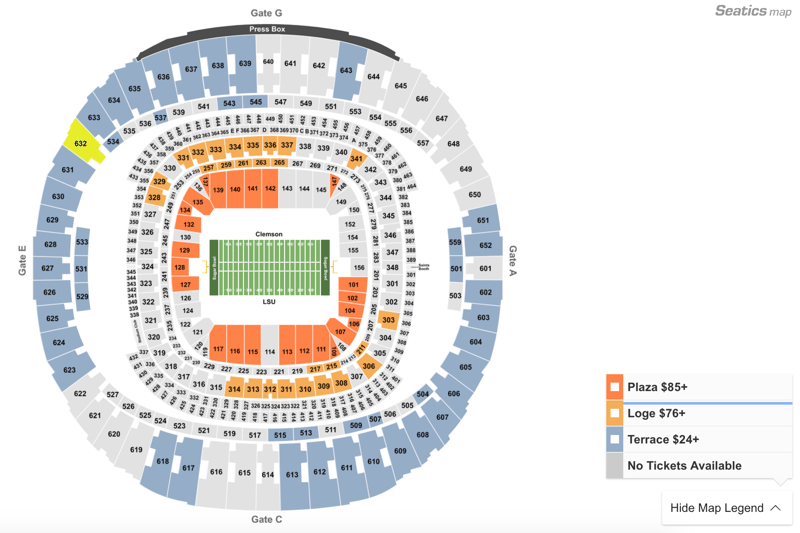 How Much Are Sugar Bowl Tickets
On the primary market, fans will be able to get into the game for $100. The cheapest seats are located in the 600 sections at the top of the Mercedes-Benz Superdome in New Orleans. All available 200-Level seats via Tickettmaster are on the corners or in the end zone and start at $170, while there are a handful of seats on field level in end zone and on the corners, all for $210.
Fans will find tickets for less on the secondary market, as secondary ticket marketplace TicketIQ has 600-Level seats for as little as $24. There is also a wider selection, with sideline seats on both the 300 and 100 Levels still available. 300-Level sideline seats are Club Seats and start at $76 in Loge 303 overlooking the end zone, and go up to $786 in Loge 336, Row 17 above the 50-yard line. Club tickets come with lounge access and premium food-and-beverage options. 100-Level sideline seats start at $85 in Plaza 111, Row 34 overlooking the end zone, and 50-yard line seats remain on the Baylor side for $1,010 in Plaza 142, Row 35.
The average asking price on the secondary market is $109, making it one of the cheapest of the major bowl games.
Historically speaking, this year's Sugar Bowl average price is the least expensive since we've been tracking data. Below is a look at get-in prices for each Sugar Bowl since 2010: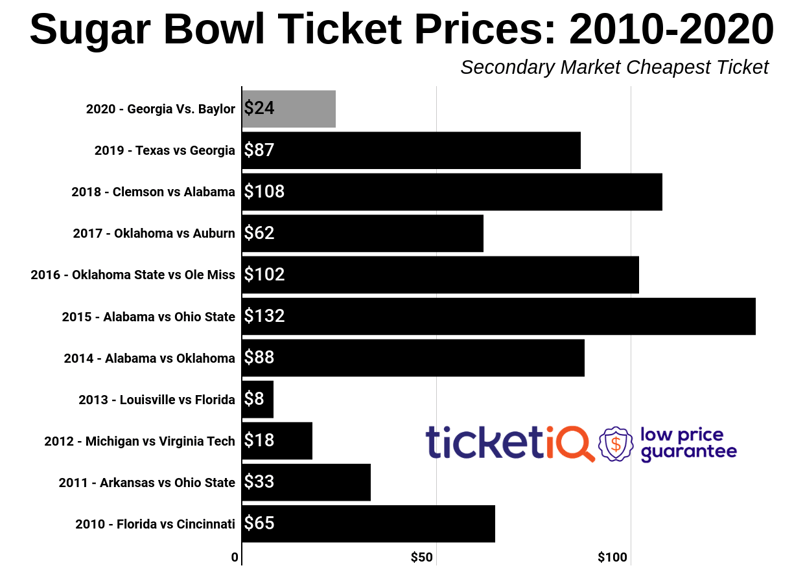 ---
TicketIQ is committed to Transparent Ticketing, and we make much less on 'sold out' tickets compared to other major marketplaces like StubHub and Vivid. That means ticket buyers save from as much as 25% on TicketIQ for sports, music and theater tickets. We also back it up with our Low Price Guarantee! We're able to do this because we also work with teams, venues, and other ticket owners, to help them sell tickets at face price, directly to consumers like you, through Ticketmaster, Frontgate, Eventbrite and others ticketing platforms. Learn more by reading our College Football Playoff tickets Buying Guide that we think is the most objective advice on where to find the best deals on concert tickets, whether they're 'sold out' on TicketIQ or 'unsold' on the primary ticket market.