Where to Buy Texas Football Tickets
Despite Texas' strong campaign last season, there are still some season tickets plans on offer. Seats in the top of the upper deck start at $480 ($330 for the seat plus a $150 donation to the Longhorn Foundation) and increase as you get closer to the action. Seats at the bottom of the upper deck, for example, range from $725 to $1525 in total, depending on how central your seats are. Seats in the lower bowl are obviously even more expensive.
Both mini plans and single game tickets will be released during the summer, but the school hasn't provided any specific dates. Fans can sign up for email updates to make sure they don't miss any potential offers.
On the secondary market TicketIQ has Low Price Guarantees on Texas football tickets for all games on the 2019 schedule, in addition to Low Price Guarantees on all college football tickets, which means that if you find a secondary market ticket for less on a site like Stubhub or Seatgeek, we'll give you 200% of the difference in ticket credit. TicketIQ customers save an average of 5%-20% compared to Stubhub and Seatgeek.
Download the TicketIQ app for $20 off your first ticket purchase 📲🎟️
How Much Are Texas Football Tickets
Looking at the Texas schedule, there's an easy division: the game against LSU and all other home games. If you have your heart set on seeing the Tigers, you should probably start looking for a deal; prices are already high and demand will only increase as the game gets closer. For any other game, however, you have a chance to observe the market for a bit. Even if prices trend upwards, tickets will still be affordable.
For the LSU game, secondary market tickets are currently averaging $637 with a get-in price of $292. Every other game looks like a steal compared to that one; the most expensive get-in price of the remaining games is $27.
Overall, Texas football tickets are averaging $214 on the secondary market, the highest they've been this decade and 12th highest in the nation for the 2019 season.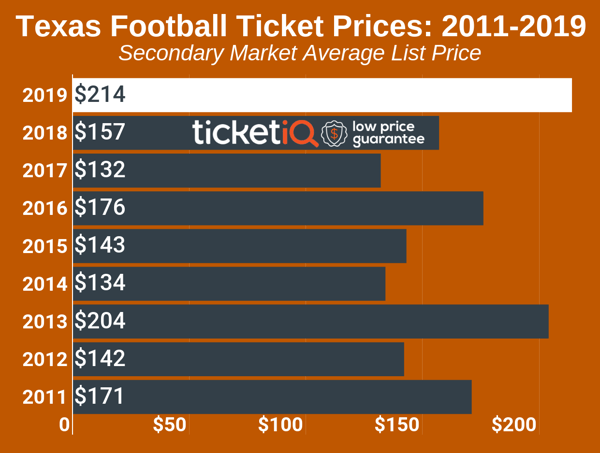 Ticket Prices for All Texas Home Games On The 2019 Schedule
Secondary Market Average Price: $116
Secondary Market Cheapest Ticket: $13
Louisana Tech are a solid Conference USA side that earned a trip to the Hawaii Bowl last season where they defeated the Rainbow Warriors. They're capable of holding their own against big teams—they only lost 21-38 to LSU—but the Longhorns will likely have too much firepower.
Secondary Market Average Price: $637
Secondary Market Cheapest Ticket: $292
It's tough to say that an entire season comes down to one game, but this is the toughest game of Texas' season. No matter which side comes out on top, this game is one that any football fan will want to DVR.
Secondary Market Average Price: $156
Secondary Market Cheapest Ticket: $27
The Cowboys struggled in the Big 12 last year, but they actually had a 4-1 record against ranked opponents. They'll play Texas tough, but the Cowboys probably won't be able to tame these Longhorns.
Secondary Market Average Price: $135
Secondary Market Cheapest Ticket: $12
This would make a better basketball game than football game, but these two schools are meeting on the gridiron. Kansas are historically bad against top 25 teams; don't expect that trend to change today.
Secondary Market Average Price: $133
Secondary Market Cheapest Ticket: $18
Kansas State will be going into this season with a new head coach for the first time in a while after Bill Snyder announced his retirement in December. No matter who's at the helm, tough, the Wildcats shouldn't give Texas too much trouble.
Secondary Market Average Price: $150
Secondary Market Cheapest Ticket: $24
Texas wraps up their home schedule with a rivalry game against Texas Tech. The Chancellor's Spurs head to Austin more often than not, but the Red Raiders have an upset in them. Texas should take care of business, but don't take anything for granted.
---
TicketIQ is committed to the cheapest tickets possible, and we make much less on sold out tickets compared to other major marketplaces like StubHub and Vivid. That means ticket buyers save from up to 25% on TicketIQ on sports, music and theater. We're able to do this because we also work with teams, venues, and other ticket owners, to help them sell tickets at face price, directly to consumers like you, through Ticketmaster and Paciolan. For an overview of the 2019 College Football Ticket Buying landscape, and details on the cheapest way to get tickets for every pre-season top 25 team, visit the TicketIQ Blog.