Where to Find The Music Man Tickets
Primary market tickets to The Music Man are available via Telecharge and range in price from $99-$279. The show opens in previews on September 9, and will play at the Winter Garden Theater.
On the secondary market, TicketIQ has seats available to The Music Man, starting as low as $223 for shows in October. The cheapest tickets creep up to $300 or more in November.
TicketIQ offers a Low Price Guarantee on secondary market for all sold out The Music Man tickets. On TicketIQ, seats start as low as $92 for many weekdays and most Wednesdays, and tickets are cheapest in December and January.
TicketIQ also offers its Low Price Guarantee on all sold out Broadway shows, which means if you find a secondary market ticket for less on a site like StubHub or Vivid Seats, we'll give you 200% of the difference in ticket credit. TicketIQ customers can save an average of 55-20% compared to StubHub or Vivid Seats.
Schedule & Run Dates
The Music Man is set to open in previews at the Shubert-owned Winter Garden Theater on September 9, and opening night is October 15. During previews, the Winter Garden will be dark on Mondays, with The Music Man playing at 8 p.m. Tuesday-Saturday, as well as at 2 p.m. Saturdays and 3 p.m. Sundays. Once the show opens, the schedule changes slightly, with shows at 7 p.m. Tuesdays, 2 p.m. and 8 p.m. Wednesdays, 7 p.m. Thursdays, 8 p.m. Fridays, 2 p.m. and 8 p.m. Saturdays and 3 p.m. Sundays. There are some additional show times added during holiday weeks.
Show Details & Reviews
With book, music and lyrics by Meredith Wilson, The Music Man is the story of con man Harold Hill, who pretends to be a band organizer, selling instruments and uniforms with the promise of teaching boys how to play. Hill's ultimate play is to skip town with the money, but love gets in the way.
The biggest hype around The Music Man is star Hugh Jackman's return to Broadway. Jackman is a two-time Tony Award, Grammy Award and Emmy Award winner. He'll play opposite two-time Tony Award winner Sutton Foster. The star-studded cast will be directed by Tony Award winner Jerry Zaks and choreography is by Tony Award winner Warren Carlyle.
The Music Man originally premiered on Broadway in 1957, and it went on to win five Tony Awards and played 1,375 performances. It is the story of a con man who falls in love with the local librarian and risks being exposed to be with her.
Winter Garden Theatre Seating Chart + Details
The Winter Garden Theatre is currently home to Beetlejuice, which will close there on June 6. The Winter Garden building was built in 1896 by William K. Vanderbilt as the second American Horse Exchange. It was converted into a theater in 1911, though it was intermittently used as a movie theater through 1945. The theater has been renovated several times, most recently in 2001, after Cats closed. It was restored to its 1920s glory.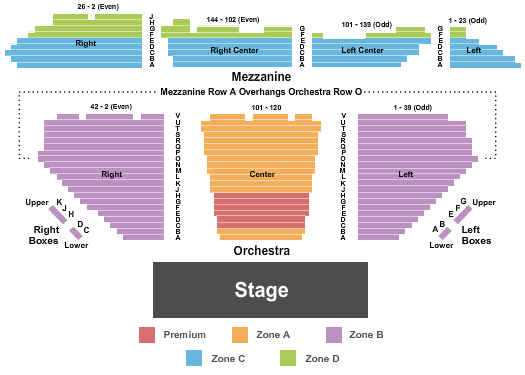 Wheelchair/Accessible Options
The Winter Garden is not completely wheelchair accessible. Though there are no steps into the theater, there are steps inside and there is no elevator or escalator. Wheelchair and companion seating is available throughout the Orchestra section of the Winter Garden, and there are no steps in the designated wheelchair seating area. There are handrails available to access seating. There are 34 steps up to the Mezzanine.
Wheelchair and companion seating are available in the following sections: Orchestra: N101, N102-104, R119, R116-118, V102, V101, U101-102, V104, V105, U103-104, V116, V117, U117-118, V14, V12, U14-16, V13, V15, U13-15, V3, V1, U5-7, V6, V4, U6-8, V7, V9, U9-11, V20, V18, U18-20, V24, V26, U24-26, V34, V30, U34-36, D19, D13-17, G19-23, L33, L27-31; D20, D14-18, K32, K26-30, P44, P38-42, U42, U40; T40-42
The theater offers infrared assisted listening devices for all performances and hand-held captioning devices are available.
Standing Room Option
Standing room tickets are not currently available, but for previous shows, 40 standing-room tickets were made available for each performance.
Other Venue and Show Details
The Music Man is recommended for ages 6 and up, and children under the age of 4 are not permitted in the theater. The show runs approximately 2 hours, 30 minutes with an intermission, and there is no late seating permitted.
The Winter Garden seats 1,526 and has rest rooms, a water fountain and pay phone located in the lobby.
Rush & Lottery Options
As the show has not yet opened, there are no rush or lottery options available. The box office is open Monday-Saturday from 10 a.m.-8 p.m. and on Sundays from noon-6 p.m. When there is an evening performance, the box office will remain open until curtain.
Discounted Tickets
TKTS
For theatergoers with flexibility, TKTS Discount Booths are a great way to see theater in New York City at affordable prices. Known for their iconic booth located around Manhattan, they offer discounts of 20% to 50% off face value tickets, and have limited availability of unsold tickets for purchase on the day of the event. TKTS Discount Booths in New York City, including the flagship location in the heart of Times Square, with booths at South Street Seaport and Lincoln Center. One extra benefit to using TKTS is that your ticket purchase does toward supporting the Theatre Development organization, which is dedicated to sustaining and sharing the arts and building audiences of the future.