Where To Buy 2021 Toronto Blue Jays Tickets
Primary market single-game tickets go on sale on Thursday, March 18 at 10 a.m.
On the secondary market,
TicketIQ
has
Fee-Free tickets
for all
Toronto Blue Jays games
which also include a
Refund Guarantee
. Our Refund Guarantee states that if an event is canceled or deemed unfit for fans to attend, TicketIQ will refund ticket buyers in as soon as 15 days. That means that you can buy from TicketIQ worry-free. Customers on TicketIQ save between 15%-25% compared to other secondary market ticketing sites.
How Much Are 2021 Toronto Blue Jays Tickets
There are limited seats available for single games on the secondary market, due in part to the Blue Jays' decision to open the season at their practice facility in Dunedin, Florida. For the Blue Jays
home opener
against the Los Angeles Angels, seats are available in Section 112 starting at $983. Tickets to the final game of a homestand in Florida
against the New York Yankees
on April 14 in Section 112, start at $1,042.
Prices should fall on the secondary market when the Blue Jays are able to play at Rogers Centre, which even with limited capacity will have more seats available than TD Ballpark in Dunedin, which seats 8.500, but will be at reduced capacity.
Toronto Blue Jays 2021 Season Ticket, Mini Plan & Premium Options
Ticket Packs
Blue Jays fans can select from
ticket packs
of 12, 24, or 40 games, and the price is determined by seat and game selection. Fans purchasing a 24-game pack will get two 20% off merchandise vouchers, and fans purchasing a 40-game pack will get three discount vouchers plus priority postseason access.
The price of each package depends on seat location, and fans can build their own package. Season ticket holders will be contacted by the Blue Jays as more information becomes available.
TD Executive Suites
The Blue Jays have put some of their speciality tickets on hold until the team sorts out where it will play, but the team is making some information about the
TD Executive Suites
, which are scattered around Rogers Centre, available. These suites start at $2,000 for 16 guests in an outfield suite. Catering and beverages are available at an additional charge, and some of the TD Executive Suites can seat up to 46 fans. Suites are accessible anywhere from 90 minutes to two hours before game time.
Toronto Blue Jays 2021 Attendance Policy
While playing their home games at TD Ballpark in Dunedin, the Jays will host fans with attendance limited to 15% capacity.
Toronto Blue Jays COVID-19 Health and Safety Guidelines
For the first two homestands and for as long as the Blue Jays are playing at their spring training park in Dunedin, the following health and safety guidelines will be in place:
Fans will be asked to answer questions about COVID-19 symptoms before entering the ballpark, and anyone who has symptoms or who has tested positive will not be allowed into TD Ballpark
Face coverings are required at all times except when actively eating or drinking in your seats. Neck gaiters, face shields, bandanas, and face coverings with valves, mesh or holes are not permitted
Capacity will be limited to 15% and fans will be seated in socially distanced pods of two or four seats that are a minimum of six feet away from other occupied seats
Fans are asked to stay in their pods at their seats or when up and about, and to maintain six feet between themselves and other groups
Only mobile tickets will be accepted at TD Ballpark. Tickets must be purchased online and will not be available at the box office
Cashless forms of payment will be encouraged inside TD Ballpark
No outside food or beverage will be permitted in the ballpark, and fans cannot carry bags larger than 7" x 4" x 2."
TD ballpark will be cleaned and sanitized before, during, and after games. High traffic and high-touch areas will be the priority
Sanitation stations will be located throughout the ballpark
Player autographs will not be allowed
For more information, visit the Blue Jays website.

---
Where To Buy 2020 Toronto Blue Jays Tickets?
Single-game primary market tickets for the Toronto Blue Jays went on sale Thursday, January 23, and seats are available via Ticketmaster.
On the secondary market, TicketIQ will offer fans a Fee-Free Toronto Blue Jays tickets in addition to Fee-Free tickets for all Major League Baseball games.
How Much Are 2020 Toronto Blue Jays Tickets?
On the secondary market, TicketIQ has seats available for all Toronto Blue Jays home games. Tickets to most home games start at $30 or less, though for some bigger series or weekend games, the cheapest seat is more than $30.
Overall, secondary market Blue Jays tickets are averaging $70 for the 2020 season, which is up just over 4% from last year. Below is a chart showing secondary market prices for the Jays since 2020.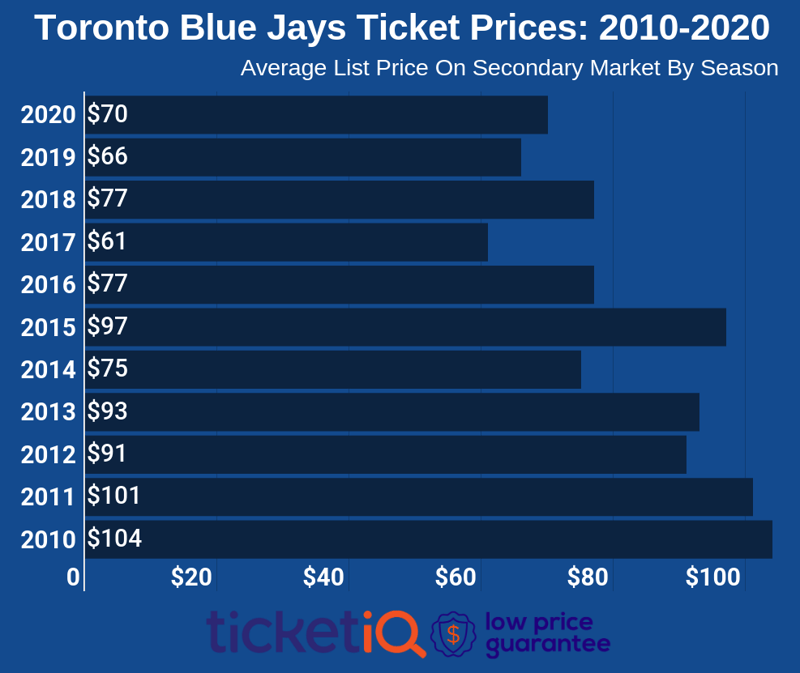 What Are Blue Jays Season Ticket & Mini Plan Options?
On the primary market, fans can also purchase ticket packages, ranging in size from a 12-ticket pack to full season tickets. For the 12-, 20- and 40-game packages, fans can select the number of tickets (rather than games) and location for each game. Prices for the packages vary depending on what games are selected. Season tickets, which also vary based on what seats are selected, include a dedicated entrance, early entry, discounts at the Jays Shop, access to presages at the stadium, as well as invitations to exclusive events and on-field experiences.
Blue Jays Mobile Ticketing Policy
The Blue Jays offer mobile ticketing via BlueJays.com, through which bans can purchase tickets and have them delivered to a mobile device.
---
TicketIQ is committed to Transparent Ticketing and offers Low Price Guarantees on sold out tickets + unsold face value ticket through Ticketmaster, Eventbrite and other partners.