How To Find Cheapest Cubs Versus Phillies Tickets At Wrigley Field In May 2019
Heading into their first series of 2019, the Phillies and Cubs are both likely to be sitting in first place in their respective divisions. The Cubs have just finished a successful series against their division rivals Brewers, who the Phillies prepare to face next week. While Phillies major free-agent signee Bryce Harper has yet to put up the kind of numbers fans were expecting to come with his $400-million contract, the slugger has a career .333 batting average at the Friendly Confines, which means that perhaps this will be the series where Harper breaks out. Below is a price summary of each game in the series as well as information on special offers and promotions for each game. Visit TicketIQ for Low Price Guarantees on Cubs Tickets Versus the Phillies as well as all other Cubs games at Wrigley Field.
TicketIQ is a ticket market place with access to Low Price Guarantees on all MLB tickets. If you find the same ticket for less, we'll give you 200% of the difference in ticket credit.
Monday May 20th: Secondary Market Tickets Start at $28. Lower Level seats starting from $141. Below are Seatviews for the cheapest tikcet overall and the cheapest 100s-level seat are below. In support of the YWCA Metropolitan Chicago and Chicago Foundation for Women and their efforts to create an equal, safe and sustainable world for women, the Cubs are also offering fans a Special Ticket Offer for the Cubs-Phillies game at Wrigley Field. Fans who purchase a ticket to the May 20 game through this offer will receive a Cubs-themed canvas tote and fans can take advantage of the $54 offer by visiting Cubs.com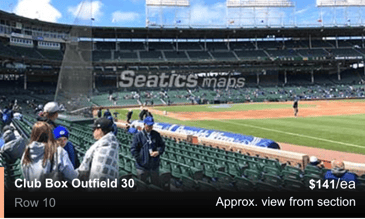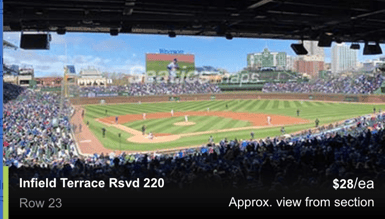 Tuesday May 21st: Tickets from $23, Bleacher Seats From $86, Lower Level seats from $134
🎟️📊🎟️
Wednesday May 22nd: Tickets from $25, Bleacher Seats From $86, Lower Level seats from $134
On Wednesday May 22, the Cubs are celebrating students, alumni and fans of the University of Illinois at Urbana-Champaign. The University of Illinois ticket offer includes a ticket to the Cubs-Phillies game at Wrigley Field and a special-edition Cubs cap in University of Illinois' school colors.
🎟️📊🎟️
Thursday May 23rd 1:05pm: Tickets from $15, Bleacher Seats From $45, Lower Level seats from $134 For the only afternoon start to the series, the first 20,000 fans get a Cubs reusable tote bag, sponsored by MLB Network.