Where To Buy 2020 Indianapolis Colts Tickets
Indianapolis Colts tickets are available for sale on the secondary market as of the 2020 schedule release.
TicketIQ has
Fee-Free tickets
with a
Low Price Guarantee
and
Refund Guarantee
, which states that in the event an event is cancelled or deem unfit for fans to attend, TicketIQ will refund ticket buyers within 15 days. That means that you can buy from TicketIQ worry-free.
Potential Covid-19 Impact On 2020 NFL Schedule
While the schedule release is a much-needed dose of exciting news for all football fans, there are some major questions marks heading into the 2020 season due to the Coronavirus pandemic. While teams know what teams they'll play, that's about all they know. Whether or not the games happen and if fans are able to attend will depend on how the virus is managed over the next 2-3 months. The league has already canceled all of its International Series games, and the league is rightly considering all possible scenarios.
Based on the varying levels of infection in each NFL city and state, it's possible that some teams may be able to host fans at a reduced capacity while others may not. The Dolphins announced a preliminary plan last week, with a 25% of capacity goal. Based on the below NFL Covid-19 Safety Index, the Dolphins fall within the low-risk category, just barely.
To create the Safety Index, we compared the active cases in each city or state to the national average and then discounted that product by Rt. Rt is a measure of how fast the virus is spreading in each city and state, most easily tracked through Rt.live.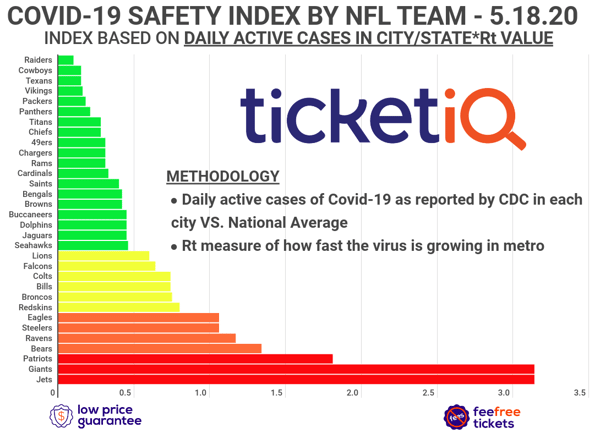 How Much Are 2020 Indianapolis Colts Tickets
On the primary market, the Colts single-game ticket website page includes Ticketmaster links to each game, and tickets start at $39 at Lucas Oil Stadium. The cheapest seats are 600-Level tickets on both November 29 against the Tennessee Titans and January 3 against the Jacksonville Jaguars. The get-in prices for these contests on the secondary market are $50 and $60, respectively.
TicketIQ has seats available for all Indianapolis Colts home games. The average ticket price on TicketIQ is $217, which ranks as the fourth-lowest one in the NFL. The secondary market price for Colts tickets has increased by 111 percent since last year, which is the fifth-highest increase in price in the NFL from 2019 to 2020.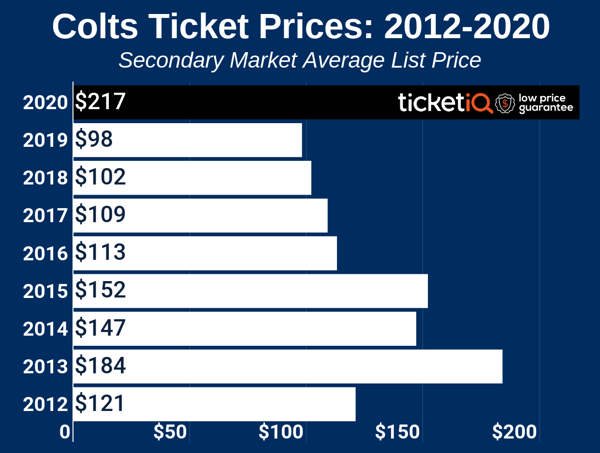 What Are Colts Season Tickets & Mini Plan Options
On the primary market, season tickets are available.
Season tickets start at $510 per ticket in several 600-Level Sections via the Colts' Ticketmaster page, and the most expensive season ticket is $2,900.
Season ticket members receive the following amenities: Pro Shop discount, invitations to special Colts events, and an annual season ticket member gift.
Groups can place a $100 deposit to choose one of the following experiences: flag experience, banner club, postgame photo, pregame and halftime performances, and pre- and post-game youth sports experiences.
What Are Colts Club Options
Lucas Oil Stadium has the following premium seating ticket options: club seating and suites.
Fans with club seats have the following benefits: seat location between the 25-yard lines, access to two-level lounges, complimentary and discounted lounge menus, and padded seats with extra legroom.
There are also basic suite options at Lucas Oil Stadium: single-game and full-season suites. In addition, there are the exclusive Quarterback Suites, which are the only Colts season ticket with an all-inclusive buffet. They also include a full-service bar and a dedicated staff member.
Colts Mobile Ticketing Policy
To manage your Colts tickets, the team has a mobile app available on the App Store and Google Play. The app is also used for mobile entry into the venue. The Colts require ticket holders to use mobile tickets to enter Lucas Oil Stadium, and it is suggested to add the ticket to your phone's mobile wallet to avoid slow WIFI or cellular signal while entering the stadium.
---
TicketIQ is committed to the cheapest tickets possible, and we make much less on sold out tickets compared to other major marketplaces like StubHub and Vivid. That means ticket buyers save from up to 25% on TicketIQ on sports, music and theater. We're able to do this because we also work with teams, venues, and other ticket owners, to help them sell tickets at face price, directly to consumers like you, through Ticketmaster and Seatgeek. For an overview of the 2020 NFL Ticket Buying landscape, and details on the cheapest way to get tickets for every team, visit the TicketIQ Blog.
---
Where To Buy 2019 Colts Tickets
Primary market tickets for Colts home games are available through the Colts website and via primary partner Ticketmaster. There are multiple choices of season ticket packages available, which start at $510. Single game tickets and group tickets are also available.
On the secondary market TicketIQ has Low Price Guarantees on Colts tickets for all games on the 2019 schedule, in addition to Low Price Guarantees on all NFL tickets, which means that if you find a secondary market ticket for less on a site like StubHub or SeatGeek, we'll give you 200% of the difference in ticket credit. TicketIQ customers save an average of 20% compared to StubHub and Vivid Seats.
You can also view the Lucas Oil Stadium Seating Chart for the most in-depth reporting sections, rows, seats and tips on the best places to catch the action in Indianapolis.
How Much Are 2019 Colts Tickets
Face Value for Single game tickets are available in the 600 and 400 levels and are as cheap as $61 for every game, including the home opener against the Falcons, the Raiders, Texans, Broncos, Dolphins, Jaguars, Titans and Panthers. 400-level tickets start at $117.
Tickets for Colts home games on the secondary market was averaging $105 to start the season, but has since dropped to $98. The most expensive average price for a Colts' most home game this season is against the Carolina Panthers in the season finale, with an average price of $122.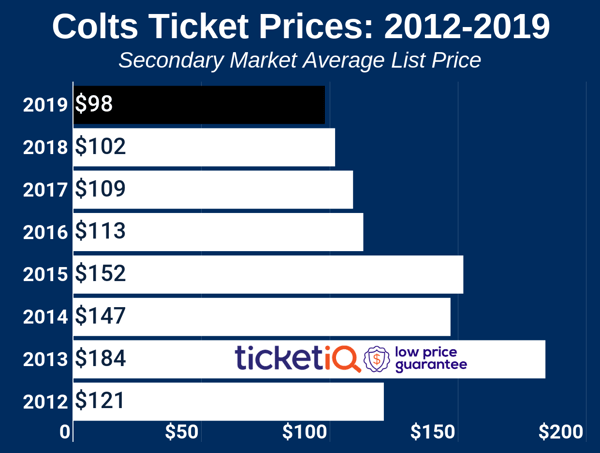 Prices For All Colts Home Games On The 2019 Schedule
September 22 vs. Atlanta Falcons
Secondary market average asking price: $108
Secondary market cheapest ticket: $42
Matt Hasselbeck was the quarterback the last time the Colts faced the Falcons. Andrew Luck missed his first opportunity to face Atlanta back in 2015 because of his shoulder injury. However, Indianapolis won the contest, 24-21, as the Colts came from behind to defeat Matt Ryan and the Falcons.
September 29 vs. Oakland Raiders
Secondary market average asking price: $116
Secondary market cheapest ticket: $52
The most expensive get-in of the season at Lucas Oil Stadium is against Jon Gruden's Raiders. The Colts and Raiders faced off last year in October in California, and Andrew Luck led Indianapolis to a 42-28 victory with 239 passing yards and three touchdowns.
October 20 vs. Houston Texans
Secondary market average asking price: $97
Secondary market cheapest ticket: $37
Both the Colts and Texans went 6-2 last regular season at home, but Indianapolis defeated Houston twice at NRG Stadium, including once in the playoffs. Surprisingly, the Colts' only loss to the Texans since 2017 was a 37-34 overtime loss at Lucas Oil Stadium last September.
October 27 vs. Denver Broncos
Secondary market average asking price: $96
Secondary market cheapest ticket: $41
The Broncos struggled last season to the tune of a 6-10 record, but are coming back to Indianapolis for the first time since 2017 with new head coach Vic Fangio. Under Vance Joseph, Denver won its last meeting with Indianapolis, 25-13, against the Jacoby Brissett-led Colts.
November 10 vs. Miami Dolphins
Secondary market average asking price: $97
Secondary market cheapest ticket: $35
The Colts have had recent success against the Dolphins, as Indianapolis has won six of the last seven meetings. In 2018, the Colts won, 27-24, as Andrew Luck threw for 343 yards and three touchdowns.
November 17 vs. Jacksonville Jaguars
Secondary market average asking price: $90
Secondary market cheapest ticket: $33
With Nick Foles replacing Blake Bortles under center for the 2019 season, the Jaguars will be looking to bounce back from last year's struggles. Though Jacksonville has won three of the last four contests against Indianapolis, the Colts won, 29-26, the last time they hosted the Jags.
December 1 vs. Tennessee Titans
Secondary market average asking price: $101
Secondary market cheapest ticket: $32
As winners of 13 of the last 15 meetings, the Colts will be salivating when they face the Titans in September and December. Andrew Luck and company will hope to duplicate last year's sweep, as he threw for three touchdowns in each contest.
December 22 vs. Carolina Panthers
Secondary market average asking price: $109
Secondary market cheapest ticket: $43
The Colts have just one win all-time against the Panthers, and it came in 2007. In the last meeting between the squads in 2015, Andrew Luck and Cam Newton faced off and each threw for two touchdowns. However, Luck was intercepted three times, as Carolina moved to 7-0 on the season with the 29-26 win.