Last night's New York Islanders win against the Blackhawks had a total attendance of 13,454, which was just short of a sellout at

Nassau Coliseum, which underwent a $130 million renovation after the Islanders left in 2012. The new Coliseum seats 13,500 for hockey, about 2,000 fewer than Barclays Center.
Last night's first game in 2019 was just short of a sell-out and 500 less than the most attended Nassau Coliseum game on December 15th, which was Billy Joel night. Last night's attendance, however, was higher than the two most attended game this season at Barclays against the Rangers on November 15th
(13,472) Devils on November 3rd (11,901).
Those were the only two games at
Barclays Center with attendance over 10,000 fans. The lowest attendance game at Barclays Center was November 13th against the Canucks (8,806).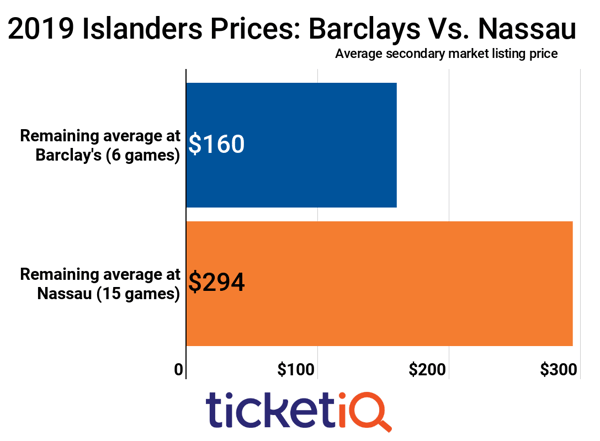 For 2019, the most expensive game at Nassau is not surprisingly, the return of John Tavares on February 28th, which has tickets starting at $105. The cheapest game at Nassau Coliseum is March 5th against the Senators, which starts at $16.
The most expensive game at Barclays Center is January 12th against the Rangers, which has tickets starting at $132. The cheapest game at Barclays is January 15th against the Blues, with tickets starting at $9.