The Northwell Heath at Jones Beach Theater is one of Long Island's most popular music venues once the summer music season hits. Located in Jones Beach State Park in Wantagh, N.Y., the Jones Beach Theater sits alongside Zach's Bay, giving concert attendees the chance to take in beautiful waterfront views with some of the biggest musical acts across all genres. Below are details on each section.
Orchestra Level: Sections B,C,D,E,G, and H all have seat 1 located on the side of the section closest to the center of the venue. Section A is in the center of the venue, but follows the same rules as sections B,D,H and F. So, the best seats in the stadium would be middle seats in A (Each Row in Section A has between 16 and 26 Seats, so any seat between 8 and 12 in A will be great).
Stadium Level: The Sections in the Stadium Level follow a much more conventional pattern. Each row in the Stadium Level contains anywhere between 13 and 18 seats. The best seat in stadium level is the 7-9 range in sections 7R, 8R, 9L, or 10L for you're best viewing experience.
Mezzanine: The Mezzanine seats follow the same order as the Stadium Level. When looking towards the stage, the seats on the farthest righthand side are always labeled one. This means that middle numbered seats (7-15) in section 22 are probably your best bet. Don't be discouraged by the 'mezzanine' label. I've personally sat in these sections quite a few times. The venue is on the smaller side, which means every seat in the house is solid. Not to mention, the views of Jones Beach State Park, Zach's Bay, and Long Island in general are fantastic from up in the top tiers. Although, because this is an outdoor venue, on a windy day the sound quality can be slightly muddled from the mezzanine.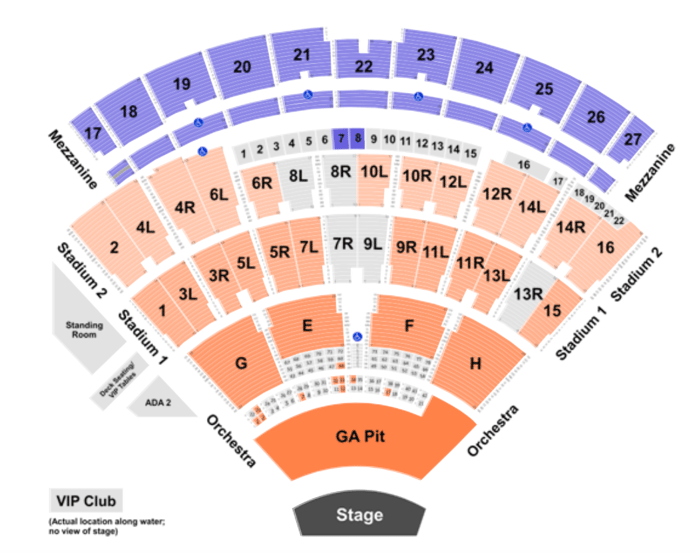 Directions to Jones Beach: It's a pretty easy trip from all points on Long Island, and is only about a 40 Minute trip from Manhattan by car. Take the Meadowbrook Parkway or the Wantagh Parkway south and follow the signs to Jones Beach Amphitheatre. Parking is free after 5. If you don't have a car, you can take the Babylon line on the LIRR to Freeport from Penn Station, and take about a 10 minute cab ride to get there. It takes a little longer, but for those of you looking to tailgate, this is easily your best option.
TicketIQ has Fee free tickets for all sold out concert and festival tickets this year, and TicketIQ customers save up to 25% compared to other secondary market ticketing sites.
---
TicketIQ is committed to the cheapest tickets possible, and we make much less on sold out tickets compared to other major marketplaces like StubHub and Vivid. That means ticket buyers save from up to 25% on TicketIQ on sports, music and theater. We're able to do this because we also work with teams, venues, and other ticket owners, to help them sell tickets at face price, directly to consumers like you, through Ticketmaster, Frontgate, Eventbrite and other primary ticketing platforms. You can read our Music Buying Guide that we think is the most objective advice on where to find the best deals on summer concert tickets, whether they're 'sold out' on TicketIQ or 'unsold' on the primary ticket market.