Levi's Stadium Seating Chart + Section, Row & Seat Number Info
Thank you for visiting TicketIQ's Levi's Stadium seating chart blog post. Our goal is to provide the most detailed Levi's Stadium seating chart, with details on row and seat numbers, club seats, and how to find the cheapest tickets for the San Francisco 49ers, who have called Levi's Stadium home since 2014. The stadium, which seats as many as 75,000, has hosted the Pac-12 Football Championship Game and Redbox Bowl since 2014. Levi's Stadium has hosted Super Bowl 50 in 2016 in addition to the 2019 College Football National Championship.
LEVI'S STADIUM SEATING SECTIONS
The lower level is the 100-level sections and is comprised of center sections 108 to 122 and 132 to 144; corner sections 106, 107, 123, 124, 130, 131, 145, and 146; and end zone sections 101 to 106 and 125 to 129. The club sections are 113 to 117 and 135 to 141.
The middle level is the 200-level sections: center sections 209 to 223; corner sections 206 to 208 and 224 to 226; and end zone sections 201 to 205 and 227 to 231. The club sections are 212 to 220 and 236 to 242.
The upper level of Levi's Stadium is comprised of 300- and 400-level sections: center sections 309 to 320 and 406 to 417 in addition to corner sections 306 to 308, 321 to 323, 401 to 405, and 418 to 422. There are also end zone sections 301 to 305 and 324 to 328.
LEVI'S STADIUM ROW NUMBERS
The 100 sections of the lower bowl have as many as 37 rows. Seats in the 200 sections have to 37 rows. Seats in the 300 sections have to 8 rows. Seats in the 400 sections have up to 28 rows. Club and other special sections have fewer rows.
LEVI'S STADIUM SEAT NUMBERS
Seats in each row start with No. 1 and that seat is the one closest to the previous section. For example, in section 132, seat No. 1 would be the seat closest to section 131. The average section in the 100 sections have 32 seats per row. The 200 section rows have 22 seats per row. In the 300 sections, there are between 24 and 32 seats per row. The 400 sections have 29 seats per row.
LEVI'S STADIUM SEATING CHARTS
Football Seating Chart - 49ers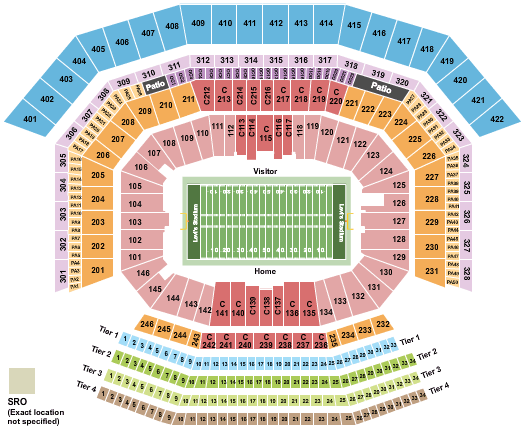 Concert Seating Chart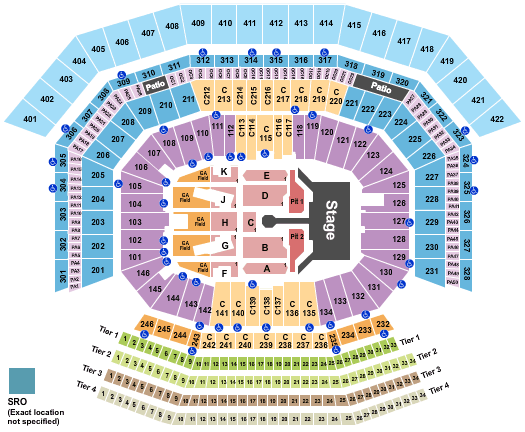 Soccer Seating Chart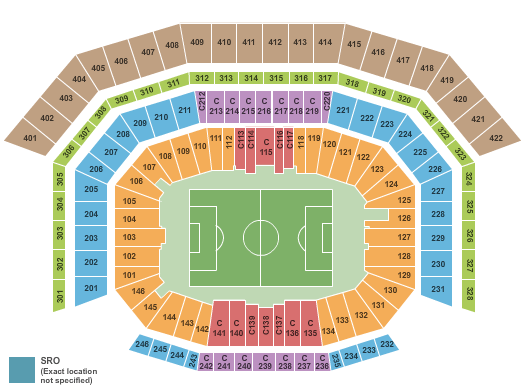 LEVI'S STADIUM HANDICAP ADA SEATING
Levi's Stadium offers ADA assistance from the parking lot to the seating area. The accessible drop-off location is on Stars and Stripes Drive and Centennial Boulevard across from Yellow Lot 2. In addition, the accessible parking locations are Green Lots 1 and 4, Red Lot 1, and Blue Lot 1. The best locations are Green Lot 1 and Red Lot 1. There are more than 300 Handicap Parking spaces in the two lots and courtesy cart assistance will be available in both.
Guests that require additional assistance are encouraged to contact the mobility assistance team at 408-579-4610 or email mobilityservices@LevisStadium.com. Wheelchairs are available on a temporary basis. Guests in need of a wheelchair for the full game are encouraged to provide their own. Please contact a guest service representative in your section if other help is needed.
LEVI'S STADIUM SHADED SEATS
The last few rows of each of the 100, 200, and 300 levels offer some shade for fans, so there will have to be a sacrifice for fans: they will have to be farther away from the field in order to receive shade during sunny days in Santa Clara.
LEVI'S STADIUM SUITE AND CLUB SEATING
Levi's Stadium offers a variety of club and premium seating options, including many with air conditioning, concierge service, and access to food and beverage. Below is a look at club and premium seating.

For more detail and views on Club and Premium Seating options, visit the team website.
Field Level Seats
The exclusive section includes 24 reclining seats behind the north and south end zones. In-seat food delivery service is available for each of the seats. Unfortunately, the south end zone is already sold out on the team website.
Citrix Owners Club
The private club allows for fans to enjoy the game in leather seats. The luxurious club is available before, during, and after the game, and appointments can be made here to purchase tickets. The Owners Club level includes 22 premium suites.
BNY Melon Club
Enjoy all-inclusive premium food and beverages served from centrally located action cooking stations, as well as a focal point full service bar, the interior features granite and woven carpet flooring, bronzed metal column covers and deep crimson specialty wall covering, complimentary reserved VIP parking space, field level sideline access, and exclusive access to Levi's® Stadium Event presales prior to the general public.
Luxury Suites
NRG Sky Suites and 49ers Premium Suites are available for single games and the full season purchase. For the full season, fans will get 16 tickets to all 49ers games, one VIP-branded parking stall, four premium parking passes, and a suite portal to manage and distribute tickets. Each suite has an average size of 16-feet by 30-feet, retractable sliding glass windows, customized suite owner identification, three flat-screens with NFL Sunday Ticket and DirecTV, and customized branding on the wall.
United Club
The United Club is a climate-controlled area which includes televisions, dining tables, comfortable seating, private restrooms, upscale food and beverage options, and padded seats.
Levi's 501 Club
iFans in the Levi's 501 Club will receive access to an indoor club. Amenities within the club include fully climate-controlled, private entrances, private restrooms, and upscale menu items.
Club Seating
Club Seating features the best sightlines in the stadium. Amenities include roomier, cushioned seating, access to luxurious private lounges, and access to semi-private stadium entrance.
Yahoo Fantasy Lounge
This club is found one level above the United Club on SAP Tower and there are 200 seats found there. The television screens allow fans to stay on top of all the other action in the NFL on gameday.
Which side is the San Francisco 49ers Bench on?
The San Francisco 49ers bench is directly in front of club sections 136 to 140.
What's the best way to tailgate at Levi's Stadium?
According to the Levi's Stadium website, there are multiple options to tailgate. There is a members-only club "Michael Mina's Tailgate," which allows for fans to enjoy a great experience at the stadium. Another way to tailgate is the old-fashioned way in the parking lots. Bus, limousine, and RV tailgate parking is available on a pre-sold basis. Buses that wish to tailgate must contact the Visa Box Office at 408-579-4449 to purchase parking in advance.
What is the mobile ticketing policy at Levi's Stadium?
Mobile ticketing is available for many Levi's Stadium events, including San Francisco 49ers games. The 49ers offer a step-by-step guide to mobile ticketing, and the team app is available through the App Store or Google Play Store.