For Sold Out Seats, TicketIQ has Fee Free tickets for all events at Marlins Ballpark including all Miami Marlins games as well as Concerts. TicketIQ customers save up to 25% compared to other secondary sites. TicketIQ also provides access to unsold face-value tickets for all events at Marlins Park via Ticketmaster.
Marlins Park Baseball Seating Chart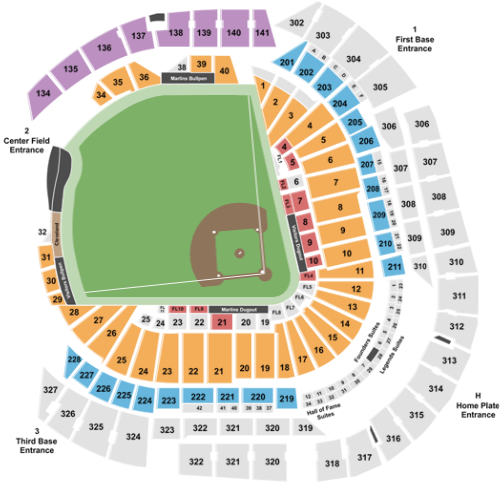 Lower level sections, rows, and seats at Marlins Park
Lower-level center sections include 9-20. 10-level end sections include 1-7, 22-31.
Lower-level center rows run from A-E, 1-27 with end section rows starting at row D-J, 1-30.
200-level sections, rows, and seats at Marlins Park
200-level center sections include 220, 219, 211, 210. 200-level end sections include 201-207, 222-227.
200-level center rows run 1 to 8 and rows 1 to 7 in the end sections.
300-level sections, rows, and seats at Marlins Park
300-level center sections include 312-317.
300-level end sections include 302-311, 327-318.
300-level center and end rows run from A to J, 1-13.
Club, VIP, Box Seats and Suites at Marlins Park
Diamond Club is located just behind the home-plate on the field level including F4-F8. Founders & Legends Suites is located directly behind home plate, and offer spacious accommodations. There are 13 Founders Suites in the Marlins Park. MVP Suites offers accommodation for around 12-20 people at once and features 12 suites, where first spacious seven suites are located in the first baseline. Dugout Club seats are located just beyond the first and third base dugouts with impeccable views and complimentary beverage options.
Clubhouse Box seats are located in the first nine rows behind Sections 8-10 and 19-21 with access to the Dugout Club lounges.
Marlins Dugout - The Marlins players sit in front of 19, 20 and 21
Visitor Dugout - The visiting team sits in front of 8, 9 and 10
WHERE CAN I FIND CHEAPEST TICKETS FOR Marlins Park
The Miami Marlins have unsold face-value tickets available for most games, which can be purchased directly through Ticketmaster. Prices may be above or below prices on the secondary ticket market. Many Concerts also have unsold tickets. For Sold Out Seats and Events, TicketIQ has Fee Free tickets for all events at Marlins Park.
WHAT IS MOBILE TICKET POLICY AT Marlins Park
Patrons can enter Marlins Park with mobile phones and scanning their mobile tickets at the entrances. Tickets can be purchased through free MLB Ballpark app for iPhone and Android phones. Also, yo can purchase your online tickets at lower rates from TicketIQ.
HANDICAPPED & ADA SEATING AT Marlins Park
Marlins Park offers other convenient services including wheelchair assistance, lost and found and wheelchair check-in. For guests who wish to transfer to a seat from their wheelchair, Marlins Park will store the wheelchair at Guest Services on the 100 and 400 level.