Amid a growing tide of enthusiasm to honor SpongeBob SquarePants creator Stephen Hillenberg, who died on November 26, by having "Sweet Victory" performed at the Super Bowl Halftime Show, it appears that instead pop-rock band Maroon 5 and rapper Travis Scott will make their Super Bowl Halftime Show debuts on February 3 in Atlanta.
The performers will join a historically star-studded list that includes Justin Timberlake (2018), Lady Gaga (2017) and a cast that included Coldplay, Beyoncé and Bruno Mars (2016).
Tickets to see the halftime show and of course, the game, are nearing record highs on the secondary market, according to secondary ticket marketplace TicketIQ.com. The current average asking price of $6,182 is the second highest of the decade, behind only last year's Philadelphia Eagles-New England Patriots game, which settled at $7,277 on the secondary market.
Super Bowl tickets have spiked the last two years, after breaking the $4,000 mark four times between 2010-2017. The third priciest Super Bowl cost fans $6,105 in 2015 to see the Patriots play the Seattle Seahawks in Phoenix. Three other games – in 2012, 2016 and 2017 – cost more than $4,000 on the secondary market and two of those games involved the Patriots. Tickets for the cheapest Super Bowl of the decade settled at $2,679 in 2010, when the New Orleans Saints beat the Indianapolis Colts.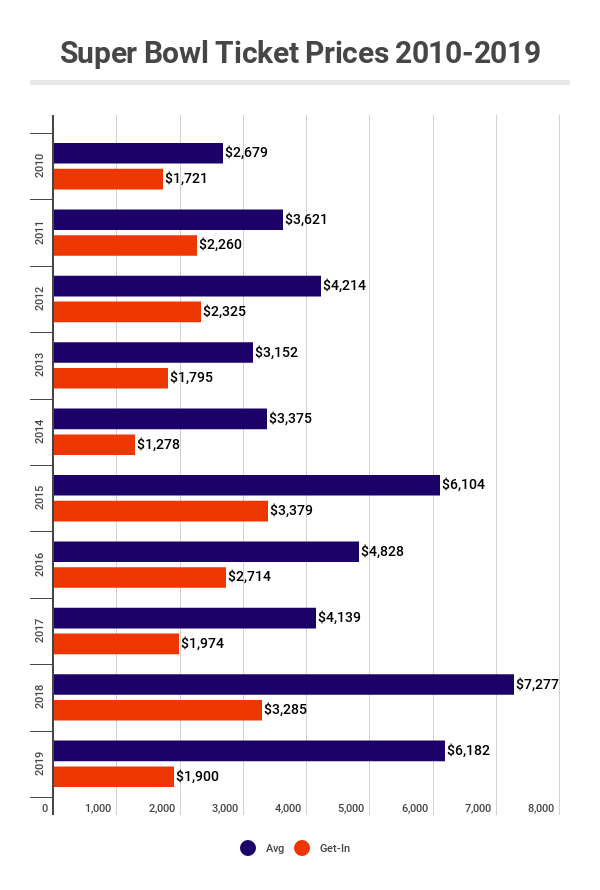 While Maroon 5 headliner Adam Levine has won three Grammys and the band's first album went multi-platinum, Levine may be also known for his work as a coach on the NBC reality hit The Voice. The band has released six albums and won a Grammy for "Best New Artist" in 2005, following the release of its debut album, "Songs About Jane." Maroon 5 released its sixth studio album, "Red Pill Blues" in November 2017, and has been touring since March 1, 2018.
Rapper, singer and songwriter Scott released his first Hot 100 single, "Sicko Mode" in August 2018. The single is part of Scott's third album "Astroworld." Scott's first major record deal was with Epic, but he's now part of Kanye West's GOOD Music group.
Scott has been nominated for three Grammys, as a songwriter in 2014 for "New Slaves," and as a performer in 2017 and 2018 for his album "Purpose," and Best Rap/Sung Performance for "Love Galore," respectively.