Where To Buy 2021 Final Four Tickets
On the secondary market TicketIQ has 2021 Final Four tickets that are Fee-Free and come with a Refund Guarantee. Our Refund Guarantee states that if an event is canceled or deem unfit for fans to attend, TicketIQ will refund ticket buyers within 15 days. That means that you can buy from TicketIQ worry-free. You can also buy your NCAA Tournament tickets now and pay later using Quadpay.
How Much Are 2021 Final Four Tickets
With extremely low secondary market inventory (around 100 tickets for the semifinals and championship game) prices for this year's Final Four are the highest we've ever seen. Currently, the get-in price for the Semifinals is $808, and ticket prices go as high as $7,700. Championship game tickets start at $602 and go as high as $15,000.
As of now, both get-in prices are the most expensive for the Final Four that we've ever tracked. The semifinal get-in price is 145% higher than any previous Final Four semifinal, and the Championship Game is 95% higher than any previous Championship Game.
Below are two infographics showing how this year's prices compare to previous seasons: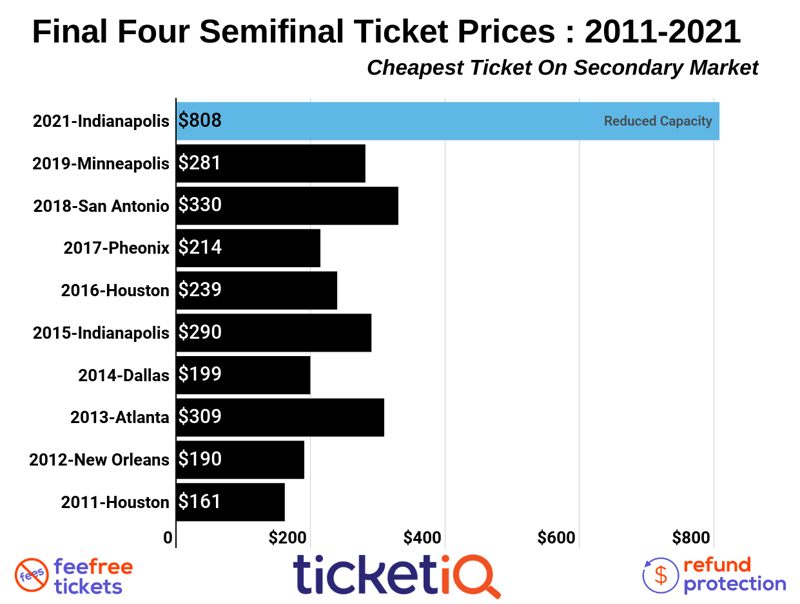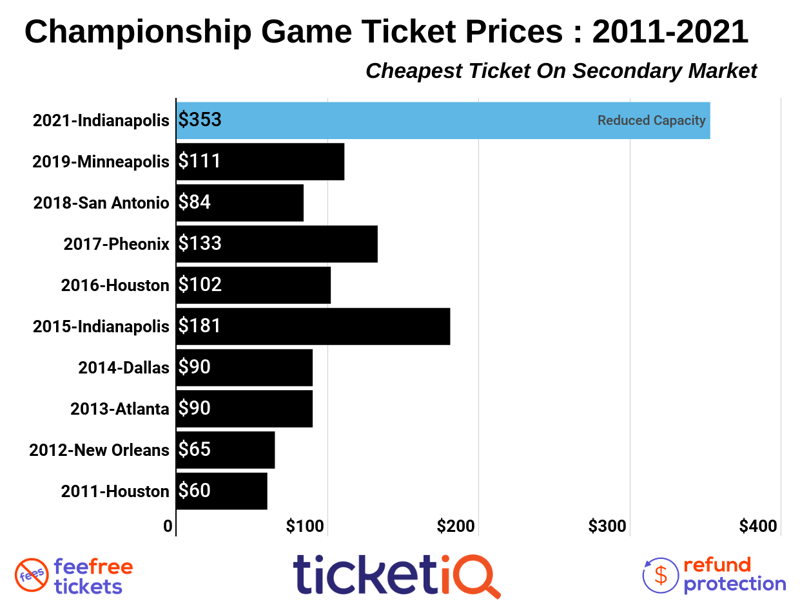 2021 Final Four Location and Schedule
Semifinals: April 3rd @ Lucas Oil Stadium
Championship Game: April 5th @ Lucas Oil Stadium
2021 Final Four Attendance Policy
Attendance at this year's Final Four will be limited to 25%, or roughly 17,500 fans.
2021 NCAA Men's Basketball Tournament COVID-19 Health and Safety Protocols
Face masks must be worn at all times.
Fans must maintain physical distancing of 6 feet from other fans not in their group.
Seating will be set up in a pod system and fans must remain in their pod.
There will be no interaction between fans and student-athletes, coaches or team personnel.