Mercedes Benz Stadium Seating Chart + Section, Row & Seat Number Info
Thank you for visiting TicketIQ's Mercedes-Benz Stadium seating chart blog post. Our goal is to provide the most detailed Mercedes-Benz Stadium seating chart, with details on row and seat numbers, club seats, and how to find the cheapest Atlanta Falcons Tickets as well as cheap Atlanta United FC tickets and SEC Championship Tickets. We also pasted a video with some stadium highlights.
MERCEDES BENZ SEATING SECTIONS
The lower bowl is the 100-level and comprised of center club sections C126, C127, C128, C129, 130, C112, C111, C110, C109, C108; Corner sections 122, 123, 124, 125, 116, 115, 114, 113, 107, 106, 105, 104, 134, 133, 132, 131; Endzone sections 135, 136, 101, 102, 103, 121, 120, 119, 118, 117
The mezzanine level is the 200-level and comprised of Club sections C236, C237, C238, C212, C211, C210, non-club 200-level sections 235, 234, 233, 232, 231, 230, 229, 228, 227, 239, 240, 241, 242, 243, 244, 245, 246, 247, 213, 214, 215, 216, 217, 218, 219, 220, 233, 232, 231, 230, 229, 228; Endzone sections 227, 226, 225, 224, 223, 222, 221, 119, 118, 117
The Upper level is the 300-level and comprised of center sections 337, 338, 339, 340, 341, 342, 314, 313, 312, 311, 310, 309; Corner sections 343, 344, 345, 346, 347, 348, 349 and 350, 336, 335, 334, 333, 332, 331, 330, 315, 316, 317, 318, 319, 320; Endzone sections 321, 322, 323, 324, 325, 326, 327, 328
MERCEDES-BENZ STADIUM ROW NUMBERS
The 100 level sections have around 40 rows per section, with higher row number totals in the endzone and corner sections, and fewer row totals in the club sections. The 200 level sections have 12 rows per section while the 300 level sections have around 26 rows.
MERCEDES-BENZ STADIUM SEAT NUMBERS
Seat number one is on the right side of a section when facing the field. Seat numbers go as high as seats 20 to 24 on the left side of the section.
Mercedes Benz Stadium Seating Chart
Falcons Seating Chart – Football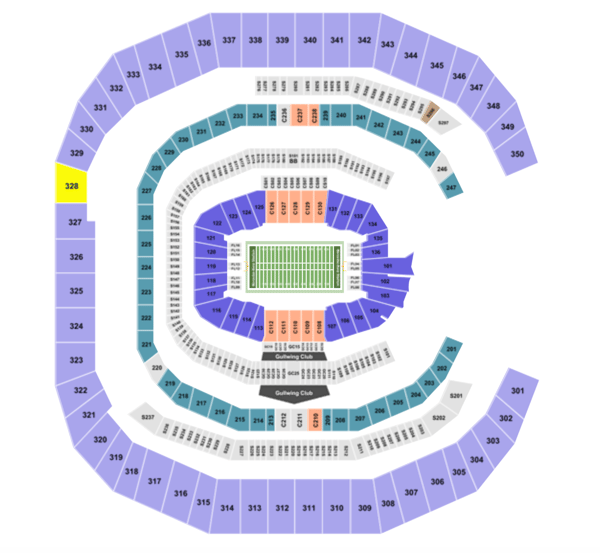 Atlanta FC Seating Chart - Soccer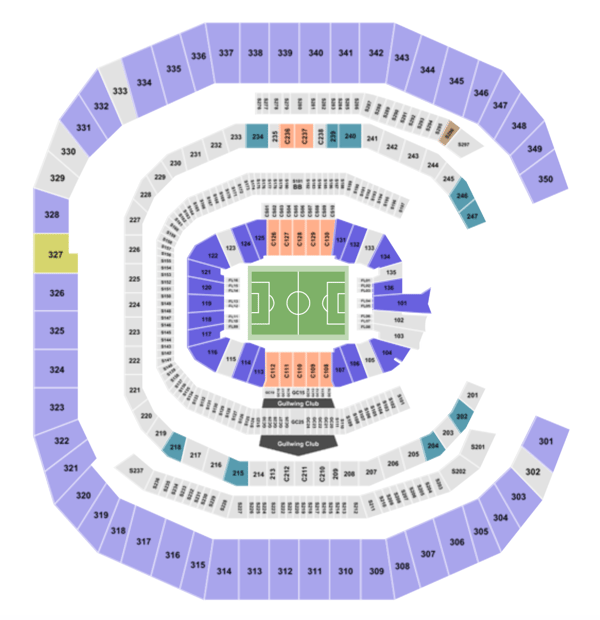 SEC Championship Seating Chart - Football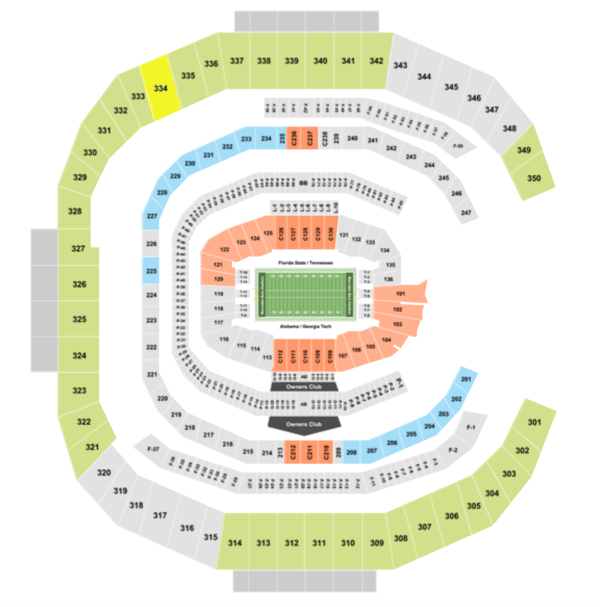 NCAA Tournament Seating Chart - Basketball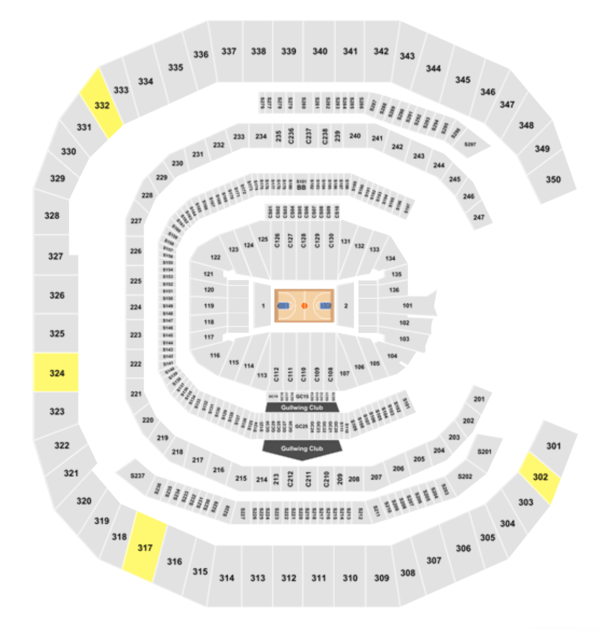 Concert Seating Chart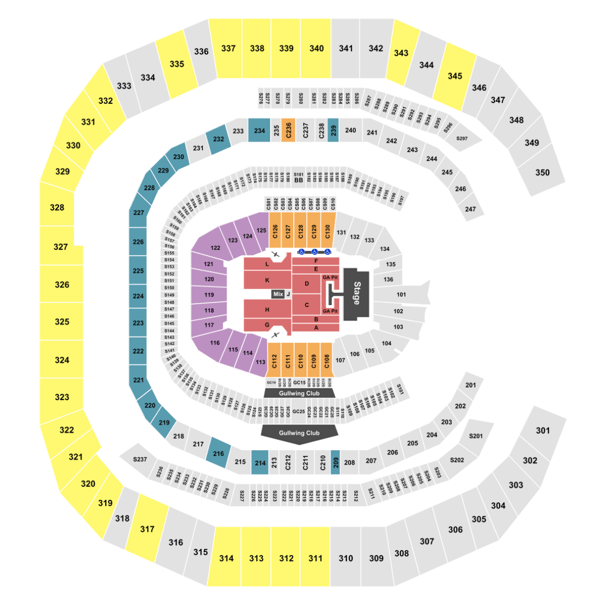 MERCEDES-BENZ STADIUM Handicap ADA SEATING
Mercedes-Benz Stadium provides wheelchair and companion seating on all levels. For additional questions regarding ADA accommodations at the stadium, the Mercedes-Benz Stadium general information line at (470) 341-5000 and choose Option #3 or email GuestService@mercedesbenzstadium.com.
MERCEDES-BENZ STADIUM CLUB SEATING
Mercedes-Benz Stadium has 7,500 club seats and more than 100,000 square feet of space dedicated to climate-controlled club and premium areas, including options in the below designated areas.
For more detail and views on Club Seating options, visit the stadium site.
Mercedes-Benz & Delta Sky360 Clubs
Reserved for first 35 rows from the field, Lounge seating, Private bars and cusine, Private restrooms, Multiple LED TVs, Field Patio Areas
AMG Lounge & SunTrust Clubs
300 Seats with private lounge access, exclusive viewing access to players, VIP Entrance, VIP Parking, Best sightlines guaranteed, All-Inclusive food & beverage
Harrah's Cherokee Casino Club
6,000 Sq Ft, Dining areas, Private restrooms, Retractable glass overhead doors, Unprecedented sightlines, Views of the Halo Board
Centennial Suites
Centennial Suites are centrally located on the visitors side of the field, above the lower bowl. They vary in configuration, and accommodate around 25 guests. All Centennial Suites come with VIP parking passes, use of a private VIP entrance, premium in-suite catering options, and a private in-suite restroom.
Gullwing Club
Gullwing Club Suites are the most exclusive suites at Mercedes Benz Stadium and give ticket-holders have access to a high end stadium club called the Gullwing Club. The Gullwing Club is two-stories and features 3 all-inclusive bars as well as an upscale food served buffet style. Gullwing Club suites have a maximum capacity of 26.
Which side is the Atlanta Falcons bench on?
The Falcons bench is in front of sections 108-112.
What's best way to tailgate at Mercedes Benz Stadium?
For Falcons games, the Home Depot Backyard will offer tailgating options via Tailgate Guys. Prices range from $425 for space for 20 guests to $2,200 for up to 60 guests.
What is mobile ticketing policy at Mercedes Benz Stadium
Mercedes-Benz Stadium is 100% mobile. The stadium does not issue hard tickets or printable electronic PDF's. For guests to enter the venue, they will need to display their mobile ticket barcode that can be stored either on the Ticketmaster app, a Ticketmaster mobile browser, or team-specific app (Atlanta Falcons or Atlanta United; each team has their own mobile app). Suite tickets can be transferred electronically to guests and guests can choose their preferred medium for displaying the ticket upon entry. To receive a mobile ticket transfer, you will need to create a Ticketmaster account. Once created, you can download or use any of the above applications to view/store your mobile ticket (barcode). Mobile tickets are scanned via electronic turnstiles upon entry.