MetLife Stadium Seating Chart + Section, Row & Seat Number Info
TicketIQ has fee free tickets to sold out events at MetLife Stadium. That means that if you find a secondary market ticket for less on a site like StubHub or Vivid Seats, we'll give you 200% of the difference in ticket credit. TicketIQ customers save up to 25%. TicketIQ also provides access to unsold face value tickets for all events at MetLife Stadium via Ticketmaster.
METLIFE STADIUM SEATING SECTIONS
The 100-level sections include center sections 109, 110, 111A, 111C, 112 to 114, 115C, 115A, 116, and 117; corner sections 104, 106, 108, 118, 121, 123, 129, 131, 146, and 148; and end-zone sections 101, 103, 124, 126, 128, and 149. The club seats in these sections are 111c, 112 to 114, and 115c.
The plaza level includes center sections 134 to 143 and corner sections 133 and 144; section 139 is the club section in the plaza level.
The 200-level sections include center sections 210 to 217 and 235 to 242; corner sections 204, 205a, 206a, 207a, 207c, 208, 209, 218, 219, 220c, 220a, 221a, 222a, 230a, 231a, 232a, 232c, 233, 234, 243, 244, 245c, 245a, 246a, 247a, and 248; and end-zone sections 201, 202a, 202b, 203a, 203b, 223, 224a, 224b, 225a, 225b, 226, 227a, 227b, 228a, 228b, 229, 249a, 249b, 250a, and 250b. Suites 205b, 222b, 230b, and 246b are also found on the 200 level. The club seats in these sections are 207c, 208 to 219, and 220c.
The 300 level of MetLife Stadium has center sections 310 to 317 and 335 to 342; corner sections 304 to 309, 318 to 322, 331 to 334, and 343 to 347; and end-zone sections 301 to 303, 323 to 330, and 348 to 350.
Want to Watch a Jets Game From the Comfort of an Indoor/Outdoor Lounge AND Track Sports Betting Lines at the Same Time? Try the Fubo Sportsbook Lounge. (For Fubo Sportsbook Users Only)
METLIFE STADIUM ROW NUMBERS
The 100 sections of the lower bowl have as many as 48 rows. The 200 sections have up to 15 rows. Seats in the 300 sections have to 26 rows.
METLIFE STADIUM SEAT NUMBERS
Seats in each row start with No. 1 and that seat is the one closest to the previous section. For example, in section 134, seat No. 1 would be the seat closest to section 133. The average section in the 100 level has between 14 and 30 seats per row. The average section in the 200 level has 24 seats per row. In the 300 sections, there are up to 31 seats per row.
METLIFE STADIUM SEATING CHARTS
Football Seating Chart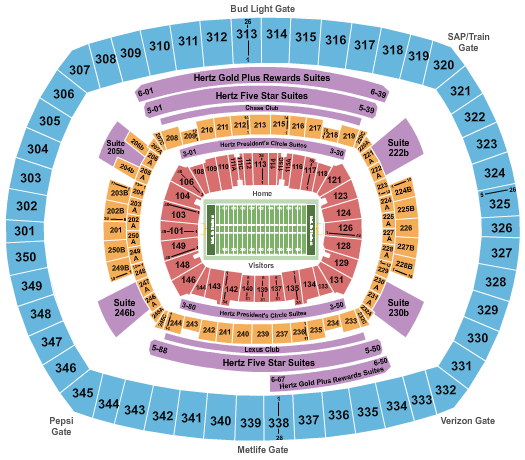 Concerts Seating Chart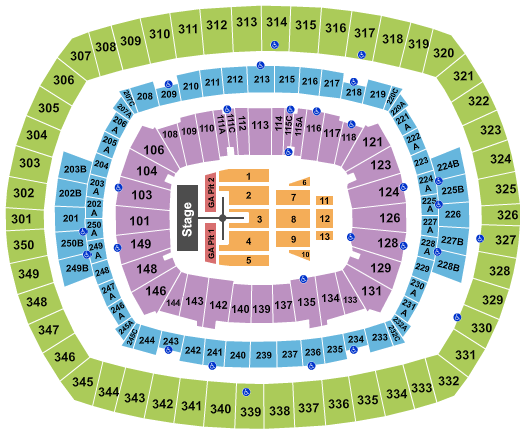 Soccer Seating Chart

METLIFE STADIUM HANDICAP ADA SEATING
MetLife Stadium offers ADA assistance from the parking lot to the seating area. The drop-off and pick-up area for guests with disabilities is located near Lot C, which is adjacent to the Verizon Gate. The Guest Services Booths/Concierge Desks are found at the following locations:
Plaza Level: Inside of SAP, Verizon, MetLife, and Pepsi Gates
General Concourses: Sections 124, 149, 227, 249, 303, 324, 328, and 349
Club/Suites: Near elevators
METLIFE STADIUM SHADED SEATS
The stadium does not offer many shaded seats, but there are some sections that tend to have shade during games played at MetLife Stadium. The last 10 rows of the corner 100 sections are good choices. In addition, the last few end zone rows in the 200 sections can be shaded. The last seven rows of the 300 sections can also get shade during some Jets and Giants games.
METLIFE STADIUM SUITE AND CLUB SEATING
MetLife Stadium offers a variety of club and premium seating options, including many with air conditioning, concierge service, and access to food and beverage. Below is a look at club and premium seating. For more detail and views on Club and Premium Seating options, visit the stadium site.
EY Coaches Club
Free food and non-alcoholic beverages are just a couple of the amenities of the EY Coaches Club, which is found on the plaza level through the Bud Light Gate. In addition to having a private, on-field deck behind the bench, fans get the opportunity to see the players leave the locker room before taking the field.
MetLife 50 Club
Also found on the plaza level (access through MetLife Central) is the MetLife 50 Club. This club also includes free food and non-alcoholic beverages and seats at the 42-yard lines. In addition, fans get the opportunity to stand just yards behind the visitors' bench as well as having complimentary free VIP parking.
Suites
MetLife Stadium has more than 200 suites, and suites can be utilized for small gatherings of 12 or large parties with as many as 30 people. There are three suite levels: levels 3, 5, and 6. Suites are also found on the level with the 100 sections.
Which side is the New York Giants or New York Jets Bench on?
The Giants and Jets benches are directly in front of the EY Coaches Club (sections 111c, 112 to 114, and 115c).
What's the best way to tailgate at MetLife Stadium?
According to the MetLife Stadium website, parking lots typically open five hours prior to an event for tailgating. Unfortunately, the use of grills and other heating devices are not allowed in the parking decks. Saving parking spaces is not be allowed either. Groups desiring to tailgate together should plan to meet in advance and arrive together. The following are also not permitted: tents or canopies exceeding 8-foot by 8-foot and vehicles measuring more than 18 feet in length and/or 8 feet in width.
What is the mobile ticketing policy at MetLife Stadium?
Mobile ticketing is available for many MetLife Stadium events. The New York Jets offer a step-by-step guide to mobile ticketing, and the New York Jets and New York Giants apps are available through the App Store or Google Play Store.