How To Find The Cheapest Michigan Football Tickets + Face Value Options
Where To Buy 2021 Michigan Wolverines Football Tickets & When Do Tickets Go On Sale
Primary market face-value tickets go on sale to the general public on July 16th via primary partner Paciolan. Donors will have the first opportunity to purchase individual tickets, starting July 13th.
On the secondary market, TicketIQ has Fee-Free Michigan Wolverines Football tickets which also include a Refund Guarantee. Our Refund Guarantee states that if an event is canceled or deemed unfit for fans to attend, TicketIQ will refund ticket buyers in as soon as 15 days. That means that you can buy from TicketIQ worry-free. Customers on TicketIQ save between 15%-25% compared to other secondary market ticketing sites.
How Much Are 2021 Michigan Wolverines Football Tickets
On the primary market ticket prices range from $145 to $190 vs. Washington and Ohio State, $70 to $110 for Big Ten clashes against Rutgers, Northwestern, and Indiana, $60 to $105 for the home opener against Western Michigan, and $55 to $100 for the non-conference finale against NIU. Below are all price tiers for each home game this season:
| | | | | | | |
| --- | --- | --- | --- | --- | --- | --- |
| Date | Opponent | Endzone | Blue | Maize | Valiant | Victors |
| 9/4 | Western Michigan | $60 | $70 | $85 | $95 | $105 |
| 9/11 | Washington | $145 | $155 | $170 | $180 | $190 |
| 9/18 | NIU | $55 | $65 | $75 | $85 | $100 |
| 9/25 | Rutgers | $70 | $80 | $90 | $100 | $110 |
| 10/23 | Northwestern | $70 | $80 | $90 | $100 | $110 |
| 11/6 | Indiana | $70 | $80 | $90 | $100 | $110 |
| 11/27 | Ohio State | $145 | $155 | $170 | $180 | $190 |
On the secondary market, get-in prices for lower-demand games range from $50 to $66. Higher demand games, like Indiana and Washington, have get-in prices of $92 and $150 respectively. Their highest demand game vs. Ohio State has a get-in price of $276. Ticket prices can go as high as $1,500+ for seats close to the field on the lower level sideline.
Michigan Wolverines Football 2021 Attendance Policy
All outdoor capacity limits will be removed, including at sporting events starting on June 1st, and all broad COVID restrictions will be lifted starting on July 1st.
Michigan Wolverines Football 2021 Premium Seating Options
JACK ROTH STADIUM CLUB
The Jack Roth Stadium Club features over 3,000 seats spread over two levels on the East Side of Michigan Stadium. The Jack Roth Stadium Club opens two and a half hours prior to each home game, giving our club seat holders the first access to Michigan Stadium on gameday. The climate-controlled club on both floors features flat-screen televisions and premium concessions available only to club seat holders. The club also offers a private entrance to the stadium as well as private restrooms.
The Outdoor Club Level includes a per seat contribution that ranges from $1,700 to $3,420

The Indoor Club Level includes a per seat contribution of $4,000
WEST SIDE CHAIRBACKS
For donors who enjoy being in the middle of the largest crowd to watch college football in the country, the West Side Chairbacks are the perfect option! Located where the old press box used to stand, these seats offer supporters the opportunity to experience the best sideline seats in the bowl while sitting in comfortable, cushioned theater-style seating. West Side Chairback seat holders also have easy access to the new elevated concourse, restrooms, and concession areas.
The West Side Chairbacks include a per seat contribution that ranges from $1,400 to $2,320
MICHIGAN STADIUM SUITES
12 stadium seatbacks and 4 barstools for 16 total guests with an option for (4) additional Standing Room Only tickets

(4) reserved parking spots in premium lots directly adjacent to Michigan Stadium

Private viewing areas with exceptional views

Fully furnished lounge area with flat-screen televisions and private cabinet space

Food and beverage catering options
Stadium Suites are priced starting at $61,000 annually.
For more information on Michigan Football premium seating, visit the MGoBlue website.
Michigan Wolverines 2021 Football Schedule
Sept. 4: vs. Western Michigan

Sept. 11: vs. Washington

Sept. 18: vs. Northern Illinois

Sept. 25: vs. Rutgers

Oct. 23: vs. Northwestern

Oct. 30: at Michigan State

Nov. 6: vs. Indiana

Nov. 13: at Penn State

Nov. 27: vs. Ohio State

Where to Buy 2019 Michigan Football Tickets
In order to be eligible to purchase Michigan football season tickets, you need to join the season ticket interest list by the April 2020 deadline; once on the list, a contribution of at least $150 will get you priority purchasing access. For the 2019 season, there were 877 new donations and 83% of them had the chance to purchase a ticket plan. Beyond that, the school also offers smaller ticket packs, but they are already sold out for the season. Regardless of your plan, however, you'll have the option of physical or print-at-home tickets.
If you're looking to make your game day a little more luxurious, Michigan also offers three premium seating locations. The Jack Roth Stadium Club offers both outdoor seats (ranging from a $1700 contribution to $3420) and indoor seats (with a minimum contribution of $4000) and access to a climate controlled club area with TVs and premium concessions. Westside chairbacks let you sit in the old press box in more comfortable seats for a contribution between $1400 and $2320 while Michigan Stadium Suites provide the opportunity to book a box for up to 20 fans.
Single game tickets were released earlier in the summer via Paciolan but, as it currently stands, they are only available for the home opener against Middle Tennessee State. Even for that game, only scattered single tickets are available, with a limit of four per customer.
How Much Are 2019 Michigan Wolverines Football Tickets
Looking at Michigan's schedule, there are two distinct segments. The Wolverines open their home program with four games against lesser opponents; those are all comparatively affordable, with the most affordable being the home opener against Middle Tennessee State ($29), but prices rise as the season goes on. After that, the big boys come to town and prices spike all the way to a $209 peak against Ohio State. That split define your ticket buying. Would you would rather spend less money or see a better game at nearly five times the cost?
No matter which game you choose, however, there are deals to be had on the secondary market. In the first half of the year, you can get into the Big House for as low as $29; towards the end of the season, you'll be paying more but the get-in price for the bigger games is less than half of the average resale price. They're always savings to be had if you shop intelligently.
Overall, secondary market tickets at Michigan Stadium are averaging $285 for the 2019 season, the highest for the Wolverines this decade and the 3rd most expensive in the nation.
Prices for All Michigan Home Games On The 2019 Schedule
August 31 vs. Middle Tennessee State Blue Raiders 🎟️
Secondary Market Average Price: $93
Secondary Market Get-In Price: $29
Last year, Middle Tennessee State played a couple of major programs; they narrowly lost to Kentucky, but were blown out by Georgia and Vanderbilt. Expect a result more like the latter here.
September 7th vs. Army Black Knights 🎟️
Secondary Market Average Price: $139
Secondary Market Get-In Price: $137
Army put together a strong season last year, finishing with an 11-2 record and a top 20 ranking in both the Coaches and AP Polls. Michigan should have enough talent to come out on top, but don't expect the Black Knights to make it easy on them.
September 28th vs. Rutgers Scarlet Knights 🎟️
Secondary Market Average Price: $118
Secondary Market Get-In Price: $36
There's a reason that Rutgers only won one game last season (which was against Texas State). They lost to Michigan 42-7 last season and just won't have the horses to play with the Wolverines again this year.
October 5th vs. Iowa Hawkeyes 🎟️
Secondary Market Average Price: $215
Secondary Market Get-In Price: $41
Last season, Iowa boasted a prolific offense, but both their tight ends have gone pro. This game should be a shootout with the Hawkeyes' personnel turnover giving Michigan an edge. Don't assume an easy W though.
October 26th vs. Notre Dame Fighting Irish 🎟️
Secondary Market Average Price: $428
Secondary Market Get-In Price: $206
When two of college football's blue bloods meet, you know it's going to be a special game. The Fighting Irish have won the last two showdowns between the programs—with one of those being a 31-0 thumping—so Michigan will be out for revenge in a major way.
November 16th vs. Michigan State Spartans 🎟️
Secondary Market Average Price: $322
Secondary Market Get-In Price: $155
With the Paul Bunyan Trophy and state bragging rights on the line, you know both schools will give this game all they've got. Michigan should have enough to get across the finish line but, in a rivalry game, anything can happen.
November 30th vs. Ohio State Buckeyes 🎟️
Secondary Market Average Price: $458
Secondary Market Get-In Price: $219
Michigan closes out their home schedule with arguably the biggest game in all of college football. The Buckeyes have dominated the series in recent years, winning seven straight meetings; can they keep that streak going or can the Wolverines use home field advantage to turn the tide? Either way, make sure to circle this date on the calendar.
---
TicketIQ is committed to the cheapest tickets possible, and we make much less on sold out tickets compared to other major marketplaces like StubHub and Vivid. That means ticket buyers save from up to 25% on TicketIQ on sports, music and theater. We're able to do this because we also work with teams, venues, and other ticket owners, to help them sell tickets at face price, directly to consumers like you, through Ticketmaster and Paciolan. For an overview of the 2019 College Football Ticket Buying landscape, and details on the cheapest way to get tickets for every pre-season top 25 team, visit the TicketIQ Blog.
2018 Report Below:
After their week one loss to Notre Dame, a storm has settled over Ann Arbor and not only their 2018 season, but also the future of the program under Coach Jim Harbaugh. With media outlets are questioning whether Harbaugh can turn around the program he joined 2015, demand for Michigan football tickets is down 31% from 2018. Last year (in part as the result of visits by Ohio State and Michigan state), was the highest price for Michigan Football tickets since TicketIQ began tracking the ticket market in 2011.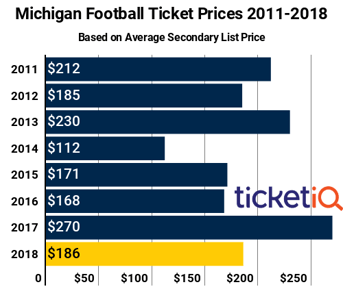 For 2018 in Ann Arbor, the most expensive game is Penn State's visit on November 3rd. The cheapest ticket available on TicketIQ for that game is currently $93. As a point of comparison, the most expensive game in 2017 was Michigan State, which had a 'get-in' of $201.
Unlike Michigan, Penn State finished week one with a win, albeit over Appalachian State (the same team that defeated Michigan in week one of 2007, in what many call the biggest upset in college football history). If Penn State can find a way to make it to Ann Arbor in November unscathed, they might still be ranked in the top 10 in the country, and it could be a chance for Michigan to redeem their season with a big late-season win against a ranked opponent.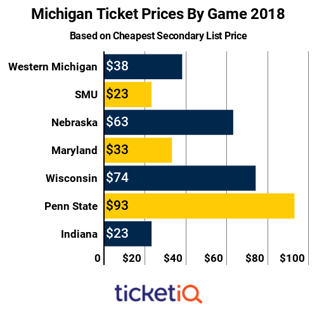 With a combined record of 1–6 against their biggest rivals in Ohio State, Michigan State and Notre Dame, a win in the most expensive game of the season wouldn't be the kind of signature win Wolverine's fan are looking for Harbaugh to deliver. It might, however, be enough to keep Michigan's college football playoff hopes alive, assuming they can rebound from a rough week one to win out. With a home game against Nebraska and a road trip to play Michigan State, that's far from a sure thing. After week one, a lot of fans and pundits (including suspended Big10 Network analyst Braylon Edwards) might call it a long shot.
In addition to the secondary market, there are also tickets available directly from the team for games, including homecoming against Maryland, as the team is advertising on their site (see Thor below). As much as you might want to buy from him for Maryland, the secondary market is about 25% cheaper in the upper endzone seats still available on MGOBLUE.com for $75. For Western Michigan this week, only a few single tickets remain from the team. The game with the most tickets on the primary market by far is the final home game against Indiana. Right now, the secondary market is well below face prices of $65. If Michigan can't rebound to finish competitively, that's not likely to change.