Where To Buy 2021 Minnesota Vikings Tickets & When Do Tickets Go On Sale
Primary market face-value tickets went on sale after the NFL schedule was announced on Wednesday, May 12th via Ticketmaster.
On the secondary market, TicketIQ has Fee-Free Minnesota Vikings tickets which also include a Refund Guarantee. Our Refund Guarantee states that if an event is canceled or deemed unfit for fans to attend, TicketIQ will refund ticket buyers in as soon as 15 days. That means that you can buy from TicketIQ worry-free. Customers on TicketIQ save between 15%-25% compared to other secondary market ticketing sites.
Minnesota Vikings 2021 Attendance Policy
Information regarding the Minnesota Vikings updated 2021 attendance policy and potential capacity limits has not been released. This information is expected to be released closer to the start of the 2021 regular season.
Minnesota Vikings 2021 Opponents & Schedule
Home: Chicago Bears, Detroit Lions, Green Bay Packers, Cleveland Browns, Dallas Cowboys, Los Angeles Rams, Pittsburgh Steelers, Seattle Seahawks.

Away: Chicago Bears, Detroit Lions, Green Bay Packers, Arizona Cardinals, Baltimore Ravens, Carolina Panthers, Cincinnati Bengals, Los Angeles Chargers, San Francisco 49ers.

Week 1: Sept. 12 at Bengals - 1 p.m. ET, TV: FOX
Week 2: Sept. 19 at Cardinals - 4:05 p.m. ET, TV: FOX
Week 3: Sept. 26 vs. Seahawks - 4:25 p.m. ET, TV: FOX
Week 4: Oct. 3 vs. Browns - 1 p.m. ET, TV: FOX
Week 5: Oct. 10 vs. Lions - 1 p.m. ET, TV: FOX
Week 6: Oct. 17 at Panthers - 1 p.m. ET, TV: FOX
Week 7: Oct. 24 Bye
Week 8: Oct. 31 vs. Cowboys - 8:20 p.m. ET, TV: NBC
Week 9: Nov. 7 at Ravens - 1 p.m. ET, TV: FOX
Week 10: Nov. 14 at Chargers - 4:05 p.m. ET, TV: FOX
Week 11: Nov. 21 vs. Packers - 1 p.m. ET, TV: FOX
Week 12: Nov. 25 at 49ers - 4:25 p.m. ET, TV: FOX
Week 13: Dec. 5 at Lions - 1 p.m. ET, TV: CBS
Week 14: Dec. 9 vs. Steelers - 8:20 p.m. ET, TV: NFL/FOX
Week 15: Dec. 20 at Bears - 8:15 p.m. ET, TV: ESPN
Week 16: Dec. 26 vs. Rams - 1 p.m. ET, TV: FOX
Week 17: Jan. 2 at Packers - 8:20 p.m. ET, TV: NBC
Week 18: Jan. 9 vs. Bears - 1 p.m. ET, TV: FOX

Minnesota Vikings 2021 Season Tickets
Season tickets to the Minnesota Vikings are sold out, but fans can join the waiting list for a $100 fee. Joining the waiting list allows fans to be the first to know when single-game tickets become available. Those joining the waiting list get $1,000 in Vikings Reward points to use toward merchandise or experiences.
Minnesota Vikings Club Seating and Premium Options
There are eight clubs at U.S. Cellular Stadium:
Mystic Lake Casino's Club: This lounge includes an outdoor deck with couch-style seating as well as inclusive premium food-and-beverage service. Ticket holders have access to lounge couches, loge boxes or club seats, and will get all-inclusive food, beer, and non-alcoholic beverages.
Truss Bar: Set high above the field, this unique experience gives fans a birds-eye view in comfortable seats. Ticket holders get all-inclusive food and beverage with a cash bar for mixed drinks, and access to the Lodge.
CenturyLink Lodge: A more standard lounge experience, the CenturyLink Club affords great views with food-and-beverage service right behind the seats. The lounge is on the east side of the stadium and ticket holders also have access to the Truss Bar.
Delta Sky360 Club: Located next to the Vikings locker room, club members can watch players exit and enter the playing field. Club members also have access to an on-field patio behind the Vikings bench.
Little Six Casino's Club Gold: This unique space on the north side of the field offers state-of-the-art media and upscale a la carte food and beverage. It is located above the Polaris Club and has great views.
Factory Motor Parts Club: This lounge is located above the Medtronic Club on the south side of the stadium and offers fantastic views. This club boasts state-of-the-art media.
Medtronic Club: Located on the south side of the stadium, this is a high-end club with premium amenities and a great view. It is the most upscale club in the stadium. Seats associated with the Club are between the 30 yard lines
Polaris Club: For seats closest to the action, the Polaris Club is the place to be. Fans can sit just 41 feet from the playing surface in comfy club seats while also having access to premium food and beverage and a lounge. Seats are located between the 30-yard lines.
US Bank Stadium Health and Safety Protocols
Guests who are not feeling well and/or are potentially infectious should stay home. All guests are asked to self‐ conduct a health survey on event day. If a guest must answer yes to any of the following questions, the guest may not enter the Stadium:
1. Do you feel sick or do you have any of the following symptoms of COVID‐19?
Fever or feeling feverish, New cough, Shortness of breath, Chills, Headache, Muscle pain, Sore throat, Fatigue, Congestion, Loss of taste or smell
2. Have you cared for or have you had close contact within the last 14 days with someone who has COVID‐19 or has symptoms of COVID‐19?
3. Have you tested positive for COVID‐19 in the last 14 days or have reason to believe you have COVID‐19?
Face Masks are required at all times while on Stadium grounds. Face masks should be well fitted to the wearer and cover both the nose and mouth. The Stadium supports the CDC recommendation against use of neck gaiters, face shields or coverings with vents, holes, or openings in place of a face mask.

Guests must maintain 6 feet of physical distance from those not in their pod group.

Guests must have a ticket to enter the event. All guest seating is reserved. Guests must sit in their assigned,

ticketed, and marked seat throughout the duration of the event.

Hand sanitizer stations will be available throughout the venue. The Stadium encourages increased hygiene measures for all guests. If you need assistance locating a sanitizer or handwashing station, the Stadium Guest Experience Team is available to assist.
Minnesota Vikings Mobile Ticketing
Fans can download the Vikings app and use it to gain entry into U.S. Cellular Stadium or buy, sell or transfer tickets. According to the Vikings website, screen shots of tickets will not be accepted and tickets cannot be printed.

2020 Minnesota Vikings Attendance Policy
On August 25th it was announced that the Vikings will not have fans at U.S. Bank Stadium for at least the team's first two home games. The Vikings hope to have fans back at U.S. Bank Stadium later in the fall. Here is a quote from the team:
"Based on our conversations and the current Minnesota Department of Health guidelines that specify an indoor venue capacity of 250, we have determined it is not the right time to welcome fans back to U.S. Bank Stadium," the team's statement said. "We will continue to work with the appropriate officials on our plans with the hope of bringing fans back in a safe manner later this season."
How Much Are 2020 Minnesota Vikings Tickets
The $309 average asking price for a Minnesota Vikings ticket on the secondary market is one of the best deals in the NFL — that price is the 11th cheapest across the league, and up just over 8% over the 2019 season. The cheapest ticket in the NFL is $142 to the Detroit Lions.
---
TicketIQ is committed to the cheapest tickets possible, and we make much less on sold out tickets compared to other major marketplaces like StubHub and Vivid. That means ticket buyers save from up to 25% on TicketIQ on sports, music and theater. We're able to do this because we also work with teams, venues, and other ticket owners, to help them sell tickets at face price, directly to consumers like you, through Ticketmaster and Seatgeek. For an overview of the 2020 NFL Ticket Buying landscape, and details on the cheapest way to get tickets for every team, visit the TicketIQ Blog.
---
How Much Are 2019 Minnesota Vikings Tickets
Two years after advancing to the NFC Conference Championship, five of this season's eight games have average asking prices of $220 or more, and two — the October 13 Philadelphia game and the December 23 Green Bay game — both have average asking prices of $329 or more.
Overall, the average asking price of $248 ranks No. 13 across the NFL for 2019 home games at U.S. Bank Stadium. The average asking price is tied with 2017 for the second priciest of the decade. The Vikings got to the NFC Championship game that season. Fans paid $339 in 2016, a year after the Vikings won the NFC North. The New England Patriots' $777 is the highest average asking price in the league.
Prices For Each Game On The Vikings 2019 Schedule
September 8 vs. Atlanta Falcons
Secondary market average asking price/cheapest ticket: $196/$86
These NFL rivals have played on and off since 1966, and the Vikings hold an all-time series advantage of 19-11. The teams last played on December 3, 2017 at Atlanta, and the Vikings won the for the third consecutive time. This game will mark the first time Atlanta has played at Minnesota since 2014.
September 22 vs. Oakland Raiders
Secondary market average asking price/cheapest ticket: $220/$86
The most important meeting between these teams was in 1977, when the Raiders beat the Vikings in Super Bowl XI. This game will be the Raiders first visit to Minnesota since 2011, and it's one of five games with an average asking of more than $200 on the secondary market. The Vikings won the last game, 30-14, at Oakland.
October 13 vs. Philadelphia Eagles
Secondary market average asking price/cheapest ticket: $329/$112
This game has the second highest average asking price behind the Packers game, and the game is a rematch of the January 21, 2018 NFC Championship in which Philadelphia beat Minnesota. The teams played last season, and the Vikings avenged the loss, but it's probably fair to say a rivalry is blooming here. The teams are 14-14 in all-time meetings.
October 24 vs. Washington Redskins
Secondary market average asking price/cheapest ticket: $184/$72
This is the cheapest game of the season, giving Vikings fans a great mid-season opportunity to see a home game at an affordable price. Both teams play in the NFC, but they've met only 26 times, and are 13-13 all-time. The Vikings have won three of the last four.
November 17 vs. Denver Broncos
Secondary market average asking price/cheapest ticket: $242/$107
The Broncos have dominated this rivalry of late, winning the last three consecutive, but it's been four years since the teams have played. This is the fourth priciest game of the season. There's been plenty of parity in this rivalry, too – the all-time series record is 7-7.
December 8 vs. Detroit Lions
Secondary market average asking price/cheapest ticket: $187/$72
This is the second cheapest game on the secondary market likely in part to Detroit's long-standing struggles. But it's another game that presents a chance for fans to see an NFL game for less than $200. As division rivals, these teams play twice a year, and the Vikings have won the last three consecutive.
December 23 vs. Green Bay Packers
Secondary market average asking price/cheapest ticket: $369/$144
It's no surprise that one of the Vikings biggest rivals is commanding the highest average asking price on the secondary market. The rivalry began in 1961, when the Vikings entered the league and has been robust and intense ever since. The Packers have a 60-54-3 all-time series advantage, but the Vikings won the last meeting, 24-17, on November 25, 2018. This game will be featured on Thursday night football.
December 29 vs. Chicago Bears
Secondary market average asking price/cheapest ticket: $264/$114
Just six days after playing the Packers, the Vikings will take on their other key rival at home. The rivalry with the Bears also dates to 1961 when the Vikes entered the league, and the Bears hold a 60-54-2 all-time series advantage. The teams play twice a year, and the Bears won both meetings in 2018.
---
Vikings 2018 Ticket Market Overview
The Minnesota Vikings open the season at home Sunday against the San Francisco 49ers, and demand for 2018 Minnesota Vikings tickets is slightly down this season. Below is how Vikings tickets prices stack up on the secondary market across the league. As you can see below, Vikings tickets are down 6% compared to last season, but they are still the third most expensive since 2011, when TicketIQ.com began tracking data. The most expensive ticket of the decade was in 2016, a year after the Vikings won the North with an 11-5 record. Minnesota was 13-3 and got the NFC Championship last season.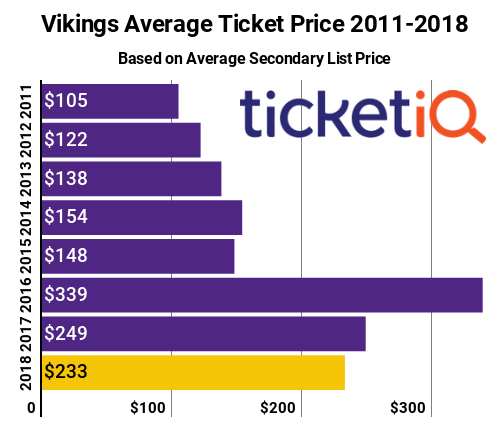 Where to Buy Tickets
Despite the slight drop in ticket prices, a ticket to a Vikings game is the 11th most expensive across the NFL this season. Season tickets are not available, but fans can get on the waiting list, which started in 2013, by visiting the Vikings website. Single-game tickets are available through the Vikings primary market partner Ticketmaster, and are available for every game, though there is limited availability for the biggest games, including the November 25 Green Bay Packers and December 30 Chicago Bears games. On the secondary market, seats all over the stadium are available, including many through secondary ticket marketplace TicketIQ.com, with the company's Low Price Guarantee.
Prices For Each Game on 2018 Vikings Schedule
The priciest game of the season is the Packers game, which is trending at $355, well above the secondary market season average of $233. The Packers-Vikings rivalry is one of the most heated and storied in the NFL, and the teams play at Green Bay during Week 2 before a rematch at Minnesota in November. The Packers hold a 60-53-2 series advantage. Should either team be in position to make the playoffs – and it's highly likely both will be in the mix – ticket prices will surely rise.