For sold out seats and events, TicketIQ has Fee-Free tickets for all events at Minute Maid Park For Astros, music concerts, as well as family productions. TicketIQ customers save up to 25% compared to other secondary sites. TicketIQ also has a Refund Guarantee, which states that if an event is canceled or deemed unfit for fans to attend, TicketIQ will refund ticket buyers in as soon as 15 days. That means that you can buy from TicketIQ worry-free. Customers on TicketIQ save between 15%-25% compared to other secondary market ticketing sites.
Minute Maid Park Seating Charts

Astros Seating Chart
Minute Maid Park Seating Sections
The field/lower level is the 100's and comprised of center sections 101 to 104 in right field, 105-116 down the left field line, 118 to 120 behind home plate, 122 to 134 down the right field line and 150 to 156 in the along the oufield wall in right field. Also on the field level directly behind home plate is the Diamond Club, which consists of sections AA, A, B, C, D, E and F. Behind home plate but in the back of the lowel level is the Insperity Club, which consists of section 70 to 75.
The second level is the 200's and is comprised of center sections 206 to 236 around the infield, and 251 to 258 in the outfield.
The third level is the 300's with sections 305 to 311, 313 to 325, 327 to 334, and 336 to 338 wrapping around the infield from foul pole ro foul pole.
The fourth level is the 400's in the upper deck with sections 405 to 411, 413 to 425, 427 to 434, and 436 to 438 wrapping around the infeild from the left field foul pole to the right field foul pole.
Minute Maid Park Row & Seat Numbers
In the 100's level, the number of rows in a section varies. Most sections along the foul lines have 40 rows.

Outfield sections 100 to 102 have 10 rows, 103 has 8 rows, and 104 has 13 rows. Section 150 goes from row 13 to 22, section 151 goes from 13 to 21, 152 and 153 have 25 rows, 154 has 21 rows, 155 has 25 rows and 156 has 14 rows.
Sections 112 to 116 and 122 to 126 go from row 5 to row 40. Behind home plate the Diamond Club goes from row 1 to 9, and sections 118 and 120 go from row 12 to 32. Other outliers on the lower level are sections 105 (12 to 40), section 134 (9 to 40)
In the 200 level, most sections have 12 rows for infield sections and 17 rows for outfield sections. Behind home plate 200's sections have 6 rows.
In the 300 level, most sections have either 9 or 5 rows.
In the 400 level, most sections have 17 rows. Section in the corner in the left-field has 25 rows, while sections in the right-field corner have as few as 3 rows.
The field/lower level 100's sections have between 12 and 26 seats per row, 200's sections have between 15 and 17 seats per row, 300's sections have between 13 and 23 seats per row, and the 400's sections have between 12 and 28 seats per row. In each section at Minute Maid Park seat number 1 is always closest to the previous section numerically, so in Section 102, seat one is closest to section 101, and the last seat in section 102 is closest to section 103.
Where Is The Astros Dugout At Minute Maid Park
The Astros dugout is located on the first base side of the infield between sections 124 and 126.
Concerts Seating Chart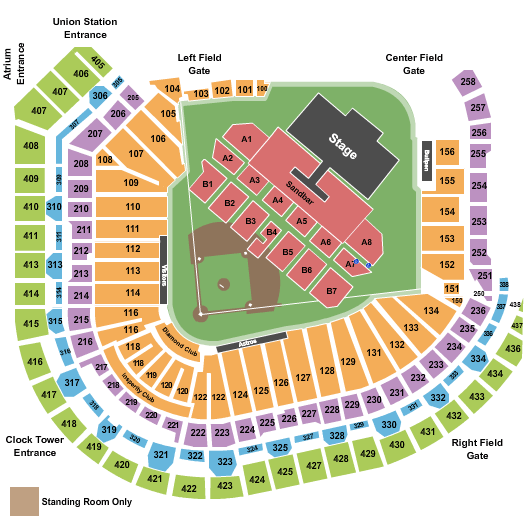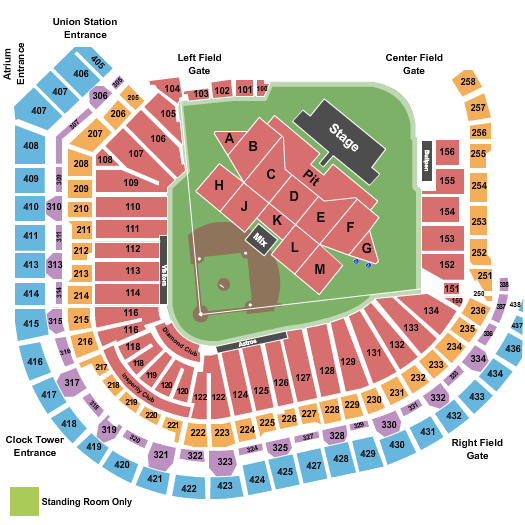 WWE Seating Chart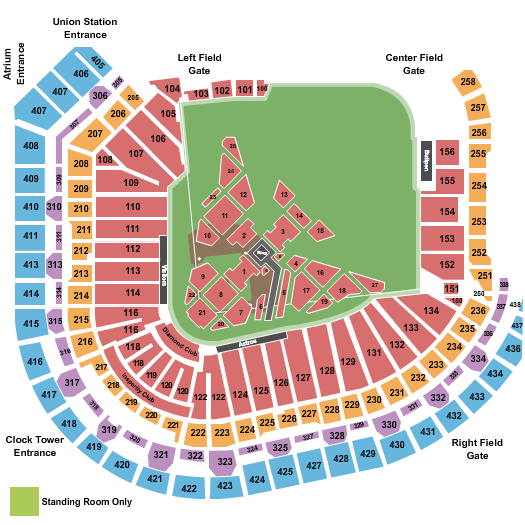 Minute Maid Park Handicap and ADA Seating
Seating for those with disabilities seating is available by calling (713) 259-8500 or by visiting the Minute Maid Park Box Office and informing the ticket representative of the special seating needs. The Astros provide courtesy wheelchair service at all Minute Maid Park contests. Once a guest arrives at the gate and requests a wheelchair, the guest will be taken to and from the seating area before and after the game.
Elevators can be found at the following areas of Minute Maid Park:
-Near Sections 109, 128, and 156
-The Clock Tower entrance, which provides access to the Diamond Club, the Honda Club Level, and U.S. Trust Suite Level
Minute Maid Park Club Seating Options
Minute Maid Park offers a variety of club and premium seating options, and for more detail and views on the Honda Club (sections 205 to 236) and Premium Seating options, visit the team website. The Premium Sales Team can be contacted at (713) 259-8350 and PremiumSales@Astros.com.
Lexus Field Club
The exclusive club includes 100 tickets, all-inclusive food and non-alcoholic beverages, access to a premium cash bar, and the opportunity to watch batting practice on the field. The team website also suggests bringing your glove.
Raymond James-Alex Brown Diamond Club
The private lounge conference room includes gourmet food, snacks, non-alcoholic beverages, and a 30-foot projection screen. In addition, there is access to a fully stocked private bar and in-seat wait-service.
Insperity Club
Similar to the Diamond Club, a fully stocked bar, gourmet food, snacks, and non-alcoholic beverages are included. There are also extra-wide movie theater seats and in-seat wait-service.
Suites
Suites, which ranges from 14 to 125 guests, include multiple flat-screen televisions, suite wait staff, one parking pass, and two rows of stadium seats. There is also first-class catering by the Astros Hospitality Group as well as enclosed private concourses with lounge areas.
Coca-Cola Corner
For groups of 40 or 50 people, the private viewing deck just above center field is catered by the Astros Hospitality Group and there is also the Coca-Cola Telescope.
What is mobile ticketing policy at Minute Maid Park
Mobile ticketing is available for Houston Astros games. The Astros offer a step-by-step guide to mobile ticketing, and the MLB Ballpark app is available through the App Store or Google Play Store.
---
TicketIQ is committed to Transparent Ticketing and we make much less on sold out tickets compared to other major marketplaces like StubHub and Vivid. That means ticket buyers save from up to 25% on TicketIQ on sports, music and theater. We're able to do this because we also work with teams, venues, and other ticket owners, to help them sell tickets at face price, directly to consumers like you on Ticketmaster, Seatgeek and AXS.