MLS 2020 Schedules
---
2019 MLS Ticket Market Summary

With the weather warming across the country and the league tables starting to take shape, the MLS ticket market is poised to heat up over the summer. In the Eastern Conference, DC United, The Impact and the Philly Union are off the the strongest starts. MLS Champion Atlanta United, on the other hand, has not been able to recapture the success of last season so far, with eight wins in the first fifteen games of their Cup defense campaign, and currently are 4th in the Eastern Conference. Despite being middle of the pack when it comes to on-field performance, ticket prices for ATL United FC still are tops in the MLS based on average price on the secondary ticket market for their games at Mercedes Benz Stadium.
Tickets are available for most teams through both unsold primary ticketing platforms and secondary ticket marketplaces like TicketIQ. TicketIQ is a ticket market place with access to Low Price Guarantees on MLS Tickets. If you find the same ticket for less on another secondary marketplace, we'll give you 200% of the difference in ticket credit. Below is a list of the secondary ticket prices and links to TicketIQ for each MLS team, along with links to their primary ticketing site where face price tickets are available. Face value tickets and season ticket management for the majority of MLS teams is provided by Ticketmaster (11 teams), Seatgeek (6 teams) and AXS (5 teams), with Paciolan and TicketPro each working with a single team. Most MLS teams do have unsold tickets available to face price, so it's important to shop around when looking for the cheapest ticket prices for any MLS game.
In the western conference, Los Angeles is at the top of the league, with an impressive 11-1-4 record over their first 16 games. On the ticket front, LAFC's game at Banc of California Stadium are 25% above prices for Galaxy tickets. In just their second year, LAFC trails only the Portland Timbers based on average price. The overall average price in the Western conference is $63 compared to $44 in the Eastern conference, which shows that that when it comes to MLS demand, the west is the best. The diversity of primary ticketing platforms is much greater in the Western conference with only one team that uses Ticketmaster, compared to eight teams in the eastern conference.
Outside of the regular season matchups, the 2019 MLS All Star game takes places this year in Orlando, after taking place last year in Altanta. This year, ten-time La Liga champion Atletico will put Major League Soccer's all-stars to the test when the two kick off July 31 in MLS' annual All-Star Game at Orlando's City home stadium. It will be the first time that Atletico has played against the MLS All-Stars and the 16th time an elite international club has been the opponent in the All-Star game.
Prices for MLS All-Star game tickets are lower than it has been in recent years on the secondary market and the current average asking price of $212 is the sixth most expensive since TicketIQ began tracking data in 2011.
The MLS playoffs start on October 6th has a new format for 2019 that consists of a fixed-bracket, single-elimination format with the higher seed hosting every match. Additionally, 14 teams will qualify up from 12 last season. The MLS Cup takes place on November 10th. According to Oddschecker, the four teams with the best odds to host an MLS Cup game are The LA Galaxy, Atlanta United, LAFC, and DC United, with the Philadelphia Union having the 5th best odds.
TicketIQ is committed to the cheapest tickets possible, and we make much less on sold out tickets compared to other major marketplaces like StubHub and Vivid. That means ticket buyers save from up to 25% on TicketIQ on sports, music and theater. We're able to do this because we also work with teams, venues, and other ticket owners, to help them sell face value tickets, directly to consumers like you, through Ticketmaster, Seatgeek and other primary ticketing platforms.
TicketIQ is the leading source of ticket market data used by major news outlets, like CNBC, Business, Insider, Fox and others. Enjoy the TicketIQ blog for most in-depth coverage of the 2019 MLS ticket market and use TicketIQ.com to save up to 25% compared to other major tickets sellers like Stubhub and Seatgeek.
---
2018 MLS Ticket Market Summary
Amidst the competitive pressures of living rooms and high definition TVs everywhere, the live event business has gotten a lot harder over the last 10 years. Over the last three years, two of the top five major leagues in North American sports--NFL and MLB--has seen a decline in attendance. While the NHL and NBA have seen growth it's minuscule, at around 1%. Amidst that low-to-no growth environment, Major League Soccer tickets are a growth market and an exception, with total attendance up 12% over the last three years. Now in its 23rd season, MLS is by far the youngest of America's pro leagues, and still the smallest in terms of attendance and gross revenue based on ticket prices.
When the league debuted in 1996, it drew 2,785,001 fans across 10 teams. Through its first 10 years, the average number of fans per season remained under three million. But behind the success of the 2002 U.S. World Cup team, which advanced to the quarterfinals, expansion, and the building of soccer-specific stadiums, the league broke the three-million mark in 2007 and has seen a steady rise since. Since 2011, MLS attendance grew by a whopping 51% percent, from 5.4 million to 8.2 million last year.
The league now has 23 teams with two more on the way – Miami in 2020 and Nashville in 2019 or 2020. Below is a state of the fastest growing ticket market in America and likely on Earth.
5 MAJOR SPORTS LEAGUES TOTAL ATTENDANCE – 2017
MLS' growth continued last season, when the league broke the eight-million fan barrier, drawing 8.2 million fans, compared to 7.4 million in 2016. Despite the fast growth, MLS remains the smallest league in North America based on attendance. With 30 teams playing 162 games per season, Major League Baseball draws the most number of fans of any pro league by a long shot. While total MLS attendance will never top MLB, NBA and NHL, with 81 to 162 games each year, over the next decade, MLS will likely be pulling in over 11 million fans. If the next wave of expansion teams draw like Atlanta United FC did in their first year, it could be a lot higher.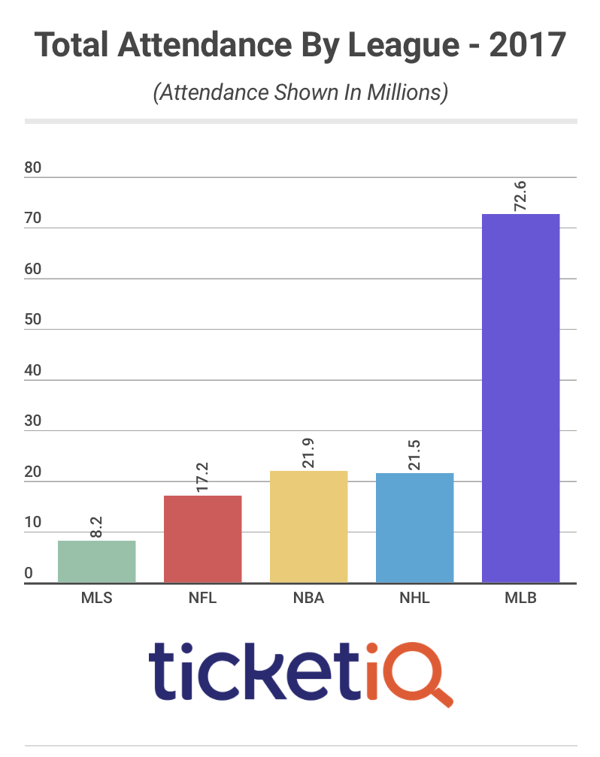 ATTENDANCE BY GROWTH BY LEAGUE – LAST 3 YEARS
During a recent three-year span during which all of MLS' counterparts saw no growth or negative growth, MLS broke the trend, adding fans at a rate of 12.8 percent. During that same span, the NHL and NBA were nearly flat, growing their attendance by .52% and .21%, respectively. MLB and the NFL both lost fans during the span, MLB at a rate of 1.48 percent and the NFL at a rate of 1.46 percent. The majority of growth comes from new franchises joining the league. Last season, six teams grew attendance from 2016, six teams were flat, and ten teams saw attendance decline year over year.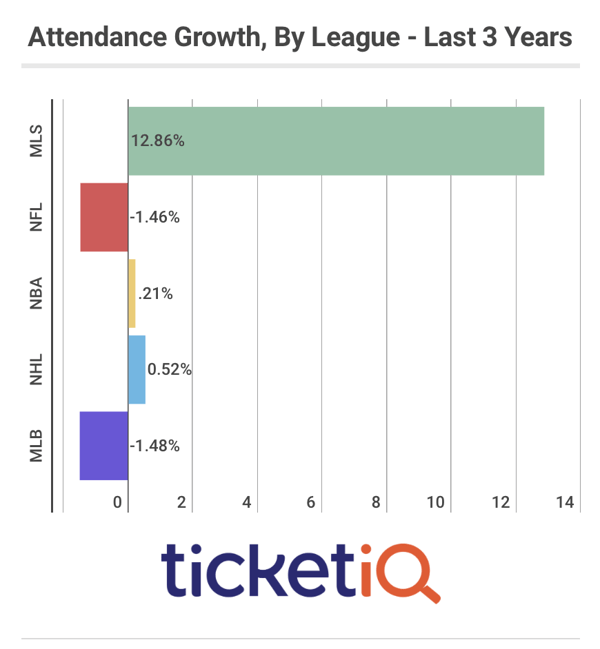 PRIMARY TICKETING PLATFORMS
In 2017, SeatGeek announced a deal with the League to be their official primary ticketing platform. Since then, SeatGeek has signed agreements with Sporting KC, LAFC, Minnesota, Portland, Atlanta and Seattle as both the primary ticket selling platform as well as their official secondary marketplace. For SeatGeek-partner teams, primary and secondary tickets are listed for each game and buyers can't distinguish between the two. Despite the league-wide deal, eight teams still use Ticketmaster as their primary ticketing platform, which does distinguish between primary inventory (blue dots) and resell inventory (red dots). Five teams use AXS's platform, formerly know as Veritix. AXS does not list any resale tickets for sale on team sites. The Montreal Impact and Philadelphia Union use other ticketing platforms.
MLS TICKETS SECONDARY PRICES – 2011-18
Since 2013, according the data from TicketIQ.com, MLS has seen a steady increase in ticket prices on the secondary market, from $48 to $77. The most significant increase came between 2017-18, when the average ticket price jumped from $66 to $77. Prior to that, the biggest increase was between 2014-15, when the average price of a ticket on the secondary market increased $7, from $50 to $57. Both of those spikes coincided with the launch of big-market teams an with a large stadiums, including NYCFC and Atlanta. As the average price by team chart below shows, three of the top six priced teams are new since 2013.
Prior to 2013, growth was inconsistent. The average ticket price on the secondary market in 2011 was $54. That number dropped to $50 and then $48 in 2012 and 2013, respectively. At odds with the price drop, MLS added two teams (Vancouver Whitecaps, 2011, and Montreal Impact, 2012), Real Salt Lake advanced to the CONCACAF Champions League Final, and the Los Angeles Galaxy signed international star Robbie Keane. The league also surpassed the NBA and NHL in terms of average number of fans per game (17,872) during that span, according to Wikipedia.com.
MLS TEAMS WITH HIGHEST ATTENDANCE – 2017
Last season, four MLS teams welcomed more than 400,000 for the season and two surpassed the 700,000 fans-per-season mark. Atlanta United FC, a 2014 expansion franchise owned by NFL Falcons owner and Home Depot magnate Arthur Blank, sold 819,404 tickets. Perennial MLS contenders the Seattle Sounders sold 742,314. Those numbers are well ahead of any other franchises, though both Toronto FC and Orlando City SC sold 470,005 and 425,477 tickets, with: NYCFC rounding out the top 5 (384,929). Despite the wave of new Soccer-only stadiums, the three of the teams in the top five play in Football or Baseball stadiums, with two to three times of the capacity of new Soccer Stadiums. Despite that fact, MinnesotaFC has a soccer-only stadium under construction and slated to open in 2019, despite the gleaming two-year old U.S. Bank Field, which is home to the Vikings.
Rounding out the Top 10 in ticket sales for 2017 were, the LA Galaxy (378,182), the Vancouver Whitecaps (364,073), the New York Red Bulls (359,977), the Portland Timbers (359,448) and Minnesota United FC (349,138).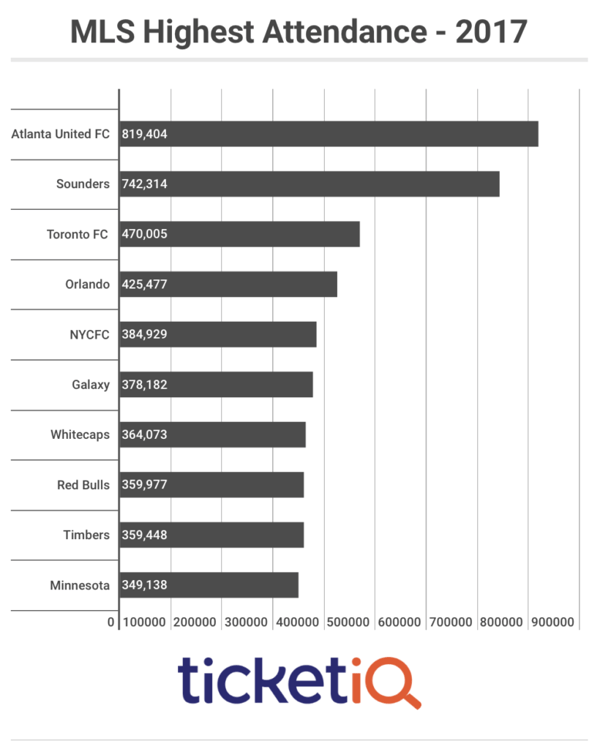 MLS HIGHEST SECONDARY TICKET PRICES – 2018
After selling the most amount of tickets last season, Atlanta enters the 2018 season as the team with the highest average asking price on the secondary market, according to TicketIQ.com. At $167 per ticket, Atlanta FC is getting a full $10 more than the next most expensive team – the Portland Timbers ($157). Five teams have broken the $100 barrier in terms of secondary ticket prices. The other three are founding member D.C. United ($131), Toronto FC ($116) as well as NYCFC ($107). For DC United a new soccer-only stadium is driving up prices while Toronto FC is above $100 on the backs of their first MLS Cup in history. The expansion LAFC, playing in its first season, is commanding $99 per ticket in a market it shares with the LA Galaxy. The average asking price for a Galaxy ticket this season is $77.
The next two priciest tickets on the secondary market are: New England Revolution ($78) and the New York Red Bulls ($74).
MLS OPENING DAY ATTENDANCE
It was a week of extremes in Week 2 of 2018 MLS attendance, with Atlanta United setting yet another MLS attendance record and Columbus Crew SC drawing an abysmally small crowd. Below is a look at this year's opening match attendance figures.