For Sold Out Seats and Events, TicketIQ has Fee Free tickets for all events at Nationwide Arena for the Columbus Blue Jackets, as well as Concerts. TicketIQ customers save up to 25% compared to other secondary sites. TicketIQ also provides access to unsold face-value tickets for all events at Capital One Arena via Ticketmaster.
NATIONWIDE ARENA SEATING CHART-HOCKEY
The Blue Jackets shoot twice at the net in front of section 109, and the penalty box is located in between sections 114-115.
Where is the Columbus Blue bench: The home team sits in front of sections 103 while the visitor's bench is in front of sections 104.
Floor Court-side sections, rows and seats at Nationwide Arena
Nationwide Arena follows the standard sports arena pattern in that the lowest seat number in a given section will be closest to the adjacent lower section. The same rule applies for the 100s and 200s sections. Sideline seating on the lower level begins with Row 1 closest to the court. The center court Sections include 103, 104, 114 and 115. The lower level sideline consists of rows A to Y while the lower level corners consists of rows A-U. The upper level sideline has rows from A-Q while the upper level corner sections consist of rows A-R. Sections 102 and 105 are behind the player benches, while seats on the opposite side of the court are behind a long press table. The lower level sections typically have 20 seats per row, and between 17 and 27 seats per row in the upper level sideline sections. The corner sections in both levels have seat numbers that vary depending on the width of the section.
100-level sections, rows and seats at Nationwide Arena
100-level center sections include 113-116, 102-105. 100-level end sections include 108-110, 119-121. 100-level corner sections include 122, 101, 118, 117, 106, 107, 112, 111
200-level sections, rows and seats at Nationwide Arena
200-level center sections include 215-219, 201-205. 200-level end sections are 208-211, 222-225. 200-level corner sections include 220, 221, 227, 228, 212, 213, 206, 207.
Club, VIP, Box Seats and Suites at Nationwide Arena
The Columbus Blue Jackets offer all premium seating in sections 114-115 in rows A-M, including select seat numbers in sections 113 (1-8) and section 116 (12-16). Nationwide Arena offers Club Seating for Blue Jackets games, which are located in between the 100 and 200 levels in sections C1-C13. Seating in the club level (loge boxes or terrace tables) includes access to the Pizzuti Club Lounge, in seat wait-service, and peraonl flat screen TV. Sky Terrace seats are located directly behind 200 level sections on the West side of Nationwide Arena.
NATIONWIDE ARENA SEATING CHART-BASKETBALL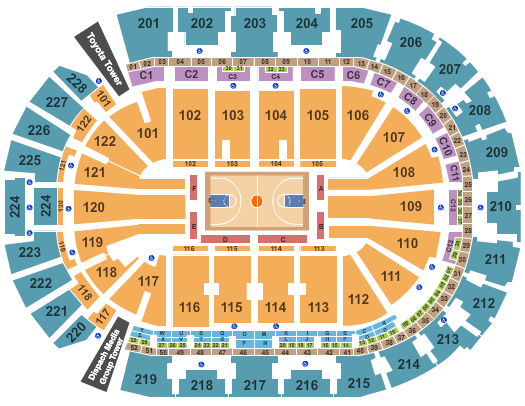 CONCERT SEATING CHART AT NATIONWIDE ARENA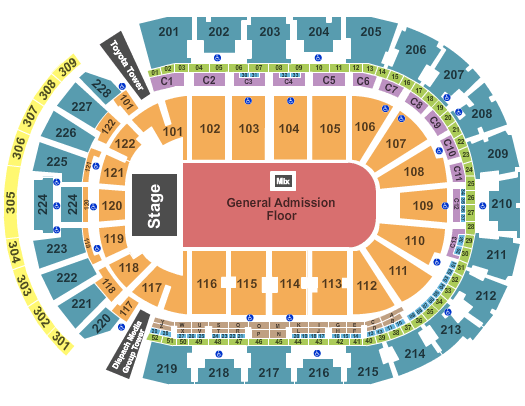 Floor seating at Nationwide Arena consists of a General Admission floor with a mix pit. Behind the stage, sections include 117 to 122 and 220 to 228 and 301 to 309.
WHERE CAN I FIND CHEAPEST TICKETS FOR NATIONWIDE ARENA
The Columbus Blue Jackets have unsold face-value tickets available for most games, which can be purchased directly through Ticketmaster. Prices may be above or below prices on the secondary ticket market. Many Concerts also have unsold tickets. For Sold Out Seats and Events, TicketIQ has Fee-Free tickets for all events at Nationwide Arena.
WHAT IS MOBILE TICKET POLICY AT NATIONWIDE ARENA
Tickets for Nationwide Arena can directly be purchased from Nationwide Arena box office or secondary market also. You can home-print your tickets, purchased offline. Scanning of tickets is not available at the venue. If you need valid tickets reprinted, the Box Office will print them for a non-refundable $10-20 fee.
HANDICAPPED & ADA SEATING AT NATIONWIDE ARENA
Nationwide Arena offers other convenient services including wheelchair assistance, lost and found and wheelchair check in. Guest Services desks are located by the east entrance on the main concourse near section 111 and on the upper concourse near section 208.