Where To Buy 2021-22 NBA All-Star Game Tickets
On the secondary market, TicketIQ has NBA All-Star game tickets that are Fee-Free and come with a Refund Guarantee. We also have Fee Free NBA tickets for all games with fans allowed to attend. Our Refund Guarantee states that if an event is canceled or deem unfit for fans to attend, TicketIQ will refund ticket buyers within 15 days. That means that you can buy from TicketIQ worry-free.
How Much Are 2021-22 NBA All-Star Game Tickets
On the secondary market, prices for the 2022 NBA All-Star game start at $498 for 200 level tickets on the baselines. Prices for 200 level baseline tickets start at $482 and go as high as $937 on the sidelines in section 225. 100 level seats start at $907 in section M111 row 12. 100 level seats go as high as $8,533 for seats in section 109 Row 1.
Currently, there are just over 1,200 tickets available on the secondary market.
Below is a look at the cheapest tickets for each NBA All-Star game since 2011: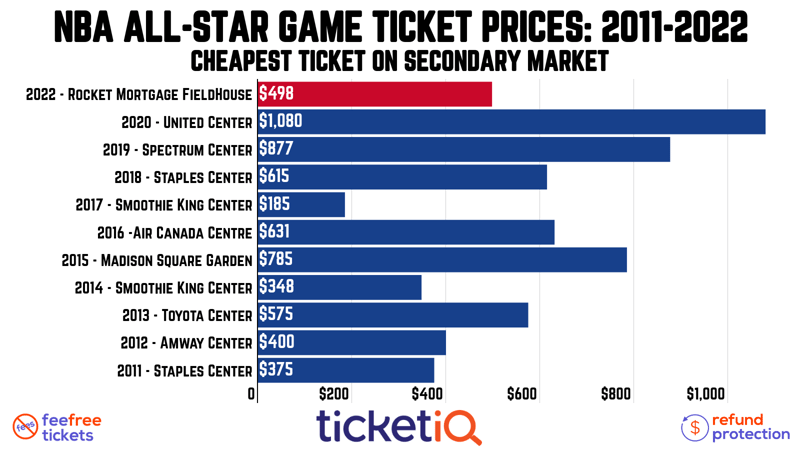 How Much Are 2021-22 NBA All Star Weekend Tickets

---
Where to Buy 2020 NBA All-Star Game Tickets
Primary market tickets for the NBA All-Star game, set for Sunday, February 16 at Chicago's United Center, are sold out on the primary market, but fans can buy tickets to many of the weekend's events via NBAEvents or premium ticket packages via NBAPremium.
On the secondary market, TicketIQ offers a Low Price Guarantee on all NBA All-Star Game & NBA All-Star Weekend tickets, which means that if you find a secondary market ticket for less on a site like StubHub or Vivid Seats we'll give you 200% of the difference in ticket credit. TicketIQ customers save an average of 5%-20% compared to StubHub and Vivid Seats.
How Much Are 2020 NBA All-Star Game Tickets
Secondary market tickets to the NBA All-Star game have a current average asking price of $4,027, making them the priciest of the decade, when TicketIQ began tracking data. The cheapest ticket is trending at $1080. Four times in the last 10 years, the average asking price has settled at $2,000 or more, including in 2019, which is the next priciest game behind this year. Fans paid an average of $2,865 at Charlotte's Spectrum Center. The cheapest All-Star game of the decade cost fans $1,020 at New Orleans' Smoothie King Center in 2014.
On the primary market, fans can buy a premium package that includes tickets to the Skills Challenge, Three-Point Contest, Slam Dunk Contest and the All-Star game for $2,599 via NBAPremium. The package also includes pre-game hospitality with current and former players, open bar, gourmet food stations and interactive experiences. The package does not include hotel and transportation, which can be added for an additional cost.
On the secondary market,TicketIQ shows seats available on all levels of the United Center. The cheapest seat at $1,199 is in Section 306, Row 16 on the corner. For fans wanting to be closer to the action, there are seats available in 10 floor sections, starting at $2,860 for seats in Section 106, Row 19 behind the baseline and with the TicketIQ Low Price Guarantee. The priciest floor seats still available are listed for $11,437 in Section 110, Row 4 on the sideline near the net.
2020 NBA All-Star Weekend Events
There are multiple events leading up to the All-Star game. Below is a list of events and a look at ticket prices:
NBA All-Star Celebrity Game
Friday, February 14, 6 p.m. at Wintrust Arena
In a game that combines celebrity with sport, fans can watch movie and television stars, former NBA players and WNBA players in an entertaining match-up. Primary market seats for this game are sold out, but fans can shop the secondary market, where seats start at $115 in Upper 202, Row S.
NBA Rising Stars Challenge
Friday, February 14, 8 p.m. at United Center
This game pits the NBA's best rookies and sophomores. Seats are available via Ticketmaster starting at $65 on the 300 Level and go up to $400 for a seat along the baseline in either Section 113 or 122. On the secondary market, seats start at $59 in Level 307 on the corner.
Format: The league selects the top players in either their first or second NBA seasons to participate in this event. Those players are split up into two teams to play in an exhibition game -- one representing the United States, the other representing the rest of the world. Each team has 10 players: four backcourt players, four frontcourt players, and two wild cards.

U.S. roster: Miles Bridges (Charlotte); Devonte' Graham (Charlotte); Tyler Herro (Miami); Jaren Jackson Jr. (Memphis); Ja Morant (Memphis); Kendrick Nunn (Miami); Eric Paschall (Golden State); PJ Washington (Charlotte); Zion Williamson (New Orleans); Trae Young (Atlanta).
World roster: Nickeil Alexander-Walker (New Orleans); Deandre Ayton (Phoenix); RJ Barrett (New York); Brandon Clarke (Memphis); Luka Doncic (Dallas); Shai Gilgeous-Alexander (Oklahoma City); Rui Hachimura (Washington); Svi Mykhailiuk (Detroit); Josh Okogie (Minnesota); Moritz Wagner (Washington
NBA All-Star Practice and Media Day
Saturday, February 15, 9:30 a.m. at Wintrust Arena
For an up-close look at the players, fans can buy a ticket to practice and get a glimpse of the best players in the league. Tickets are sold out on the primary market, but fans can get in via the secondary market, with tickets starting at $58 on the 200 Level.
NBA All-Star Saturday Night
Saturday, February 15, 8 p.m. at United Center
Many fan's favorite event of All-Star weekend features the Skills Challenge, 3-Point Contest and Slam Dunk competition. Tickets are available on TicketIQ starting at $1,674 in the 300's level, $3,947 in the 200's, and $2,860 in the 100's.
Skills Contest Participants:
Derrick Rose, G, Detroit Pistons

Patrick Beverley, G, Los Angeles Clippers

Domantas Sabonis, F, Indiana Pacers

Khris Middleton, G, Milwaukee Bucks

Jayson Tatum, F, Boston Celtics

Bam Adebayo, F, Miami Heat

Spencer Dinwiddie, G, Brooklyn Nets

Pascal Siakam, F, Toronto Raptors
3-Point Contest Participants:
Devonte' Graham, G, Charlotte Hornets

Zach LaVine, G, Chicago Bulls

Duncan Robinson, F, Miami Heat
Trae Young, G, Atlanta Hawks

Buddy Hield, G, Sacramento Kings

Davis Bertans, F, Washington Wizards

Joe Harris, G, Brooklyn Nets

Damian Lillard, G, Portland Trail Blazers
Slam Dunk Contest Participants:
Dwight Howard, C, Los Angeles Lakers

Derrick Jones Jr., F, Miami Heat

Aaron Gordon, G, Orlando Magic

Pat Connaughton, G, Milwaukee Bucks
---
TicketIQ is committed to the cheapest tickets possible, and we make much less on sold out tickets compared to other major marketplaces like StubHub and Vivid. That means ticket buyers save from up to 25% on TicketIQ on sports, music and theater. We're able to do this because we also work with teams, venues, and other ticket owners, to help them sell tickets at face price, directly to consumers like you, through Ticketmaster and AXS. For an overview of the 2019-20 NBA Ticket Buying landscape, and details on the cheapest way to get tickets for every team, visit the TicketIQ Blog.
---
Despite Drop, 2019 NBA All-Star Game Tickets On Secondary Market Still Historically Expensive
When the NBA All-Star Game tips off February 17 in Charlotte, tickets for the game will likely be the most expensive All-Star game this decade. A week before the game, both the average asking price and get-in prices for a ticket to Charlotte's Spectrum Center are the highest since secondary ticket marketplace TicketIQ.com began tracking data in 2011.
After price average prices reached a high of $2,865 last week, prices have dropped significantly with the game less than a week away. The current average price of $1,648 is the 5th most expensive we've tracked this decade. The most expensive ASG cost fans $2,668 in 2016 at Toronto's Air Canada Centre. Two other All-Star games had average asking prices of more than $2,000 – The 2013 version at the Houston's Toyota Center cost fans $2,620, and the 2011 edition at Los Angeles' Staples Center settled at $2,486.
The cheapest NBA All-Star Game of the decade cost fans $1,146 at Orlando's Amway Center in 2012.
In terms of get-in price, the current $650 cost for the cheapest tickets has dropped below the most expensive game, which was $785 for the 2015 All-Star Game at New York's Madison Square Garden. The cheapest seat of the decade cost fans $185 at New Orleans' Smoothie King Center in 2017. While the cheapest ticket has dropped close to 30% in the last week, it's still the second-most expensive 'get-in' prices we've tracked over the last decade.
Team captains LeBron James (West) and Giannis Antetkounmpo (East) drafted their teams February 7, 10 days ahead of the game. The pair made a pair of Golden State Warriors their first picks – Kevin Durant will play on James' team and Steph Curry will play for Antetkounmpo's team.
Charlotte's Kemba Walker was the eighth and final pick of the first round of the draft, and will play for Antetkounmpo's team. Walker is the only Hornet who was selected to the All-Star Game, but several other regional stars – New Orleans' Anthony Davis and Orlando's Nikola Vucevic – are also on the roster.
Not surprisingly, the best represented team will be Golden State with three players, while Philadelphia, Toronto and Oklahoma City each have two.