How To Find The Cheapest 2023 College Football Tickets
Where to Buy 2023 College Football Tickets
Primary market face value College Football tickets are usually sold via the individual team's websites or Ticketmaster.
On the secondary market, TicketIQ has Fee-Free College football tickets for all teams, which also include a Refund Guarantee. Our Refund Guarantee states that if an event is canceled or deemed unfit for fans to attend, TicketIQ will refund ticket buyers in as soon as 15 days. That means that you can buy from TicketIQ worry-free. Customers on TicketIQ save between 15%-25% compared to other secondary market ticketing sites.
How To Find Discounted College Football Tickets & When Is The Best Time To Buy College Football Tickets?
To find the cheapest College Football tickets, it's important to check both the primary and secondary ticket markets. Based on the demand for a given even, resale marketplaces like TicketIQ may be more or less expensive than face value options available through primary ticketing platforms like Ticketmaster, Paciolan, AXS and SeatGeek. Rivalry games are typically the most expensive game, while games against lesser opponents are the best way to get to a game for cheap. Teams often adjust prices dynamically in-season, which can impact both face-value and resale ticket prices. For fans willing to make a commitment by purchasing season tickets, prices are typically 10%-20% below single-game face value prices. Also, in cases of lower-demand games that are not sold out, prices are usually cheapest closer to game day.
How Much Are 2023 College Football Tickets
Top 25 Most Expensive Teams
As you can see below, based on the average list price on the secondary market, the Ohio State Buckeyes are the most expensive team for the 2022 season. At $403 the Buckeyes are the only team with an average price over $400. Notre Dame ($389). Georgia ($352), Alabama ($325), and Michigan ($285) round out the top five.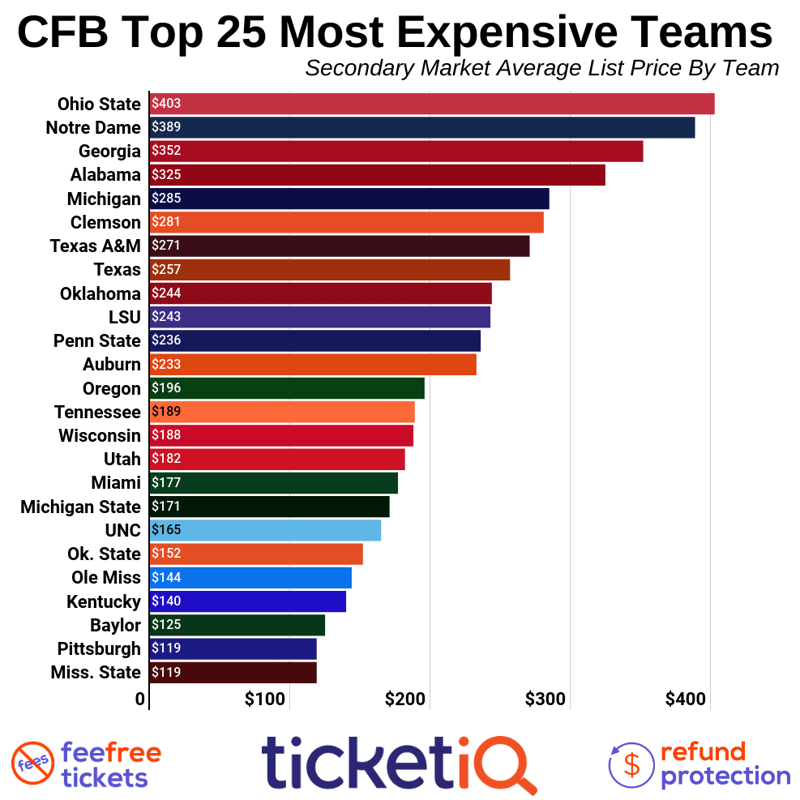 Biggest Price Gainers
In terms of biggest prices gainers, the top 20 ranked Pittsburgh Panthers have seen the biggest increase since the 2019 season. Only three teams, Pittsburgh (+154.7%), Michigan State (+142.8%), and Oregon (+108.9%) have seen their secondary market ticket prices double since 2019. BYU (+91.1%) and Utah (+72.8%) round out the top 5.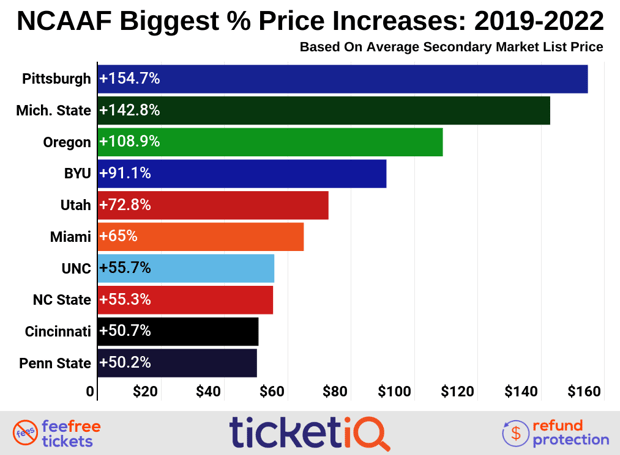 Where Are The Cheapest College Football Tickets At Most Venues?
If you are looking for the cheapest College Football tickets, the last 10 rows of the upper level are usually the least expensive for any college football game. Tickets behind the goals are typically cheaper than sections on the sidelines. For most CFB games tickets can be found for under $50, with some as low as $10 for the lowest-demand match-ups of the season. With that being said, at most CFB venues there are no bad locations to view a game. Even the most inexpensive seats still provide fans with a very enjoyable game experience.
Where Are The Most Expensive College Football Tickets At Most Venues?
If you are looking for more expensive College Football tickets, lower-level seats are the best place to look. Field level seats on the sidelines will usually cost more than other ones in the stadium. Tickets right at the 50 yard line are often amongst the most expensive sections for college football venues. Additionally, club suites are considered some of the premier locations at most college football stadiums. Resale sites like TicketIQ and Stubhub often don't list suite options, which means you'll need to visit the team site directly to purchase those.
Are College Football Tickets On TicketIQ Guaranteed?
Yes. All College Football ticket sales on TicketIQ are guaranteed and you can read our guarantee here, where we ensure you will receive an authentic and valid ticket, and that you will receive your tickets with ample time ahead of the event. You can track the status of your order directly from the TicketIQ account page.

TicketIQ has a rigorous process of screening every seller that lists a ticket on our site, and we work with over 1,000 independent ticket sellers, as well as teams and venues that list on our site directly to reach secondary market buyers.

TicketIQ also has an elite seller program, noted with a ribbon icon on the ticket listing, to indicate which sellers are not only reliable but also have a record of speedy order confirmation and on-time delivery. If any issues arise when you are trying to find your [PERFORMER NAME] tickets, please contact us directly, and visit our Contact Us page for all contact options, including our urgent support phone number.
How Will I Receive My College Football Tickets If I Purchase on TicketIQ?
Most College Football tickets are now delivered via mobile transfer using the email used to place your order. This will be done utilizing the team's mobile ticket app or Ticketmaster. You will then pull up your tickets on your phone to have them scanned when you enter the venue. You can also use the team or Ticketmaster app to manage and transfer your tickets.

Before entering the venue, make sure you can access your CFB tickets on your mobile device. If you cannot find your tickets on your device, check your email for detailed instructions on how to proceed. And if there are any issues, contact our customer service representatives for timely assistance.

When entering the venue, make sure you or someone in your group has a charged mobile device on hand to access tickets so that they can be scanned at the turnstile. To make things easier most devices allow you to add your virtual ticket to your phone's mobile wallet, which makes the ticket easier to access and also eliminates the issues that could arise if WiFi is slow.