Where To Buy 2021 New Orleans Saints Tickets & When Do Tickets Go On Sale
Primary market face-value tickets are available via Seatgeek.
On the secondary market, TicketIQ has Fee-Free New Orleans Saints tickets which also include a Refund Guarantee. Our Refund Guarantee states that if an event is canceled or deemed unfit for fans to attend, TicketIQ will refund ticket buyers in as soon as 15 days. That means that you can buy from TicketIQ worry-free. Customers on TicketIQ save between 15%-25% compared to other secondary market ticketing sites.
How Much Are 2021 New Orleans Saints Tickets
The average price for Saints tickets is $411 and is an increase of 50% from 2019. That is the 21st highest increase in the NFL. For the home opening game against the Packers (which was moved to TIAA Bank Field in Jacksonville), the cheapest ticket is available for $97, with the cheapest lower-level ticket starting at $146. The cheapest game at Caesars Superdome is the January 2nd game against the Panthers, where the cheapest tickets start under $60. The most expensive game of the season is the December 2nd game against the Cowboys. For that game, the cheapest ticket starts at just over $195, with the cheapest lower level ticket is $353 for a ticket in section 128.
New Orleans Saints 2021 Attendance Policy
The Saints will operate at full capacity for the 2021 NFL season, however it was recently announced that fans attending games will be required to show proof of vaccination or a negative COVID-19 PCR from the previous 72 hours. Fans will also be required to wear masks inside the venue when they aren't eating or drinking.
New Orleans Saints 2021 Opponents & Schedule
Home: Atlanta Falcons, Carolina Panthers, Tampa Bay Buccaneers, Buffalo Bills, Dallas Cowboys, Green Bay Packers, Miami Dolphins, New York Giants.
Away: Atlanta Falcons, Carolina Panthers, Tampa Bay Buccaneers, New England Patriots, New York Jets, Philadelphia Eagles, Seattle Seahawks, Tennessee Titans, Washington Football Team.
Week 1: vs. Green Bay Packers, 4:25 p.m. ET, FOX
Week 2: at Carolina Panthers, 1:00 p.m. ET, FOX
Week 3: at New England Patriots, 1:00 p.m. ET, FOX
Week 4: vs. New York Giants, 1:00 p.m. ET, FOX
Week 5: at Washington Football Team, 1:00 p.m. ET, CBS
Week 6: BYE
Week 7: MNF at Seattle Seahawks, 8:15 p.m. ET, ESPN
Week 8: vs. Tampa Bay Buccaneers, 4:25 p.m. ET, FOX
Week 9: vs. Atlanta Falcons, 1:00 p.m. ET, FOX
Week 10: at Tennessee Titans, 1:00 p.m. ET, FOX
Week 11: at Philadelphia Eagles, 1:00 p.m. ET, FOX
Week 12: vs. Buffalo Bills (Thanksgiving), 8:20 p.m. ET, NBC
Week 13: TNF vs. Dallas Cowboys, 8:20 p.m. ET, NFL Network/Amazon
Week 14: at New York Jets, 1:00 p.m. ET, FOX
Week 15: SNF at Tampa Bay Buccaneers, 8:20 p.m. ET, NBC
Week 16: MNF vs. Miami Dolphins, 8:15 p.m. ET, ESPN
Week 17: vs. Carolina Panthers, 1:00 p.m. ET, FOX
Week 18: at Atlanta Falcons, 1:00 p.m. ET, FOX
New Orleans Saints 2021 Season Tickets
New Orleans Saints season tickets are sold out, but fans can join the waiting list.
New Orleans Saints Club Seating and Premium Options
The Saints and the Mercedes-Benz Superdome offer Club Lounges on the 200 Level. The concourse has carpeted floors, tiles and custom murals and wood ceilings, setting it apart from the standard stadium concourse. Four Clubs are located on this level, and fans will get premium food-and-beverage options, prepared by chefs as ordered. The Clubs also have extensive audio-visual options, and gigantic reinforced glass windows offering a panoramic view of New Orleans.
The lounges and concourse are outfitted with flat-screen televisions, ensuring that fans won't miss any of the action. There are club chairs, bar-style seating, and modern lighting throughout the Clubs. Access to the Club Concourse is currently through the interior of the Superdome, but there are plans to add exterior access, so Club ticket holders will have dedicated entrances.
Mercedes-Benz Superdome Health and Safety Protocols
FACE COVERINGS
Face coverings will be mandatory for all fans and staff, and must be worn at all times (other than while actively eating or drinking). Failure to comply with this policy will result in ejection from the stadium. Be a good teammate – because wearing a face covering not only helps to protect you, it helps protect other fans, our team and our staff.
PHYSICAL DISTANCING
Please maintain physical distancing at least 6 feet while on Superdome property; including the parking lot, at the entry gates and as you move around the Mercedes-Benz Superdome. When exiting your seats for concessions, restrooms or following the game, please wait for aisles to clear to avoid congestion.
POD SEATING
Your ticketholder party will be seated together in a "pod" of adjacent seats. Your pod will be separated from other groups by approximately six (6) feet. Please do not sit in any seat other than the one you've been assigned in order to help us maintain pod integrity. Also, please remember to maintain social distancing and do not visit other guests in their seating pod.
LINE QUEUING
Social distancing will be enforced in high traffic areas, including:
Restroom Locations
Concessions Stands and Portable Locations
Elevator Transportation
Escalator Transportation
Guest Service Locations
Merchandise Locations
CONCESSION UPDATES
The below updates have been made to the concession areas in the Mercedes-Benz Superdome:
Every other Point-of-Sale device will be utilized to create social distancing for F&B queuing at open locations, and each device will cleaned frequently.
Floor decals will be deployed assisting patrons with proper distancing, as well as additional signage surrounding the concession location.
A customer facing barrier will be erected to minimized customer/patron interactions.
Portable bars and food openings will be spaced out throughout the concourse areas and will have the same safety measures as the concession stands.
Masks and gloves are required for all staff working concession stands and portable locations.
For additional information, visit the Mercedes-Benz Superdome website.
Saints Mobile Ticket Policy
The New Orleans Saints app is available to download for Android, Apple and Windows devices. Fans can buy, sell or transfer tickets on the app or use it for digital ticketing to enter the stadium. Digital ticketing is available for both single-game and season-ticket holders.

How Much Are 2020 Saints Tickets
With a 75% increase in average asking price on the secondary market over 2019 due to lack of inventory on the secondary market, the price to get into a New Orleans Saints home game ranks No. 8 across the NFL. The average asking price is $479, well above the league-wide average of $390. The Saints have won the NFC South for three consecutive seasons, and many pundits are predicting another 12-win season.
---
TicketIQ is committed to the cheapest tickets possible, and we make much less on sold out tickets compared to other major marketplaces like StubHub and Vivid. That means ticket buyers save from up to 25% on TicketIQ on sports, music and theater. We're able to do this because we also work with teams, venues, and other ticket owners, to help them sell tickets at face price, directly to consumers like you, through Ticketmaster and Seatgeek. For an overview of the 2020 NFL Ticket Buying landscape, and details on the cheapest way to get tickets for every team, visit the TicketIQ Blog.
---
How Much Are 2019 Saints Tickets
Six months after a heart-breaking and controversial loss to the Los Angeles Rams in the NFC Championship, the New Orleans Saints will dive into two rivalry games in the first two home dates of the season. The September 29 game against the Dallas Cowboys is trending as the priciest game of the season on the secondary market, and the average asking price for 2019 is currently the highest this decade, and 10th highest across the NFL. The average asking price of $274 is up from $215 in 2018, the second consecutive season the Saints won the NFC South. The highest average in the NFL is $777 for a New England Patriots home game.

---
Saints 2018 Ticket Market Overview
The New Orleans Saints open the season at home Sunday against the Tampa Bay Buccaneers in a game that will be one of the cheapest of the season. Below is how Saints tickets prices stack up on the secondary market across the league. As you can see below, 2018 New Orleans Saints tickets are down 10% compared to last season, and are the fifth most expensive since 2011, when secondary ticket marketplace TicketIQ.com began tracking data. The most expensive ticket of the decade was in 2012, a year after the Saints won the NFC South with a 13-3 record and two years after they won the franchise's first and only Super Bowl. New Orleans won the South again last season with an 11-5 record.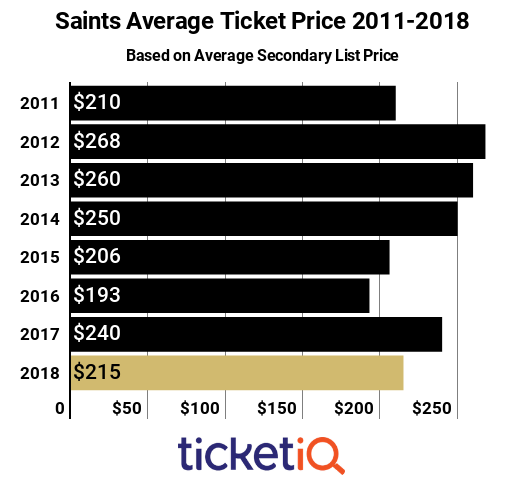 Where to Buy Saints Tickets
With the drop in ticket prices, Saints tickets are the 16th most expensive this season in the NFL. Veteran quarterback Drew Brees is working on his 17th season and, at 39 is hoping to follow in Tom Brady's footsteps and play into his 40s. There is a waiting list of 100,000 people for Saints season tickets, and fans can join the waitlist here. "Verified resale" single-game tickets are available through the NFL Ticket Exchange on Ticketmaster, but some sections are already sold out for the biggest games, including the November 18 vs. the Philadelphia Eagles. Also on the secondary market, a large selection of seats are available through secondary ticket marketplace TicketIQ.com, with the company's Low Price Guarantee.
Prices For Each Game on 2018 Saints Schedule
It's no surprise that when the defending Super Bowl champions come to town, a seat in the SuperDome will be tough – and expensive – to come by. The current average asking price on the secondary market is $364, making it one of two games with average prices above $300. The December 23 Pittsburgh Steelers game has an average asking price of $315. The Eagles and the Saints don't have a rivalry per se, but both teams have been in the post-season mix of late. They last met in 2015, when the Eagles won a regular-season game. Philadelphia holds a 17-13 series advantage. With the Saints coming off an 11-5 season, and the Eagles as defending Super Bowl champs, prices for this game have the potential to rise.