Where And How To Buy 2020-21 New York Rangers Tickets
Primary market single-game tickets are available via Ticketmaster, and tickets are sold in pods of 2, 3 and 4.
On the secondary market, TicketIQ has Fee-Free tickets for all New York Knicks games which also include a Refund Guarantee. Our Refund Guarantee states that if an event is canceled or deem unfit for fans to attend, TicketIQ will refund ticket buyers in as soon as 15 days. That means that you can buy from TicketIQ worry-free. Customers on TicketIQ save between 15%-25% compared to other secondary market ticketing sites.
How Much Are 2021 New York Rangers Tickets
Currently there are just three games with a significant amount of inventory available on the secondary market; February 26th vs. Boston, February 28th vs Boston and March 2nd vs Buffalo. The current average list price for those games is $302, with get-in prices sitting at $99 vs. Boston on 2/26, $114 vs. Boston on 2/28, and $126 vs. Buffalo on 3/2. These prices represent a 12% increase over last season's prices at Madison Square Garden.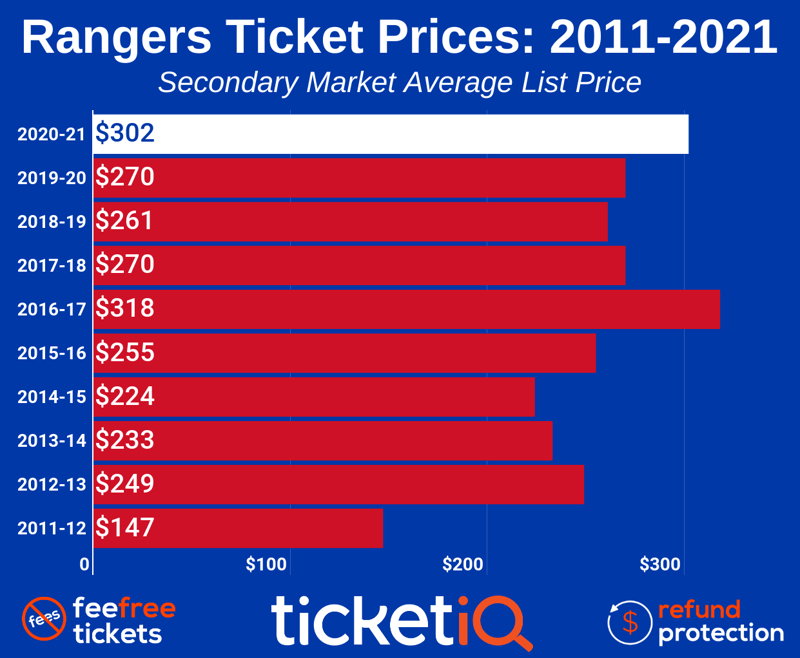 New York Rangers 2021 Attendance Policy Update
New York Governor Andrew Cuomo recently announced that starting on February 23rd large arenas and venues in New York can reopen to the public with COVID testing and other requirements put in place. For a venue to be able to host fans the following rules and restrictions are required:
State DOH approval for venues and events

10% capacity limit in arenas and stadiums with over 10,000-person total capacity

Negative PCR test within 72 hours of the event

Face coverings, social distancing, temperature check required

Mandatory assigned, socially distanced seating.
Following Cuomo's announcement, the Rangers released a statement on Twitter saying that they intend to host roughly 2,000 fans at every game, beginning with the February 23 Knicks game against the Warriors and the February 26 Rangers games against the Bruins.
MSG is also offering event day tests for a limited number of fans. Here's some more information via MSG.com:
Rapid Test NYC
• On MSG event days, Rapid Test NYC will offer a walk-in 30-minute rapid PCR COVID-19 testing option for a limited number of guests at the Stewart Hotel inside the hotel's Rockwell Ballroom. The Stewart Hotel is conveniently located directly adjacent to the arena at 371 7th Avenue.

– Testing will be offered from 3:30 to 8:30 p.m. on the day of evening events and 9 a.m. to 12:30 p.m. on the day of afternoon events.
– Appointments cannot be made in advance, and testing availability will be on a first-come, first-served basis.
– Results for the 30-minute PCR COVID-19 test will be provided via email, along with all necessary documents for applicable insurance reimbursements.
– Please note that availability is not guaranteed as there will be limited capacity.
– For more information about Rapid Test NYC, including pricing and other same-day testing locations, guests should visit http://rapidtest.nyc/test/.
---
Where Are Season Tickets and Partial Plans at Madison Square Garden
Fans can choose between two half-season plans, and four quarter-season (11-game) packages, and ticket holders get priority for playoff tickets, discounts at the MSG Team store, and can manage tickets online.
Fans who purchase full, half, or quarter-season tickets can choose their seats. Season tickets are still available in Sections 101-104, 106, 112, and 116-120. The cheapest seats start at $6,144 in Section 102 behind the goal. Half-season White Plan tickets are available in Sections 3D,101-104, 208, 117, 118, 120, and 212 and the least expensive ticket is $2,553,50 in Section 212. Remaining half-season seats for the Blue Plan are in Sections 8D, 10 WCD,102-104, 107, 116, 118, 120, 213, 214, and 221. Seats in Section 214 on the corner start at $2,636, while fans wanting to get closer to the action, will play $19,627 for seats in Sections 8D or 10WCD.
There are four quarter-season plans to choose from, and the Value Plan starts at $1,476 for Section 101 on the corner behind the net. Seats in the 100 sections are available for all quarter plans.
Where Are Club Seats at Madison Square Garden
MSG offers premium seating throughout the arena. The Lounges are located on the Bridge Level with multiple lounges available for groups of between 28-126. Lounges can be purchased with custom food-and-beverage packages.
Suites are located on the upper levels and have private entrances, premium menus and plush seats. Inside the suites, fans will find club chairs, a video wall and exclusive dining options.
The most exclusive club at MSG is the Madison Club, a members-only club that gives fans access to Rangers and Knicks games, as well as other big-name sporting events from boxing to college basketball.
New York Rangers Mobile Ticketing
MSG now has mobile ticketing, the preferred method of entry for the Rangers. The Madison Square Garden App is available via the App Store or Google Play, and fans can buy, sell or transfer tickets with the app. The Rangers provide an extensive FAQ section about the app.
Top 10 Most Expensive Rangers Games on the Secondary Market
Secondary market average asking price: $377
Secondary market cheapest ticket: $159
Secondary market average asking price: $363
Secondary market cheapest ticket: $120
Secondary market average asking price: $358
Secondary market cheapest ticket: $139
Secondary market average asking price: $354
Secondary market cheapest ticket: $128
Secondary market average asking price: $350
Secondary market cheapest ticket: $125
Secondary market average asking price: $349
Secondary market cheapest ticket: $125
Secondary market average asking price: $335
Secondary market cheapest ticket: $131
Secondary market average asking price: $327
Secondary market cheapest ticket: $109
Secondary market average asking price: $323
Secondary market cheapest ticket: $110
Secondary market average asking price: $315
Secondary market cheapest ticket: $95
TicketIQ is committed to the cheapest tickets possible, and we make much less on sold out tickets compared to other major marketplaces like StubHub and Vivid. That means ticket buyers save from up to 25% on TicketIQ on sports, music and theater. We're able to do this because we also work with teams, venues, and other ticket owners, to help them sell tickets at face price, directly to consumers like you, through Ticketmaster and AXS. For an overview of the 2019 NHL Ticket Buying landscape, and details on the cheapest way to get tickets for every team, visit the TicketIQ Blog.
---
New York Rangers 2018-19 Ticket Market Overview:
After a last-place finish in the Metropolitan Division and some key changes during the off-season, demand for Rangers tickets is slightly down over last season, but the asking price on the secondary market is third highest since TicketIQ.com began tracking data in 2011. Below is how Rangers tickets stack up against the secondary market across the NHL. As you can see below, 2018 New York Rangers tickets are down 3%. The most expensive ticket of the decade was $318 in 2016-17, followed by $270 last season. Though the Rangers finished fourth in the Metropolitan in 2016-17, they were coming off a season that ended in the conference finals. The previous season, New York made it to the Stanley Cup Final, where they lost to the L.A. Kings.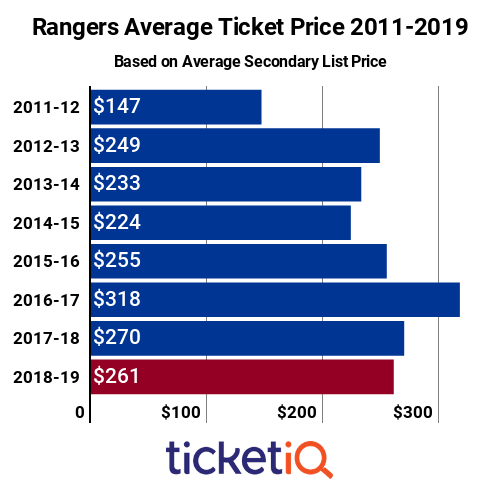 Where to Buy Tickets:
With a $261 average asking price, Rangers tickets are ranked No. 4 in terms of price across the NHL. The Toronto Maple Leafs are ranked No. 1 with a $332 average asking price. Season tickets are available through the team, and fans can purchase full or half season packages. With either, ticket holders get priority access to post-season tickets and discounts at MSG team stores. Single-game tickets are available through the team's primary market partner, Ticketmaster, and are available for all 44 home games, including the October 4 season opener against Nashville. The primary market get-in price for that game is $135 for a seat in Section 413, high about the goal.
5 Most Expensive Games On The 2018-19 New York Rangers Schedule:
Each of the five most expensive games of the season will cost fans an average of more than $300 for a seat at Madison Square Garden. The two priciest games of the season currently have average asking prices just $1 apart -- $373 for the November 24 Washington Capitals game and $372 for the December 23 Philadelphia Flyers game. Both matchups feature long-time rivals. The Caps enter the game as defending division champs. TicketIQ.com has tickets to both games available, including many with the company's Low Price Guarantee. If any of the three teams get off to a good start, and enthusiasm builds, prices for both games could increase.