How To Find The Cheapest 2022-23 NHL Tickets
Where To Buy 2022-23 NHL Tickets
Almost every team will have tickets available on both the primary and secondary ticket markets. For the primary market, the majority of teams use Ticketmaster, while a handful uses AXS. While every team is unique, teams are often 'sold out' of the best sections and seats, with more unsold face-value tickets available in the upper rows of the lower and upper levels. Some teams also have a more even mix of unsold tickets available throughout the venue, but the bottom line that smart ticket buyers need to check both 'unsold' primary and 'sold out' Secondary market options.
On the secondary market, TicketIQ has Fee-Free NHL tickets with a Refund Guarantee. Our Refund Guarantee states that if an event is canceled or deem unfit for fans to attend, TicketIQ will refund ticket buyers in as soon as 15 days. That means that you can buy from TicketIQ worry-free.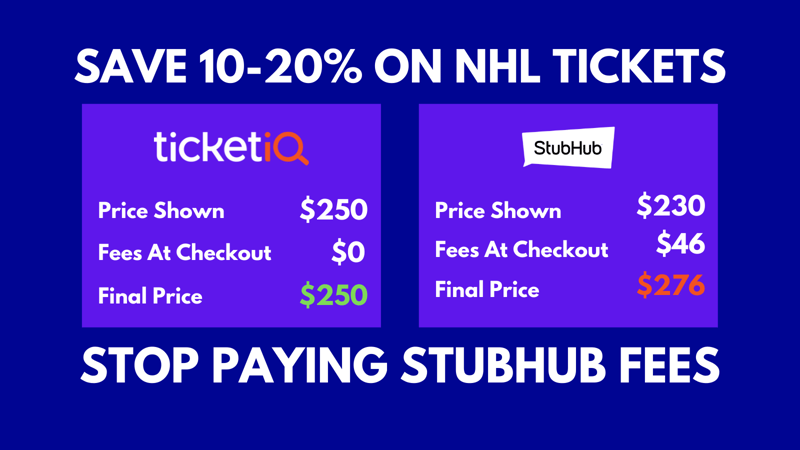 Why Should You Buy NHL Tickets on TicketIQ
TicketIQ has FEE FREE tickets for all events. Unlike most secondary market ticket sites, TicketIQ has no added fees. That means that the price you see is the price you pay. Because of this, TicketIQ customers save 10-20% on tickets compared to other secondary market ticket sites.
Customers looking for tickets will also see a data-driven A to F rating for each ticket deal seen on the TicketIQ platform to help them find the best overall deal. Our buying experience also provides the ability to filter by aisle seats, 1st row in section as well as other options like ADA access and the ability to hide obstructed view seats.
In addition to the best deals, the TicketIQ blog offers the most up-to-date data on ticket trends. TicketIQ is the best option for anyone looking to save money and find great seats for their next live event experience.
Are NHL Tickets On TicketIQ Guaranteed
Yes. All ticket sales on TicketIQ are guaranteed and you can read our guarantee here, where we ensure you will receive an authentic and valid ticket, and that you will receive your tickets with ample time ahead of the event. You can track the status of your order directly from the TicketIQ account page.

TicketIQ has a rigorous process of screening every seller that lists a ticket on our site, and we work with over 1,000 independent ticket sellers, as well as teams and venues that list on our site directly to reach secondary market buyers.

TicketIQ also has an elite seller program, noted with a ribbon icon on the ticket listing, to indicate which sellers are not only reliable but also have a record of speedy order confirmation and on-time delivery. If any issues arise when you are trying to find your tickets, please contact us directly, and visit our Contact Us page for all contact options, including our urgent support phone number.
NHL Eastern Conference
NHL Western Conference
How To Find Discounted NHL Tickets
To find the cheapest NHL tickets, it's important to check both the primary and secondary ticket markets. Based on the demand for a given even, resale marketplaces like TicketIQ may be more or less expensive than face value options available through primary ticketing platforms like Ticketmaster. Weekend rivalry games are typically the most expensive game, while weekday games against lesser opponents are the best way to get to a game for cheap. For sporting events that take place every year, it's important to know when the event is actually going on sale, which is typically the middle of the off-season. Teams often adjust prices dynamically in-season, which can impact both face-value and resale ticket prices. For fans willing to make a commitment by purchasing season tickets, prices are typically 10%-20% below single-game face value prices.
How Much Are 2022-23 NHL Tickets
| | | |
| --- | --- | --- |
| Team | 2022-23 Avg | YoY Change |
| Toronto Maple Leafs | $296 | -4.2% |
| New York Rangers | $266 | -2.6% |
| Seattle Kraken | $255 | -27.6% |
| Vegas Golden Knights | $249 | 15.3% |
| Edmonton Oilers | $229 | 4.6% |
| Colorado Avalanche | $225 | 27.8% |
| Chicago Blackhawks | $220 | 19.6% |
| Boston Bruins | $218 | 0.0% |
| Nashville Predators | $216 | 17.4% |
| Winnipeg Jets | $202 | 26.3% |
| Pittsburgh Penguins | $198 | 25.3% |
| Montreal Canadiens | $197 | 25.5% |
| Minnesota Wild | $194 | 9.6% |
| Washington Capitals | $190 | -12.4% |
| Tampa Bay Lightning | $183 | -9.4% |
| Vancouver Canucks | $182 | 23.8% |
| Calgary Flames | $178 | -17.6% |
| Detroit Red Wings | $178 | 17.1% |
| Ottawa Senators | $176 | 32.3% |
| Los Angeles Kings | $172 | 2.4% |
| St Louis Blues | $170 | 22.3% |
| New York Islanders | $169 | -7.1% |
| Arizona Coyotes | $168 | 31.3% |
| Columbus Blue Jackets | $168 | 16.7% |
| Anaheim Ducks | $166 | 32.8% |
| Carolina Hurricanes | $162 | -8.0% |
| Buffalo Sabres | $161 | 67.7% |
| Philadelphia Flyers | $158 | 17.0% |
| Dallas Stars | $157 | 26.6% |
| Florida Panthers | $150 | -7.4% |
| San Jose Sharks | $148 | 19.4% |
| New Jersey Devils | $121 | 16.3% |

Most Expensive Teams
As you can see below, after a season without fans the Toronto Maple Leafs once again have the most expensive NHL tickets on the secondary market. The expansion Seattle Kraken are second on our list with an average list price of $303. The Leafs and Kraken are the only two teams with an average price north of $300. The New York Rangers are third on the list with an average price of $273. The Edmonton Oilers ($219) and Boston Bruins ($218) round out the top five.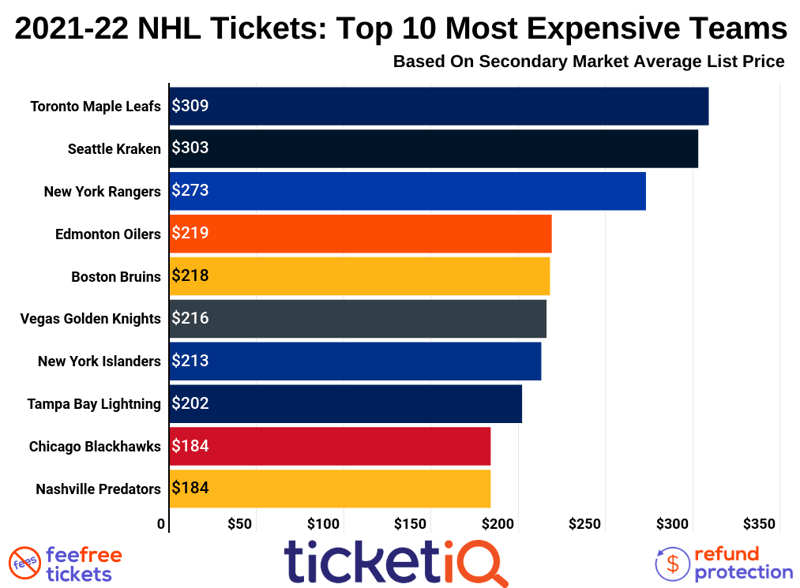 Top Price Gainers
The New York Islanders come into the 2021-22 season with the highest price increase on the secondary market. Their average ticket price has jumped from $102 in 2019-20 to $213 this season, an increase of nearly 109%. They are the only team who saw their ticket prices increase by at least double. Rounding out the top five price gainers are the Vancouver Canucks (+69%), the Anaheim Ducks (+68%), the New Jersey Devils (+65%), and the defending champion Tampa Bay Lightning (+59%).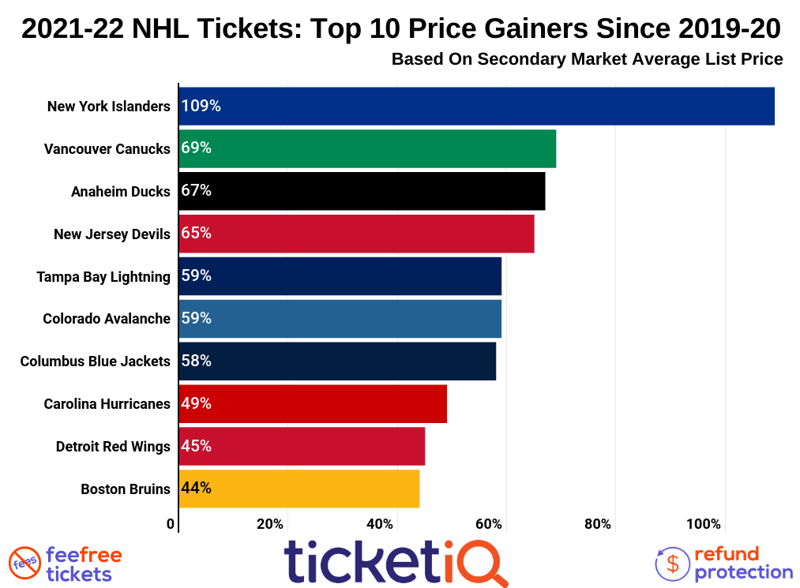 Most Expensive Games
Of the most expensive games on the 2021-22 NHL schedule, two home openers in new arenas are both near the top of our list; tickets for the Seattle Kraken's home opener at Climate Pledge Arena start at $339, while Islanders home opener ticket prices at USB Arena start at $242. These two games are also the two highest priced first games at new arenas over the last decade as you will see below.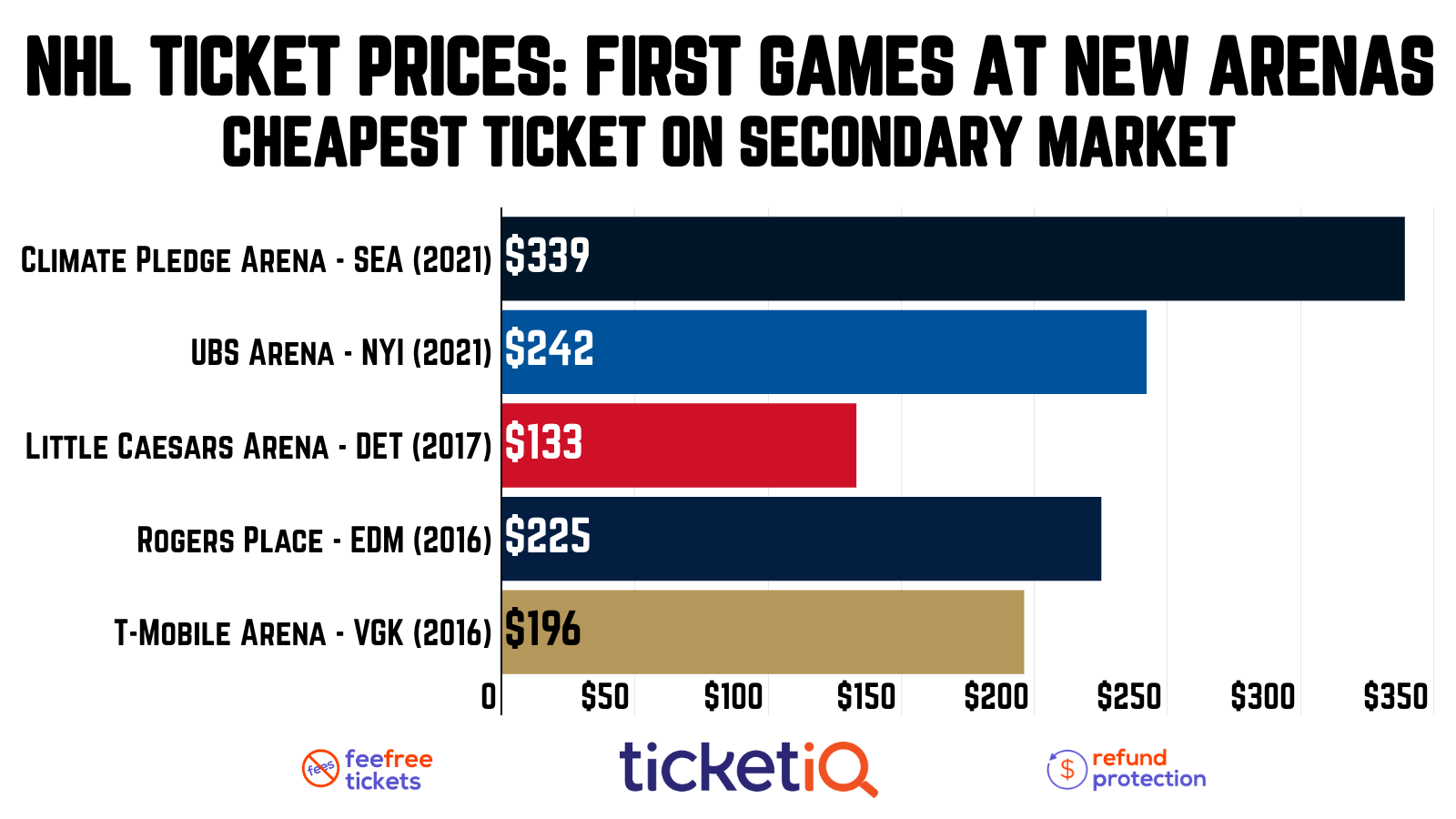 The single most expensive game on the NHL schedule, is Henrik Lundqvist's number retirement game on January 28th when the New York Rangers host the Minnesota Wild at Madison Square Garden. Ticket prices for that game start at over $550 per seat.
Outdoors games are also some of the most expensive games of the season. Tickets for this year's Winter Classic between the Minnesota Wild and St. Louis Blues at Target Field start at $260.