2020 New York Giants Attendance Policy
On July 20th, New Jersey Governor Phil Murphy announced that his Executive Order limiting outdoor public gatherings would apply to event at MetLife Stadium. Meaning that Giants and Jets games will be played without fans for the 2020, and that the policy will remain in place "until circumstances change".
Below is a statement from both the Giants and Jets: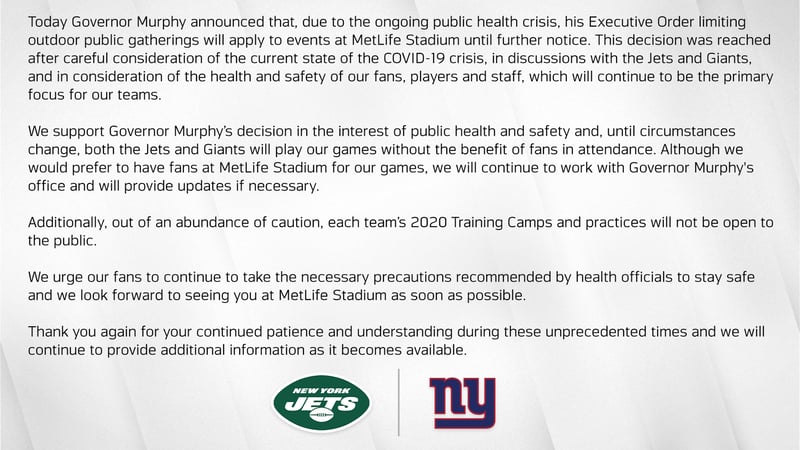 Potential Covid-19 Impact On 2020 NFL Schedule
While the schedule release is a much-needed dose of exciting news for all football fans, there are some major questions marks heading into the 2020 season due to the Coronavirus pandemic. While teams know what teams they'll play, that's about all they know. Whether or not the games happen and if fans are able to attend will depend on how the virus is managed over the next 2-3 months. The league has already canceled all of its International Series games, and the league is rightly considering all possible scenarios.
Several teams have already announced that capacity would be reduced if fans are allowed in their stadiums, and now the Giants and Jets are the first teams to announce that fans won't be permitted.
To create the Safety Index, we compared the active cases in each city or state to the national average and then discounted that product by Rt. Rt is a measure of how fast the virus is spreading in each city and state, most easily tracked through Rt.live.
Where To Buy 2020 New York Giants Tickets
New York Giants tickets are available for sale on the secondary market as of the 2020 schedule release.
TicketIQ has
Fee-Free tickets
with a
Low Price Guarantee
and
Refund Guarantee
, which states that in the event an event is cancelled or deem unfit for fans to attend, TicketIQ will refund ticket buyers within 15 days. That means that you can buy from TicketIQ worry-free.
How Much Are 2020 New York Giants Tickets
According to TicketIQ, the average asking price for a New York Giants ticket on the secondary market is $486, up 88% over 2019. That average is the fifth highest across the NFL. The priciest is $1,098 for the Raiders, who will be making their Las Vegas debut in the fall.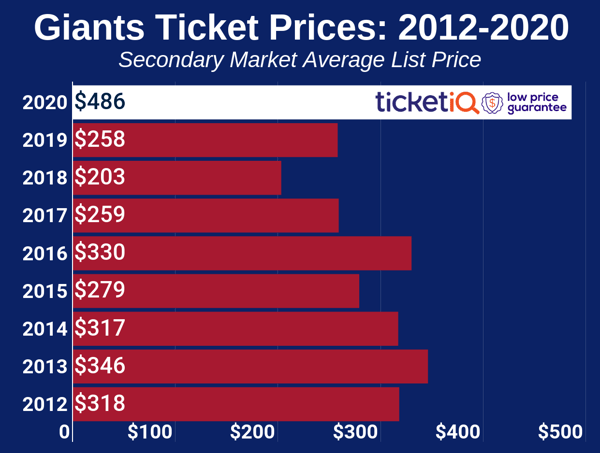 Season Ticket and Mini Plan Options
Season tickets for the 2020 season are now available on the Giants website, and fans can use a virtual venue to select seats. For season tickets, fans are required to purchase a Personal Seat License in addition to a season-ticket plan, and prices vary depending on seat location and amenities.
All season ticket holders get access to exclusive events at MetLife Stadium, as well as savings against single-game tickets, merchandise discounts and presale access to other events at MetLife Stadium.
Club Seating and Premium Options
The Giants offer fans a chance to become Club Members, giving them access to a 50,000-square-foot, air-conditioned club area. All Club Seats are wider and cushier than standard seats.
There are three lounges throughout MetLife Stadium:
EY Coaches Club: This club is available to Club Members and ticket holders get to see the game from a private on-field patio behind the Giants bench. Food and beverage are all-inclusive and VIP parking and entry are included in this club membership.
Mezzanine Club/United Rentals Club: Members get the chance to be on the field before or after the game, and to meet Giants alumni. Mezzanine Club members also have access to upscale food options and full-service bars. This restaurant-style club also features wide-screen televisions.
Toyota Club: This lounge has more of a bar-style atmosphere, and fans can enjoy inclusive food and snack options. Ticket holders have access to VIP parking.
Giants Mobile Ticket Policy
The New York Giants invite fans to download the Giants app via the App Store or Google Play. Fans can use the app for mobile ticketing and to manage season tickets. Fans must use digital tickets only to enter the stadium, and screen shots of tickets will not be accepted.
---
How Much Are 2019 New York Giants Tickets
Over the course of the Eli Manning Era, New York has been a Giants city. Over the last 5 years, however, the average price for Giants tickets on the secondary market has dropped from over $300 to $214. While the Jets have had a more turbulent ticket history, for 2019 prices on the secondary market are headed up, with prices up 40% compared to the start of the season last year. With average secondary-market prices of $209 for the Jets and $217 for the Giants, both New York teams have solid markets that will likely go up if the teams win.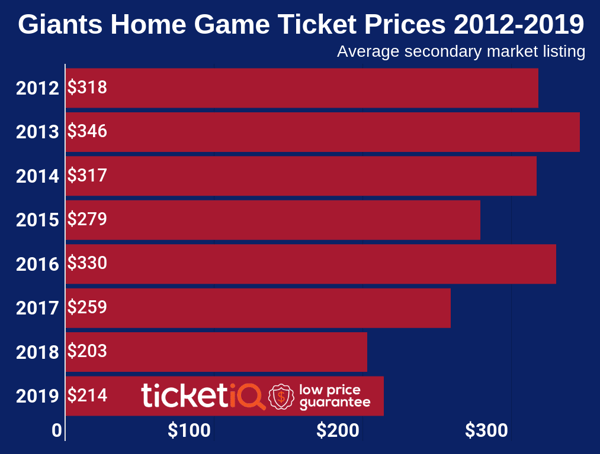 TicketIQ is a ticket market place with access to Low Price Guarantees on all NFL tickets. If you find the same ticket for less, we'll give you 200% of the difference in ticket credit. TicketIQ is also the leading source of ticket market data used by major news outlets, like CNBC, Business, Insider, Fox and others. Enjoy the TicketIQ blog for most in-depth coverage of the Vikings ticket market and use TicketIQ.com to save 15% compared to other major tickets sellers.
---
New York Giants Tickets Down 9% On Secondary Market For 2018 Season
New York Giants 2018 Ticket Market Overview:
With the preseason well underway and the home opener against the Jacksonville Jaguars less than two weeks away, New York Giants tickets are slightly less expensive than they were last year. But even with a 9% decline in the average asking price on the secondary market over 2017, a ticket to see the Giants is still the 11th most expensive in the NFL. Below is how prices for New York Giants tickets stack up on the secondary market across the NFL. Prices are the lowest since TicketIQ began tracking data in 2011. The Giants are coming off a 3-13 season, but are hoping for a final shot at the playoffs before veteran quarterback Eli Manning retires.
Where to Buy Tickets:
While still expensive in the context of the NFL, Giants tickets are something of a steal this season. With a new coach and loads of other changes, fans should have the opportunity to see a much-improved product on the field. Single-game tickets are already tough to come by on the primary market, with the lower bowl at MetLife Stadium sold out for nearly every game. Tickets for the premiere games through primary market vendor Ticketmaster start at $200 for both the October 11 Philadelphia Eagles game and the December 30 Dallas Cowboys game. For secondary market listings, TicketIQ offers a Low Price Guarantee for all of the games listed below. As on the primary market, the Eagles and Cowboys games are the priciest – both have an average asking price of more than $300 – but good seats for many other game can be had for closer to $200.
Prices For Each Game on 2018 New York Giants Schedule:
Longtime rival Dallas is commanding the highest ticket price this season, but the defending Super Bowl champion Eagles aren't far behind. The Cowboys game isn't so much about who's good and who's not … it's definitely about bragging rights. The rivalry dates to 1960 and finds its origins in that first-meeting tie as well as ex-Giant star Tom Landry becoming a coaching legend in Dallas. Of course, should either the Giants or Cowboys be playing for a postseason spot, ticket prices will surely soar.
---
November 14, 2017
New York Giants Ticket Prices Down 33% From Beginning Of 2017 Season
At 1-8 heading into Week 11, the New York Giants have certainly struggled in 2017. Let's see how the ticket market has responded to the poor play this season:
Prior to the season kickoff, the Giants average secondary market ticket price was $364, good for 6th in the NFL.
About mid-way through the season, prices were still relatively even, clocking in at $341 at our Week 8 reading (7th in the NFL).
However, with little chance at a redeeming season the average price heading into Week 11 is $244. That's a 33% discount from the beginning of the season and 26% below last year's average price of $330.
It'll actually be possible to get tickets for under $50, as the season finale vs Washington on New Year's Eve starts at just $40.
Tickets vs the Eagles on Dec 17th start at $100, which is about $65 less than the cheapest ticket for any Eagles remaining home game, leading us to believe they'll be a higher concentration of Eagles fans at MetLife than years past.