Oracle Park Seating Chart + Rows, Seats and Club Seats
For Sold Out Seats and Events, TicketIQ has Fee Free tickets for all events at Oracle Park for San Francisco Giants games as well as Concerts. TicketIQ customers save up to 25% compared to other secondary sites. TicketIQ also provides access to unsold face value tickets for all events at Oracle Park via Ticketmaster.
Oracle Park Seating Chart

- Baseball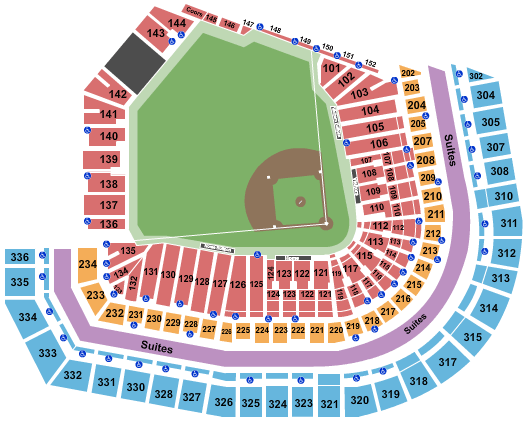 Field level sections, rows and seats

at

Oracle Park
Seating sections at Oracle Park consists of 100s, 200 and 300 tiers. The Lower Boxes in the court-side of arena consists of Dugout Club, Premium Field Club, Premium Lower Box, Lower Box and the Field Club seats. 100s section also has Bleachers and arcade seating options in section 136-152. The 200s section consists of Club Seats while 300 level is divided into View Box and View Reserved level.
100-level sections, rows and seats

at

Oracle Park
Lower-level center sections include 124-108. 100-level end sections include 125-130, 105-107 with 100-level corner sections of 101-104, 131-135.
Lower-level rows run from AAA-CCC, AA-ZZ, A-Z with rows behind the benches starting at row C through row T. Section 119 starts at row E.
200-level sections, rows and seats

at

Oracle Park
200-level center sections include 214-219. 200-level corner sections include 229-234, 207-202. 200-level end sections include 220-228, 213-208.
200-level center rows run from A to I. Other sections have A-M rows in common.
300-level sections, rows and seats

at Oracle Park
300-level corner sections include 302-308, 328-336. 300-level end sections include 327-310. The most common row layout for 300s section include A-D, 1-18 rows.
Club, VIP, Box Seats and Suites at

Oracle Park
The Anchor Suite is one of the premier suits for a leisure stay at Oracle Park. The suit is located at suite 61 of Oracle suite level. Also, The Audi Legends Club is located in Sections 233 and 234, and ensures high-end entertainment space to patrons.
Located behind seating sections 228 - 230, Alaska Airlines Club Level is one of most sough-after club at Oracle Park with two open fire pits, and overhead space heaters and basic amenities.
Other Club options available at Oracle Park is Blue Shield Field Club, Field Box, Alaska Airlines Loft at McCovey Cove, Candlestick Suite, Salesforce Champions Suite, Lexus Dugout Club, Batter's Box, Audi Legends Club, The Deck, Dugout Box, Press Club, Promenade Patio Tables, and Oracle Suite Level.
Giants Dugout - The Giants players sit in front of 122 and 123
Visitor Dugout - The visiting team sits in front of 108 and 109
Oracle Park Concert Seating Chart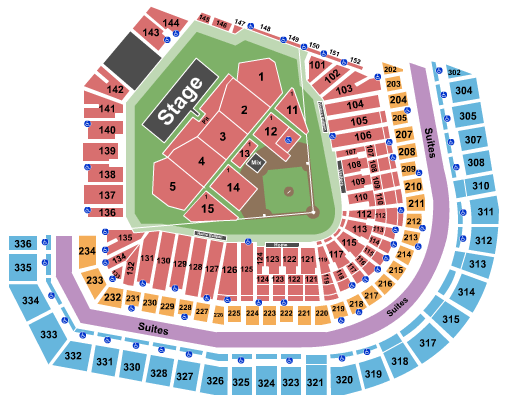 Where Can I Find Cheapest Tickets For Oracle Park
The San Francisco Giants have unsold face value tickets available for most games, which can be purchased directly through Ticketmaster. Prices may be above or below prices on the secondary ticket market. Many Concerts also have unsold tickets. For Sold Out Seats and Events, TicketIQ has Fee Free tickets for all events at Oracle Park.
What Is Mobile Ticket Policy At Oracle Park
In Person: King Street Box Office is open in weekdays from 10 a.m. to 4 p.m for sale of tickets. Tickets are also also sold at Giants Dugout Stores 7 days a week 10 a.m. to 5 p.m.
MLB Ballpark app:The Ballpark appp will give you all required information about the venue and your favorite team. Download the free MLB Ballpark app and tap Buy Tickets to purchase tickets.
Online: To purchase tickets online, visit sfgiants.com or Ticketmaster.com
Handicapped & ADA Seating At Oracle Park
Oracle Park offers other convenient services including wheelchair assistance, lost and found and wheelchair check in. Disables seats can be purchased by using ADA filter online during ticket purchase.