Petco Park Seating Chart + Rows, Seats and Club Seats
For Sold Out Seats, TicketIQ has Fee Free tickets for all events at Petco Park for San Diego Padres games as well as Concerts. TicketIQ customers save up to 25% compared to other secondary sites. TicketIQ also provides access to unsold face-value tickets for all events at Petco Park via Ticketmaster.
Petco Park Baseball Seating Chart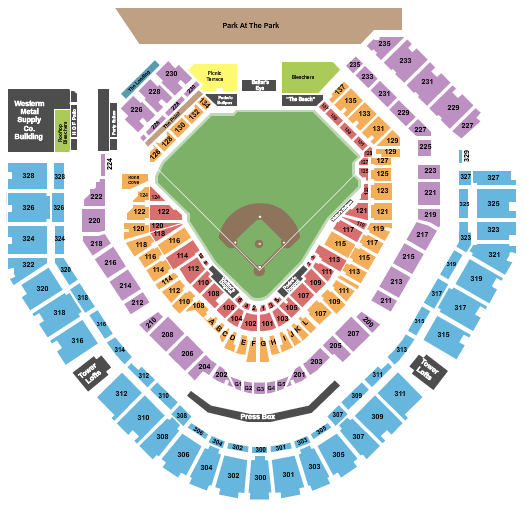 100-level sections, rows, and seats at Petco Park
Lower-level center sections include 101-111. 100-level end sections include 118-137 with 100-level corner sections of 113-119
Lower-level center rows run from A to I,
with end section rows starting at row 1 through row 25 and center with 8-22 rows.
200-level sections, rows, and seats at Petco Park
200-level center sections include 201-208. 200-level corner sections include 210-212. 200-level end sections include 213-235.
200-level center rows run 1 to 15 and rows 1 to 13 in the end and corner sections.
300-level sections, rows, and seats at Petco Park
300-level center sections include 300-302. 300-level corner and end sections include 304-310, and 311-328.
300-level center and corner rows run from 1-27.
Club, VIP, Box Seats and Suites at Petco Park
Terrace VIP seats are located at the Sections 201-204. Patrons in the seats are provided with distinguished views and better cuisine options. Premium Club of Petco Park is located above the 100s level ranging from sections A-L. The Cutwater Coronado Club is going to be the newest premium seating areas at Petco Park, on the 3rd base side of the ballpark. Rail Seats are located in upper tier between the 200s and 300 level where pub-style chairs are located with options of food, beverage and personal items such as a cell phone.
Padres Dugout - The Padres players sit in front of Section 107
Visitor Dugout - The visiting team sits in front of Section 108
Petco Park Concert Seating Chart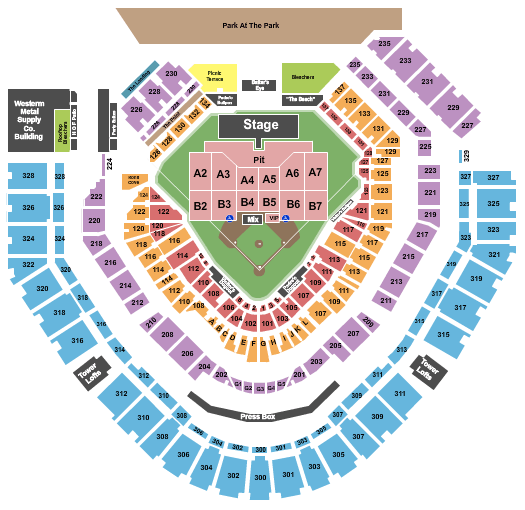 Floor seating at Petco Park of as many as 10 sections, numbered A2 through B7, with sections A2-A7 closest to the stage and B2-B7 farther from the stage. Behind the stage, sections include 226-235, 126-137.
WHERE CAN I FIND CHEAPEST TICKETS FOR PETCO PARK
The San Diego Padres have unsold face-value tickets available for most games, which can be purchased directly through Ticketmaster. Prices may be above or below prices on the secondary ticket market. Many Concerts also have unsold tickets. For Sold Out Seats and Events, TicketIQ has Fee Free tickets for all events at Petco Park.
WHAT IS MOBILE TICKET POLICY AT PETCO PARK
Petco Park only allows digital tickets from authorized MLB Ballpark App or Ticketmaster and does not allow re-selling of tickets. Only scanned tickets are allowed for entry.
HANDICAPPED & ADA SEATING AT PETCO PARK
Petco Park offers other convenient services including wheelchair assistance, lost and found and wheelchair check-in. For guests who wish to transfer to a seat from their wheelchair, Petco Park will store the wheelchair at Guest Services on various levels.