Where To Buy 2021 Pittsburgh Steelers Tickets
Primary market face-value tickets are available via Ticketmaster.
On the secondary market, TicketIQ has Fee-Free Pittsburgh Steelers tickets which also include a Refund Guarantee. Our Refund Guarantee states that if an event is canceled or deemed unfit for fans to attend, TicketIQ will refund ticket buyers in as soon as 15 days. That means that you can buy from TicketIQ worry-free. Customers on TicketIQ save between 15%-25% compared to other secondary market ticketing sites.
How Much Are 2021 Pittsburgh Steelers Tickets
At the Week 12 point, the Steelers are 5-4 and 3rd in the AFC North. The team's attendance for the year sits at 88.2% of full capacity so far. The average price for Steelers tickets is $404, and is an increase of 34.7% from 2019. The most expensive remaining game in Pittsburgh this season is the December 05th matchup against the Ravens. Tickets for this one start at $165, with the cheapest lower level ticket going for $277 in section 101. The cheapest remaining game at Heinz Field is the December 19th game against the Titans, where the cheapest tickets start at $100.
Pittsburgh Steelers 2021 Attendance Policy
The Steelers will operate at full capacity for the 2021 NFL season.
Pittsburgh Steelers 2021 Opponents
Home: Baltimore Ravens, Cincinnati Bengals, Cleveland Browns, Chicago Bears, Denver Broncos, Detroit Lions, Las Vegas Raiders, Seattle Seahawks, Tennessee Titans.

Away: Baltimore Ravens, Cincinnati Bengals, Cleveland Browns, Buffalo Bills, Green Bay Packers, Kansas City Chiefs, Los Angeles Chargers, Minnesota Vikings.

Week 1, Sept. 12: at Buffalo, 1 p.m.
Week 2, Sept. 19: vs. Las Vegas, 1 p.m.
Week 3, Sept. 26: vs. Cincinnati, 1 p.m.
Week 4, Oct. 3 at Green Bay, 4:25 p.m.
Week 5, Oct. 10 vs. Denver, 1 p.m.
Week 6, Oct. 17 vs. Seattle, 8:20 p.m. (SNF)
Week 7: BYE
Week 8, Oct. 31, at Cleveland, 1 p.m.
Week 9, Nov. 8 vs. Chicago, 8:15 p.m. (MNF)
Week 10, Nov. 14 vs. Detroit, 1 p.m.
Week 11, Nov. 21 at Los Angeles Chargers, 8:20 p.m. (SNF)
Week 12, Nov. 28 at Cincinnati, 1 p.m.
Week 13, Dec. 5 vs. Baltimore, 4:25 p.m.
Week 14, Dec. 9 at Minnesota, 8:20 p.m. (TNF)
Week 15, Dec. 19 vs. Tennessee, 1 p.m.
Week 16 Dec. 26, at Kansas City, 4:25 p.m.
Week 17, Jan. 3 vs. Cleveland, 8:15 p.m. (MNF)
Week 18, Jan. 9 at Baltimore, 1 p.m.

Pittsburgh Steelers 2021 Season Tickets
Steelers season tickets are sold out, but you can sign up for the team's waiting list here.
Heinz Field Club & Premium Seating Options
Heinz Field has the following premium seating ticket options: there are four areas of club seats as well as suites.
The PNC Champions Club has outdoor seats, but also has an inside club space. Fans can see the players' tunnel through floor-to-ceiling window views, as they enjoy the fully-stocked bar with booth seating.
The North Club Lounge is the smallest club space at Heinz Field and has two outdoor rows of seats and one indoor row. Amenities include a lounge space, main bar, and restrooms.
The UPMC Club Lounge includes a bar and lounge areas, as the fans have views of downtown Pittsburgh. Its sister club, the West Club Lounge, can also be accessed with a UPMC Club Lounge ticket.
From the West Club Lounge, fans can see Mt. Washington and the Ohio River. This club lounge also includes a bar and lounge areas.
Leased suites accommodate six to 26 guests in addition to Standing Room Only tickets. Those fans who lease suites receive a Pro Shop discount, year-round suite access, and reserved parking.
There are also single-game suites, which are for groups of 10 or more and they have all-inclusive food and beverage.
Heinz Field COVID-19 Health and Safety Protocols
Although nothing has been announced for the 2021 season, these were the health and safety protocols for last season:
Face Coverings
Protecting the Team Starts with You. Face coverings must be worn and will be enforced at all times while on-property.
Physical Distancing
Two Yards can change the game. Physical distancing of at least 6 feet will be enforced at all times while on property.
Temperature Check and Health Screenings
Fit to play. Staff and stadium employees will have temperature checks and health screenings before entering the building.
Contactless Entry
Mobile Ticketing: To ensure the safety of our fans and staff, all ticket holders must access their tickets through their mobile device, preferably through the Official Steelers Mobile App or Pitt Panthers Mobile App.
POD Seating
Stick with your Team. Fans are required to maintain pod integrity. Only transfer tickets to family or friends within your trusted group. Pods cannot be broken for ticket resale. If you are holding tickets to a 4-seat pod, for example, and cannot attend the game, you must sell all seats within the pod to the same party. This policy is to ensure adherence to social distancing guidelines and protects buyers from purchasing seats immediately next to guests unknown to them.
Contactless Restrooms
In each restroom, there will be motion-censored sinks, soap dispensers, and toilets for your convenience.
Pittsburgh Steelers Mobile Ticketing
To manage your Steelers tickets, the team has a mobile app available on the App Store and Google Play. The app is also used for mobile entry into the venue. The Steelers require ticket holders to use mobile tickets to enter Heinz Field, and it is suggested to add the ticket to your phone's mobile wallet to avoid slow WIFI or cellular signal while entering the stadium.

UPDATE 1/7: The Steelers announced that they will not be hosting fans for their Wild Card round game against the Browns.
The Pittsburgh Steelers have clinched the AFC North and the No. 3 seed, and are set to host the Cleveland Browns in a Wild Card game on January 10th. Fans will be allowed to attend the game, but the capacity will be greatly reduced. The Steelers allowed just 5,500 fans to attend games earlier in the season.
How Much Are 2021 Pittsburgh Steelers Playoff Tickets
Currently, there are only a little over 200 tickets available for the game on the secondary market, which is driving prices way up. The average price for the game is $1,168 with a get-in price of $611.
All listings on the secondary market are either in the 200-level end zone or scattered around the 100-level. Seats in the 200's start at $611, and range as high as $1,318. 100-level seats start at $758 in the end zone, $774 in the corners, and $1,028 on the sidelines. Prices go as high as $5,600+ for 100-level sideline seats at midfield.
Below is an infographic showing how this year's prices compared to other Steelers home playoff games since 2010: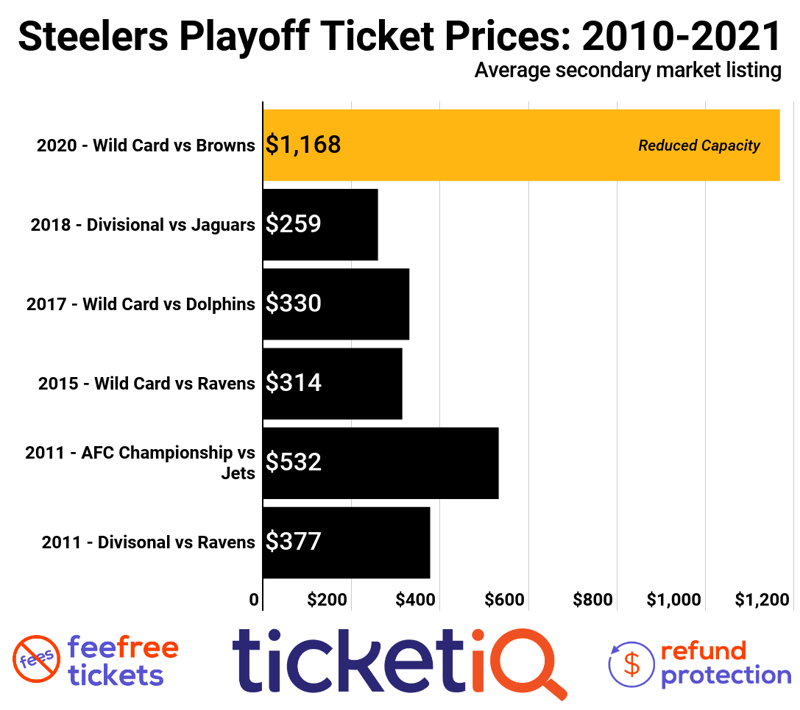 ---
Steelers 2021 Playoff Tickets
According to an email sent to season ticket holders, the Steelers are preparing to host fans for home playoff games since the current Pennsylvania state orders for crowd size expire on January 4, 2021.
In the email, the team said they do intend to allow a limited number of fans, and included details on selecting seats, how the pods would be set up, the timeframe to order tickets, and all social distancing guidelines.
"We are preparing for the possibility of hosting fans at Heinz Field for the postseason after the current State orders expire in Jan. 4, 2021," said Steelers spokesman Burt Lauten in a statement on Tuesday. "Our goal is to use our previous stadium model and manifest from earlier this year to host approximately 7,500 people at the stadium in January."
Steelers 2020 Attendance Policy Updates
UPDATE: On August 28th, the Steelers announced that fans will not be allowed to be in attendance at Heinz Field for at least the team's first two home games.
---
It was reported on July 9th, that if fans are allowed in Heinz Field this season, they will be required to wear a face mask. The team also said in a statement that they also expect to be "working with a reduced capacity scenario".
"Our goal is to still have fans at Heinz Field this year with the understanding that social distancing, as well as all fans being required to wear masks, will play a role in the capacity to ensure a safe atmosphere," said Steelers spokesman Burt Lauten in a statement. "We will continue to work with the NFL and public health officials to finalize plans for fans to attend our home games."
How Much Are 2020 Pittsburgh Steelers Tickets
On the primary market, the Steelers single-game ticket website page includes presale information, but the tickets are not available yet for the public.
TicketIQ has seats available for all Pittsburgh Steelers home games. The average ticket price on TicketIQ is $358, which is in the middle of the pack in the league. The secondary market price for Steelers tickets has increased by 19 percent since last year.
---
TicketIQ is committed to the cheapest tickets possible, and we make much less on sold out tickets compared to other major marketplaces like StubHub and Vivid. That means ticket buyers save from up to 25% on TicketIQ on sports, music and theater. We're able to do this because we also work with teams, venues, and other ticket owners, to help them sell tickets at face price, directly to consumers like you, through Ticketmaster and Seatgeek. For an overview of the 2020 NFL Ticket Buying landscape, and details on the cheapest way to get tickets for every team, visit the TicketIQ Blog.
---
Where to Buy 2019 Steelers Tickets
The Pittsburgh Steelers started a season-ticket waiting list in 1972, though for 2019, the length of the wait for a season ticket is unknown. The team does require Personal Seat Licenses. There is no fee to join the wait list, which fans can do on Ticketmaster. A small number of
season tickets are available
on the secondary market, starting at $851. A very limited amount of single-game tickets are available on
Ticketmaster
, all in the 500 sections, high above the end zone, though the October 6 Ravens game and November 10 Rams game are completely sold out on the primary market. TicketIQ has seats for all games available, and the average asking price for the season is $300.
TicketIQ also has a Low Price Guarantee on
Pittsburgh Steelers tickets
for all games on their 2019 schedule, in addition to Low Price Guarantees on all
NFL tickets
, which means that if you find a secondary market ticket for less on a site like Stubhub or Seatgeek, we'll give you 200% of the difference in ticket credit. TicketIQ customers save an average of 5%-20% compared to other sites.
How Much Are 2019 Steelers Tickets
Demand for the Pittsburgh Steelers first home game is already high -- the average asking price on the secondary market for the September 15 game against the Seattle Seahawks is trending at $395. For the season, the average asking price on the secondary market for a home game at Heinz Field is $300, up just $2 over last season, and making it the second most expensive of the decade behind last season and $316 in 2016. The Steelers got to the AFC Championship before losing to the Patriots in 2016. Pittsburgh won the AFC North in 2016 an 2017, but did not make the the playoffs last season.
---
Secondary Market Prices For Steelers Tickets Up 6% In 2018
Steelers 2018 Ticket Market Overview:
With the Pittsburgh Steelers home opener against the Kansas City Chiefs less than two weeks away, demand for Steelers tickets is up this season. Below is how Steelers tickets prices stack up on the secondary market across the league. As you can see below, Steelers tickets are up 6% over last season, making them the second most expensive since 2011, and the 6th highest in the NFL this season. The most expensive average price for the Steelers this decade was in 2016, when the Steelers won the AFC North before losing to the New England Patriots in the AFC Championship.

Where to Buy Tickets:
With the price increase over last season, a ticket to the Steelers is ranked No. 6 across the NFL. The Steelers have had a waiting list for season tickets since 1972, and fans can join the waitlist here. Single-game tickets are available on the primary market through the Steelers partner, Ticketmaster. Standing-room only tickets are the cheapest available for the first two games of the season, the Chiefs on September 16 and the Baltimore Ravens on September 30. On the secondary market, field-level seats are available for every game, and many through secondary ticket marketplace TicketIQ.com with the company's Low Price Guarantee.
Prices For Each Game on 2018 Steelers Schedule:
The priciest game of the season is the October 7 game against the Atlanta Falcons, which is trending at $489. The Falcons have never won in Pittsburgh and the Steelers hold a 13-2-1 series advantage. The next most expensive – and one for which the price is very likely to rise – is the December 16 New England Patriots game. The Steelers-Patriots rivalry has blossomed since the turn of the century, as both teams have been in the post-season mix and the Patriots have knocked the Steelers out of the playoffs three times. The Steelers are on a five-game skid against New England, and the Patriots hold a 16-15 series advantage. There's no question that if both teams are heading to the playoffs that the current $432 secondary market average asking price will rise.