Los Angeles Rams 2020 Attendance Policy
On August 25th, the Rams announced that games will be played without fans in attendance until further notice. They also stated that they will follow "health care experts and the policies of local, state and federal government officials" to determine if and when it is safe to allow fans back at SoFi Stadium.
---
On July 21st, the Rams announced that if fans are allowed at home games this season, capacity would likely be limited to around 15,000 fans. This is based on current CDC guidelines, and could change if the guidelines change. Here are some other safety guidelines that the team team laid out:
Fans must wear a mask on the face at all times unless actively eating or drinking. This includes inside clubs and suites.
Social distancing will be enforced at all times. Congregating in concourses will be actively discouraged by stadium staff.
Stadium will be set up to provide social distance with seats in blocks of 1-10 seats that are each 6 feet from other seats blocks.
The first seven rows of the stadium will be eliminated and covered with tarps to protect players and coaches.
All purchase stations will be strictly cashless. If you need to convert cash to gift cards, "reverse ATMs" will be available on each concourse.
Hand sanitizer stations will be located throughout the stadium.
Tailgate parking may be available but in a limited capacity. Social distancing will be enforced and congregations outside of those attending the game with you will be discouraged.
Health screening protocols to include likely waiver for all game attendees to sign before entering as well as staff temperature checks.
Where To Buy 2020 Los Angeles Rams Tickets
Los Angeles Rams tickets are available for sale on the secondary market as of the NFL's schedule release.
TicketIQ has
Fee-Free tickets
with a
Low Price Guarantee
and
Refund Guarantee
, which states that in the event an event is cancelled or deem unfit for fans to attend, TicketIQ will refund ticket buyers within 15 days. That means that you can buy from TicketIQ worry-free.
Potential Covid-19 Impact On 2020 NFL Schedule
While the schedule release is a much-needed dose of exciting news for all football fans, there are some major questions marks heading into the 2020 season due to the Coronavirus pandemic. While teams know what teams they'll play, that's about all they know. Whether or not the games happen and if fans are able to attend will depend on how the virus is managed over the next 2-3 months. The league has already canceled all of its International Series games, and the league is rightly considering all possible scenarios.
Based on the varying levels of infection in each NFL city and state, it's possible that some teams may be able to host fans at a reduced capacity while others may not. The Dolphins announced a preliminary plan last week, with a 25% of capacity goal. Based on the below NFL Covid-19 Safety Index, the Dolphins fall within the low-risk category, just barely.
To create the Safety Index, we compared the active cases in each city or state to the national average and then discounted that product by Rt. Rt is a measure of how fast the virus is spreading in each city and state, most easily tracked through Rt.live.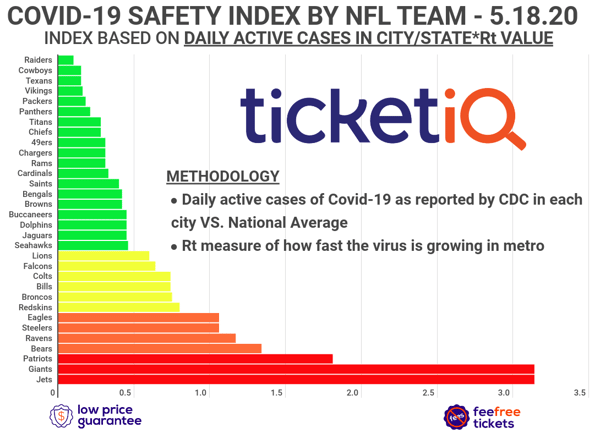 How Much Are 2020 Los Angeles Rams Tickets
With the opening of their new stadium coming, the average asking price on the secondary market for a Los Angeles Rams ticket in 2020 is up 49.5% over last season. The $337 average asking price is still below the $390 league average, making it a great deal to see an NFL game. The Rams new SoFi Stadium in Inglewood, which they will share with the Los Angeles Chargers, is a state-of-the-art facility that features a 360-degree, dual-sided video board and the latest technology.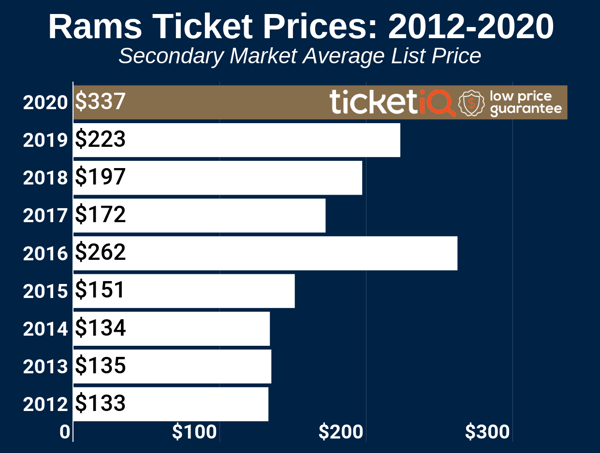 Season Ticket and Mini Plan Options
Rams season tickets are currently available starting as low as $105 per game, which includes both the seat price and SSL fee. The Rams are offering an interest-free payment plan. Rams season tickets holders also get priority access to single-game and post-season tickets, unique game-day experiences, and merchandise discounts. Seats start at $600 plus a $1,000 SSL on the 500 Level in the end zones, and go up to $3,750 with a $100,000 SSL fee for VIP Club seats at the 50-yard line.
Club Seating and Premium Options
The Rams will offer five levels of Club Seating, all on the 100 and 200 Levels along the sidelines. Season ticket prices for these sections are all $3,750, but the SSL prices vary from $15,000-$100,000. All of these seats include Club access throughout SoFi Stadium.
SoFi Stadium also has eight types of suites available, including Bungalow and Field Cabanas on field level and a Party Suite. Suite ticket holders get private entrances to the stadium, VIP parking, Club access and more. Suites are available for single games or as season tickets.
Rams Mobile Ticket Policy
SoFi Stadium is designed for mobile entry, and the Rams will only accept digital tickets, which will feature a rotating bar code. Screenshots will not be accepted. Tickets purchased through the Rams or Ticketmaster are available via the Rams Mobile App, the Rams Account Manager or the Ticketmaster App, all of which are available to download via Google Play or the App Store. Fans can also buy, sell or transfer tickets through the apps.
---
TicketIQ is committed to the cheapest tickets possible, and we make much less on sold out tickets compared to other major marketplaces like StubHub and Vivid. That means ticket buyers save from up to 25% on TicketIQ on sports, music and theater. We're able to do this because we also work with teams, venues, and other ticket owners, to help them sell tickets at face price, directly to consumers like you, through Ticketmaster and Seatgeek. For an overview of the 2020 NFL Ticket Buying landscape, and details on the cheapest way to get tickets for every team, visit the TicketIQ Blog.
---
How Much Are 2019 Los Angeles Rams Tickets
The reigning NFC champions are hoping to make it one step further this season after falling to the New England Patriots in Super Bowl LIII. Heading into the upcoming season, it is expected to see Todd Gurley getting fewer touches, so possibly he can be fresher for the postseason
Los Angeles will play seven home games because the Rams will be the "home team" when they play at Wembley Stadium in 2019 against the Cincinnati Bengals. The Rams' ticket prices are the 17th most in the NFL at $223 per ticket. The price is 17% higher than last year's Rams ticket and 48% higher than the average Rams ticket five years ago.
Ticket Prices For All Rams Home Games On The 2019 Schedule
September 15 vs. New Orleans Saints
Secondary market average asking price: $360
Secondary market cheapest ticket: $99
The first 2019 regular season contest at Los Angeles Memorial Coliseum is a rematch of the NFC championship. The Rams were victorious, 26-23, in the game that had one of the most controversial referee no-calls in NFL history. There is no surprise that the asking price for this ticket is the highest of all the Rams' 2019 home games.
September 29 vs. Tampa Bay Buccaneers
Secondary market average asking price: $165
Secondary market cheapest ticket: $31
When the Rams and Buccaneers last met in 2016, Todd Gurley ran for 85 yards and two touchdowns, as the Rams won, 37-32, and extended their win streak over Tampa Bay to five games. The get-in price is tied for the lowest price for a Rams home game this regular season.
October 13 vs. San Francisco 49ers
Secondary market average asking price: $207
Secondary market cheapest ticket: $56
Before sweeping the 49ers last season, the Rams had not had much success over the last decade in meetings with San Francisco. In Week 17 in 2018, the Rams rode Jared Goff's four touchdowns to their NFL-best 13th win of the season.
November 17 vs. Chicago Bears
Secondary market average asking price: $301
Secondary market cheapest ticket: $93
The Bears have been very successful in recent history against the Rams, as Chicago has won six of the last seven meetings. In 2018, the Bears defense stifled Goff, Gurley and company. Chicago intercepted four of Goff's passes while Jordan Howard and Tarik Cohen combined for 192 total yards.
November 25 vs. Baltimore Ravens
Secondary market average asking price: $177
Secondary market cheapest ticket: $39
The Ravens face the Rams for the first time in Los Angeles. The Rams will be looking for their first win over Baltimore since 2003. Gurley will look to improve from his 66-yard, one-touchdown performance in which the Ravens scored 13 unanswered points to win, 16-13, in 2015.
December 8 vs. Seattle Seahawks
Secondary market average asking price: $193
Secondary market cheapest ticket: $42
The Rams have had the Seahawks' number recently, as Los Angeles finished 2018 by extending its win streak to three games over Seattle. Both of the contests in 2018 between the Rams and Seahawks were tight games, as the margin of victory was a combined seven points.
December 29 vs. Arizona Cardinals
Secondary market average asking price: $159
Secondary market cheapest ticket: $31
The cheapest ticket for a Rams home game this season is currently the season finale against rookie Kyler Murray and the Cardinals. Los Angeles swept the series from Arizona in both 2017 and 2018.