When the Rolling Stones kick off their third North American tour since 2012 on April 20, fans will be paying the highest price of the decade on the secondary market. According to data from secondary ticket marketplace TicketIQ.com, demand has pushed the average asking price for the "No Filter Tour" up to $683 as compared to $624 for the 2012-13 "50 and Counting Tour" and $301 for the 2015 "Zip Code Tour."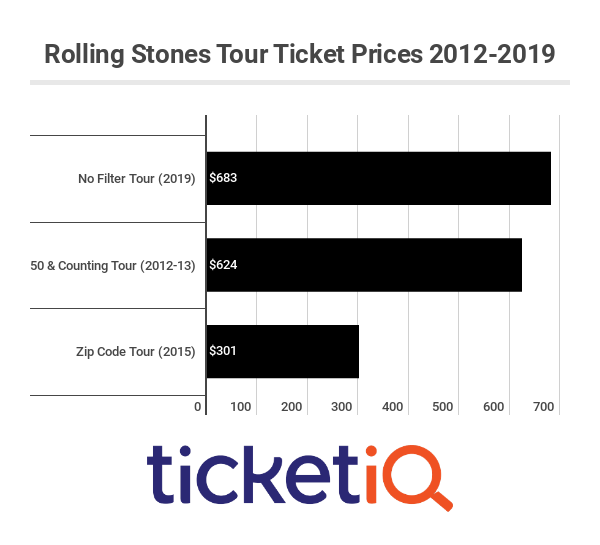 On this go-round, the Stones will play 13 cities beginning in Miami and ending in Chicago, between April 20-June 25, 2019.The tour will play two shows at MetLife Stadium in New Jersey and Soldier Field in Chicago. In both instances, the average asking price for the first show is significantly higher than the second. The average asking price for the June 13 show in New Jersey is $1,101, the highest average asking price for any date. The get-in price for that show is $249. The June 17 show is trending at $481. In Chicago the June 21 show has an average asking price of $775, while the June 25 show is trending at $496.
The next most expensive shows behind that MetLife Stadium appearance are $966 for the June 4 date at Lincoln Financial Field in Philadelphia, $920 for the April 28 date at NRG Stadium in Houston and $863 for the April 24 date at TIAA Bank Field in Jacksonville, Fla.
The cheapest show has an average
asking price of $358 for the May 22 date at Seattle's CenturyLink Field, followed by $363 for the May 7 date at Glendale Arizona's State Farm Stadium.
The "No Filter Tour" began in September 2017 in Hamburg, Germany and wound its way through Europe before wrapping in Warsaw, Poland on July 8, 2018. The North American leg, which is in limited venues in the U.S., is the third and final leg of the tour. The European legs of the tour had an overall attendance of 1,506,259 and grossed $237.8 million, making it one of the most commercially successful shows of 2017-18.
Songs such as favorites "Start Me Up" and "Jumpin' Jack Flash" have been played at every tour date so far. Thirteen Stones' classics have been played at every date, and then the band has mixed in other tracks, depending on the venue.
Mick Jagger (lead vocals, guitar, percussion, harmonica) and Keith Richards (vocals, guitar), both founding members of the Rolling Stones, headline the band along with long-time members Ronnie Woods (guitar) and Charlie Watts (drums). The quartet was also featured on the previous two tours.