Where to Find Rose Bowl Premium Options + Club Suites
On the secondary market, TicketIQ has Fee-Free tickets for all events at the Rose Bowl, which also include a Refund Guarantee. Our Refund Guarantee states that if an event is canceled or deemed unfit for fans to attend, TicketIQ will refund ticket buyers in as soon as 15 days. That means that you can buy from TicketIQ worry-free. Customers on TicketIQ save between 15%-25% compared to other secondary market ticketing sites. TicketIQ also provides access to unsold face-value tickets for all events at Rose Bowl via Ticketmaster.
We've also partnered with
SuiteHop, which is an online marketplace curating suites and VIP seating options for venues across North America. These VIP tickets offer a luxury experience with premium amenities, upscale food & beverage options, and incredible sightlines you won't find with any other tickets. Visit SuiteHop to browse suites & premium tickets for your next event at the Rose Bowl.
ROSE BOWL PREMIUM SEATING OPTIONS
If you'd like to find premium seating at Rose Bowl Stadium, you have plenty of options.
Something unique about Rose Bowl Stadium is the layout of the actual seats. About half the stadium has chair backs, while the other half are bleachers. The half with chair backs can be found in all sideline sections going up to the nosebleeds, in club areas, and in suite boxes. Keep that in mind when finding tickets.
Club Seats at Rose Bowl Stadium can be found in the Premium Seating area to the left & right of the loge boxes and throughout the section above, the 100/200 levels. These seats are covered which is great in staying shaded, plus they provide amenities like legroom, cupholders, and extra large cushioned seats. With Club Seat tickets you also have access to the Club Lounge, which is an air-conditioned indoor space with private restrooms, a full bar, seating, televisions, and more. You will also receive VIP Parking and access to special premium tailgates. Tickets are available for either the Rose Bowl or UCLA games only, or you can look for a package that combines the 2. For the Rose Bowl Game though, tickets are currently available on TicketIQ for as low as $758. And for more information on the Club Seats, check out the Rose Bowl website.
Whereas some Club Seats can be found on our website, if you prefer to go through the Rose Bowl directly to purchase tickets, HERE is the place to start. Also the following premium locations cannot be found on our website, so we'd recommend going through the stadium directly as well. You may be able to find some packages online as well so be conscious of your options.
The Rose Bowl Stadium Loge Boxes can be found at the very top of the Home team sideline, with a great view of all the action given that they're all between the 35 yard lines. These seats do not just offer great views, but also comfort. Seats are extra large and cushioned, each with TV monitors attached that do not just show the game but also can get you other channels as well. There is also a lounge that can be accessed with a ticket in the loge boxes. This lounge includes even more TV's and a cash bar, plus free food and non-alcoholic drink for UCLA games. There are 48 boxes in total that can fit 192 fans. If you'd like to check out photos or take a virtual tour, you can find out more on the Rose Bowl website. Plus here's a visual of the Loge Box sections layout.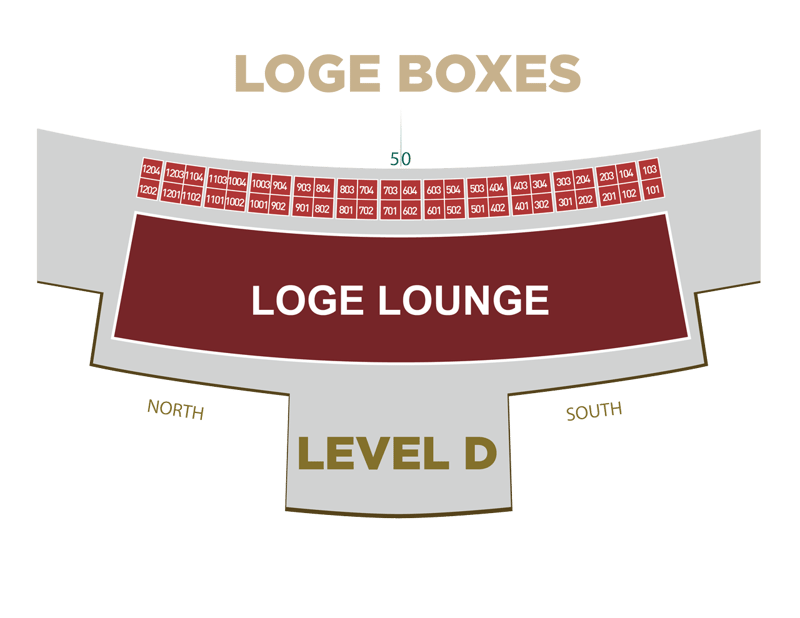 In addition to the Loge Boxes, there's also the Rose Bowl Stadium Suites, which can be found on the second and third decks of the premium seating area in the stadium, right above the Loge Boxes. These Suites can fit 16-30 guests each (depending on which suite and location) and offer amenities such as: nice furniture, privacy, extra large cushioned seats, HD Flatscreen TV's, climate control, and a refrigerator. Each suite also offers a personal suite attendant, VIP Parking, access to special premium tailgates, and more. For more information, check out the Rose Bowl Website.

ROSE BOWL SEATING CHART-FOOTBALL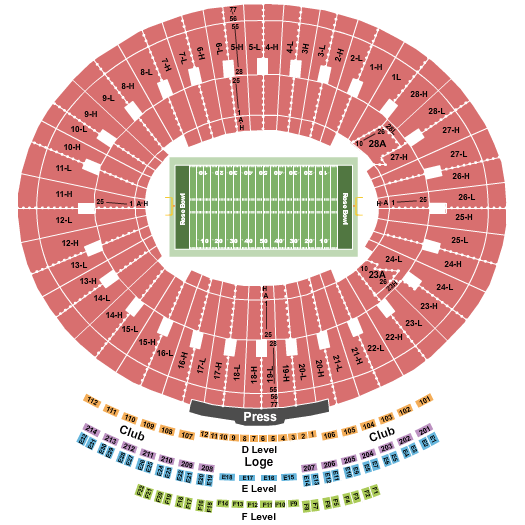 ROSE BOWL SEATING CHART-CONCERTS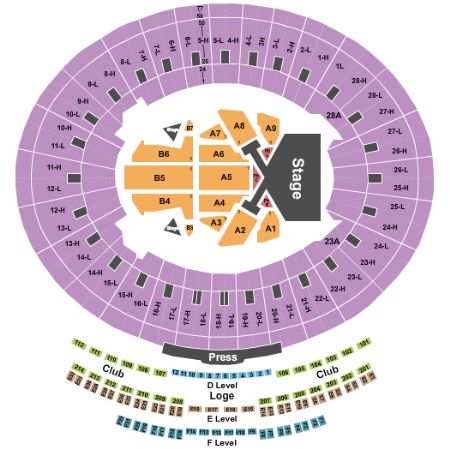 ROSE BOWL SEATING CHART-SOCCER