Where To Buy 2021 Seattle Seahawks Tickets & When Do Tickets Go On Sale
Primary market face-value tickets went on sale via Ticketmaster shortly after the NFL announced its 2021 schedule on May 12th.
On the secondary market, TicketIQ has Fee-Free Seattle Seahawks tickets which also include a Refund Guarantee. Our Refund Guarantee states that if an event is canceled or deemed unfit for fans to attend, TicketIQ will refund ticket buyers in as soon as 15 days. That means that you can buy from TicketIQ worry-free. Customers on TicketIQ save between 15%-25% compared to other secondary market ticketing sites.
Seattle Seahawks 2021 Attendance Policy
Information regarding the Seattle Seahawks updated 2021 attendance policy and potential capacity limits has not been released. This information is expected to be released closer to the start of the 2021 regular season.
Seattle Seahawks 2021 Opponents & Schedule
Home: Arizona Cardinals, Los Angeles Rams, San Francisco 49ers, Chicago Bears, Detroit Lions, Jacksonville Jaguars, New Orleans Saints, Tennessee Titans.

Away: Arizona Cardinals, Los Angeles Rams, San Francisco 49ers, Green Bay Packers, Houston Texans, Indianapolis Colts, Minnesota Vikings, Pittsburgh Steelers, Washington Football Team.

Week 1: 9/12: at Indianapolis Colts (10:00 AM PT, FOX)


Week 2: 9/19: vs. Tennessee Titans (1:25 PM PT, CBS)
Week 3: 9/26: at Minnesota Vikings (1:25 PM PT, FOX)
Week 4: 10/3: at San Francisco 49ers (1:05 PM PT, FOX)
Week 5: 10/7 (TNF): vs. Los Angeles Rams (5:20 PM PT, FOX/NFL Network/Amazon Prime)
Week 6: 10/17: at Pittsburgh Steelers (5:20 PM PT, NBC)*
Week 7: 10/25 (MNF): vs. New Orleans Saints (5:15 PM PT, ESPN)
Week 8: 10/31: vs. Jacksonville Jaguars (1:05 PM PT, CBS)
Week 9: 11/7: BYE
Week 10: 11/14: at Green Bay Packers (1:25 PM PT, CBS)
Week 11: 11/21: vs. Arizona Cardinals (1:25 PM PT, FOX)
Week 12: 11/29: at Washington Football Team (5:15 PM PT, ESPN)
Week 13: 12/5: vs. San Francisco 49ers (5:20 PM PT, NBC)
Week 14: 12/12: at Houston Texans (10 AM PT, FOX)
Week 15: 12/19: at Los Angeles Rams (1 PM PT,
Week 16: 12/26: vs. Chicago Bears (1:05 PM PT, FOX)
Week 17: 1/2: vs. Detroit Lions (1:25 PM PT, FOX)
Week 18: 1/9: at Arizona Cardinals (1:25 PM PT, FOX)

Seattle Seahawks 2021 Season Tickets
Season tickets to the Seattle Seahawks are sold out, and the Blue Pride Wait List is at capacity, but fans can join the Notification List. Fans on the Notification List will be alerted when Blue Pride Wait List spots become available. There is no fee to join the Notification List, but a $100 deposit is required to join the Wait List.
Those on the Blue Pride Wait List get season-ticket and single-game ticket priority, merchandise discounts, access to training camp and other amenities.
Lumen Field Club and Premium Seating Options
The Seattle Seahawks offer fans a variety of Club and Premium Options at Lumen Field. Besides Clubs, there are Loft, single-game suite and field-box options available.
Below is a look at some of the Club options:
Delta Sky360 Club: Ticket holders get access to a high-end Club as well as some of the best seats at Lumen Field. Inside the modern Club, fans will get a chance to meet former Seahawks, get their faces painted or enjoy high-speed internet access, as well enjoy upscale food and beverage options. Delta Sky360 members can use private entrances for early entry, and get merchandise discounts.
Verizon Lounge: Located within the Delta Sky360 Club, the Verizon Lounge is open for a pre-game gourmet buffet. The Lounge accepts reservations up to three hours before kickoff, and is available only to Delta Sky360 members.
Lumen Field Health and Safety Protocols
FACE MASKS
Face masks are required for all guests age 2 and older. Guests are not required to wear them while eating and drinking.
Face masks that fit within the CDC guidelines are considered appropriate for guests when inside the stadium. Face masks must be tightly woven and snug to the face, while covering the nose and mouth.
Face shields are not an acceptable substitute for masks unless an approved face mask is worn underneath.
Masks with exhalation valves or vents are not permitted.
We reserve the right to require guests to remove and replace face masks that are deemed offensive, or tend to provoke, shock, or offend the community or any group.
STADIUM ENTRY
Entry gate layouts are adjusted to allow

minimum of 6 feet between groups while

queuing for both the magnetometers and

the ticket takers

​

Signage and ground markings are added to

remind guests to maintain physical

distancing while queuing for entry

New self-service pedestal ticket scanners

at all entries so guests can scan their own

tickets and eliminate close contact

between guests and stadium staff
SEATING & COMMUNAL AREAS
All stadium seating has been arranged in pods or ticket

groups. There will be a minimum of six feet of spacing

between each surrounding ticket pod or group

​

No more than two ticket pods will share a single row,

preventing groups from having to cross through

another pod to travel to or from an aisle

​

Every aisle seat will be empty to allow additional space

between groups and fans passing up and down the

stairwells

​

Tables and shared seating areas throughout the

stadium and concourses have been altered or removed

to ensure physical distancing and eliminate gathering
Capacity limits have been recalculated to

allow for appropriate physical distancing in

enclosed spaces

​

Ground markings have been added

throughout entry locations, concessions

stands, retail, and other kiosks, directing

guests to maintain a minimum of six feet

from others while waiting in line

​

Staff will monitor adequate traffic flow and

distancing requirements
TOUCHLESS
Box Office​
New technology has been implemented

to digitally send tickets to mobile devices

on demand instead of printing tickets

New self-service pedestal ticket scanners

at all entries so guests can scan their own

tickets and eliminate close contact

between guests and stadium staff

​​
Restrooms​
Restrooms have been upgraded to

feature touchless faucets, toilets and

urinals

​
Cashless​
All sales transactions at Lumen Field have

been transitioned to cashless to eliminate

the handling and exchange of money

​

Increased the amount of touchless point-

of-sale options at food & beverage, box

office, parking, and retail locations.

Further utilizing chip readers and tap-to-

pay terminals.

For more information visit our Cashless page.
FOOD AND BEVERAGES
Grab & Go options and spaces have been

added to decrease contact between staff

and fans

​

All food will be served in a container with

a lid and utensils will be individually

wrapped

​

Plexi-glass guards are installed at all

counters and POS systems to protect

both the guest and the staff

​
Self ordering kiosks have been installed to give fans a self serve experience and further reduce contact between fans and staff
For additional information, visit the Lumen Field website.
Seattle Seahawks Mobile Ticketing
The Seahawks moved to mobile ticketing in 2019, and fans can use the Seahawks Account Manager to receive and manage tickets. Printed tickets and screenshots will not be accepted at Lumen Field. Season ticket holders can use mobile ticketing or their Season Ticket Card.

2020 Seahawks Attendance Policy
On August 20th, it was announced that the Seahawks will not allow fans at Lumen Field through at least September. It was also announced that the team is still "hopeful that conditions will improve as the seasons moves on," so that they can host fans for games later in the fall.
How Much Are Seattle Seahawks Tickets
The average asking price on the secondary market for a Seattle Seahawks ticket are up 68%. They currently are the priciest in the NFC West and the second priciest in the NFC. The average asking price of $538 ranks No. 4 in the NFL and is well above the $390 league average. The priciest seat in the NFL this year is trending at $1,098 to see the Raiders first season in Las Vegas.
---
TicketIQ is committed to the cheapest tickets possible, and we make much less on sold out tickets compared to other major marketplaces like StubHub and Vivid. That means ticket buyers save from up to 25% on TicketIQ on sports, music and theater. We're able to do this because we also work with teams, venues, and other ticket owners, to help them sell tickets at face price, directly to consumers like you, through Ticketmaster and Seatgeek. For an overview of the 2020 NFL Ticket Buying landscape, and details on the cheapest way to get tickets for every team, visit the TicketIQ Blog.
---
How Much Are 2019 Seahawks Tickets
Face Value for single game tickets are available for many game. Prices start at $165 for 300-level seating, $22 In the 200 level, $210 for 100-level seating.
The Seahawks' most expensive home game this season on the secondary market is against the New Orleans Saints in Week 3, with a get-in price of $230. The least expensive game is their Week 16 game against the Cardinals. The get-in price for that game is $114.
At a $390 average price for a ticket at Lumen Field, the Seahawks own the fourth-highest secondary market price in the NFL. That is just 2% less than last year's average.
Prices For All Seahawks Home Games On The 2019 Schedule
September 8 vs. Cincinnati Bengals
Secondary market average asking price: $406
Secondary market get-in price: $153
The opening kickoff of the Seahawks' season is against the Bengals. Cincinnati won, 34-12, the last time Seattle hosted Cincinnati in 2011. In the most recent meeting between the two squads, the 2015 Bengals moved to 5-0 in a 27-24 overtime victory over the Seahawks.
September 22 vs. New Orleans Saints
Secondary market average asking price: $517
Secondary market get-in price: $230
The most expensive home contest of the season for the Seahawks is against one of the NFL's best in the New Orleans Saints. Drew Brees and Sean Payton enter Lumen Field for the first time since 2016, when they defeated Seattle, 25-20, behind a defensive touchdown and four Wil Lutz field goals.
October 3 vs. Los Angeles Rams
Secondary market average asking price: $406
Secondary market get-in price: $153
The Seahawks and Rams were two of the best home squads during the 2018 season. Unfortunately for Seattle, Los Angeles currently has a three-game winning streak against Russell Wilson and company. The Seahawks lost even when scoring 31 points in each of the last two contests against the Rams.
October 20 vs. Baltimore Ravens
Secondary market average asking price: $396
Secondary market get-in price: $159
Both the Seahawks and Ravens posted 6-2 home records and 4-4 road records last season. In 2018, Seattle was a top offense and Baltimore was a top defense. The Seahawks have won the last three meetings, including 2015's 35-6 win when Russell Wilson threw for five touchdowns.
November 3 vs. Tampa Bay Buccaneers
Secondary market average asking price: $335
Secondary market get-in price: $127
The only November contest at Lumen Field is Week 9's contest against the Buccaneers, who the Seahawks have had trouble against recently. Russell Wilson was held to 151 yards and was intercepted twice in their last meeting, a 14-5 Seattle loss on November 27, 2016.
December 2 vs. Minnesota Vikings
Secondary market average asking price: $398
Secondary market get-in price: $155
The Seahawks have won each of the last five meetings, including 2018's regular season contest and 2016's wild card round game. Last year, Chris Carson scored Seattle's only offensive touchdown in the Seahawks' 21-7 win.
December 22 vs. Arizona Cardinals
Secondary market average asking price: $310
Secondary market get-in price: $114
The contest with the lowest-priced home Seahawks ticket is against the division foe Cardinals. Last year, Seattle swept the season series from Arizona. The Cardinals had the worst offense in the league in 2018, but did score 41 points combined in the two meetings.
December 29 vs. San Francisco 49ers
Secondary market average asking price: $350
Secondary market get-in price: $123
The Seahawks have won the last 10 meetings against the 49ers that have finished in regulation. However, the most recent meeting was a 26-23 San Francisco victory that was won by Robbie Gould's 36-yard field goal with 3:06 remaining in the overtime period.
---
Seahawks 2018 Ticket Market Overview:
The Seattle Seahawks open with two consecutive road games, but when they get home at the end of September -- boom! The home opener is ranked the second most expensive domestic matchup in the NFL this season. Below is how Seahawks ticket prices prices stack up on the secondary market across the league. As you can see, Seahawks tickets are down 9%, making them the fifth most expensive since 2011, when TicketIQ.com began tracking data. Despite the drop in price, at $358 per seat on the secondary market, the Seahawks have the second most expensive tickets in the NFL. Seattle finished second in the NFC West last sea son, and the average asking price continues to ebb the further Seattle gets from its Super Bowl victory after the 2014 season.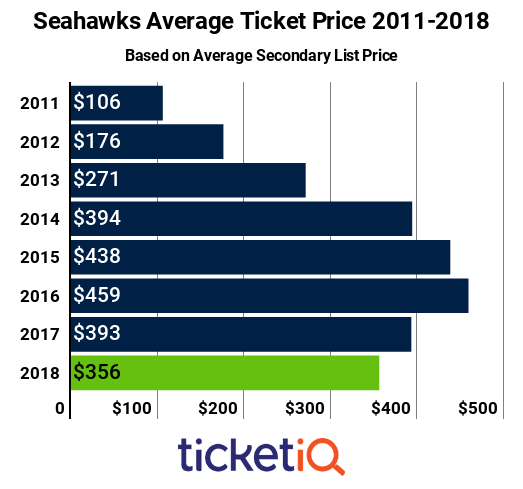 Where to Buy Tickets:
Though ticket prices have been falling, Seahawks tickets are the second most expensive in the NFL this season, behind only the New England Patriots. Seats are still available for most games on the primary market through the Seahawks partner Ticketmaster, but selection is limited, with less than 20 seats in the upper deck left for the Cowboys game and many sold-out sections for other games. On the secondary market, there is a wider selection, including seats behind both the Seahawks and visitors benches for all games. For all games, TicketIQ.com has seats available with the company's Low Price Guarantee.
Prices For Each Game on 2018 Seahawks Schedule:
The Cowboys game is far and away the priciest this season, with an average asking price of $660. Why? The two NFC teams rarely play -- they've met 18 times since 1976 -- and they've met in the playoffs only once. The Cowboys hold a 10-8 series record, though Seattle has won two consecutive. Should the Seahawks start with a bang, demand could push prices for the home opener up.