Pittsburgh Penguins 2018-19 Ticket Market Overview:
Pittsburgh Penguins ticket prices have been on a steady slide since the Pens won back-to-back Stanley Cups in 2015-16 and 2016-17. Pittsburgh finished second in the Metropolitan Division and lost in the second round of the playoffs in 2017-18, and after those two Cups, fans in Pittsburgh are spoiled -- and pushing prices down. Below is how Penguins ticket prices stack up on the secondary market across the league. As you can see below, 2018-19 Pittsburgh Penguins tickets are down 11% compared to last season. Tickets are the least expensive since 2011, when secondary ticket marketplace TicketIQ.com began tracking data. The most expensive ticket of the decade was 2014-15 when tickets were $231 and the Pens won it all.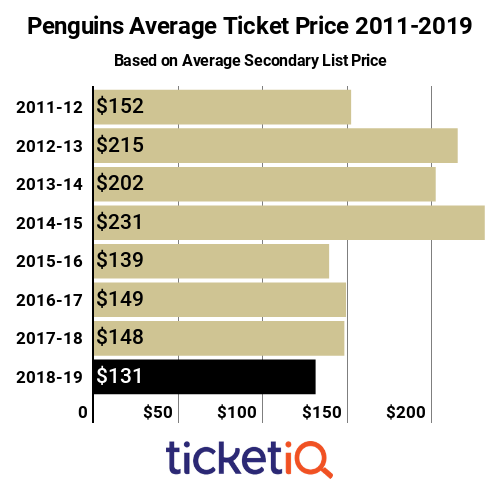 Where to Buy Tickets:
With a $131 secondary market average asking price, Penguins tickets are ranked No. 17 in the NHL in terms of price, well below the $332 that the No. 1 Toronto Maple Leafs are commanding. Full and half season ticket packages are available through the team's website, and season ticket holders get priority access to post-season tickets as well as exclusive gifts and contests during the season. Single-game tickets are available through primary market ticket partner Ticketmaster, though for the home opener against the defending Stanley Cup champion Washington Capitals, only standing room tickets are available. On the secondary market, TicketIQ.com has seated tickets for the same game starting at $78.
Top 5 Games on the 2018-19 Pittsburgh Penguins Schedule:
It's no surprise the top five games in terms of price are against the two Stanley Cup finalists and Toronto, Philadelphia and New York, all long-time Penguins' rivals. But the priciest game of the season is currently the November 3 Toronto Maple Leafs game, which has an average asking price of $202. It is the only game above the $200 mark, though the December 1 Philadelphia game is close, with a $197 average asking price. The only primary market tickets available for the Toronto game are standing room only, while TicketIQ.com has seats in both the upper decks and lower level, both with the company's Low Price Guarantee.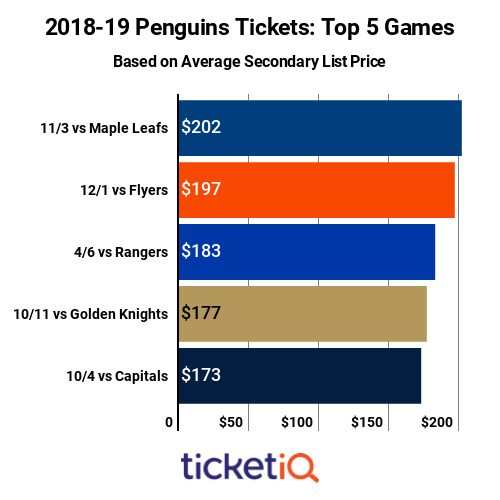 Real-Time Ticket Data & Listings: