Miami is set to host its 11th Super Bowl when the San Francisco 49ers face the Kansas City Chiefs in Super Bowl LIV at the Hard Rock Stadium on Sunday, February 2. TicketIQ will cover everything you need to know about what's going to be going on in Miami, from when to buy the cheapest tickets to getting there. This guide will help fans navigate their way to enjoying the biggest sporting event of the year.
Miami last hosted a Super Bowl in 2010, when the New Orleans Saints won the only Super Bowl in franchise history. Then as now, Miami is a vibrant backdrop to America's biggest sporting event, offering fans a taste of Latin culture through food, art, and architecture, great weather in the winter -- the average temperature in Miami in February is 75 degrees.
For Fans that are looking for more affordable ticket options, you can read our blog posts about both NFL Super Bowl Experience and the 50+ music options for Super Bowl weekend all over the city, with something under $50 every night.
Last Minute Tips For Buying Super Bowl LIV Tickets
Prices: LIV Tickets are officially the most expensive Super Bowl we've tracked in 10 years. As a result of a new pricing model being used by the NFL, prices will most likely not be coming down leading up to the game. That means that now is the time to buy, as prices are not likely to decrease.
Ticket Pick-Up: We'll confirm the exact pick-up location in Miami after your purchase. The cardholder must be present to pick up the tickets and will be asked to provide a photo ID.
Upgrade: One plus of this historically high market is that the price difference between the lower level and upper level is very low. The cheapest ticket in Lower Level is just $300 more than the cheapest Upper-Level Ticket, and even Club Seats aren't that much more than the cheapest ticket.
Have Fun: Choose from 50+ musical options for tonight, tomorrow and Sunday as well as NFL Super Bowl Experience, starting at $40 for the last day tomorrow.
How Much Are Super Bowl LIV Tickets
The cheapest ticket is $6,603
The cheapest lower-level ticket is $7,183
The average ticket price for all tickets is $8,404
The most expensive singe-ticket is

$30,053

in The 72 Club
The cost for an 18-person suite is t is $460,249
There are just under 800 tickets currently available for sale (Down 46% in last 24 hrs)
Based on current prices on TicketIQ, you can save 10-20% on TicketIQ compared to StubHub and other secondary market vendors. TicketIQ also offers fans a Low Price Guarantee on all sold-out Super Bowl LIV tickets. That means that if you find the same secondary market ticket for less on a site like StubHub or Vivid, we'll give you 200% of the difference in ticket credit.
Zone-by-Zone Pricing on TicketIQ
Getting the best seats for the game is of paramount importance, whether you want to be able to see the sweat rolling down the players' faces or you just want to be in the room. The key to finding a good seat is also finding a good value.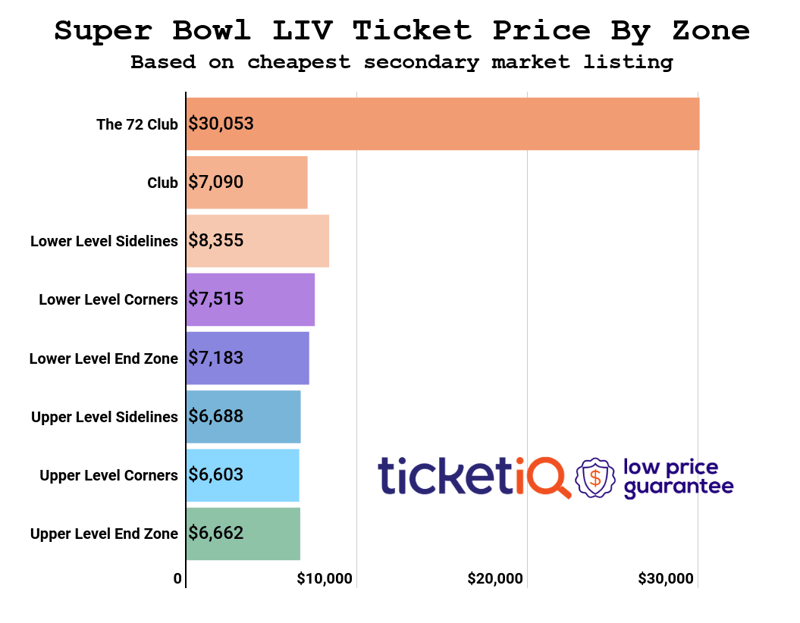 Will Super Bowl Ticket Prices Go Down?
For 2020, the better question may be how far will they go up, at least if you're looking for the cheapest tickets. The below charts shows that the 'get-in' price has increased in the last week in each of the last four years.
As for lower level tickets, on average, they have decreased by an average of 31% from championship Sunday. In the final week before the game, the average has gone down 9%. That all said, none of the previous games have had the level of demand and lack of weather issues like 2020. While Super Bowl 50 in New York was poised early on for $10k, week 2 weather concerns dampened demand.
We don't see any of those factors playing into the equation this year and we recommend buying sooner than later.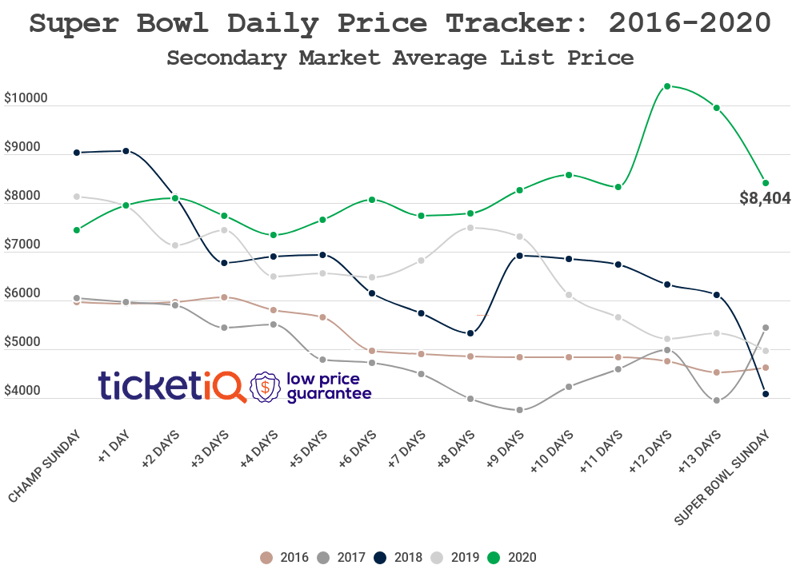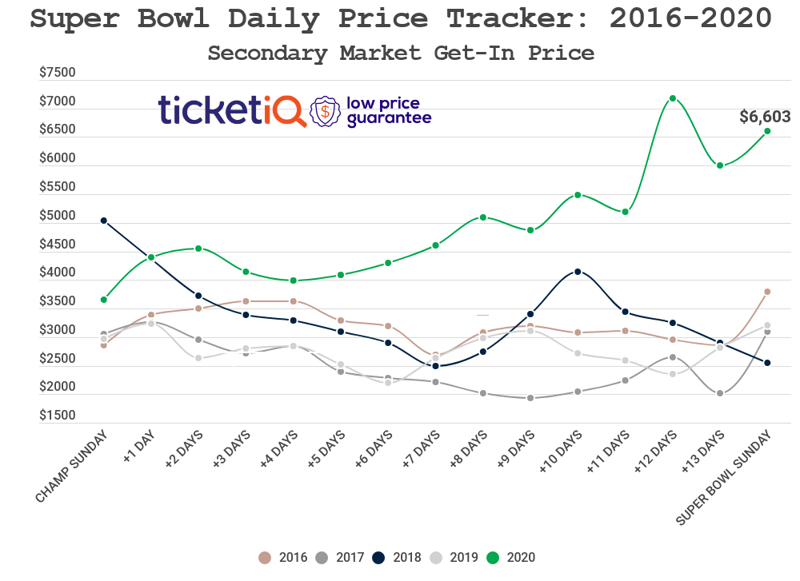 Below is a raw data format of the above the shows the best day to purchase the cheapest ticket over the last 10 years. As you can see, after the 2015 market blow-up, the approach to buying Super Bowl tickets has changed significantly.
| | | | | | | | | | | | |
| --- | --- | --- | --- | --- | --- | --- | --- | --- | --- | --- | --- |
| | 2020 | 2019 | 2018 | 2017 | 2016 | 2015 | 2014 | 2013 | 2012 | 2011 | 2010 |
| CHAMPIONSHIP SUNDAY | $3,652 | $2,964 | $5,043 | $3,046 | $2,862 | $1,954 | $2,223 | $1,988 | $1,995 | $2,950 | $2,055 |
| 1 | $4,396 | $3,230 | $4,370 | $3,268 | $3,392 | $1,825 | $2,118 | $1,900 | $2,175 | $2,500 | $2,055 |
| 2 | $4,546 | $2,637 | $3,724 | $2,954 | $3,497 | $1,850 | $1,985 | $1,890 | $2,250 | $2,400 | $1,949 |
| 3 | $4,149 | $2,800 | $3,390 | $2,714 | $3,630 | $2,125 | $1,985 | $2,168 | $2,275 | $2,486 | $1,896 |
| 4 | $3,499 | $2,837 | $3,290 | $2,848 | $3,630 | $2,125 | $1,800 | $2,050 | $2,281 | $2,150 | $1,804 |
| 5 | $4,092 | $2,522 | $3,100 | $2,392 | $3,289 | $2,395 | $1,757 | $1,975 | $2,400 | $2,183 | $1,783 |
| 6 | $4,296 | $2,200 | $2,900 | $2,290 | $3,190 | $3,045 | $1,640 | $1,976 | $2,370 | $2,250 | $1,771 |
| 7 | $4,610 | $2,631 | $2,500 | $2,208 | $2,682 | $3,938 | $1,395 | $1,930 | $2,118 | $2,373 | $1,754 |
| 8 | $5,097 | $2,976 | $2,745 | $2,024 | $3,080 | $3,299 | $1,392 | $1,930 | $2,090 | $2,420 | $1,722 |
| 9 | $4,873 | $3,103 | $3,400 | $1,932 | $3,190 | $3,937 | $1,495 | $1,775 | $2,000 | $2,457 | $1,668 |
| 10 | $5,485 | $2,716 | $4,150 | $2,043 | $3,080 | $3,750 | $1,500 | $1,698 | $2,183 | $2,450 | $1,609 |
| 11 | $6,493 | $2,595 | $3,450 | $2,248 | $3,102 | $5,998 | $1,393 | $1,649 | $2,000 | $2,500 | $1,457 |
| 12 | $7,174 | $2,351 | $3,250 | $2,645 | $2,950 | $7,087 | $1,247 | $1,499 | $1,892 | $2,543 | $1,378 |
| 13 | $6,005 | $2,813 | $2,900 | $2,013 | $2,852 | $9,187 | $1,425 | $1,299 | $1,746 | $2,500 | $1,552 |
| SUPER BOWL SUNDAY | $6,603 | $3,211 | $2,550 | $3,088 | $3,800 | $8,764 | $1,514 | $1,199 | $1,354 | $2,260 | $1,379 |
5 Tips For Buying Super Bowl LIV Tickets
Monitor the market. Look at the prices on the secondary market for Super Bowl LIV tickets multiple times per day and pick a price point that you're willing to pay.
Track quantity available for the game overall, but all in the section you're most interested in sitting in. With only about 800 tickets for sale to the public, prices could rise if quantity starts to think about.
Download the TicketIQ app for the best deals on all Super Bowl LIV tickets. The TicketIQ app is the most transparent ticket app in the marketplace and pools tickets and data from over 90 percent of the resale market, giving fans the best deals and a Low Price Guarantee for tickets to the big game.
Read this TicketIQ blog post that is updated multiple times a day for the latest data, ticket price and quantity trends.
Historical Super Bowl Ticket Price Trend: 2010-2020
Tickets for Super Bowl LIV are currently trending at $8,404 on the secondary market. If this price holds, it will be the second most expensive of the decade.. For last year's game between the Los Angeles Rams and Patriots, the average asking price settled at $4,972, after reaching a high of $9,642 two weeks before the game. Traditionally, tickets on the secondary market have fallen to their lowest average asking price in the days immediately before the game and on game-day, though in 2017, there was a huge jump from $3,958 to $5,449 between one day out and game day.
For Super Bowl LIV, the cheapest ticket on the secondary market is trending at just over $6,600.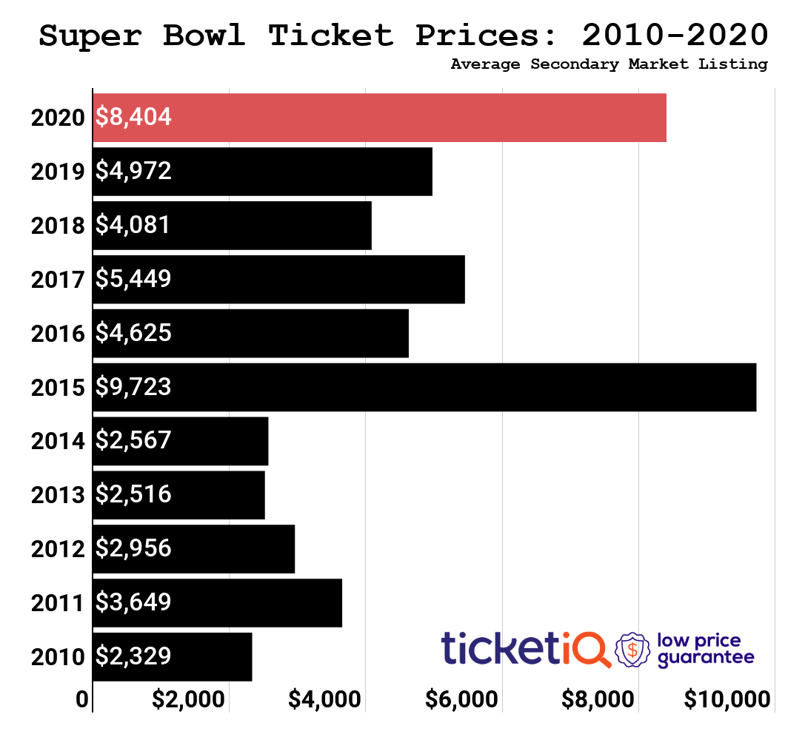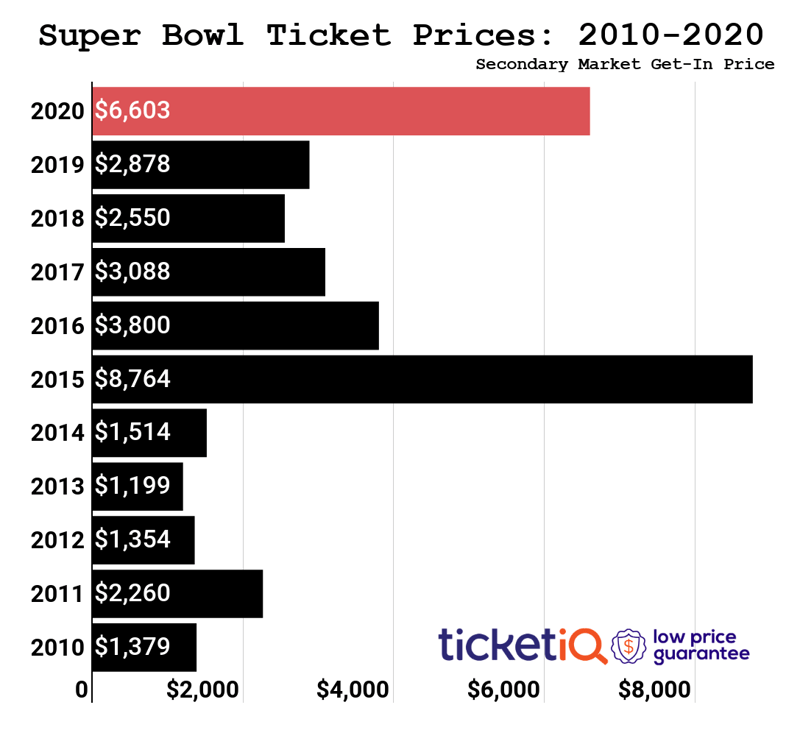 How Many Super Bowl Tickets are Available for Sale
Currently, there are just under 800 Super Bowl secondary market tickets available. Below is an infographic showing ticket quantity trends on the secondary market since 2016. Given how closely the 2019 and 2020 quantity started, we'd expect a similar path this year, and are not anticipating any big inventory spikes that will bring prices down.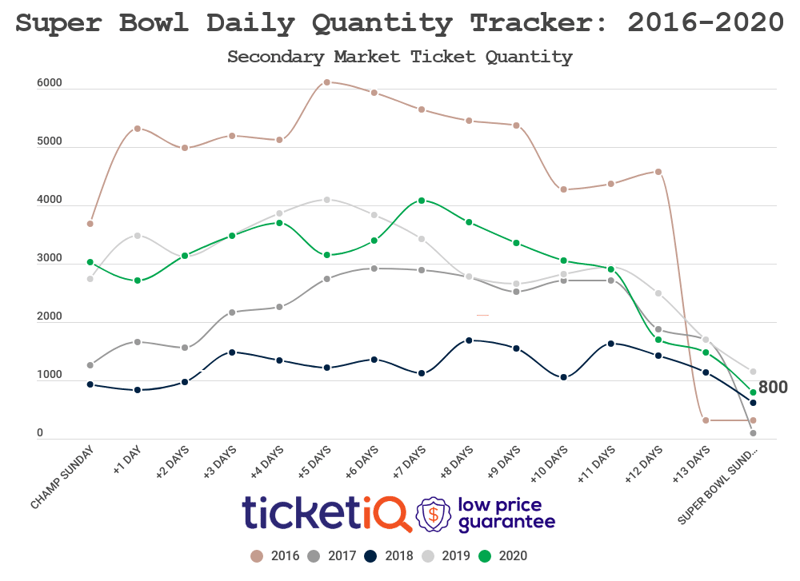 Super Bowl LIV Ticket Allotment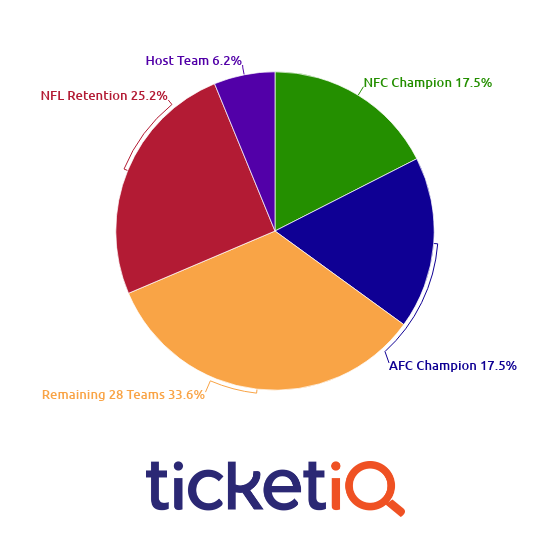 Super Bowl Parties
For fans that are not looking to spend $5,000 on a ticket but that have already booked flight and hotels,
the good news is that there are more events than ever happening in Miami for any price point. Starting Thursday, Miami will be the equivalent of a massive music festival with some of the biggest names headlining over 50 shows, including Maroon5, Guns N' Roses, Lizzo, Harry Styles, and Snoop Dogg.
Below, we take a look by the numbers on all the major parties, events. The tentpole event of the weekend is the Official 3-night Super Bowl Music Festival at American Airlines Arena, which has tickets still available on Ticketmaster for $50, which may be the best deal in Miami all weekend.
Approximate 2020 Talent Fees: $30 million Vs. Approximate 2014 Talent Fees: $10 million Based on

booking rates published on CelebrityTalent.net as well as the number of shows certain artists are performing.
Total Number of Shows between Thursday and Sunday: 46
Most Booked 2020 Performers: DaBaby (6), Snoop Dog (6), DJ Khaled (4), Carnage (4), DJ Khaled (4), Marshmello (3) Diplo (3)
Number of private corporate shows (3)
Total Number of Venues Hosting Events between Thursday and Sunday: 20
Most shows for a venue: (5) LIV nightclub, Fontianebleau
Artists by Genre: Hip Hop (17), Pop (9), DJs (5), Country (2), Rock (1) Gospel/Kanye (1)
Number of Official 2020 shows put on by On Location Shows: (2): Super Bowl Music Festival + Darius Rucker Pre-game concert
Cheapest Ticket Friday Night: $60 for Da Baby at Revolution Live
Most Expensive Ticket Friday Night: $25k for Leather and Laces VIP Cabana
Cheapest Ticket Sat Night: $50 for Maroon 5 at Super Bowl Music Fest
Most Expensive Ticket Sat Night: $45k for On Stage ticket for the Chainsmokers, Rick Ross and Lost Kings
Super Bowl Music Fest
When: Thursday, January 30-Saturday, February 1
Where: American Airlines Arena
Ticket prices: Starting at $50
Fans who love music as much as the Super Bowl can indulge in multiple concerts leading up to the big event. Among the performers are Maroon 5 (Saturday), Guns 'N Roses (Friday), DJ Khaled (Thursday) and DaBaby (Thursday).
Wynwood's Super Bowl Super Fan Fest
When: Thursday, January 30-Sunday, February 2
Where: Wynwood Marketplace
Ticket Prices: Starting at free
Live music, games and food trucks will be available during this four-day event, which is one of only handful that is appropriate for all ages. Fans can try kicking into a regulation-sized field-goal post or having a drink at the beer garden. The sports bar is over 21 starting at 10 p.m. nightly, and fans can purchase tickets for the Main Stage Pit, to get closer to the music.
NFL Experience – A Super Bowl Theme Park
When: Sunday, January 25-Saturday, February 1
Where: Miami Beach Convention Center
Ticket prices: Starting at $33
This marquis event put on by the NFL is family friendly and allows fans to do skills tests, buy NFL and Super Bowl gear, and participate in interactive games. There will also be former and current players signing autographs. The convention center will be turned into an NFL wonderland.
Shaq's Fun House Super Bowl Party
When: Friday, January 31, 9 p.m.-3 a.m.
Where: Mana Convention Center
Ticket prices: $199-$1,199
Besides the entry fee, fans willing to pay $499 can meet Shaq. Among the other celebs expected at the event are Pitbull, Diddy, Diplo, Tiesto and DaBaby. The cost of a ticket includes a six-hour open bar, food and beverage selections from some of Miami's top restaurants, as well as carnival games and rides and circus performers. A percentage of proceeds will be donated to the Camillus House.
Vewtopia Music Festival With Cardi B, Chris Brown and More
When: Friday, January 31 and Saturday, February 1
Where: Marlins Ballpark
Ticket prices: Starting at $195
The first of its kind, this two-day music festival features Cardi B, Chris Brown, Migos, DaBaby Megan Thee Stallion, Davido, Gunna, Shenseea, and more. Ticket prices are for two days – single-day tickets are not available.
Super Saturday Night at Watson Island With Lady Gaga
When: Saturday, February 1, 8:30 p.m.
Where: Meridian Island Gardens
Ticket prices: Starting at $380
This concert is a chance to see Lady Gaga in a fairly intimate venue – the new Meridian Island Gardens seats about 10,000. Lady Gaga, who performed at halftime of the 2017 Super Bowl, is no stranger to putting on a riveting performance.
Gronk Beach Super Bowl Party
When: Saturday, February 1, 1p.m.-7 p.m.
Where: North Beach Bandshell, Miami Beach
Ticket prices: Starting at $349.99
Ex-New England Patriots tight end Rob Gronkowski hosts his first Super Bowl party and Rick Ross, Flo Rida, DJ Carnage, Kaskade, Diplo and 3LAU will also be there. The ticket price includes a six-hour open bar, and snacks from top Miami dining spots, including STK Steakhouse and Salty Donut. VIP tickets and tickets that include a chance to meet Gronk are also available for an additional charge.
MAXIM Havana Nights Super Bowl Party Experience
When: Saturday, February 1, 10 p.m.-4 a.m.
Where: Virginia Key Island
Ticket prices: Starting at $250
If you want a chance to see the Chainsmokers, Rick Ross and the Lost Kings, they'll all be performing at this party. The event will take place on a private, five-acre property with a set-up just for the party. In addition to the entertainment, the Maxim Models and multiple celebrities and pro athletes will be in attendance. Fans can add on a VIP experience for an additional charge.
Taste of the NFL Wine & Food Event
When: Saturday, February 1, 7 p.m.
Where: Broward Convention Center
Ticket prices: Starting at $700
Foodies won't want to miss this food-and-wine event that raises money for hunger-relief organizations. The event features a famous chef from each NFL city serving their signature dish alongside a current or former NFL player. There will be more than 35 food stations and a silent auction, as well as appearances by Don Shula and chef Andrew Zimmern.
Players Tailgate Pre-Game Party
When: February 2, 2 p.m.-kickoff
Where: Walking distance to stadium
Ticket prices: Starting at $875
This exclusive day-of-the-game event will be hosted by celebrity chef Guy Fieri, and will feature more than 30 active NFL players and celebrities. The cost of a ticket includes premium, all-you-can eat food and open bars. ESPN's Sage Steele with host the event, and a percentage of proceeds will go to several charitable partners.
Hotel and Airbnb Options for Super Bowl In Miami
Planning a trip to the Super Bowl if your team advances? Prices vary widely depending on where you're coming from and what kind of accommodations you prefer, but we're here to give you the latest on what's available, below.
Hard Rock Stadium Super Bowl Seating Chart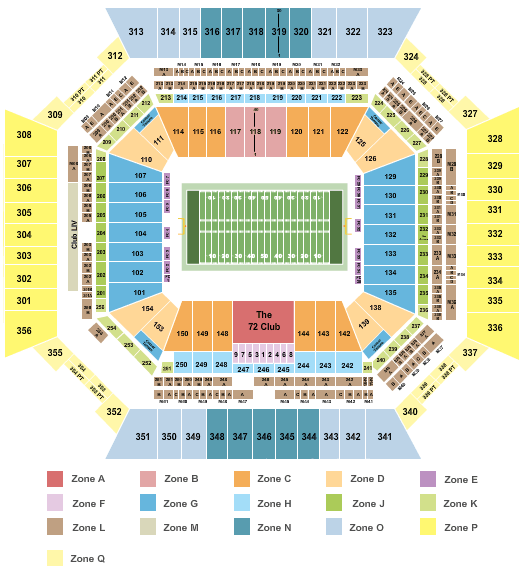 Do's and Don'ts at Hard Rock Stadium
As with every Super Bowl, security will be tight and fans will be required to pass through a metal detector before entering the stadium. According to the Hard Rock Stadium website, fans may carry the following items into the stadium:
Approved items
One bag that is clear plastic, vinyl or PVC and does not exceed 12" by 6" and 12" or a one-gallon clear plastic freezer bag (Ziploc bag or similar).
A small clutch bag or purse approximately the size of a hand, with or without a handle or strap
Medically necessary items after proper inspection at Gate E designated for this purpose.
Diapers and wipes can be carried in a clear bag. Each member of a family, including children, will be able to carry and approved clear bag and a clutch purse, providing ample storage capacity
Binoculars
Computers or tablets that are smaller than 12″x12″x12″
Factory-sealed bottles of water that are 20 ounces or less.
Prohibited items and behaviors
Prohibited Items
Alcohol
Animals
Audio recording devices
Bottles and cans (exception, 20-ounce, factory-sealed bottle of water)
Computers or tablets that are larger than 12″x12″x12″
Drones
Flagpoles
Glass bottles, cans, coolers of any kind, thermoses or ice chests.
Noise makers and musical instruments
Seat cushions of any size except those for medical needs
Selfie Sticks
Umbrellas, strollers, laser pointers
Video cameras or still-photography cameras with a 6-inch or longer lens
Weapons or any item that may be used as a projectile or one that is deemed dangerous by Hard Rock Stadium management.
Prohibited Behaviors
Interfering with others' enjoyment of the game
Foul or abusive language or obscene gestures
Intoxication or other signs of impairment related to alcohol consumption
Fighting, taunting, or threatening remarks or gestures
Sitting in a location other than your ticketed seat
Displays of affection inappropriate in a public setting
Obscene or indecent messages or signs or clothing
Throwing of any objects inside the stadium
Clothing that is inappropriate or offensive
Any disruption to the progress of the event by the guest's actions
Failing to follow the instructions of Stadium Personnel or Law Enforcement
Smoking in the seating bowl, concourse, or other non-designated areas
Standing for extended periods of time. Please refrain from behavior detracting from the enjoyment of fellow fans. Spontaneous reactions to exciting plays are expected and encouraged, but your continued standing while other guests are sitting is not permitted.