Miami is set to host its 11th Super Bowl when the NFL's biggest event returns for Super Bowl LIV at the Hard Rock Stadium on Sunday, February 2. TicketIQ will cover everything you need to know about what's going to be going on in Miami, from when to buy the cheapest tickets to getting there. This guide will help fans navigate their way to enjoying the biggest sporting event of the year.
Miami last hosted a Super Bowl in 2010, when the New Orleans Saints won the only Super Bowl in franchise history. Then as now, Miami is a vibrant backdrop to America's biggest sporting event, offering fans a taste of Latin culture through food, art and architecture, great weather in the winter -- the average temperature in Miami in February is 75 degrees -- and a city that knows how to host a big event. Fans visiting for the Super Bowl can enjoy the beach, a stroll through Miami's art deco district, a visit to the only tropical zoo in the United States, get on the water on a tour boat, jet ski or other watercraft, play golf at a world-class course, or step out into the city's dynamic nightlife scene.
Historical Super Bowl Ticket Price Trend: 2010-2020
Tickets for Super Bowl LIV are currently trending at $6,831 on the secondary market, and not a single down has been played in the NFL yet. If this price holds, it will be the second most expensive of the decade behind the 2018 New England Patriots-Philadelphia Eagles game in Minneapolis. When all was said and done, fans pushed the price of secondary market tickets for that game up to $7,277. Tickets had dipped to $5,339, before jumping up to $7,277 on game day. For last year's game between the Los Angeles Rams and Patriots, the average asking price settled at $4,972, after reaching a high of $9,642 two weeks before the game. Traditionally, tickets on the secondary market have fallen to their lowest average asking price in the days immediately before the game and on game-day, though in 2017, there was a huge jump from $3,958 to $5,449 between one day out and game day.
For Super Bowl LIV, the cheapest ticket on the secondary market is trending at $3,900.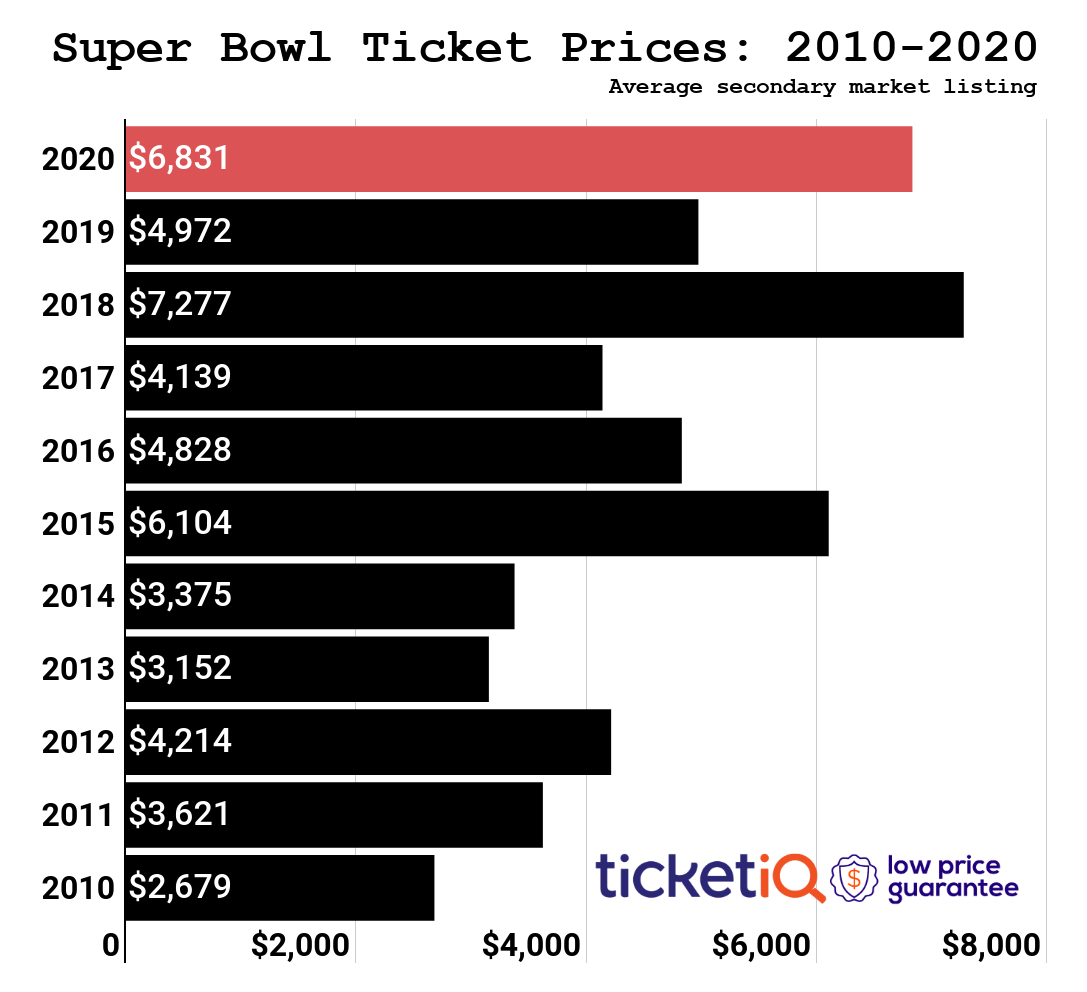 Super Bowl Ticket Quantity Trends
As of July 2019, there were only 336 Super Bowl secondary market tickets available. Over the last decade, only two games had fewer tickets than that remaining on game day -- 318 for the 2016 Broncos-Panthers game and 40 for the 2015 Seahawks-Patriots game. That year was considered a 'busted' market, which we'll cover more on below.
But in 2019, there were 2,210 tickets available on January 14, but that number fell to 1,155 by game day. The number fluctuated, and on January 25, there were more than 4,000 tickets available on the secondary market. On that day, the average asking price was $6,487, the lowest to date at that point. The cheapest ticket for Super Bowl LIII bounced around after the final four teams were set -- it was $3,325 on January 14 and settled at $3,211 by game day. The highest the cheapest ticket got was $3,400 on January 15, and the lowest was $2,200 on January 26. The secondary market was flooded with tickets in the preceding days.
In 2018, ticket prices stayed on a consistent upward trend after the final four teams were set, but on game day, even the cheapest ticket cost fans $3,285, so it's not unreasonable to think that Super Bowl LIII will eclipse that. The current get-in price is right around $2,500.
At three weeks out, there were fewer than 1,000 tickets available on the secondary market in 2017 and 2018, as compared to 2,200 in 2019. In fact, in 2017, there were only 155 tickets available. But in both cases, the secondary market was flooded with tickets by two weeks out, which would account for the drop in prices at the one-week mark. The closer the games got, the more tickets become available in both years, before fans began pushing prices up again heading into game day.
In 2018, the get-in price was $4,080 a month before the game and see-sawed to $4,370 two weeks before the game before dropping to $2,745 a week out. The game-day get-in price settled at $3,285.
In 2017, the get-in price was $4,378 a month out, and see-sawed before dropping to $3,046 two weeks before the game. From there, it trended down before settling at $1,974 on game day.
If that information offers any insight, it's this: the best time to buy is about a week before the Super Bowl
5-Year Super Bowl Year Market History To Explain The 2015 Market Blow Up
As covered by TicketIQ Founder Jesse Lawrence is The Daily Beast four years ago, 2015 was a 'busted' market driven by bad bets that prices would fall, as they had almost every year before.
At the peak of the high-supply era, there were 13,000 tickets available on the secondary market. This year, there are significantly more tickets available compared to about 950 and 150 in 2018 and 2017, respectively -- than in the previous two years. The number of available tickets more closely mirrors the 1,900 that were available at three weeks out in 2016. The cheapest ticket dropped from $3,400 to about $3,200 between four weeks and one week out before settling at $2,714. Those numbers again bear out the idea that the best time to buy is about a week before the game.
Here's an Infographic narrative of the Super Bowl market for the previous 5 years that illustrates what happened in 2015.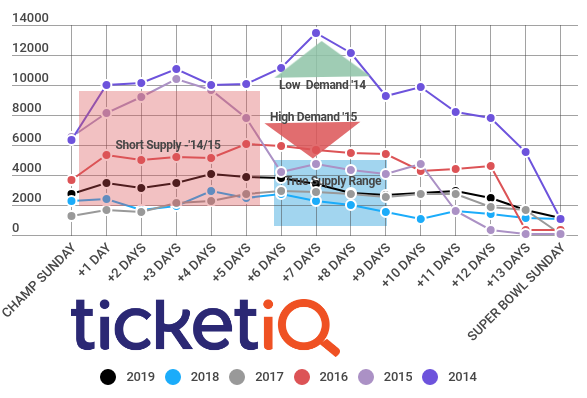 The Best Time to Buy Super Bowl LIV Tickets
So, when should you buy Super Bowl tickets? That's a tricky question any year and the answer to the question can be heavily driven by which teams make the Conference Championship games. For example, last season, the expectation was that if the Patriots won the AFC and the Rams won the NFC, ticket prices would rise. That's not what happened. After the Patriots and Rams were crowned on January 20, the average asking price fell steadily from $8,130 on January 20 to $4,972 on game day.
Geography can also play a role in the whether average asking prices rise or fall. It's never happened before, but the prospect of the "home" team playing in the Super Bowl will likely send the average asking price sky high. That nearly happened in Minneapolis in 2018 before the Eagles beat the Minnesota Vikings in the NFC Championship.
The NFL is keeping a tighter rein on tickets available to the secondary market by selling through their own vendor, NFLOnLocation.com and its PrimeSport.com division.
The league also only makes a tiny percentage of tickets available to the general public, with the lion's share going to the competing and host teams. That said, history shows that showing restraint can often result in a better price for a Super Bowl ticket. A drop in ticket prices close to an event is usually the result of unsold resale tickets flooding the market. Still wondering when to buy? Below are some suggestions for trying to get the best deal:
Monitor the market. Look at the prices on the secondary market for Super Bowl LIII tickets multiple times per day and pick a price point that you're willing to pay.
For fans waiting to see prices drop for LIV, fans should wait until the Conference Championships. For Super Bowl LII in Minneapolis, the get-in price dropped to $2,550 briefly the Friday before the game, before bouncing back up to $3,285 on game day.
Download the TicketIQ app for the best deals on all Super Bowl LIV tickets. The TicketIQ app is most transparent ticket app in the marketplace and pools tickets and data from over 90 percent of the resale market, giving fans the best price points on the big game.
Zone-by-Zone Pricing on TicketIQ
Getting the best seats for the game is of paramount importance, whether you want to be able to see the sweat rolling down the players' faces or you just want to be in the room. Key to finding a good seat is also finding a good value.
Super Bowl LIV Ticket Allotment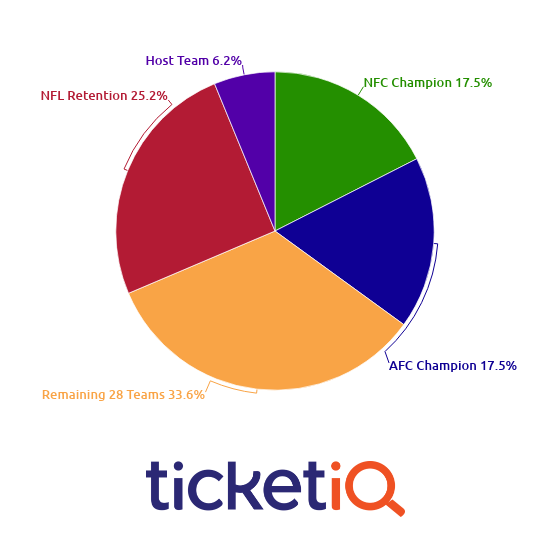 Traveling To Miami
Planning a trip to the Super Bowl if your team advances? Prices vary widely depending on where you're coming from and what kind of accommodations you prefer, but we're here to offer some suggestions. TicketIQ will have information via Priceline.com, when the game gets closer. Travel options will include fares and a three-night hotel stay.
Hard Rock Stadium Super Bowl Seating Chart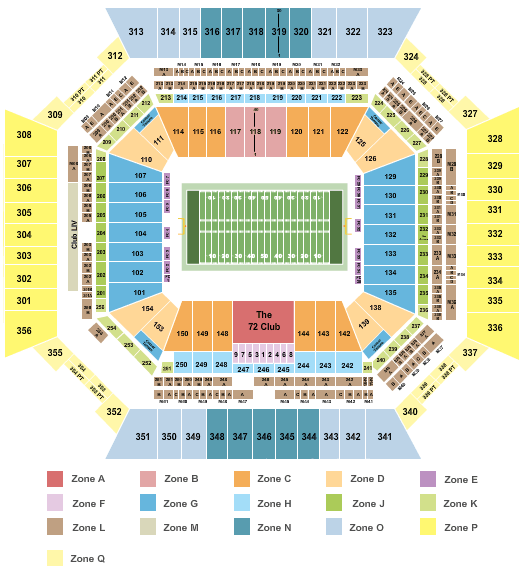 Do's and Don'ts at Hard Rock Stadium
As with every Super Bowl, security will be tight and fans will be required to pass through a metal detector before entering the stadium. According to the Hard Rock Stadium website, fans may carry the following items into the stadium:
Approved items
One bag that is clear plastic, vinyl or PVC and does not exceed 12" by 6" and 12" or a one-gallon clear plastic freezer bag (Ziploc bag or similar).
A small clutch bag or purse approximately the size of a hand, with or without a handle or strap
Medically necessary items after proper inspection at Gate E designated for this purpose.
Diapers and wipes can be carried in a clear bag. Each member of a family, including children, will be able to carry and approved clear bag and a clutch purse, providing ample storage capacity
Binoculars
Computers or tablets that are smaller than 12″x12″x12″
Factory-sealed bottles of water that are 20 ounces or less.
Prohibited items and behaviors
Prohibited Items
Alcohol
Animals
Audio recording devices
Bottles and cans (exception, 20-ounce, factory-sealed bottle of water)
Computers or tablets that are larger than 12″x12″x12″
Drones
Flagpoles
Glass bottles, cans, coolers of any kind, thermoses or ice chests.
Noise makers and musical instruments
Seat cushions of any size except those for medical needs
Selfie Sticks
Umbrellas, strollers, laser pointers
Video cameras or still-photography cameras with a 6-inch or longer lens
Weapons or any item that may be used as a projectile or one that is deemed dangerous by Hard Rock Stadium management.
Prohibited Behaviors
Interfering with others' enjoyment of the game
Foul or abusive language or obscene gestures
Intoxication or other signs of impairment related to alcohol consumption
Fighting, taunting, or threatening remarks or gestures
Sitting in a location other than your ticketed seat
Displays of affection inappropriate in a public setting
Obscene or indecent messages or signs or clothing
Throwing of any objects inside the stadium
Clothing that is inappropriate or offensive
Any disruption to the progress of the event by the guest's actions
Failing to follow the instructions of Stadium Personnel or Law Enforcement
Smoking in the seating bowl, concourse, or other non-designated areas
Standing for extended periods of time. Please refrain from behavior detracting from the enjoyment of fellow fans. Spontaneous reactions to exciting plays are expected and encouraged, but your continued standing while other guests are sitting is not permitted.