For Sold Out Seats and Events, TicketIQ has fee free tickets for all events at T-Mobile Arena for the Vegas Golden Knights as well as concerts, boxing and more. TicketIQ customers save up to 25% compared to other secondary sites.
T-Mobile Arena Hockey Seating Chart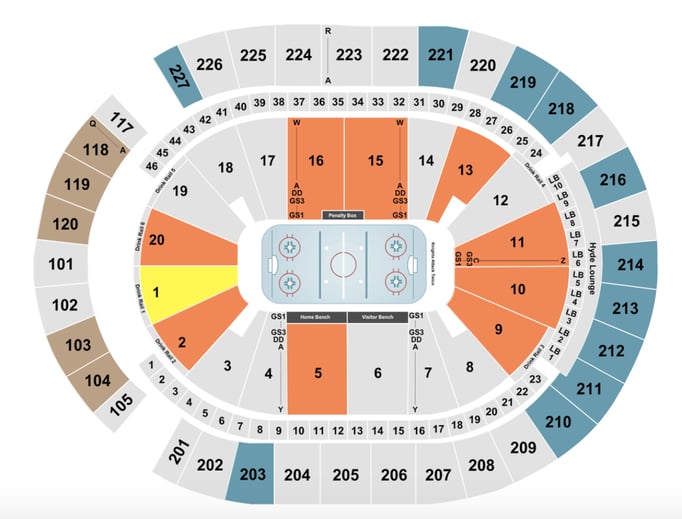 T-MOBILE ARENA SECTIONS ROWS AND SEAT NUMBERS
Seat Number 1 is always on the aisle closest to on the left facing the floor. For example seat 1 in section 5 will be on the aisle closest to section 4.
In the lower level, seat numbers go from 1 to 8 in the front row and 1 to 20 in the last row. The upper level at center ice, there are 20 seats in each row.
In the lower bowl, the rows for go from GS1 to GS3 and then A to W. Behind the goal, the last row is Z. The upper level goes from Row A to Row Q in the corners, Row N in the middle. This is a great 3D seating chart of T-Mobile Arena on the Vegas Golden Knight's site, with visual row, seat and section info, and number.
On the lower level there are restrooms off of sections 8.13, and between 15 and 16 and 5 and 6.
The sections behind the stage in a concert configuration include 1,2,19 and 20.
Club Seating at T-Mobile Arena
Club Seats are located in sections 1-23 and 24-46, and sit above lower level sections 3 to 8 on one side of the arena and 13 to 18 on the other side of the arena.
There are a few suite or club options at T-Mobile Arena for those who are willing to pay up for a premium experience. Keep in mind that all of these clubs and/or suites are available for all Vegas Golden Knights home games, while some may not be available for some concerts or other events. Opera Boxes are located just above sections 9 through 12, and each of these boxes can hold up to 6 to 8 guests. These guests will have a ledge on which they can place their food and beverages, and the chairs will be movable so that fans can sit within the box or out next the ledge to view the game. These boxes include in-seat wait service, with access to a nearby exclusive Goose Island lounge, which you can virtually cruise in the this 3D rendering. Within these Opera boxes are a private restroom as well as HD television screens. Terrace Tables are located behind the Opera Boxes and some are at the top of select lower level sections. These tables are great for smaller groups, and each table can hold up to four fans who would be seated around a half-circle table overlooking the action on the ice. These tables include in-seat service and allow access to the club lounge on the suite level.
VEGAS GOLDEN KNIGHTS SEATING CHART - Hockey
📓Read Vegas Golden Knights Buying Guide
ELTON JOHN SEATING CHART - Concerts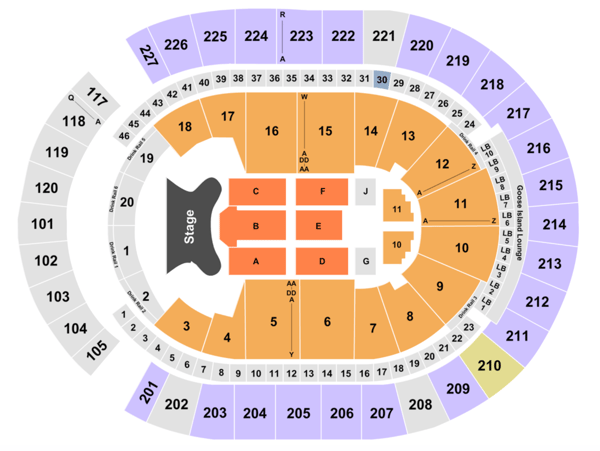 IHEARTRADIO MUSIC FESTIVAL SEATING CHART - Concerts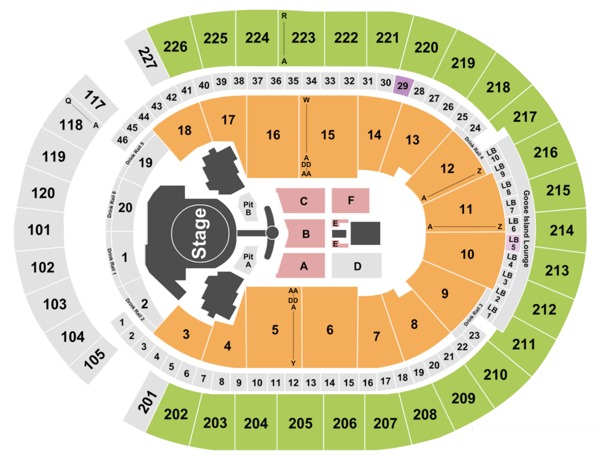 GENERIC CONCERT SEATING CHART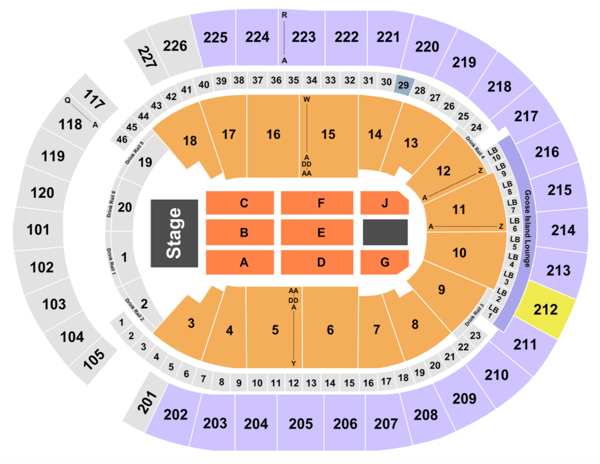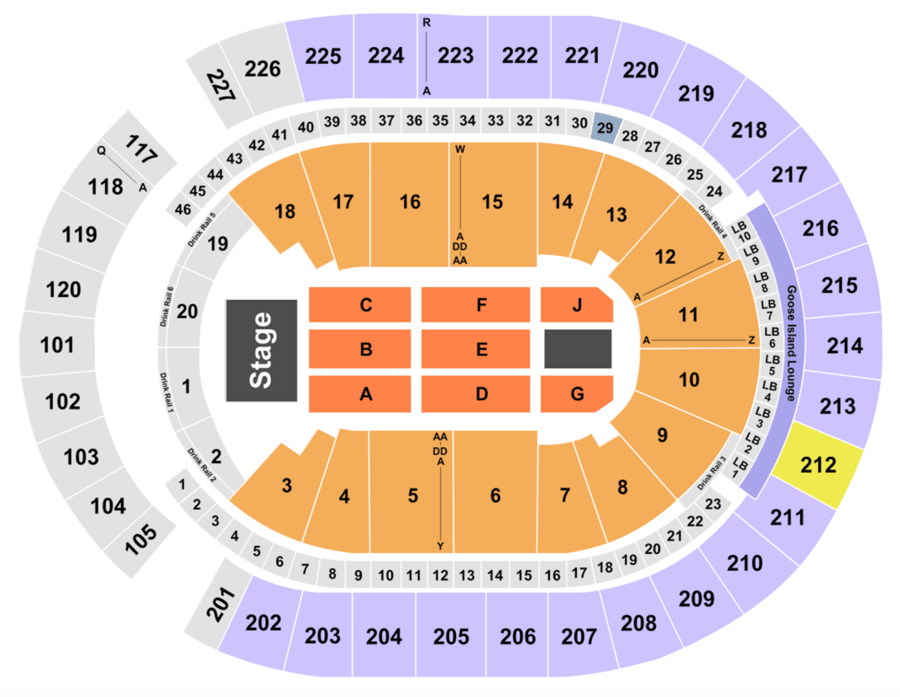 UFC SEATING CHART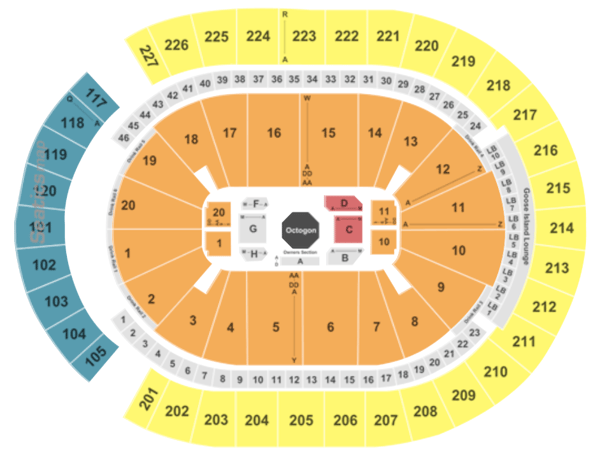 🎟️ SHOP FOR SOLD OUT UFC TICKETS T-MOBILE ARENA
WWE SEATING CHART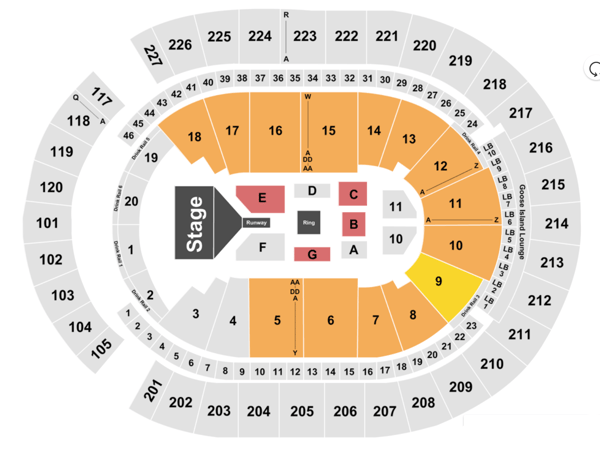 BOXING SEATING CHART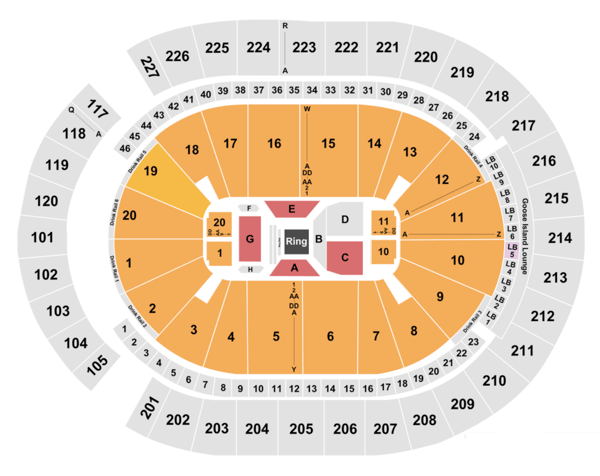 The Best Seats at T-Mobile Arena
The best seats for any non-concert event at T-Mobile Arena (as the seating map may differ from event to event) would be in the Center Ice Club seats, located in sections 5 -6 and 15-16 on the opposite side of the arena. These seats provide the best views in the arena for any hockey or basketball game, and fans in these sections will be allowed access to the lounges next to these sections like the Bud Light Lounge and Jack Daniel's Lounge. These lounges offer multiple HD televisions, upscale seating, and private cash bars. If you're looking for tickets in the 100s, it's not worth paying a premium for rows 3 to 10, instead save a few bucks and sit higher to avoid the glass and net from blocking your sightlines. On the secondary ticket market, these most expensive seats are typically over $500-$600.
Flash Seats Delivery at T-Mobile Arena
The T-Mobile Arena has abandoned traditional delivery methods for tickets such as hard stock or e-delivery (through PDFs), and has implemented a system of delivery exclusively through a platform called Flash Seats, which is a system in place designed to prevent fraud. and requires you to open a Flash Seats account and download their app to enter the game. A user would link the Flash Seats to a credit card or driver's license, which is what the user would have scanned by the venue to admit them entry. View How Flash Seat works here.
T-Mobile Arena Ticket Policy
Sellers must disclose all information that is listed on their tickets. For example, obstructed view seats at T-Mobile Arena would be listed for the buyer to consider (or review) prior to purchase. These notes include information regarding if the T-Mobile Arena seat view is a limited view, side view, obstructed view or anything else pertinent
The seat numbers at T-Mobile arena follow a basic pattern where seat number 1 is always on the aisle closest to the lower numbered section adjacent to it. For example seat 1 in section 5 will be on the aisle closest to section 4. Another way you can look at it is when you are in your section facing the floor, seat 1 will be to your left.
What Are Best Hotels Options Near T-Mobile Arena: