T-Mobile Park Seating Chart + Rows, Seats and Club Seats
For sold out seats and events, TicketIQ hasFee Free tickets for all events at T-Mobile Park for Seattle Mariners games as well as concerts. TicketIQ customers save up to 25% compared to other secondary sites. TicketIQ also provides access to unsold face-value tickets for all events at T-Mobile Park via Ticketmaster.
T-Mobile Park Seating Chart - Baseball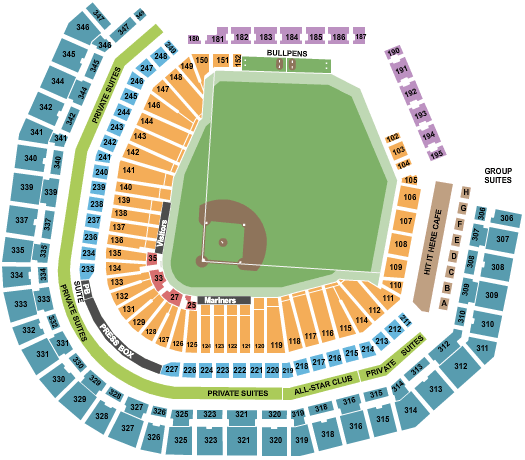 100-level sections, rows, and seats at T-Mobile Park
Lower-level center sections include 123-137. 100-level end sections include 102-115, 146-151 with 100-level corner sections of 116-122, 138-144.
Lower-level center rows run from 1-42, with end section rows starting at row 2-24.
200-level sections, rows, and seats at T-Mobile Park
200-level center sections include 224-236, 200-level corner sections include 222, 223, 237, 238, 200-level end sections include 211-221, 239-249.
200-level center rows run 1 to 12.
300-level sections, rows, and seats at T-Mobile Park
300-level center sections include 320-340. 300-level corner sections include 306-319, 341-347.
300-level center and corner rows run from 1 to 29.
Club, VIP, Box Seats and Suites at T-Mobile Park
Terrace seats can be found on the Infield sections and down the line sections of T-Mobile Park. They are located on either side of the field. With padded seats and wider views, terrace seats are located in complete 200s sections.
Edgar's Cantina is located near section 212, the pasta bistro around section 216 are a part of terrace club seats.
All-Star Club is located right down the field line and is located in suite level with both an indoor and outdoor setting. The lounge area is filled with different drink options with the Lounge Bar and impeccable field views.
Mariners Dugout - The Mariners players sit in front of 121, 122, 123 and 124
Visitor Dugout - The visiting team sits in front of 136, 137, 138 and 139
T-Mobile Park Seating Chart - Concerts

Floor seating at T-Mobile Park of as many as 14 sections, numbered A through P, with sections A-G closest to the stage and H-P farther from the stage. Behind the stage, sections include 180-187, 190-195.
Where Can I Find Cheapest Tickets For T-Mobile Park
The Seattle Mariners have unsold face-value tickets available for most games, which can be purchased directly through Ticketmaster. Prices may be above or below prices on the secondary ticket market. Many Concerts also have unsold tickets. For Sold Out Seats and Events, TicketIQ has Fee Free tickets for all events at T-Mobile Park.
What Is Mobile Ticket Policy At T-Mobile Park
At T-Mobile Park, Guests can purchase tickets in person in a number of ways:
Main Box Officeof T-Mobile Park, open on business hours.
Left Field Box Office, which opens 2½ hours prior to Seattle games.
Ticket Windows around Section 128 and 329.
The Will Call Window is located at the Home Plate Gate Box Office. It opens 2 hours prior to game time.
Handicapped & ADA Seating At T-Mobile Park
T-Mobile Park offers other convenient services including wheelchair assistance, lost and found and wheelchair check-in. For guests who wish to transfer to a seat from their wheelchair, T-Mobile Park will store the wheelchair at Guest Services on different levels.