Target Field Seating Chart + Rows, Seats and Club Seats
For Sold Out Seats and Events, TicketIQ has Fee Free tickets for all events at Target Field for Minnesota Twins games as well as Concerts. TicketIQ customers save up to 25% compared to other secondary sites. TicketIQ also provides access to unsold face value tickets for all events at Target Field via Ticketmaster.
Target Field Seating Chart

- Baseball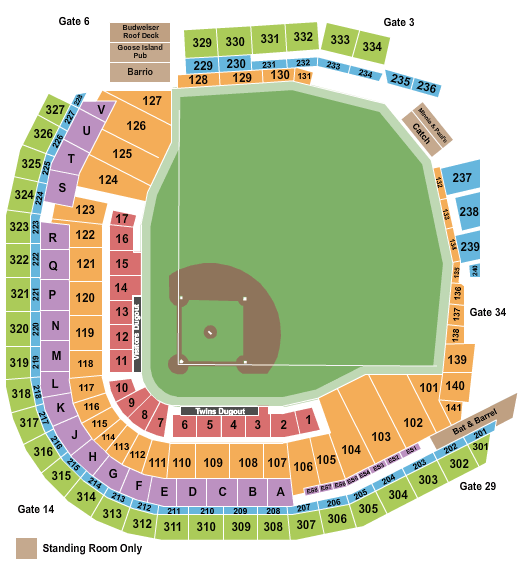 Field level sections, rows and seats

at

Target Field
Field level sections include sections 1-10 with varying rows from 5-15 rows in sections 4-13 while 1-13 rows in remaining rows. The lower tier is then followed by a 100s section, 200 and 300 section. Another balcony section A-V is located between 100s and 200 level with 1-12 rows in each section.
100-level sections, rows and seats

at Target Field
Lower-level center sections include 110-117. 100-level end sections include 104-109, 118-122 with 100-level corner sections of 123-130, 103-133.
Lower-level rows run from 1-28 while corner section rows run from 3-28 rows per section.
200-level sections, rows and seats

at

Target Field
200-level center sections include 210-218. 200-level corner sections include 224-228, 204-201. 200-level end sections include 206-209, 219-223.
200-level center rows run from 1 to 6. End Sections have rows 1-5. Sections in corner have rows 1-8.
300-level sections, rows and seats

at

Target Field
300-level center sections include 309-319. 300-level corner sections include 301-308, 320-327.
300-level rows run from 1-14.
Club, VIP, Box Seats and Suites at

Target Field
Champions Club seats are located behind home plate in sections 7-10. Champions Club tickets include complimentary food and drink and in seat wait service, with one of the best views for Target Field. Legends Club is located in the third level in sections A-R and include amenities such as access to the Kirby Puckett Lunge, the Carew Lounge, complimentary food and beverage, large HD televisions, and executive seating areas.
Section 320 is the designated Family Section at Target Field. Barrio lounge is located in the left field corner, near section 127 and Gate 6. Bat & Barrel, formerly known as Metropolitan Club, offers unique sightline and seating options. Other exclusive club options at Target Field is Delta SKY360° Suite which features great views of the field, and vibrant entertainment experience.
Twins Dugout - The Twins players sit in front of 3, 4, 5 and 6
Visitor Dugout - The visiting team sits in front of 11, 12, 13 and 14
Concert Seating Chart At Target Field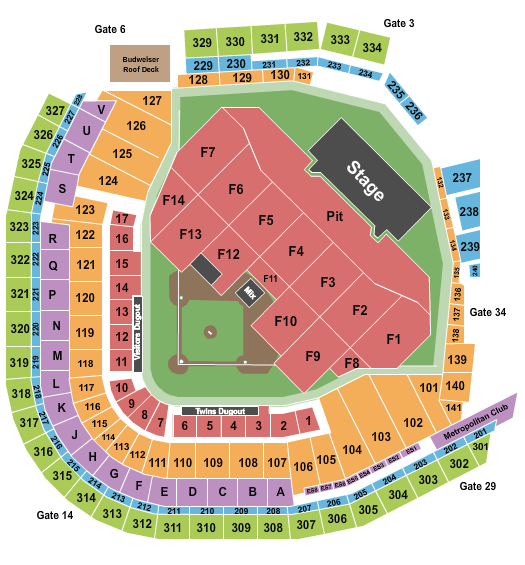 Floor seating at Target Field of as many as 14 sections, numbered A1 through B7, with F1-F7 sections closest to the stage and F8-F14 sections farther from the stage. Behind the stage sections include 235-240.
Where Can I Find Cheapest Tickets For Target Field
The Minnesota Twins have unsold face value tickets available for most games, which can be purchased directly through Ticketmaster. Prices may be above or below prices on the secondary ticket market. Many Concerts also have unsold tickets. For Sold Out Seats and Events, TicketIQ has Fee Free tickets for all events at Target Field.
What Is Mobile Ticket Policy At Target Field
Tickets for a Twins Game can be purchased directly from Ticketmaster or TicketIQ online.
Also, for offline tickets, one may head to main Target Field Box Office, located on Target Plaza. The Target Field Box Office is open from 9:00am– 5:00pm on weekdays, and 10:00am – 4:00pm on Saturdays. Tickets may also be purchased by phone at 1-800-33-TWINS or 612-33-TWINS.
Will call tickets can be picked up at any ticket window or Box Office anytime before the scheduled Twins game.
Handicapped & ADA Seating At Target Field
Target Field offers other convenient services including wheelchair assistance, lost and found and wheelchair check in. Guests can check in the option of ADA Accessible during ticket purchase.